As war rages over Afghanistan, churches, family, and friends of two American Christian women held in Kabul are mounting an intensive prayer campaign for their safety and release.
Heather Mercer, 24, and Dayna Curry, 29, were arrested August 3 for allegedly trying to convert a Muslim family to Christianity. If convicted, they could face the death penalty. The women were working for Shelter Now, a German Christian relief agency. Twenty-two other Shelter workers, including 16 Afghans, also were arrested (ct, Oct. 1, p. 26). In his September 20 address to the nation before a joint session of Congress, President Bush demanded that the "unjustly imprisoned" foreign nationals be released.
While studying at Baylor University, Curry and Mercer were part of a college ministry at Highland Baptist Church in Waco, Texas. When Highland launched Antioch Community Church in Waco as a church plant in 1999, the women became members. Before joining Shelter Now, Curry was a social worker with the Waco Independent School District. Mercer was a leader in the church's college ministry. Mercer has been in Afghanistan since March. Curry had served in the country from August 1999 until last January. In mid-March she began another one- or two-year term.
Mercer's mother, Deborah Oddy, has told reporters that she urged her daughter not to go to Afghanistan.
Mercer's younger sister, Hannah, died after two painful back operations. "The loss was traumatic for our entire family," Oddy told ct. "I don't think Heather received the counseling she needed prior to her departure for Kabul, nor do I think she had enough time to process her terrible loss. This left her entering. … a very harsh country in an already weakened emotional state.
"She has begun to show physical symptoms: vomiting, sobbing, inability to sleep," Oddy says.
The Afghan Foreign Ministry allowed a physician to examine Mercer on October 4. Baptist Press reports that all eight foreign defendants were suffering from stomach ailments.
"She is one frightened young lady," Oddy says. "Who could blame her after 63 days of captivity, not knowing what her future holds, and nightly she hears bombs and rocketing on the outskirts of Kabul? She is the youngest of all the detainees and has spent the least amount of time in Afghanistan."
Curry's mother, Nancy Cassell, says she saw Curry five times in Kabul, including once in the courtroom. She says that while her daughter was in a good emotional state, she had hurt her ribs in a fall and was experiencing complications from asthma. Cassell says her daughter and some of the other aid workers did not know the official charges against them or the potential penalties.
Church Prayer Vigil
The 1,000-member evangelical Antioch Community Church in Waco financially supports Mercer and Curry. Senior Pastor Jimmy Seibert says the congregation has been holding a nonstop 24-hour prayer vigil since the arrests. Matt Sherman, a church member and Baylor University student, says that some of the church leaders are "a little thinner than usual from fasting and praying and crying out to God for the girls' release."
Seibert, who visited the women in Afghanistan last summer, says the church has been in regular contact with them through their Pakistani attorney, Atif Ali Khan. Messages of prayer support are pouring in from Christians in Egypt, Germany, Australia, and Japan. The Protestant International Church in Islamabad, Pakistan, also has prayed for the eight.
Citing the Acts 12 story of an angel leading the apostle Peter out of prison, Seibert asks Christians to continue to hope and pray. "Our hope is not in the [Islamic legal] process, but in gathering enough prayer so that what happened in the Book of Acts can be realized," he says.
Cassell says relatives are well aware of the prayer efforts. "We have asked for prayer from everyone we know and have been told that people all over the world are praying for the detainees' release," she told Christianity Today.
Release Efforts Cut Short
After the September 11 terrorist attacks, the women's parents (and supportive diplomats in Kabul) had to evacuate to neighboring Pakistan. A State Department official says efforts to secure the Americans' release have not been exhausted. The official adds, however, that the Taliban "has not been very informative" concerning the women.
Besides meeting with Afghan officials in Islamabad and Kabul, the women's parents also wrote letters to Taliban supreme leader Mullah Mohammed Omar, asking for "Islamic compassion." The Taliban says Omar will decide the aid workers' fate. On October 6 the Taliban essentially turned the arrested into hostages when it offered to release the eight if the United States "stops its mass propaganda of military action against the Afghan people." The Bush administration rejected the offer and launched its air campaign on October 7.
Taliban police claim to have caught Curry and Mercer showing a Christian film to a Muslim family. But sources close to the situation say the women were actually arrested outside an Afghan home as they were getting into a taxi. Taliban officials said they would protect the women from any U.S. strikes. They also said a military assault would not influence the verdict.
The trial resumed on October 7, but how and when it will be resolved is unclear. Unconfirmed reports say that many Taliban leaders had fled the country even before the attack.
Great Needs
Friends and family of the imprisoned Americans, who roomed together in Kabul, say the women traveled to Afghanistan not to convert Muslims but to help the Afghan people.
Curry, who is from Nashville, was providing health care and education to street children. Mercer, who is from Vienna, Virginia, was assisting Afghans with practical needs such as food, water, and housing.
"[Dayna] is a very caring person who seeks to know God's heart and to show his love to others by the example of her life," Cassell says. "Dayna loves the Afghan people and is concerned about their great needs."
Now the Americans are in great need.
"Heather does have a very strong faith," Oddy says. "It is her faith that will get her through this."
Related Elsewhere
Christianity Today coverage of the Shelter Now workers' imprisonment includes:
In Perspective: The Friendliest Murderous Militants in the World | The Soviet Union, United States, and others helped create Afghanistan's ruling Taliban. Will the world's most Islamic state backfire? (Aug. 30, 2001)

Aid Workers Held Captive | Taliban alleges housing group's staff engaged in evangelism. (Aug. 30, 2001)

Diplomats Receive Visas Into Afghanistan, but Will Only Meet with Officials | Over a week after the raid on Shelter Germany, future for workers still unclear. (Aug. 13, 2001)
The Web site for the German-run Shelter Now is regularly updated with releases on the prisoners.
The BBC profiled Afghanistan's ruling militia in "Who are the Taliban?"
Special Report: Afghanistan from PBS' Online NewsHour features in-depth, ongoing coverage.
For continuing coverage, see Yahoo's full coverage and Christianity Today'sWeblog.
Previous Christianity Today stories about Afghanistan and the Taliban include:
Books&Culture Corner: Myths of the Taliban | Misinformation and disinformation abounds. What do we know? (Sept. 24, 2001)

Taliban Threatens Death to Converts | Afghanistan's Islamic army also says it will kill any non-Muslim seeking converts. (Feb. 15, 2001)

Religious Freedom Report Rebukes China, Others | State Department finds many nations' religious freedoms deteriorating, but some are improved. (Sept. 7, 2000)

Religious Freedom Report Released | Afghanistan, China, Iran, and Iraq listed as some of most repressive countries. (Oct. 25, 1999)

New Unreached Group Targeted (Feb. 8, 1999)
Have something to add about this? See something we missed? Share your feedback here.
Our digital archives are a work in progress. Let us know if corrections need to be made.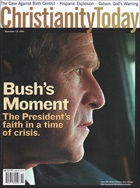 This article is from the November 12 2001 issue.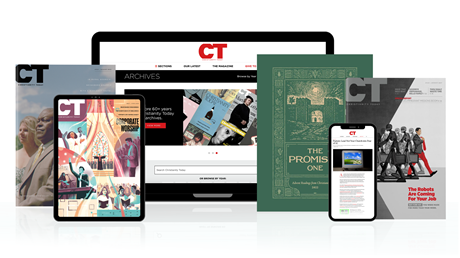 Subscribe to Christianity Today and get access to this article plus 65+ years of archives.
Home delivery of CT magazine
Complete access to articles on ChristianityToday.com
Over 120 years of magazine archives plus full access to all of CT's online archives
Subscribe Now
Afghanistan: Caught in the Crossfire
Afghanistan: Caught in the Crossfire