Soldiers were called upon to quell skirmishes September 27 in this central Nigerian city where ethno-religious conflict has already claimed hundreds of lives earlier this month.
Burnt-down houses and churches, and torched cars still line the streets here after this month's clashes between Muslims and Christians, but final fatality figures have not yet been confirmed.
"Reports reaching me have indicated that about 300 lives have been lost," Joshua Dariye, governor of the state of Plateau said. "We are hoping that at the close of investigations into the crisis we shall be able to say precisely what is the actual casualty figure in this sad incident."
Property and even human beings were randomly set on fire, and shops looted during the violence, which lasted from September 7 to 17. The number of dead brought in to three major city hospitals suggested that government casualty figures would have to be adjusted upwards, perhaps by hundreds.
Mortuary attendants at Jos University Teaching Hospital and at Plateau State Specialist Hospital said that because of the number of bodies involved, mass burial had to be arranged.
Officials had called up soldiers and imposed a dusk-to-dawn curfew to restore a semblance of order to the once-serene city.
A number of churches and mosques were destroyed in the riots. Three church buildings of the Church of Christ in Nigeria (COCIN) were set afire. The Assemblies of God lost its main cathedral, and the Jos Apostolic Church was razed.
Dr Ademola Ishola, general secretary of the Nigerian Baptist Convention, said her denomination had lost three church building in the riots. "We lost a church, a monastery and a conference secretary's house to the carnage," he said. "Some of our people [church members] were displaced and many buildings vandalized."
Ethnic tension had been running high weeks before the riots started, over the appointment of a Muslim politician, Alhaji Muktar Mohammed, as local co-ordinator of the federal poverty alleviation program.
Christians were disturbed by political policies that they claimed deprived them of religious freedom. They viewed Mohammed's appointment in a predominantly Christian community as an attempt to dominate them politically and religiously.
However, the spark that set off the Jos conflict, church leaders said, came from the Muslim practice of barricading roads on Fridays, which, they said, created difficulties for non-Muslims.
On September 7, a Christian woman attempted to cross a barricaded street, which led to a scuffle between her and a group of Muslims, church leaders said. The fight spread to other parts of the city, where Christians were spontaneously attacked by Muslims, according to church leaders.
Nigeria's president, Olusegun Obasanjo, lamented the violence between Muslims and Christians.
"We are not only citizens of one nation but also children of one God," President Obasanjo said during a visit to Jos to assess the extent of the destruction. "Though tribe and tongue may differ, though religions may differ, in brotherhood we stand."
"Christians are as indispensable to Muslims as Muslims are to Christians," the president continued. "There shall never be a time when our society shall be totally free from differences.
"We must therefore resolve our differences without resort to violence. Violence has never solved political, economic, social or religious differences. Violence can only lead to more violence."
Dr Sunday Mbang, prelate of Nigeria's Methodist Church and president of the Christian Association of Nigeria (CAN), said that all right-thinking people should "rise in condemnation of the barbaric act and senseless killings of innocent souls in the name of religion." CAN is the nation's leading ecumenical organization.
Alhaji Muhammadu Maccido, the sultan of Sokoto and the spiritual head of Nigerian Muslims, also decried the use of religion as a tool for violence. "No religion will support violence, harassment, victimisation and all vices, let alone murdering of innocent people," the sultan said. "No religion will encourage segregation, discrimination and suppression."
Dr Mbang and Sultan Maccido are co-chairpersons of Nigeria's Inter-Religious Council, a committee set up by the federal government to work towards religious harmony.
Related Elsewhere
Media coverage of the Jos violence includes:
Obasanjo admits 'enormous' problems — BBC (Oct. 1)
Tension-Soaked Nation — Newswatch, Lagos (Sept. 30)
Govt Bans Road Blocks, Loud Speakers At Worships — Vanguard, Lagos (Sept. 27)
Jos Crisis: Airforce Commandant Refutes Allegation of Partisanship — The Daily Press, Abuja (Sept. 26)
Mayhem in Tin City — Newswatch, Lagos (Sept. 23)
The Mayhem in Jos — This Day, Lagos (Sept. 19)
Jos: Its Underbelly And the Carnage — The Guardian, Lagos (Sept. 14)
Renewed fighting in Jos — BBC (Sept. 12)
Nigerian troops curb religious violence — BBC (Sept. 8)
For more articles, see Yahoo's full coverage on Nigeria and AllAfrica.com.
Previous Christianity Today coverage of religious tensions in Nigeria includes:
Article continues below
Orphaned and Widowed | Christian families devastated since Shari'ah law adopted. (August 29, 2001)
Christians and Muslims at Odds Over Nigerian Constitution | Calls made to limit Shari'ah law in Northern states. (July 12, 2001)
Nigeria Officials Press Northern Governors to Scale Back Islamic Law | Churches harassed by Islamic youths purporting to enforce the law. (June 14, 2001)
Five Anglicans in Court After Rescuing Teenagers From Arranged Marriages | Priests claim Christian sisters are being forced into Islam. (June 5, 2001)
The Shari'ah Threat | Muslim Fundamentalist law troubles Christians and some Muslims. (Feb. 2, 2001)
'Focused, Determined, Deliberate' Destruction | Ecumenical leader calls on Nigeria to deal with religious violence between Muslims and Christians. (Oct. 30, 2000)
Nigerian Muslims and Christians Form a Religious Council | Gombe, a north Nigerian state, creates a council of faiths to deal with fears over Islamic law. (Sept. 19, 2000)
Churches Challenge Islamic Law | Christians plan to take Shari'ah to court. (Aug. 15, 2000)
Is Nigeria Moving Toward War? | Deadly riots lead to suspension of Islamic law. (March 31, 2000)
Nigeria On the Brink of Religious War | Northern states adopt Islamic law, increasing Christian-Muslim tensions. (Dec. 16, 1999)
Nigeria's Churches Considering Legal Challenge to Islamic Laws | Third state moving toward implementing Koranic laws (Dec. 17, 1999)
Can Christianity and Islam Coexist and Prosper in Africa? Twice in a decade religious fighting killed hundreds in West Africa's oldest city. (Oct. 25, 1999)
Nigeria's Christian President Calls for 'Moral Rearmament' Constitution rewritten to pledge freedom of belief is absolute. (April 26, 1999)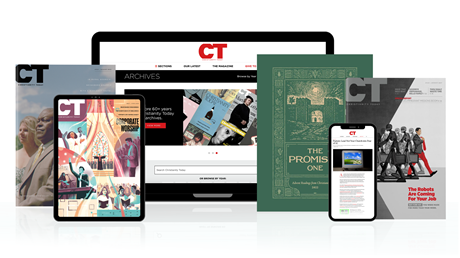 Annual & Monthly subscriptions available.
Print & Digital Issues of CT magazine
Complete access to every article on ChristianityToday.com
Unlimited access to 65+ years of CT's online archives
Member-only special issues
Subscribe
Religious Riots in Nigeria Leave Hundreds Dead
Religious Riots in Nigeria Leave Hundreds Dead