New Tribes missionaries' captors might be on U.S. hit list
The Abu Sayyaf group, currently holding American New Tribes missionaries Martin and Gracia Burnham, are "are high on the list of American counter-terrorism targets to come" unnamed officials told The New York Times. But the officials may have jumped the gun.
The Philippines' National Security Adviser, Roilo Golez, dismissed the report. "Any effort that would target these terrorist groups, particularly the Abu Sayyaf, would involve exclusively Filipino troops," he said. "There is no possibility that the Americans could be conducting covert or overt military action using their own troops because this is impossible under the Philippine Constitution." Still, the U.S. is sending about two dozen military advisers to the country to train and equip the Filipino military.
Freed journalist: Shelter Now workers are strong, but hungry
Yvonne Ridley, the reporter for London's Sunday Express newspaper who was imprisoned by the Taliban for 10 days, was jailed with the female Shelter Now workers supposedly being held for promoting Christianity. "Those women just had a tremendous inner strength," Ridley wrote in an Express article (apparently not available online, but summarized in The Washington Post). The Kabul prison is "squalid," she said, but "the Taliban had cleaned the cell and made it hygienic. Before, there were cockroaches, scorpions and mice." Like Ridley, some of the six women had instituted a hunger strike protesting their captivity. One of them—she didn't say who—hasn't eaten for 20 days.
Er, what church did you say you were from, Father?
Every Monday for two months, Fatima Premji and her family invited a Catholic priest into their Nairobi home for 30 minutes of prayer. Then, this week, it turned out he wasn't a priest at all. He asked Premji to close her eyes in prayer, then he strangled her to death with a piece of cloth. Then he demanded that her brother, Karim Premji, give him money, gold, and other valuables. "All along we have taken him to be a genuine priest. He comes with a Bible and we provide candles, which are lit during the prayer sessions," Karim told The Nation newspaper. "If any of us fails to attend the sessions, we give the priest our pictures which symbolically represent us in the prayers." Nairobi police reportedly have a suspect in custody.
Peace, peace, but there is no peace
(Yeah, yeah, I know I've used that subhead before, but it keeps on working.) Roman Catholic lay organization Sant'Egidio thought it had a great idea: bring a bunch of the world's religious leaders together to condemn terrorism and proclaim peace. Too bad it didn't work. "The very first religious speaker at the conference began by loudly excoriating 'arrogant Zionists,'" reports The New York Times, which notes that no Jews were invited to the meeting. Other Muslims demanded that any condemnation of terrorism include rebukes on Israel's treatment of Palestinians, international sanctions on Iraq, even the Vietnam War. By the time the meeting ended, the summit had a nice statement condemning the use of God's name for violence—but it couldn't even bring itself to call the September 11 attacks wrong.
Prophecy:
Church and state:
Sudan:
ELCA's new leader:
Related Elsewhere
See our past Weblog updates:
October 10 | 9 | 8

October 5 | 4 | 3 | 2

September 28 | 27 | 26 | 25 | 24

September 21 | 20 | 19 | 18 | 17

September 14b | 14a | 13 | 12 | 10

September 7 | 6 | 5 | 4

August 31 | 30 | 29 | 28 | 27

August 24 | 23 | 22 | 20

August 17 | 16 | 15 | 14 |13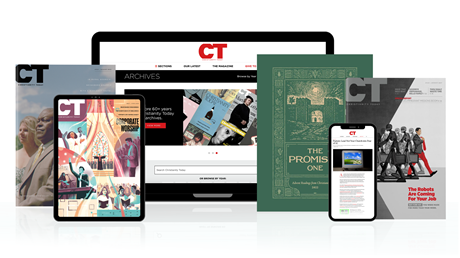 Subscribe to Christianity Today and get access to this article plus 65+ years of archives.
Home delivery of CT magazine
Complete access to articles on ChristianityToday.com
Over 120 years of magazine archives plus full access to all of CT's online archives
Subscribe Now
Will the U.S. Attack the Abu Sayyaf Next?
Will the U.S. Attack the Abu Sayyaf Next?