Did Mormon leaders kill 120 pilgrims in 1870?
It's one of the worst massacres in American history. In 1857, 120 men, women. and children on a wagon train from Arkansas to California were killed. Exactly what happened in the Mountain Meadows Massacre is one of the greatest debates in Mormon history—some blame local Native Americans, others blame the Mormon leadership. Now, just days after The Rocky Mountain News in Denver published a lengthy special report on the atrocity, the National Park Service has announced a discovery that may prove Mormon leader Brigham Young ordered the killings. A Park Service volunteer discovered a lead sheet under several inches of dirt and rat droppings. On it was some writing, supposedly etched by John D. Lee, who was tried and executed for his role in the attack. "I do not fear athorty for the time is closing and am willing to tak the blame," the sheet says. "I trust in God—I have no fear—Death hold no terror—Lord hav merci on this resless soul." But the key line may be where he says the attack was "on order from Pres Young." "The Mormon Church is reserved in its statements about the find," says The Arizona Republic, but Glen M. Leonard, director of the Museum of Church History and Art, is standing firm. Young "definitely did not order" the murders, he tells The Rocky Mountain News. Likewise, the church-owned Deseret News begins its report saying that "several aspects of the discovery indicate it may be a hoax." The Park Service is running authenticity tests.
Supreme Court very likely to uphold right to evangelize door-to-door
"High Court Ridicules Ohio Limits on Solicitation," says American Lawyer Media's headline summing up yesterday's Supreme Court arguments. Other papers don't go quite that far, but it's clear that the village of Stratton, Ohio, probably won't retain its ordinance requiring missionaries to obtain a permit before taking their message door-to-door. Justice Sandra Day O'Connor, often seen as a swing vote on church-state cases, asked whether trick-or-treaters must have a permit for Halloween. After the gallery laughed, the justice insisted, "I'm serious." Justice Anthony Kennedy asked Stratton's lawyer, "You think it's a beautiful idea that I have to ask the government for permission" to talk to neighbors about garbage pickup problems? Chief Justice William Rehnquist was reportedly the only one seemingly sympathetic to Stratton's case, referencing last year's murder of two Dartmouth College professors who were killed by phony door-to-door survey takers. But Justice Antonin Scalia dismissed such safety concerns. "We can all stipulate that the safest societies in the world are totalitarian societies," he said.
War over Southern Baptist Faith and Message heats up again
The Baptist General Convention of Texas has responded to the Southern Baptist Convention once again. Now that the Southern Baptist Convention has begun to require all its missionaries to sign its statement of faith, the Texas convention says those who don't want to have a way out: It has created a $1 million fund for just such missionaries. Already, reports The Dallas Morning News, "BGCT leaders said they had heard from more than 60 SBC missionary families who said they could not sign the affirmation and feared they would lose their jobs as a consequence."
More articles
Courts:
Abuse:
Ten Commadments:
Persecution:
Politics:
Church and state:
Crime:
Church life:
Pastoral integrity:
Missions & ministry:
Related Elsewhere
See our past Weblog updates:
February 26 | 25
February 22 | 21 | 20 | 19 | 18
February 15 | 14 | 13 | 12 | 11
February 8 | 7 | 6 | 5 | 4
February 1 | January 31 | 30 | 29 | 28
January 25 | 24 | 23 | 22 | 21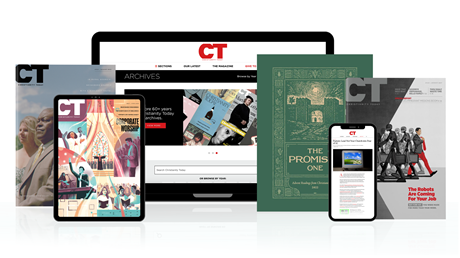 Subscribe to Christianity Today and get access to this article plus 65+ years of archives.
Home delivery of CT magazine
Complete access to articles on ChristianityToday.com
Over 120 years of magazine archives plus full access to all of CT's online archives
Subscribe Now
A Lead in a Famous Mormon Massacre Case, 145 Years Later
A Lead in a Famous Mormon Massacre Case, 145 Years Later