Gays and lesbians are stepping up their national battle against restrictive state regulations, conservative Christians, and others to gain the same parenting rights as heterosexuals.
"There is no doubt that homosexuals love their children," says Suzanne Cook, a Christian who was raised in part by her divorced father living with his gay lover. "But it takes more than love to raise children in an appropriate and healthy way. We shouldn't be experimenting on another generation."
The Federal Appeals Court in Atlanta will decide this year whether to uphold a Florida law that says, "No person eligible to adopt … may adopt if that person is a homosexual." Also, the Pennsylvania Supreme Court will rule on a legal challenge to the state's ban on "co-adoption" by a gay or lesbian couple. Only Florida, Mississippi, and Utah explicitly ban homosexuals from adoption.
Insider's view
Cook, a resident of Fort Worth, Texas, has an insider's perspective on homosexual parenting. Cook told CT that when she was seven years old her father left the family to pursue a homosexual relationship. Three years later, her parents divorced but shared custody. Cook and her younger brother spent every other weekend at the apartment of her father's partner. "They did not refrain from having sex when we were there," Cook says. "They didn't come out of the bedroom until noon."
Cook says her father's partner molested her brother for the next several years. "I had to deal with keeping my brother safe," Cook says. "I had to put on the role of a parent as a little kid. I felt the whole world on my shoulders." (Cook's father declined comment to CT.)
Confused about her sexuality as a young teenager, Cook supposed the only way to have a relationship with a man was to offer sex. Even her mother encouraged her to have sexual relations outside marriage so that she would not mistakenly wed a homosexual.
Cook's life included adultery, group sex, and an abortion. In time, her brother led Cook, now 44 and married for 16 years, to Christian faith.
Cook strongly supports a ban on gay adoptions. She says that children with homosexual parents avoid criticizing parental sexual behavior when responding to questions in research projects. (Experts say "self-presentation bias," in which those surveyed give an "overly positive picture of their family life," causes significant flaws in research.)
Civil rights, children's rights
University of Southern California researchers Judith Stacey and Timothy J. Biblarz published an article titled "(How) Does the Sexual Orientation of Parents Matter?" last year in American Sociological Review. Stacey and Biblarz examined 21 gay-parenting studies. They concluded that there is "no notable difference between children reared by heterosexual parents and those reared by lesbian and gay parents."
Stacey, 59, told CT that society should consider the desires of adults as well as the welfare of children regarding gay parenting. "It's both a civil rights issue and a children's rights issue," she says.
The progay Lambda Legal Defense Fund, in a 1997 document, notes that "the last decade has seen a sharp rise among gay people planning and forming families through adoption, foster care, donor insemination, and other reproductive technologies. Some have described the current period as a lesbian and gay 'baby boom.' "
But homosexuals should not be permitted to adopt or provide foster care, because it's not in the best interest of children, said Alan Chambers, head of Exodus North America, a Christian ministry that assists individuals in overcoming homosexuality.
Some gay advocates are more interested in expanding their own civil rights than in providing stable homes for children, Chambers told CT in an interview. Courts have held there is no right to adopt.
An increasing number of individuals who contact Exodus have had homosexual parents, he said. "They were raised in gay-parent households, and it was detrimental to them, especially as they grew older."
Chambers says children raised by two men or two women are missing a role model. "It's important for a child to have a mom and dad in order to be secure in gender roles," Chambers says. "Even though a divorce situation isn't ideal, there are still significant male and female relationships patterned."
Researcher error alleged
In forming public policy and applying existing law, judges and state officials often look to doctors and social scientists to assess how homosexual parents influence young children, and what is in the best interest of a minor child who is orphaned or whose parents have divorced.
In turn, gay advocates urge politicians, doctors, and researchers to believe that homosexuals can be good parents and should be allowed to adopt or retain child custody after a divorce. Rosie O'Donnell, media celebrity and parent to three adopted children, declared on national television, "I am the gay parent."
Janet Reno, a Democratic candidate for governor of Florida, has pledged her support for overturning her state's ban on gay adoptions.
Homosexual activists have commended the American Academy of Pediatrics (AAP) for a February statement that "a growing body of scientific literature demonstrates that children who grow up with one or two gay or lesbian parents fare as well in emotional, cognitive, social, and sexual functioning as do children whose parents are heterosexual." The academy urged its 55,000 members to support "second-parent" adoptions, in which a homosexual adopts a partner's children.
Conservative rejection of the AAP announcement was swift. British sociologist Patricia Morgan, author of Children As Trophies? (Christian Institute, 2002), told CT, "There's a tremendous bias in both the publishing and acceptance" of results that support homosexual parenting.
Morgan, who has written extensively on family development, says that four dozen studies cited by the AAP are in error because researchers failed to use control groups, used self-selected volunteers, and relied on nonrandom samples. Morgan, senior research fellow at London's Institute for the Study of Civil Society, says research supportive of gay parenting shows a tendency toward "extravagant claims" from sympathetic researchers. "Any critical evaluation or examination of the work … is apt to invoke furious reflex accusations about homophobia."
Researchers Robert Lerner and Althea Nagai, coauthors of No Basis: What the Studies Don't Tell Us About Same-Sex Parenting (Marriage Law Project, 1991), support Morgan's findings. Lerner and Nagai evaluated 49 studies on gay parenting, finding significant mistakes in all of them.
They particularly criticized "convenience sampling," in which investigators select whoever is available, and "snowball sampling," in which homosexual activists help researchers find volunteers willing to answer questions.
"These studies prove nothing," Lerner and Nagai wrote. They say reliance on this suspect research has strongly influenced policymakers toward a positive view of gay parenting.
Morgan believes the most reliable research clearly shows that "children reared in a home with a married mother and father do far better than children in other circumstances."
She criticizes the current tendency to tout homosexual parenting despite the evidence against it. "We can't compromise where there are moral standards or empirical standards," Morgan says. "Both have been compromised at the moment."
Related Elsewhere
Related news and opinion articles include:
Article continues below
Sweden okays same-sex adoption plan—Associated Press (June 5, 2002)
More Americans Support Gay Adoption—ABCNews.com (April 2, 2002)
George Bush -- gay adoption advocate—Pittsburgh Post-Gazette (April 10, 2002)
Gay Adoption in America—ABC News (March 14, 2002)
Adoption by loving gay parents—St. Petersburg Times (March 25, 2002)
Gay parents and the adoption option—Philadelphia Inquirer (March 4, 2002)
Gay Adoption— Detroit Free Press (February 5, 2002)
Adoption is about children, not homosexual rights—The Daily Telegraph, London (May 17, 2002)
MPs pave the way for gay adoption—The Daily Telegraph (May 17, 2002)
Adoption agencies hail victory for children—The Times, London (May 17, 2002)
Gay adoption go-ahead leaves Tories in disarray—The Times, London (May 17, 2002)
Commons votes to let gay couples adopt—The Guardian, London (May 17, 2002)
Gay Woman Sues Va. to Allow Adoption—Washington Post (December 6, 2001)
U.S. judge upholds Florida gay adoption ban—CNN (August 21, 2001)
Church of Norway approves homosexual adoption—Aftenposten, Oslo, Norway (Feb. 13, 2001)
Have something to add about this? See something we missed? Share your feedback here.
Our digital archives are a work in progress. Let us know if corrections need to be made.
This article is from the July 8 2002 issue.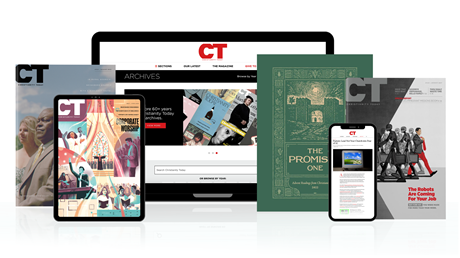 Annual & Monthly subscriptions available.
Print & Digital Issues of CT magazine
Complete access to every article on ChristianityToday.com
Unlimited access to 65+ years of CT's online archives
Member-only special issues
Subscribe
Gay Parenting On Trial
Gay Parenting On Trial