Is Richard Land the new leader of the religious right?
Richard Land, president of the Southern Baptists' Ethics & Religious Liberty Commission, "considered trading preaching for politics, until he found a way to blend them as one mission," reports the Associated Press. "Land's ability to mix preaching and politics is what pushed him to the forefront of the Southern Baptist Convention—and the religious right."
But he's a new kind of religious right leader, says David Key, director of Baptist studies at Emory University's Candler School of Theology. His "low-key, contemplative approach" appeals to conservatives tired of "charismatic, inflammatory" figures "such as Jerry Falwell and Pat Robertson." "He's not flashy," Key tells the AP. "He uses his educational background [which includes a D.Phil. from Oxford] to project a very thoughtful perspective on his agenda, and yet he represents a group that is not thoughtful at all when it comes to their positions on certain issues. He's a great person to represent them in Washington because of that." The Southern Baptist Convention is "not thoughtful at all when it comes to their positions on certain issues"? Weblog is sure the SBC isn't pleased about that description.
Karl Rove tells Family Research Council Bush will continue to nominate conservative judges
Presidential adviser Karl Rove says the Senate Judiciary Committee made a mistake in rejecting the nomination of Charles Pickering for an appellate court position. "This is not about a good man, Charles Pickering," he told 250 so people at the Family Research Council (FRC). "This is about the future. This is about the U.S. Supreme Court. And this is about sending George W. Bush a message that 'You send us somebody that is a strong conservative, you're not going to get him.' Guess what? They sent the wrong message to the wrong guy."
According to The Washington Post, Rove told the FRC that Bush would continue to nominate conservatives to federal benches, as well as promote marriage in welfare reform plans, support crisis pregnancy centers, and oppose human cloning. "There'll be some times you in this room and we over at the White House will find ourselves in agreement, and there'll be the occasion when we don't," he said. "But we will share a heck of a lot more in common than we don't. And we'll win if we work together far more often than the other side wants us to."
Inauthentic preaching
What a week it has been for honesty in the pulpit. First, Edward Mullins was accused of plagiarizing sermons and was suspended from his duties as rector of Christ Church Cranbrook, an Episcopal church outside Detroit. "Along with other questionable actions he has taken during the past five years, the plagiarism of his spiritual messages causes us seriously to doubt his fitness for the ordained ministry," said a letter from parishioners. "How can a priest of the church lay claim to a defense of such dubious morality as 'everybody does it' and 'I paid to use those materials?'" Mullins has his defenders in the congregation—and at The New York Times. "A congregation doesn't come to church on Sunday morning needing to believe that what they hear will be authentically delivered from the original pen of their minister," writes Verlyn Klinkenborg. "They need to believe that whatever he or she has to say to them will be true and full of solace, applicable to the days and weeks ahead." Besides, notes the Associated Press, "The point where research becomes plagiarism is murky for ministers and rabbis." Others disagree. See past articles on sermon stealing from Christianity Today, our sister publication Leadership Journal (which also gave tips on how to credit sources) and the St. Louis Post-Dispatch.
But some preachers aren't just padding their sermons—they're also padding their rÉsumÉs. William Taylor was forced to resign as the Dean of Portsmouth's Anglican Cathedral in the U.K. after someone notified the bishop that he'd never earned the doctorate from Cambridge University he said he had. "This has been a difficult time for all concerned but I would like to pay tribute to William's integrity in dealing honorably with this situation," said Bishop Kenneth Stevenson. "I wish him well in his future ministry. This matter is now closed." Taylor reportedly claimed a Ph.D. in Arabic churches even though all he had completed was a Master of Theology degree. The diocese says it will now demand proof of academic qualifications.
More stories
Church attack in Pakistan:
Church & state:
Politics:
Billy Graham:
Abuse:
Related Elsewhere
See our past Weblog updates:
March 19 | 18
March 15 | 14 | 13 | 12 | 11
March 8 | 7 | 6 | 5 | 4
March 1 | February 28 | 27 | 26 | 25
February 22 | 21 | 20 | 19 | 18
February 15 | 14 | 13 | 12 | 11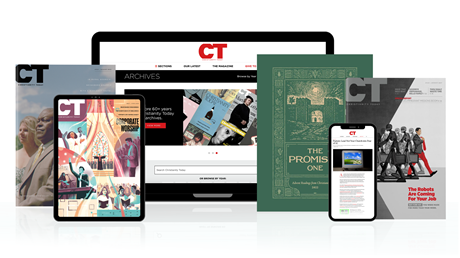 Annual & Monthly subscriptions available.
Print & Digital Issues of CT magazine
Complete access to every article on ChristianityToday.com
Unlimited access to 65+ years of CT's online archives
Member-only special issues
Subscribe
Richard Land, The Un-Falwell?
Richard Land, The Un-Falwell?