Pastor Tim Keller didn't feel fear until months after the terrorist attacks on September 11. Staff members at his church, Redeemer Presbyterian in New York City, say Keller seemed impervious.
Hearing that three church members had died in the World Trade Center disaster, Keller dispatched a prayer team. Over the next few weeks, as urgent phone calls for counseling outstripped the church's resources, Keller raised money for more counselors. And when the seemingly worst news came—he was diagnosed with cancer—he simply weighed medical treatments.
"I was stoic. I couldn't communicate to myself how dangerous my situation was and how scared I had become," Keller told Christianity Today.
Numbness overcame many New York religious leaders at the time. Marcos Rivera, pastor of Primitive Christian Church, recalls that he put aside his initial emotions after the towers collapsed. "At first I locked myself up in the church to pace up and down. I was weeping and crying. Then I clicked into autopilot. I started giving orders: 'Food, chairs, tables for the refugees!' I was very succinct, sharp. This didn't stop with the day of 9/11."
'Deeper roots or perish'
But 14 months later, church leaders are settling into a difficult new reality. The familiar sound of bagpipes preparing for a funeral is gone. The smell of decay coming from the World Trade Center rubble is only a memory.
New York's church leaders have worked overtime to understand 9/11. Redeemer's Keller encountered two kinds of courage. "There is short-term defiance. 'I won't let anyone scare me!' " Keller says, adding that a more valuable type of courage is based on hope. "With God there is hope. Your own fate ceases to be the reason for your courage."
Meanwhile, the Keller family has faced many personal trials. Keller's wife, Kathy, found out in March that she had Crohn's disease, a debilitating inflammation of the bowels. Twelve weeks later on June 11, Keller was diagnosed with thyroid cancer. Kathy Keller says, "We cry at everything, laugh at everything. 'Lord,' we say, 'not one more thing!' "
"We had no choice," Tim Keller recalls. "We had to put down deeper roots in Christ or perish." One continuing difficulty has been managing rapid change. Redeemer had a huge wave of new visitors after 9/11, and has kept about 30 percent of its newcomers. Many Manhattan churches have had a growing demand for counseling, food, clothing, and housing services, but outside funds have dried up.
One survey of 500 elderly people in lower Manhattan found that two-thirds report being extremely fearful. "I still see the plane hitting the floor where my son was at," one family member told CT.
On a positive note, some congregations are performing more marriages than ever. Charles Drew, pastor of Emmanuel Presbyterian Church, reports that he has "married a ton of people" in the past year.
Sherman Lee is a New York police officer who thought he was going to die in the collapse of the North Tower. His longtime girlfriend thought so, too. When he survived, the pair renewed their faith and deepened their relationship.
"I realized that you gotta do things," Lee says. "Time is short."
'Not quick to leave'
The troubled economy has hit New York harder than the rest of the nation. One-fourth of the elders at Redeemer are unemployed. Although dozens of major financial firms that were damaged have left lower Manhattan, churches are staying and are coming together in new ways.
Out of 9/11's Ground Zero Clergy Task Force, Primitive Christian's Rivera and other clergy have forged a new, multiethnic Metropolitan Clergy Network. The New York Concerts of Prayer and the Renaissance Corporation have drawn together African American and Anglo church leaders for prayer and faith-based community mission.
A. R. Bernard of the Christian Cultural Center, Brooklyn, said 9/11 is making demands beyond new structures. "Out of this crisis, the leadership here in New York City has been taken to new levels of knowledge, responsibility, and authority," Bernard said. "With that, there is a requirement of a further deepening of character."
Keller compares the situation to the early church in Rome: "The early Christians stayed. We are not quick to leave."
Related Elsewhere
Learn more information online about Primitive Christian Church and Redeemer Presbyterian Church.
Tony Carnes' previous coverage of New York ministry post-September 11 includes:
In the Belly of the BeastChristians, calling terrorist attack "satanically brilliant," minister at epicenter of World Trade disaster. (September 12, 2002)
'Is That Thunder?'With metal cracking at the World Trade Center, New York pastors cry out to God. (September 14, 2002)
Day of Terror, Day of GraceIn the wake of fatal attacks killing thousands, Christians steer America toward prayer, service, and reconciliation. (September 23, 2002)
More Christianity Today dispatches from New York City included:
Blood, Sweat, and PrayersOne man's journal of ministry among New York City's firefighters and police officers at Ground Zero. (Nov. 12, 2001)
Article continues below
Where I Minister, Grace Abounds Over SinAt Ground Zero, a New York pastor becomes a symbol that God is present and available. (Sept. 24, 2001)
The End of the World (Trade Center)Dispatches from out of the dust. (Sept. 19, 2001)
Other articles posted the week of September 11, 2002, in memory of the attacks include:
9/11, History, and the True StoryWartime authors J. R. R. Tolkien and C. S. Lewis help put 9/11 in perspective. (September 13, 2002)
Seeing Light After the Smoky Darkness of the Trade Towers CollapseThe spiritual war against terrorism is the war against the sinful heart and its allegiances. (September 13, 2002)
Beyond Broken BeamsA chaplain at Ground Zero talks about his role in "a bigger story being told by a creator who deals in restoration." (September 12, 2002)
Deliverance on the 81st FloorOn 9/11, Stanley Praimnath and Sujo John called out to God from inside the World Trade Center. (September 11, 2002)
Transcending SecurityThe rightful fear of anthrax is not the beginning of wisdom. (September 11, 2002)
Speaking Out: Ten Things We Should Have Learned Since September 11, 2001We can't turn a blind eye to Islam, evangelism, heroism, and our Christian calling. (September 10, 2002)
Afghanistan Before September 11A Christian relief worker talks about the terror inside the war-ravaged country and his prayers for change. (September 10, 2002)
Christianity Today essays after September 11 included:
Wake-up CallIf September 11 was a divine warning, it's God's people who are being warned. (Nov. 5, 2001)
Judgment DayGod promised that calamity would follow disobedience. So why are we quick to dismiss it as a reason for the September 11 attacks? (Sept. 25, 2001)
Now What?A Christian response to religious terrorism. (Sept. 21, 2001)
To Embrace the EnemyIs reconciliation possible in the wake of such evil? (Sept. 21, 2001)
After the Grave in the AirTrue reconciliation comes not by ignoring justice nor by putting justice first, but by unconditional embrace. (Sept. 21, 2001)
Books & Culture Corner: The Imagination of Disaster"We thought we were invulnerable." Really? (Sept. 17, 2001)
Taking It PersonallyWhat do we do with all this anger? (Sept. 14, 2001)
When Sin ReignsAn event like this shows us what humans are capable of becoming—both as children of darkness and of light. (Sept. 13, 2001)
Have something to add about this? See something we missed? Share your feedback here.
Our digital archives are a work in progress. Let us know if corrections need to be made.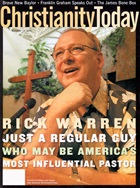 This article is from the November 18 2002 issue.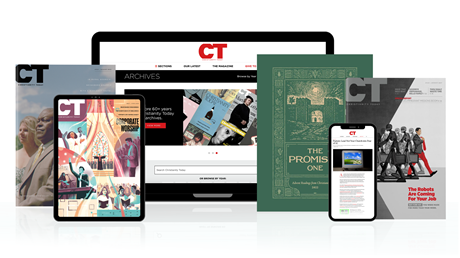 Annual & Monthly subscriptions available.
Print & Digital Issues of CT magazine
Complete access to every article on ChristianityToday.com
Unlimited access to 65+ years of CT's online archives
Member-only special issues
Subscribe
Manhattan Ministry a Year Later
Manhattan Ministry a Year Later