Jen Hubbard said she knew right away that Christian Research Institute (CRI) had spending problems. Committed to working at nonprofit ministries, the 27-year-old was thrilled to be at CRI, where Hendrik (Hank) Hanegraaff hosted the popular Bible Answer Man radio broadcast. But the way Hanegraaff spent money did not seem right, Hubbard told Christianity Today.
Hubbard's subsequent actions sparked an investigation by the Evangelical Council for Financial Accountability (ECFA), and in March, the watchdog agency found CRI had "breached compliance" with key member standards. After further investigation and counsel, CRI employees agreed to pay back significant sums of misused ministry funds and create better accountability systems in the organization.
Poor internal controls
CRI hired Hubbard as a donor communications specialist in May 2002. She became alarmed when she saw ministry spending practices and heard employee concerns about the outlays. Meanwhile, she was sending monthly financial appeals to donors, urging them to give generously lest CRI suffer ministry cutbacks. The ministry generated more than $500,000 a month in donations in 2001.
"It's kind of hard to make those pleas when you see the extravagance from the inside," said Hubbard, who held similar positions with Insight for Living and Joni and Friends.
One item she was particularly concerned about was CRI's paying $66,000 in July 2002 for a blue Lexus sc, purchased for Hanegraaff's use. That same year former employees said a lull in giving resulted in layoffs at the $9.3 million ministry.
When her supervisor refused to take her complaint seriously, Hubbard started looking for proof. In December, while doing after-hours overtime work at the Rancho Santa Margarita–based ministry, she quickly grabbed two dozen internal CRI documents—including invoices and receipts—to show her superiors the problems. She had access to some of the material in the normal course of her duties. The rest was in an unlocked file cabinet near her desk.
When officials found out what she had done, CRI fired her. The same day, January 20, she sent copies to the ECFA.
Hubbard wasn't the only one concerned. Others included Joshua Scott, 28, a Bible Answer Man call screener, and Thaddeus Williams, 24, a researcher, phone counselor, and writer. Williams became spokesman of a group of concerned employees. On January 20 and 21, he spoke with CRI executives Paul Young and John Stoffel to seek reform and reconciliation. The three concluded that Hanegraaff would sell the sports car, and that Williams would lead an internal accountability board of CRI employees, Williams said. But in early February, CRI fired Williams. The stated reason was excessive tardiness.
In March the ECFA announced it was conducting a "compliance review" and said CRI had "breached compliance" with three of the watchdog agency's seven standards of member conduct: board governance, financial controls and policies, and use of ministry resources. ECFA noted CRI did not have "adequate systems in place to ensure that expenditures are properly documented in a manner consistent with sound internal control or to substantiate the ministry purpose of disbursements made."
The ECFA further found that CRI had not addressed "potential conflicts of interest transactions involving related parties" and that "there were not sufficient Board policies or oversight to identify these deficiencies." At one point in the investigation ECFA President Paul Nelson told CT, "They don't have sufficient internal controls in place, so you really don't know what you don't know."
But ECFA also said it had found no evidence that "the deficiencies were willful on the part of the ministry" or that "the ministry's effectiveness or outreach had been compromised." Nelson characterized CRI's actions as "naïve."
The ECFA said in mid-June that CRI had become compliant with ECFA standards, but that the compliance review remained open. It said CRI had provided "significant reimbursement for certain disbursements that could not be clearly substantiated as having a ministry-related purpose."
Problem spending
Neither CRI nor the ECFA would provide details on repayments to CRI. Hubbard, Williams, and Scott, however, produced receipts from last year that may illustrate some of the problems:
CRI paid Kathy Hanegraaff, Hank's wife, $3,141 for miscellaneous personal expenses.


The ministry paid nearly $8,000 in flooring for Hanegraaff's home office.


CRI paid two months of dues, totaling $3,100, at the country club in the gated community of Coto de Caza, where the Hanegraaffs and their nine children live.


CRI paid for Hank Hanegraaff's vitamins and for flowers he sent to his mother.


The ministry paid maintenance bills for Hanegraaff's children's computers in the amounts of $400, $300 (twice), and $200.


Paul Young, CRI's executive vice president and a board member, declined to comment on the misuse of tax-exempt money.
Employees were also concerned about Hanegraaff's salary. According to publicly available financial disclosure forms, CRI paid Hank Hanegraaff $251,886 in 2001 (the most recent year for which statistics are available). This represents an increase of $52,886 (26.5%) over the previous year. Kathy Hanegraaff received a salary of $87,600 as CRI's director of planning.
Young, who keeps the ministry's books and earned $130,475 in 2001, told CT he could not remember the amount of Hanegraaff's raise.
Board issues
The ECFA announced in June that CRI had implemented stronger internal controls to track spending. Formerly, the five-member CRI board wasn't adequately monitoring spending, Nelson said. The current board includes Hank Hanegraaff (the board's president), Young, longtime board member Everett Jacobson, Lewis Neely, and Chuck Merritt.
The ECFA said, "CRI is actively seeking to increase the size of its Board, as well as the diversity of professional disciplines represented on the Board."
Nelson declined to provide specifics concerning transactions involving potential conflicts of interest with related parties. But he acknowledged ECFA looked into the actions of Chuck Merritt, who has been an unpaid member of the board since 1999.
Merritt was senior vice president at Dallas-based KMA Communications, responsible for overall business development. Financial disclosure documents show that in the past three years, CRI paid KMA $868,811 for development and fundraising services, including $386,943 in 2001. In June, ECFA decided the Merritt connection was not a conflict of interest, because in "recent months" Merritt had changed his status with KMA, becoming a consultant, Nelson said.
But Michael Barrick, spokesman for Wall Watchers, a ministry monitoring agency, said the board link between CRI and KMA at least gives the "appearance of impropriety."
"They're spending 19 percent of their income on fundraising, where the industry average is 7 percent," Barrick said. "That does raise a question in my mind regarding that KMA connection."
Merritt declined to comment.
Still wounded
Hubbard, who is still unemployed, told CT she knew she might lose her job by contacting the ECFA, but she still feels wounded by how she was treated.
"We're really happy to hear they're willing to make the changes," Hubbard said from her home in San Clemente. "That was our goal. But it does put a stinger in your heart to know that this reconciliation isn't complete."
ECFA didn't promise Hubbard any protection for blowing the whistle, but Nelson says the investigation would not have happened without her, and CRI is a better organization now than it was before the investigation.
Said Young of CRI, "This is a not-for-profit organization under good watch-care, and we've done what was required to do." CRI welcomed the ECFA investigation "with open arms. ... If there's deficiencies, we want to improve them, because we want to be squeaky clean."
Marshall Allen in San Clemente
Related Elsewhere:
Equip, the online ministry of the Christian Research Institute, includes information about CRI and Hank Hanegraaff. OnePlace.com carries the broadcasts of Bible Answer Man.
The Evangelical Council for Financial Accountability has posted online information about the EFCA and its members along with its list of seven standards to which members must subscribe.
Previous Christianity Today articles on Hanegraaff and CRI include:
Counterfeit Critique | Hank Hanegraaff's long-awaited book relies on old data and leaves false impressions. (Sept. 1, 1997)
Pensacola Outpouring | Apology Follows Hanegraaff Attack (August 11, 1997)
Have something to add about this? See something we missed? Share your feedback here.
Our digital archives are a work in progress. Let us know if corrections need to be made.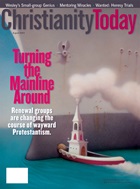 This article is from the August 2003 issue.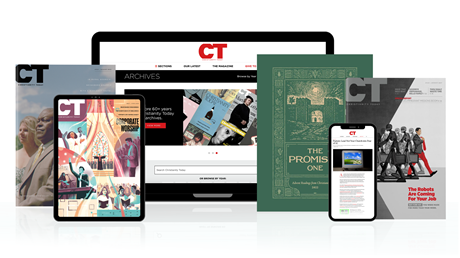 Annual & Monthly subscriptions available.
Print & Digital Issues of CT magazine
Complete access to every article on ChristianityToday.com
Unlimited access to 65+ years of CT's online archives
Member-only special issues
Subscribe
Christian Research Institute Accused of 'Naïve' Bookkeeping
Christian Research Institute Accused of 'Naïve' Bookkeeping