Theologian, journalist, and evangelical leader Carl F.H. Henry died Sunday, December 7, at age 90 in his longtime home of Watertown, Wisconsin. Henry made it his life's work to present biblical Christianity as intellectually credible and historically true. On the battlefields of modern theological thought, spanning seminaries, denominations, and media, Henry shaped the defenses of evangelicalism with two goals in mind: preserving truth and attracting nonbelievers.
Born January 22, 1913, to German immigrants in New York City, Henry received no religious instruction at home. Growing up on Long Island, he attended an Episcopal Sunday School and graduated from high school on the eve of the Great Depression in 1929.
His first introduction to personal faith in a living God came as he worked at a weekly newspaper office, proofreading galleys with a middle-aged woman, Mildred Christy. When Henry used the Lord's name as an expletive, Christy commented, "Carl, I'd rather you slap my face than take the name of my best Friend in vain."
In 1932, at age 19, Henry became editor of The Smithtown Star and later a stringer for The New York Times. A career in journalism seemed assured. At age 20, he canceled three Saturday appointments in a row with the young man, Gene Bedford, who eventually led him to Christ. After a chance meeting, they again arranged a time to get together. They spoke for three hours about spiritual matters, and then prayed The Lord's Prayer together. When they were done praying, Henry remembered, "I had inner assurance hitherto unknown of sins forgiven, that Jesus was my Savior, that I was on speaking terms with God as my Friend. A floodtide of peace and joy swept over me. My life's future, I was confident, was now anchored in and charted by another world, the truly real world."
Henry became convinced that he should go to college to prepare for a life of Christian service, and Dr. Frank E. Gaebelein, then headmaster of The Stony Book School, gave him a Wheaton College catalogue. After hearing a talk by Wheaton president J. Oliver Buswell, Henry concluded that "faith without reason is not worth much, and that reason is not an enemy but an ally of genuine faith, and moreover that the resurrection of Jesus is an historical event." He entered Wheaton in the fall of 1935, attending classes and teaching typing and journalism. His Wheaton classmates included many who later came into evangelical leadership: Billy Graham, Harold Lindsell, Ken Taylor, and Richard Halverson. Henry met his wife, Helga Bender, at Wheaton.
Once, in a journalism class he taught, Henry orchestrated an unusual final exam. He had Halverson, who would later serve for 15 years as chaplain of the U.S. Senate, burst into the room posing as a masked gunman, demanding Henry's wallet. "After the gunman escaped," Henry recalled, "I told the class to write the story."
Henry pursued graduate studies simultaneously at Wheaton, earning a M.A., and Northern Baptist Theological Seminary, where Henry earned his Th.D. after being ordained a Baptist minister. While still at Northern, Henry endorsed the launch of the National Association of Evangelicals in 1942, served on its Board of Administration, and was book editor of NAE's magazine, United Evangelical Action. Henry eventually taught theology at Northern while pursuing his second doctorate, a Ph.D. from Boston University, which he earned in 1949. Henry also served as visiting professor of theology at Gordon Divinity School and Trinity Evangelical Divinity School. In 1947, Henry's first of many major books was published. The Uneasy Conscience of Modern Fundamentalism emphasized the Christian's dual citizenship, challenging the withdrawal of fundamentalists from society. The same year, evangelical leaders approached Henry about their starting a new seminary on the West Coast. In the fall of 1947, Henry arrived in Pasadena to become Fuller Seminary's first acting dean.
Henry continued writing and pursued doctoral studies. "Among my concerns," he wrote, "was to engage evangelicals in a discussion of social and cultural problems and to help define authentic involvement."
In 1955, Billy Graham wrote a letter proposing a new magazine, Christianity Today, to showcase evangelical thought. He sent Henry a copy of the letter, in which he urged Henry to become the editor. The project was conceived as a way to "give the liberally oriented Christian Century a run for its biases," Henry wrote. It was designed mainly as a vehicle to "win a hearing for evangelical orthodoxy from non-evangelical scholars." Months of soul-searching and discussion led Henry to accept the post and make the commitment to leave Fuller and become its first editor.
At the helm of Christianity Today, Henry came into contact with thought leaders worldwide. "My mail involved frequent exchanges with liberals and neo-orthodox clergy, with far left ecumenists and far right fundamentalists, with professors, … with clergy, … and with students," he later said. Henry and the magazine gained international prominence and frequent mention in the media.
Henry delighted in recounting a time when he sparred with theologian Karl Barth. Barth invited questions from a group of 200 religious leaders attending a luncheon in his honor. Henry rose and identified himself as "editor of Christianity Today" before asking Barth about his views on the historical fact of Jesus' resurrection. Barth retorted, "Did you say Christianity Today or Christianity Yesterday?" As the audience howled with laughter, Henry countered, "Yesterday, today, and forever."
In 1968, Henry left his post at CT, but continued to write a column titled "Footnotes." He went on to study at Cambridge, England, and to establish the Institute for Advanced Christian Studies (IFACS). He found himself preoccupied with two concerns: the problem of religious knowledge, and the doctrine of God. He became convinced "that if we humans say anything authentic about God, we can do so only on the basis of divine self-revelation; all other God-talk is conjectural." His musings on this and related theological issues gave birth to his six-volume work, God, Revelation, and Authority, completed in 1983.
He returned to the United States to teach at Eastern Baptist Theological Seminary. In 1971 he served as program chairman for the Jerusalem Conference on Bible Prophecy, and he traveled widely in Asia to promote evangelical thought and offer support and encouragement to indigenous evangelical leaders.
Throughout the 1970s and 1980s, Henry helped shape a new generation of evangelical leadership through his participation in conferences and events worldwide. In 1974, he became lecturer-at-large for World Vision International. Henry logged tens of thousands of air miles annually, visiting every continent. In 1983, he returned to teaching as visiting professor of Christian studies at Hillsdale College in Michigan.
Henry helped shape the vision of evangelical leaders such as Charles Colson, founder of Prison Fellowship. He served on Prison Fellowship's board, as well as the boards of the Institute for Religion and Democracy and the Ethics and Public Policy Center, both in Washington, D.C. An able encourager and champion of evangelicals serving in many facets of society, Henry critiqued evangelical accommodation to a society increasingly at odds with biblical standards. In an attempt to unify evangelicalism, which he considered to be splintering over secondary issues, Henry and former Christianity Today editor Kenneth Kantzer co-chaired a conference on Evangelical Affirmations in 1989.
He wrote, "I have two main convictions about the near-term future of American Christianity. One is that American evangelicals presently face their biggest opportunity since the Protestant Reformation, if not since the apostolic age. The other is that Americans are forfeiting that opportunity stage by stage, despite the fact that evangelical outcomes in the twentieth century depend upon decisions currently in the making." The Biographical Dictionary of Evangelicals writes that toward the end of his life, Henry was concerned that the movement he helped shape was losing its identity due to uncritical accommodation.
No discouragement ever dimmed Henry's love for his Lord and joy in his faith. Above all else, he viewed salvation as the only hope for human fulfillment, and evangelical theism as its most coherent and truthful expression. He entertained panoramic visions of evangelical cooperation and co-belligerency on behalf of preserving and articulating biblical values; and he insistently called for evangelical repentance and renewal to precede forays into politics, social action, media, and higher education.
On granting Henry the Mark O. Hatfield Leadership Award from the Christian Council of Colleges and Universities in 2000, Union University President David S. Dockery said, "Few people in the twentieth century have done more to articulate the importance of a coherent Christian world and life view than Carl F.H. Henry." "No Christian college or university in North America carries forth the commitment to the integration of faith and learning without Henry's influence, even if many on our campuses are unaware of that influence."
Henry's vital relationship with Jesus Christ informed and animated all his accomplishments and dreams. Of that relationship, he once wrote, "Into the darkness of my young life he put bright stars that still shine and sparkle. … I walked the world with God as my Friend. He prodded me to go to college, to choose my career and my mate and still leads me day after day."
Article continues below
Related Elsewhere
Profiles of Henry are available online from Trinity Evangelical Divinity School's magazine, Boston University's Modern Western Theology site, and elsewhere.
The Watertown Daily Times will publish more on the death of this hometown celebrity.
The Billy Graham Center Archives web site has an autographed copy of Christianity Today's first issue, along with a February 15, 1956, photo of Graham and the editors.
Eerdmans recently reissued Henry's classic The Uneasy Conscience of Modern Fundamentalism. Other Henry volumes, including the six-volume God, Revelation, and Authority, Confessions of a Theologian, Twilight of a Great Civilization, Dictionary of Christian Ethics, The Identity of Jesus of Nazareth, Toward a Recovery of Christian Belief, Evangelical Affirmations, and Christian Mindset in a Secular Society, are available at ChristianBook.com, Amazon.com, and other book retailers.
Amazon can also help with several out of print Henry titles, including Gods of This Age Or … God of the Ages?, The Biblical Expositor, and The Ministry of Development in Evangelical Perspective.
Several books about Henry are also available (though out of print), including Carl Henry at His Best, Conversations with Carl Henry, What Is Truth?, God and Culture: Essays in Honor of Carl F.H. Henry, Two Reformers of Fundamentalism, and a biography, Carl F.H. Henry.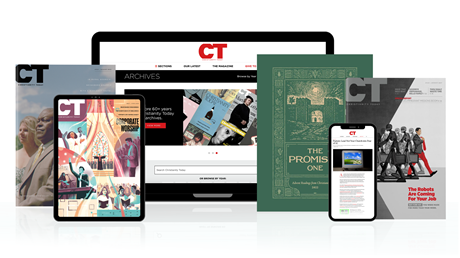 Subscribe to Christianity Today and get access to this article plus 65+ years of archives.
Home delivery of CT magazine
Complete access to articles on ChristianityToday.com
Over 120 years of magazine archives plus full access to all of CT's online archives
Subscribe Now
Carl F.H. Henry, Theologian and First Editor of Christianity Today, Dies at 90
Carl F.H. Henry, Theologian and First Editor of ...