Traveling secondary roads in Honduras (picture someone riding a bucking bronco) is where I receive a firsthand lesson on the toll taken by Hurricane Mitch in October 1998. The lesson came from Chet Thomas, executive director of the Honduran nonprofit Christian development agency, Proyecto Aldea Global (PAG; in English, Project Global Village). We enter a town called La Libertad, where in 1998 a wall of water, mud, and trees had poured down the mountain and swept a hundred people away with it.
"We found lots of bodies in El Cajon [reservoir]. It's an old town, about 35,000 people," Thomas says. "Half the town was under water. To this day, two-story buildings are one-story buildings because of the mud residue." Moving higher into the mountains where the coffee farmers live, Thomas explains, "Mitch dropped four feet of water in six hours and it had to come down off these mountains, and did so in a way that took everything with it."
The hurricane destroyed all the export crops. The banana companies poured over $300 million into the recovery. It wasn't until 2001 that banana production reached pre-Mitch levels. The same was true of shrimp fishing. Coffee is a different story. Vietnam has emerged as one of the world's main coffee producers, which has sharply dropped prices everywhere. This is good for consumers, but disastrous for a country like Honduras, where coffee accounted for 40 to 50 percent of exports. Worse, most of Honduras's coffee producers are small farmers, who harvest the crop on a half-acre of mountainous terrain, and for whom the drop in price has created a disaster.
Even three years after Mitch, more than 100,000 displaced people were waiting for new homes while living on patches of dirt in houses made of plastic. Others have abandoned their homes because they lacked food. The country was in the middle of a drought, leaving many without water and food. Many secondary roads were impassable and many bridges were still out.
Honduras is about the size of Pennsylvania and its growth rate (3 percent) exceeds its food production. The country can't feed itself. Fifty percent of the 6.3 million Hondurans live below the poverty line. The average per capita income is about $1,977 a year.
In the aftermath of Mitch, PAG became the largest and most efficient development agency in Honduras, surpassing in size and income the Honduras branches of World Vision, World Relief, Habitat for Humanity, and Catholic Relief Services. Hurricane relief doubled PAG's personnel almost instantly to 286 employees (half of whom were let go amid decreased giving after Sept. 11, 2001). PAG received more hurricane-relief money from the United States Agency for International Development (USAID) than any other agency—$5 million—and spent it at a rate of $100,000 a week. This is due in no small measure to PAG's reputation for stewardship and expeditious dissemination of funds to the most needy and remote communities. But it's also due to the tenacity of people like Thomas, who stare in the face of disaster and figure out what works for long-term development.
Used razor-blade philosophy
The problem with writing about "development" generally and PAG specifically is knowing where to begin. We begin on the winding road leading to the quaint colonial mountain village called Santa Lucia, where Thomas lives with Lizzeth, his wife of ten years.
Driving up from Tegucigalpa, where PAG's main office is located, Thomas and I stop at a little store. He returns a minute later, crestfallen, because the store doesn't carry the brand of razor blades he likes. "If you clean them out real good they can last for two weeks," he says, sighing. "I guess I can make it one more bad morning."
In the days I spent driving around with Thomas visiting many of PAG's projects, listening to his stories, watching him shove Big Red cinnamon chewing gum into his mouth, I came to see that his razor-blade sentiment captures his philosophy of development: You teach people to make the most of what they've got.
Thomas grew up in rural Pennsylvania as a member of the Church of the Brethren. "We belonged to one of the peace churches [with] lifestyles committed to nonviolence, a reverence for the land, and hard physical labor," Guillermo Yuscarán quotes him as saying in Gringos in Honduras. Thomas worked in a butcher shop as a teen and used to carry 100-pound baskets of bones and entrails, their wire handles cutting his fingers. He's been a stock-car racer, a Peace Corps volunteer, a manager for Ringling Brothers Circus and the World Bank, and a promoter for rodeos and rock shows. Such experiences have all come in handy in his work with PAG.
The next day we drive to Flor del Campo, and pull up to the locked, gated entrance of PAG headquarters, a mélange of concrete buildings and corrugated roofs built around an open concrete courtyard with a basketball hoop. Stepping out of the truck, I am overpowered by smells of smoke from burning hillsides, sewage, and cooking tortillas. A rooster crows and a vendor in a beat-up truck with a bad megaphone hawks mangoes and eggs.
With a population of 15,000 and located in the poverty ring surrounding Tegucigalpa, Flor is the nation's largest "land invasion" (squatter) community. Squatter communities derive no benefits from the government—no electricity or water—since, technically, someone else owns the land. The people of Flor del Campo dug their own trenches and laid their own sewerage pipes, and PAG drilled the first well that pumped water into the community. Otherwise, the water would have had to be brought in by truck ("the most expensive water in Tegucigalpa," Thomas says).
Between 35 and 40 percent of the population is unemployed or underemployed, and that has exacerbated gang activity. Gang members number over 130,000 nationwide, while the Honduran army stands at about 7,000. In Flor, gangs kill an average of one youth a day and assault and rob young people on public school grounds in broad daylight. "In the slum, to survive, people do what normal people don't do," Thomas says.
The PAG compound is an oasis of hope and activity in this otherwise desperate environment. It is the only living space in the barrio that has not been assaulted by gangs. I peek into a little room where four Honduran women sit around a table making greeting cards that find their way into little shops all over the country. Another room, still unfinished, will house 30 donated computers. "We're going to have gang members sitting here taking computer classes," Thomas says. We cross the basketball court and—a surprise—there's an herb garden tucked onto a postage-stamp plot amid the concrete. "We're teaching people how to grow food on small plots," he says. Behind the garden are eye and ear clinics.
Thomas leads me to a large meeting hall where PAG holds its youth outreach program, "Saturday Sunday school," and other large gatherings. Staff workers Alan Aguiriano and Olga Fuentes, who work with the scholarship program, are waiting to talk with us. They explain that most urban youth come from single-parent homes (usually a mother) and are very poor. Often children can't get schooling beyond the sixth grade, which is when government support stops. PAG's scholarship program helps 70 young people complete their education through high school and, in some cases, into university. It costs $15 per month to sponsor one student. In return—PAG never gives handouts—the organization requires recipients to attend evening classes in life skills based on biblical principles, like what to look for in a wife and how to be a good husband. They must also help with "Saturday Sunday school."
The biggest challenge facing the PAG staff at Flor is the gangs. Two days before our meeting, a 17-year-old wore a T-shirt bearing the name of a heavy metal band, Metallica. "There is a gang here called 'the Rock'—they love rock music," says Olga. "One gang confused him with belonging to that gang. They cut off his head and burned his body."
Beyond youth programs, PAG also sponsors microbusiness loans and "solidarity loans" to poor people who would otherwise have to depend on loan sharks. Maria Matamoro is one such recipient. She is 35, a mother of three who was abandoned by her husband, and lives in a one-room shack without running water. She is one of five women who equally share the responsibility to repay their solidarity loan from PAG.
Maria used her portion, about $130, to buy corn flour and lard for a small tortilla business. She gets up at 5:30 a.m. to prepare the dough and is cooking by 6 o'clock. She doesn't stop until 4 p.m., when she does the laundry by hand and helps her children with schoolwork—"as much as I know," she says, for she only completed fifth grade. She makes 1,200 tortillas daily, which earns her about $7 a day, seven days a week. Her husband plays pool and drinks and offers no help, financially or otherwise.
Honduras has struggles typical of Third World countries, including a disparity between the classes. "You have 757 jets landing on a runway next to a guy working with a plow that hasn't been improved since Jesus walked," Thomas says. "The model isn't working for everyone." The people in the modern sector, who move up, are the landed rich and the educated. Those in power are often corrupt, so what little aid is earmarked for the poor frequently ends up in someone else's pocket. The rich drive suvs and live in homes behind gates with chauffeurs and swimming pools, while the poor have no running water, live in cardboard shacks, and can't feed themselves.
Even in the best of times when there is no drought or hurricane, Honduras's natural resources are very limited. Sixty percent of the population is rural, "trying to make a living growing basic grains on land never meant to be farmed. The country is all mountains and forests," Thomas says. Honduras relies upon a few export crops, including coffee, bananas, and shrimp. That is why most of PAG's focus remains in the rural areas, north of the capital city, where we travel the next day.
Our first stop is a town called Comayagua. Thomas wants to attend the graduation ceremony of PAG-trained midwives to honor the women's commitment and training. Many husbands won't allow their wives to leave home in the evenings for classes and resent it if their wives gain a superior education. PAG has trained more than 600 midwives in the past eight years, has set up 35 health centers, and has built four medical clinics in central Honduras. These efforts focus on strengthening families. The midwives not only help with prenatal care, but also educate poor rural women about proper health and nutrition for their children.
The room is hot, and the microphone echoes; the women are in pressed blouses and skirts with stockings and dressy shoes that have grown dusty from their walking. The ceremony opens in prayer. "This really bothers the government people, but with us, they've come to accept it," Thomas whispers. Then they ask him to speak. He stands and greets the gathering, almost all women. "You are leaders in your community," he says. "You are contributing to the development of your community."
Before long we head north, destined for a relocation community called Brisas del Campo, a community of coffee growers who were relocated by PAG after Hurricane Mitch. We zigzag bucking-bronco style up to the top of the mountain, past unfertilized coffee plants growing in clumps and patches along the roadways and mountainsides. (Last year's crop didn't produce enough money to pay for fertilizer.)
Mitch destroyed the side of the mountain where 110 families had lived, and the area remains at risk. PAG built new brick and cinderblock homes, a school, and a church, and put in water, sewerage, and new roads—after first grading the roads Mitch destroyed so workers could get there in the first place. Everyone in the community put in 150 work days to earn a house.
Cheap Coffee
Thomas quickly becomes distraught after our arrival. He learns that only 38 of the 110 families remain. Those who left had no money to buy food because their coffee didn't sell. "I have told them they are not going to get a return on their coffee—nunca," Thomas says. "There is too much coffee in the world. It's very cheap."
As we travel back down the mountain, Thomas sounds discouraged. "Development is like pushing a big stone from a dead stop," he says. "It takes a lot of effort, but once it starts to move, you have to keep it going. Otherwise, you do more harm than good. If you raise their hopes and then let them fall, they'll never trust anyone again. You can't propose something that has any more than a 10 percent risk factor—poor people can't afford to take risks. When they start to see success, that slowly brings them along."
We stop in the village of Las Lajas (PAG has a regional office nearby). He holds an impromptu meeting with the staff about planting a community garden at Brisas del Campo to provide food for the remaining families and to encourage some of the others to come back.
Here we discover we are almost out of gas. Thomas gets obscure directions for where there might be a pump, and we meander more. While driving, Thomas drops little facts: "We put in about 1,700 latrines in this area." "We put in this road." "We bought that building for about $400." "These people didn't have water till we put it in for them."
Eventually we come upon two lonely pumps that look like props for Car 54, Where Are You? A happy man with a bushy mustache and baseball cap approaches and turns a crank on the tank to pump $5 worth of fuel.
We have one more stop to make that day: the nation's first ferry. After building the El Cajon dam, the government flooded the valley, inundating the only access roads for farmers in Brisas del Campo, Las Lajas, La Libertad, and other villages. They had no way to get their produce to larger markets.
Thomas, improvising, built two ferries, each holding up to four vehicles and crossing the tributary several times a day, effectively opening the larger markets along main roads for those remote mountain farmers. PAG also built all the roads leading to the ferry on the east side, and all the roads leading from the ferry on the other side, up to the main paved road.
On my last day in Honduras, we are in the little town of San Isidro where PAG began in 1983. Thomas sees a man with a cowboy hat and thick mustache walking along the road. He is Ramon, PAG's road supervisor and one of the first local Hondurans to join the staff. He attended that first meeting almost 20 years ago, one of the handful of people from six communities who came on horseback to hear about Thomas's vision. Later he approached Thomas and said he felt called to work with PAG but had a handicap: He couldn't read or write. Of necessity, one of the first programs PAG launched was a literacy program. Thomas calls this building the "human infrastructure," a critical aspect of development.
"These poor know they're poor," he says. "We have to be extremely careful not to take away their dignity. At the end of the day, it's the only thing that's sustainable." At PAG's first meeting, Ramon stayed in the shadows and didn't want to speak. Today he holds his head high, manages a road crew, and is a trusted adviser to Thomas, who says, "If Ramon stopped working for us today, he would continue to be a leader in his community."
Simple Requests
Developing the human infrastructure has seen its crowning expression in PAG's Civil Society development program, launched in 1996. It started in a small mountain village called Belen Gualcho, home to the extremely poor Lenca Indians, where Thomas wanted to plant an apple orchard as a source of income for the Indians. PAG bought an old adobe house for $1,000 and added the 4-acre piece of land behind the house as the site for a future processing plant.
The Indians had the climate and land they needed to plant apples, but they didn't have roads to transport them, or electricity for processing and storage. They asked the Honduran government for help but received no response. Under the guidance of PAG, the Indians came up with a plan.
"The belligerent Indians from Belen took three buses and parked them sideways on the Pan-American Highway and stopped all traffic from El Salvador to Guatemala for six hours," he says. "That got the government's attention. They came out in helicopters." The Indians told the officials: "We have a simple request. We want a road paved to Corquin; and we want electricity to Belen."
Helping local communities organize, set priorities, articulate "simple requests," and establish a system of accountability for local officials has become the hallmark of PAG's Civil Society program. For these small countries that for so long were run, de facto, by military dictatorships that considered the voice of the masses a communist threat, it has been nothing short of a revolution.
Take the mayoral elections of 1997. PAG worked with 200 communities in 12 municipalities (like counties) in central Honduras, telling them to draw up a list of priorities they'd like addressed over the next four years. "Every little community, even if there were 20 houses there, 20 families, came up with a plan," he says. PAG consolidated the plans and divided the 12 municipalities into four sectors by geographic area. It sent the priority lists to every candidate in the respective geographic area, in all five political parties. PAG asked candidates to respond in writing about what they would do to address these problems.
Before the elections, PAG sponsored an event called Concentration 1997. It rented a large gymnasium, put up balloons, brought in television cameras and radio hookups, and rented trucks and buses to bring in 400 campesinos from distant rural villages. "All these politicians came with ties and suits on," Thomas says, "and had to get up and present their plan to these poor farmers."
The politicians made their presentations, which were broadcast in 400 villages, and turned in signed documents outlining their responses to these communities' priorities. "We printed their positions on posters and a month before the election plastered 500 over the whole geographic area. Every little store where people would go to buy food had a poster saying how their candidates responded to their priorities.
"For the first time," Thomas says, "these little communities have a voice that the public officials have to answer to."
The Old Wooden Barrel
Development work, Thomas says, is like an old wooden barrel. "All the staves are held together by a hoop, but they all have to be the same height. That's what development is. All aspects need to be addressed equally to fill the barrel."
But which stave to start with? Where does one begin to talk about development? Do you begin with the idea of planting an apple orchard in a poor mountain village? Or with the road that must be built to get into the village and the apples out? Or with electricity so the apples can be stored and processed?
A glimpse into the answer comes on my last night while I relax with Thomas and Lizzeth in their little second-story apartment near Lake Yajoa, centrally located amid PAG's many rural projects. We crack open a bag of beef jerky. Thomas sits in an old plastic chair, Lizzeth and I on the vinyl sofa. A lizard scurries across the wall. Life is different here.
Thomas, gnawing on a piece of jerky, grows quiet. Lizzeth asks, "What are you thinking, Chet?"
He nods. "Good beef jerky."
"No," she says. "What are you thinking?"
Turning it, looking at it, he says, "I'm thinking, 'How can we make this?' "
Wendy Murray Zoba is a senior writer for CT and the author of a midlife memoir, Facing Forward (Tyndale, January, 2003). Her earlier account of ministry in the aftermath of Hurricane Mitch appeared in the May 24, 1999, Christianity Today. PAG's website is www.paghonduras.org.
Related Elsewhere
Wendy Murray Zoba previously reported on ministry in the aftermath of Hurricane Mitch in Christianity Today's 1999 "Exit Strategy | Amidst church conflicts and a devastating hurricane, missionaries John and Shirley Wind answered the call to leave Honduras."
Christianity Today's immediate coverage of the 1998 disaster included the news article, "Relief Hindered by Devastation."
PAG's website includes more information about the organization.
Have something to add about this? See something we missed? Share your feedback here.
Our digital archives are a work in progress. Let us know if corrections need to be made.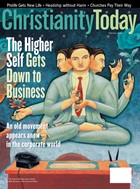 This article is from the February 2003 issue.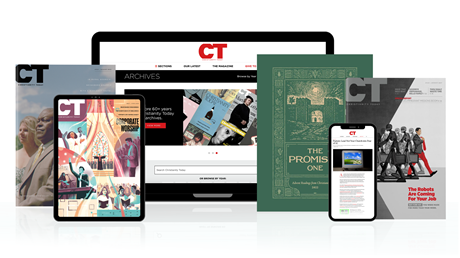 Subscribe to Christianity Today and get access to this article plus 65+ years of archives.
Home delivery of CT magazine
Complete access to articles on ChristianityToday.com
Over 120 years of magazine archives plus full access to all of CT's online archives
Subscribe Now
How to Rebuild a Country
How to Rebuild a Country