Government meeting invocations questioned, changed, and dropped
Judging by recent news stories, the next big battle regarding the relationship between church and state may be over invocations at local government meetings.
Ground Zero is likely to be Burbank, California. A lawsuit over a City Council meeting prayer that included the words "Jesus Christ" is already working its way through the courts. Last month, the California Supreme Court declined to review the case, leaving in place a ruling against the prayer and a court order that the city "advise anyone conducting a prayer as part of the City Council meeting that sectarian prayers are not permitted."
The San Gabriel Valley Tribune reports that Burbank may now appeal to the U.S. Supreme Court. Thirty-four California cities filed friend of the court briefs supporting Burbank when the city appealed to the California Supreme Court. If Burbank does ask the U.S. Supreme Court to review the case, expect many other cities nationally to also stand behind them.
"We feel it's unconstitutional to tell a minister how to pray," Margaret Clark, a member of the Rosemead, California, City Council, told the Tribune. "We feel it's a violation of their freedom of speech. … I can't imagine a public that wouldn't want their elected officials to realize they don't have all the answers and need wisdom from a higher power."
Talking to the Pasadena Star News, John Mastrogiovanni, president of the Monrovia Ministerial Association and pastor of the Jesus is Lord Christian Center, joked that the ruling may require the city council to mumble the name of his church. "This is broader than just Christian," he complained. "In the name of not being offensive to others, it's also saying now you can't be who you are. That's like saying if you're black, don't be black anymore because that offends me." But Mastrogiovanni says he'll still give invocations even if he can't say the name of Jesus, because he wants to be involved.
The ruling has already had a chilling effect on city council invocations, reports the Tribune. Cities unaffected by the ruling have told clergy members to eliminate "sectarian" references. As a result, "some evangelical Christian denominations have withdrawn from giving invocations."
Public prayer, not in public
Meanwhile, the Colorado State Board of Education has dropped prayer altogether after one board member said it made her uncomfortable. "Prayer is something very personal," said Evie Hudak, a Jew. "It's not something I want to do in public."
Clair Orr, another board member, told the Denver Rocky Mountain News that he thinks prayer is important before the meeting. "I, for one, do not feel adequate most of the time to make the decisions we're making. I, for one, want guidance from God," he said. He and other board members will pray in a separate room before the meeting. "I'm comfortable with that," he said. "I'm good to [pray] in the bathroom if we have to."
Moorpark, California, took a similar approach. The city council dropped all invocations, so ministers now gather outside the meeting to pray for the proceedings inside, reports the Ventura County Star.
But in the Maryland State Senate, ministers aren't cooperating. "Three of the five opening prayers in the Senate this week ended with a reference to Jesus Christ, which some members of the assembly believed to be inappropriate," reports The Baltimore Sun.
The Washington Post also reports on the controversy: "A couple of prayer-givers have strayed from the informal rules and have invoked the name of Jesus, raising a few eyebrows among the lowered heads in attendance," writes Craig Whitlock in a story that will itself raise a few eyebrows among Christian readers. For example, Whitock says that one pastor's prayer asking for protection against evil "seemed at odds with the motto of his church, listed at the bottom of its letterhead: 'A warm hearted church with a heart warming message.'" And he ends his story wistfully noting that there are "only 56 daily prayers to go until the General Assembly adjourns for the year."
Related Elsewhere
Suggest links and stories by sending e-mail to weblog@christianitytoday.com
See our past Weblog updates:
January 17 | 16 | 15 | 14 | 13
January 10 | 9 | 8 | 7 | 6
January 3 | 2 | December 31 | 30
December 27 | 26
December 19 | 18 | 17 | 16
December 13 | 12 | 11 | 10 | 9
December 6 | 5 | 4 | 3 | 2
November 27 | 26 | 25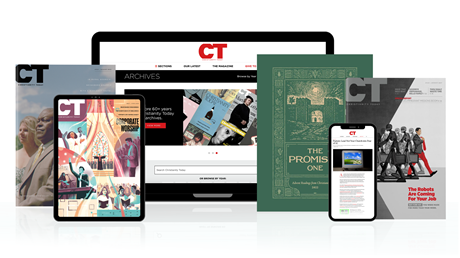 Subscribe to Christianity Today and get access to this article plus 65+ years of archives.
Home delivery of CT magazine
Complete access to articles on ChristianityToday.com
Over 120 years of magazine archives plus full access to all of CT's online archives
Subscribe Now
Muffled, Mumbled, and Other Public Prayers
Muffled, Mumbled, and Other Public Prayers