true
"In your house I long to be/Room by room patiently/I'll wait for you there like a stone/I'll wait for you there alone"
— from "Like a Stone"
Audioslave is like a "mash–up" done the old–fashioned way, combining the vocals of one band with the instrumentation of another. In this case, it's not a matter of digital editing but combining the remnants of two popular bands from the '90s. Screaming rap–rock band Rage Against the Machine replaced lead vocalist Zack de la Rocha with Chris Cornell of Soundgarden, one of the great rock metal bands from Seattle during the early '90s grunge movement. The combination works better than anyone expected. Who knew that Rage could tone down enough to play more of a classic hard–rock sound, reminiscent of Led Zeppelin and Queen? How can a band go wrong with one of the best lead vocalists in rock, ranking with the likes of Robert Plant, Freddie Mercury, Sammy Hagar and Gary Cherone?
It's one of the best rock albums of the last year, but I'm just as impressed that the Rage members turned over all lyrical control to Cornell. Rage Against the Machine has a reputation for bad language and controversial worldwide political causes; you can view them for yourself at www.axisofjustice.com. Cornell, on the other hand, has been known to explore spirituality and Christianity in his lyrics as far back as his days with Soundgarden. His words on Audioslave don't disappoint, except for the strong rocker "Set it Off," which drops the f–bomb twice.
The album's single "Like a Stone" has enough content to warrant its own essay. The chorus (excerpted above) is a strong plea for salvation and to be in God's presence. No doubt many will be hung up on the lyric, "On my deathbed I will pray to the gods and the angels/Like a pagan to anyone who will take me to heaven." In the song's context, however, it seems more like a desperate plea than an actual strategy or worldview, akin to the rich man asking Jesus, "What must I do to inherit eternal life?" Chris also qualifies it with the contrite third verse, "And on I read until the day was gone/And I sat in regret of all the things I've done/For all that I've blessed and all that I've wronged."
It's not the only faith–inspired track on the album. The prayerful "Show Me How to Live" is fairly self–explanatory: "Nail in my hand from my creator/You gave me life, now show me how to live." One of the album's softer tracks, "I Am the Highway," could be interpreted as what God is and isn't–present in everything and bigger than we imagine: "I am not your rolling wheels/I am the highway/I am not your carpet ride/I am the sky/I am not your blowing wind/I am the lightning/I am not your autumn moon/I am the night."
"Exploder" illustrates how spiritual freedom helps us reconcile the hurts of a sinful world, and "Hypnotize" reminds us to show love and compassion to our fellow man. The most stunning example of faith comes in "Light My Way," which at times rivals most other prayerful anthems you hear in Christian music: "In my hour of need, on a sea of gray/On my knees I pray to you/Help me find the dawn of the dying day/Won't you light my way." Some even wonder about the album's cover, incorporating the band's logo of a fire blaze. Maybe it's just my Christian worldview, but it strongly reminds me of an extremely huge representation of Moses and the burning bush.
Cornell is typically reluctant to discuss the inspiration behind his lyrics, though based on the recurring themes found on his albums, it's pretty safe to say he's got some kind experience with Christianity. Guitarist Tom Morello refers to the songs as "haunted, existential poetry." They are indeed vague at times, yet also poetic and inspiring, pointing to a sovereign Creator.
Unless specified clearly, we are not implying whether this artist is or is not a Christian. The views expressed are simply the author's. For a more complete description of our Glimpses of God articles, click here.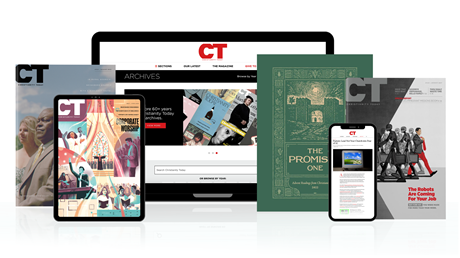 Subscribe to Christianity Today and get access to this article plus 65+ years of archives.
Home delivery of CT magazine
Complete access to articles on ChristianityToday.com
Over 120 years of magazine archives plus full access to all of CT's online archives
Subscribe Now
Audioslave
Audioslave