Robertson continues to defend Liberian dictator, but other evangelicals are critical
Liberian President Charles Taylor does not have many friends. And for good reason. The dictator has been indicted by a U.N.-related court for crimes against humanity, has fomented armed rebellion across West Africa, and has been accused of rape, mass murder, using child soldiers, and other atrocities in his days as a militia leader.
During President Bush's trip to Africa, this week, Liberia has been a top priority. He and other officials have repeatedly called for Taylor's resignation. "Until Charles Taylor is out of politics, there isn't going to be any stabilization of the situation in Liberia," National Security Adviser Condoleezza Rice said last week. "Charles Taylor needs to leave because Charles Taylor is the problem. And Charles Taylor is, by the way, not just a problem for Liberia. … [He] has been a source of insurrection and insurgency in surrounding countries. And the efforts to make stable places like Sierre Leone, in which the British are involved, are extremely important to the stability of West Africa. So Charles Taylor is a problem on a number of fronts."
In fact, the U.S. is sending a military team to Liberia to support several West African nations' efforts to bring peace there. More U.S. forces may be sent later, but has promised not to "overextend our troops."
All of this is widely supported by American Christians, with one notable exception: broadcaster Pat Robertson.
"We're undermining a Christian, Baptist president to bring in Muslim rebels to take over the country," he said on his 700 Club show Monday. "And how dare the president of the United States say to the duly elected president of another country, 'You've got to step down."
In today's Washington Post, religion reporter Alan Cooperman looks at Robertson's most recent demonstrations of support for the dictator and his assertions that the country's "horrible bloodbath" is the result of the State Department's opposition to Taylor.
"What Robertson has not discussed in these broadcasts is his financial interest in Liberia," Cooperman writes, noting a four-year-old, $8 million agreement between Robertson and Taylor to mine gold in the country. There's a good bet that Cooperman's colleague at the Post, columnist Colbert I. King, had some input on this matter. Back in 2001, King wrote a series of columns exposing and criticizing the mining operation, called Freedom Gold.
In an interview yesterday, Robertson told Cooperman that Freedom Gold was intended to fund humanitarian and evangelical efforts in the country, such as a February 2002 Liberia for Jesus rally, where Taylor reportedly told 65,000 of his subjects, "I am not your president. Jesus is!"
"There are people who say that's phony baloney, but I thought it was sincere," Robertson told Cooperman. "He definitely has Christian sentiments, although you hear of all these rumors that he's done this or done that.
"I have never met Taylor in my life. I don't know what he has done or hasn't done. I do know he was elected by the people, and he has maintained a relatively stable government in Liberia; and they observe the rule of law; they have a working legislature; they have courts. And though he may have certain dictatorial powers, so do most leaders in Africa."
But what's phony baloney, says Richard Land, president of the Southern Baptist Ethics & Religious Liberty Commission, is Robertson's support of Taylor. "I would say that Pat Robertson is way out on his own, in a leaking life raft, on this one," he said.
There are several unanswered questions in this. Is Robertson shaping conservative Christian opinion on Liberia? Have conservative Christians even given much thought to what's happening in the country? Might evangelical leaders like Land, who truly care about international human rights, be proactive in countering Robertson's comments? Might this controversy demonstrate that Robertson is "way out on his own, in a leaking life raft," in another way, that is, that he's seen as a spokesman for the evangelical movement only by those outside the movement?
More articles
Minnesota pastor released from Laos prison:
Faith-based initiative:
Church divisions on homosexuality:
Education:
Ten Commandments:
Church life:
Missions and ministries:
Vacation Bible school:
Mother Teresa®:
Deaths:
Related Elsewhere
Suggest links and stories by sending e-mail to weblog@christianitytoday.com
Check out Books & Culture's weblog, Content & Context.
See our past Weblog updates:
July 8 | 7
July 3 | 2 | 1 | June 30
June 27 | 26 | 25 | 24 | 23
June 20 | 19 | 18 | 17 | 16
June 13 | 12 | 11 | 9
June 6 | 5 | 4 | 3 | 2
May 29 | 28 | 27
and more, back to November 1999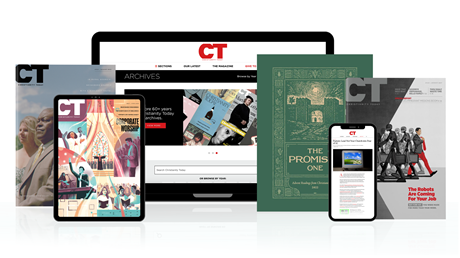 Annual & Monthly subscriptions available.
Print & Digital Issues of CT magazine
Complete access to every article on ChristianityToday.com
Unlimited access to 65+ years of CT's online archives
Member-only special issues
Subscribe
Pat Robertson Alone in Support of Liberian President
Pat Robertson Alone in Support of Liberian President