Alabama Supreme Court Ten Commandments display ruled unconstitutional
The 11th U.S. Circuit Court of Appeals yesterday ruled Alabama Chief Justice Roy Moore's 5,300-pound Ten Commandments monument an unconstitutional state establishment of religion.
"If we adopted his position, the chief justice would be free to adorn the walls of the Alabama Supreme Court's courtroom with sectarian religious murals and have decidedly religious quotations painted above the bench," a three-judge panel from the court wrote.
Every government building could be topped with a cross, or a menorah, or a statue of Buddha, depending upon the views of the officials with authority over the premises. A crèche could occupy the place of honor in the lobby or rotunda of every municipal, county, state, and federal building. Proselytizing religious messages could be played over the public address system in every government building at the whim of the official in charge of the premises. However appealing those prospects may be to some, the position Chief Justice Moore takes is foreclosed by Supreme Court precedent.
The court also rejected Moore's argument that he is answerable only to the Constitution, not "to a higher judicial authority in the performance of his duties as administrative head of the state judicial system." "There is nothing in law or logic to support his theory," the court said, comparing him to segregation-era Southern governors George C. Wallace and Ross Barnett. "Any notion of high government officials being above the law did not save those governors from having to obey federal court orders, and it will not save this chief justice from having to comply with the court order in this case."
Last week, the Third Circuit Court of Appeals ruled that a Ten Commandments plaque in a Pennsylvania courthouse did not violate the U.S. Constitution.
"We cannot ignore the inherently religious message of the Ten Commandments," Judge Edward R. Becker wrote in that decision. "However, we do not believe … that there can never be a secular purpose for posting the Ten Commandments, or that the Ten Commandments are so overwhelmingly religious in nature that they will always be seen only as an endorsement of religion."
The 11th Circuit took note of that decision, saying the two rulings were consistent:
That case is readily distinguishable from this one because the plaque had been there more than eight decades and no government entity or official has done anything in modern times to highlight or celebrate its existence, or even to maintain it; the plaque is not located in a prominent place but instead is away from the main entrance of the courthouse near a permanently closed door where visitors have no reason to go; and the text of the plaque is not visible to passersby on the sidewalk, who can see only the title "The Commandments." As the Third Circuit noted … "a new display of the Ten Commandments is much more likely to be perceived as an endorsement of religion" by the government than one in which there is a legitimate "preservationist perspective."
Moore's information officer says the Alabama chief justice will appeal the ruling to the U.S. Supreme Court. "This case is far from over," he said. "What the chief justice has done is certainly constitutional historically."
An aide to Alabama Gov. Bob Riley told The Birmingham News that Riley "is very disappointed" by the decision.
So far, the only comments Weblog was able to find on the case is a New York Times editorial. "Once [the Ten Commandments display] is gone, Alabama voters must find a way to remove Mr. Moore," the paper says. "Mr. Moore's religious grandstanding, and his disregard for the United States Constitution and federal sovereignty, would be offensive in any state official. But they are utterly unacceptable for the highest judicial officer in a state."
Moore is scheduled to hold a press conference on the ruling this morning.
More articles
Bush again pushes vouchers:
Sexual ethics:
Same-sex marriage:
Anglican rift over gay bishop:
Church life:
Life ethics:
Bioethics:
Aftermath of clergy sex scandals:
Catholicism:
Related Elsewhere
Suggest links and stories by sending e-mail to weblog@christianitytoday.com
Check out Books & Culture's weblog, Content & Context.
See our past Weblog updates:
July 1 | June 30
June 27 | 26 | 25 | 24 | 23
June 20 | 19 | 18 | 17 | 16
June 13 | 12 | 11 | 9
June 6 | 5 | 4 | 3 | 2
May 29 | 28 | 27
May 23 | 22 | 21 | 20 | 19
and more, back to November 1999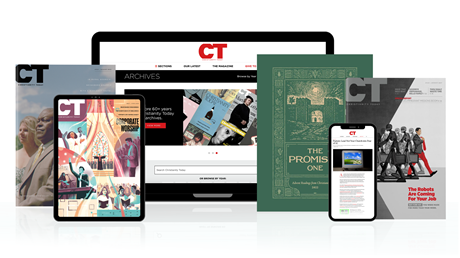 Subscribe to Christianity Today and get access to this article plus 65+ years of archives.
Home delivery of CT magazine
Complete access to articles on ChristianityToday.com
Over 120 years of magazine archives plus full access to all of CT's online archives
Subscribe Now
'Ten Commandments Judge' Loses Appeal
'Ten Commandments Judge' Loses Appeal