true
Chicago's poster boasts that it is "The one movie that has it all."
Apparently not.
According to the Academy of Motion Picture Arts and Sciences, Chicago does not have the year's best actor (Adrian Brody, The Pianist), best director (Roman Polanski, The Pianist), best actress (Nicole Kidman, The Hours), best supporting actor (Chris Cooper, Adaptation), or best adapted screenplay (Ronald Harwood, The Pianist.) Even though it's a musical, it also did not have the best score (Elliot Goldenthal, Frida) or the best song ("Lose Yourself", by Eminem, 8Mile).
However, the movie was still named the best picture of 2002 over strong competition from The Pianist, The Lord of the Rings: The Two Towers, Gangs of New York, and The Hours. Chicago is the first film in 62 year to win best picture without having the best director, actor, actress, or screenplay. (The previous winner under such conditions was Alfred Hitchcock's Rebecca.) Chicago's Catherine Zeta-Jones did receive the Oscar for best supporting actress.
The Pianist's victories on Oscar night were a thrilling surprise. In fact, The Pianist became the first film since 1932 to win best director, best actor, and best screenplay (adapted) and then lose the Best Picture award. (The last film to do this was John Ford's The Informer.)
Nevertheless, the triumphs of The Pianist do not come without controversy. In 1977, Polanski pleaded guilty to statutory rape in the U.S. and fled to France, where he has been making movies ever since. He would be arrested if he entered the U.S.
Not able to attend the ceremony, Polanksi responded with a statement from Paris. The L.A. Times reported that he said he was "deeply moved to be rewarded for the work which relates to the events so close to my own life, the events that led me to comprehend that art can transform pain. I believe this still holds true today."
It seems many in the Academy, and film critics as well, decided that great art should be acknowledged despite the artist's unethical decisions.
For those who like to write-off the Oscars as merely a game of money and politics, this year's awards send a slight rebuttal. Despite expensive "vote for us" campaigns mounted by Miramax on behalf of Gangs of New York and its director Martin Scorsese, many nominees who did not play the dirty campaign game walked away with the awards including Chris Cooper, Ronald Harwood, Roman Polanski, Pedro Almodovar, and Eminem. Gangs staggered away without any victories.
A disappointment for many religious press critics was that The Lord of the Rings: The Two Towers only walked away with two Oscars: best visual effects and best sound editing. Some speculate that academy voters are waiting until next year's The Return of the King to give Peter Jackson and company their due. But then again, Kubrick, Hitchcock, and Scorsese have yet to win an Oscar. The academy also seems to have little regard for fantasy.
Before the Oscars began, I voiced my dismay that the "glitzy" event had not been postponed. Perhaps it should have been. But something in me responded when Nicole Kidman accepted her Oscar—well-deserved for her magnificent portrayal of Virginia Woolf. She thanked her family for their support, and voiced the question that had been on many minds: "Why do you come to the Academy Awards when the world is in such turmoil? Because art is important."
She's right, to a point. Insofar as the Oscars represent the celebration of artmaking done well, the show should go on. But when money-driven politics poisons the proceedings; when Academy voters are more swayed by celebrity, trends, expensive campaigns, and political agendas; and when Oscar rules limit other countries from submitting more than one film for consideration, the Oscars lose their meaning and simply become a circus.
Do you pay any attention to the Oscars? If not the Academy, whose opinions of movies do you really trust? Do you have any suggestions for improving the Oscar proceedings? I'm interested in hearing from you.
By the way, I'd like to thank readers who participated in our online Oscar chat on Sunday night. It provided a rewarding, enjoyable, and often amusing complement to the show.
Meanwhile back at the movies … it's a total nightmare.
The films that opened this week received such terrible reviews, and will disappear so quickly from theatres, it is probably not worth discussing them.
Dreamcatcher finds a talented director (The Big Chill's Lawrence Kasdan) and an Oscar-winning writer (The Princess Bride's William Goldman) turning loose a sci-fi/horror film that fails to frighten us in any way except by how truly awful it is.
The movie is about four men who grew up together and were "gifted" with psychic powers. When aliens invade the snowy woods nearby and try to poison the world's water system, the men find themselves surrounded by fearsome beasties that inhabit human bodies, cause a bad rash, and then burst out the back end (to put it nicely.) Morgan Freeman plays a military officer whose long years trying to stop such invasions have pushed him to the edge of sanity.
You can read my full review of this unbearably preposterous, bloody, and nauseating monster movie at Looking Closer.
CNN's reviewer calls it "unspeakably bad—and shockingly so—considering that it's an adaptation of a Stephen King novel, from the director of The Big Chill (Lawrence Kasdan) and the writer of Butch Cassidy and the Sundance Kid (William Goldman). These are people who have Oscars and Oscar nominations, people who have worked in this business long enough that there's no plausible explanation for a film that is so woefully unfocused and misguided."
Jerry Langford (Movieguide) says, "Moviegoers … may even hear a director shouting somewhere in the background, "Keep the plot moving so that viewers won't have time to think! Faster! Faster!""
Bob Smithouser (Focus on the Family) says, "The film isn't just ridiculously overstuffed and incoherent. It's disgusting. Obscenities and sexual dialogue notwithstanding, it's swimming in blood and gore. Excuse me while I attempt to purge my memory warehouse of the file marked Dreamcatcher."
You can scan mainstream reviews of the movie here.
View from the Top scrapes the bottom of the joke barrel
Just a few years ago, Gwyneth Paltrow was the toast of the Oscars for her role in a sophisticated romantic comedy about Shakespeare. The way critics are treating her latest comedy, in which she plays an empty-headed stewardess, you have to wonder what went wrong.
View from the Top is described by critics as a possible attempt at career suicide.
Religious press critics say it's poorly written and devoid of meaning. Lisa A. Rice (Movieguide) says, "It's campy and cute in spots, but the plot is over-used and generic. The worldview of View … is devoid of any concern for what God would choose, and it tries to sell career and romance as the only fulfillment for happiness in life."
Phil Boatwright (The Movie Reporter) says, "It's about as funny as a plane crash. It briefly addresses issues such as family and seizing your destiny, but there is no way that the treatment of these messages could be considered profound or moving."
Michael Elliott (Movie Parables) says it "straddles the fence between spoof and romantic comedy without landing firmly on either side, it fails at both. It is a colossal waste of time and talent."
Steven Isaac (Focus on the Family) says the movie offers about as much taste as the idea of an airline hiring Hooters Girls for attendants.
Holly McClure (Crosswalk) calls it "an entertaining romp … [that boasts] priceless moments from Paltrow. This is a movie women will enjoy because they will relate to the female situations centered on beautiful women who overcome obstacles on their climb to the top. Men probably won't mind watching Paltrow and the others exploit their assets." But she admits, "It wasn't as funny as I thought it would be."
Mainstream critics' reports from the wreckage can be found here.
Nothing good about Gooding's Boat Trip
As if trying to make audiences forget that he ever won an Oscar, Cuba Gooding, Jr. has taken a starring role in another disgraceful comedy. Not only is it the worst-reviewed film in which he has appeared—it may be the worst-reviewed film of the year so far. The star plays a heterosexual man who accidentally ends up on a cruise for gay men and confusion ensues.
Anne Navarro (Catholic News Service) says, "The dismal, one-joke flick strains to be funny, but Boat Trip is actually the Titanic of all dreadful movies. No one comes off looking good in this film—especially writer-director Mort Nathan, who uniformly presents homosexual men as promiscuous airheads. An equal opportunity offender, Nathan also presents women as sex objects. Even the gray-haired granny is a sex-starved maniac, an old, tasteless joke that shows up in only the most vulgar films."
Movieguide's reviewer goes even farther, calling it "one of the most offensive movies of the last 10 years. Though it's slated as a comedy, it is nothing short of a pro-homosexual, "look-how-fun-homosexuality-is" propaganda film." In fact, the film is enough to send the reviewer into a cry for God to personally get involved in moviemaking: "Oh, that God would tear down the lies in Hollywood and rend the heavens to bring His redemptive truths through positive, biblically based, truth-telling, powerful allegorical films!"
Mainstream critics come close to calling on the Almighty themselves in response to the movie. You can read their reviews here.
Next week:Piglet's Big Movie, Basic, Head of State, and more.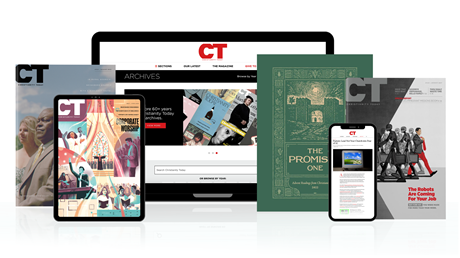 Subscribe to Christianity Today and get access to this article plus 65+ years of archives.
Home delivery of CT magazine
Complete access to articles on ChristianityToday.com
Over 120 years of magazine archives plus full access to all of CT's online archives
Subscribe Now
Oscars Honor the Best ; Theatres Feature the Worst
Oscars Honor the Best ; Theatres Feature the Worst