American Dreams
NBC
8 p.m. Sundays (EST)
The times they are a-changin'," Bob Dylan declared with a growl in 1964, issuing an updated emancipation proclamation for all who suffered under the traditional moral and political order. The sense of apocalyptic inevitability that drove Dylan—the certainty that this revolution was jolting households across America, provides the starting point for NBC's bold family drama, American Dreams.
Set in working-class Philadelphia and centered on the Pryors, an Irish-Catholic family, the show is planted right on the cracks that emerged in the 1960s as subterranean America got all shook up. A new age was born, and, in the way that creation myths usually do, the '60s have fascinated us ever since. So it's not surprising that American Dreams traffics in its fair share of myth. But it also makes a credible effort to understand and interpret those years, and in so doing gives Christians a poignant glimpse of the self-understandings that shape our troubled times.
Tension and stress lurk in nearly every scene, as transgression of established norms seems, almost week by week, to become easier and more alluring. The show's most jagged moments occur between Jack and Helen Pryor, the young parents of four children ranging from ages 7 to 18.
It doesn't take long to see that their marriage is meant to prefigure the culture wars that have dominated American public life in the aftermath of the '60s—Jack defaults to an embattled mid-century Roman Catholicism, while Helen cautiously moves toward less traditional visions of freedom.
In the opening episodes, Helen, played by Gail O'Grady, dares to move from participating in a neighborhood reading circle to auditing her first college class, in European literature, at Temple University. In other scenes she quietly refuses to bear more children, despite Jack's wishes and convictions. In both instances, Jack ends up giving ground.
To the writers' and O'Grady's credit, Helen Pryor is no proto-radical just waiting for her scaly conservative skin to fall off. She is sensible, sincere, careful, and loyal; she even confesses to a priest her desire to stop having children. That she loves Jack is never in doubt; that she is coming quietly to rue her location in his world is equally clear.
A Redemptive Square
Jack, played by former L.A. Law cast member Tom Verica, manages the upheaval with a good-natured if fiery disposition. Verica's performance is all the more impressive given the stereotyped character he is forced to play. Jack Pryor has clearly been appointed the show's Square, a small businessman and World War II vet who only wants, as he tells Helen in the premiere, "a boat, a yard, and a family."
As the season has progressed, the writers have found something redemptive within this patriarch, something that promises to redeem from the bondage of stereotype not just his character but perhaps even the entire show. Jack, it turns out, possesses a fierce, lively love for his wife, children, and friends. This has made possible some of the most moving scenes so far. When his brooding, decent son J. J. (Will Estes), a high-school senior, is accepted at Notre Dame but denied the football scholarship that would make his enrollment possible, Jack looks him in the eye and, with deep emotion, whispers to him, "You got in—let me worry about the rest."
Alas, this approach to the past, which finds ruin and redemption in unlikely places, too often eludes the show's creators, as they habitually default to the all too familiar mythologizing mode. It seems impossible to them that the good life may be more present within Jack's world—including the Catholic schools that his children attend—than within either the cultural modernism of the university or the relentlessly hip world of pop culture. Jack's traditionalism is good for something, they seem to say, but not the main thing—which is, of course, freedom.
This brand of freedom is represented most purely not by Helen but by her daughter, 15-year-old Meg (Brittany Snow). Pretty, innocent, and charmingly unable to mask any emotion, Meg is the quintessential girl next door. In the first half of the season, we see her plunge into the heart of a mythical American adolescent experience. Shivering with goose bumps, goes on her first date, gets her first kiss, and wins her first boyfriend; she even lands a spot as a regular dancer on Philadelphia's own American Bandstand. Drinking deeply of the goodness of this dawning new world, she at the same time increasingly finds her father's world unattractive, and even unintelligble.
As the series progresses and the '60s shake down, where will these tensions break? This is where American Dreams' creators most let us down. For nothing they have done leads us to suspect that Meg could possibly pull back from the brink of the moral self-immolation that post-'60s American culture requires of its youth. Nor does it seem likely that Helen, despite her cautious style, will actually turn her back on any key dimensions of the brave new world.
No, this script is already written. And, barring big changes, these sorts of liberationist trajectories will be rendered as triumph (even if cloaked in a wistful backward glance). Needless to say, this romantic inevitability is a dramatic—not to say a philosophic—straitjacket.
American Dreams cannot imagine that the Bob Dylan of 1964 may have gotten some things wrong. It is, of course, not alone. But maybe, just maybe, there were hosts of mothers and fathers throughout the land who managed to discern more clearly than Dylan the shape of the unfolding world. American Dreams would illumine much more of our past if it took that possibility seriously.
Eric Miller is assistant professor of American history at Geneva College in Beaver Falls, Pennsylvania.
Related Elsewhere
The official site of American Dreams has information on the show, bios of the actors, and descriptions of the episodes.
Other show reviews include:
American Dreams' wins with vignettes—The Beacon Journal (April 11, 2003)
American Dreams—Focus on the Family Plugged In
For additional TV coverage and reviews, see our television archive.
Have something to add about this? See something we missed? Share your feedback here.
Our digital archives are a work in progress. Let us know if corrections need to be made.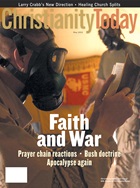 This article is from the May 2003 issue.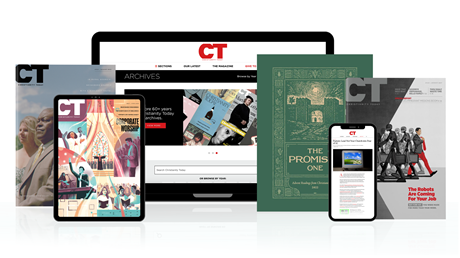 Annual & Monthly subscriptions available.
Print & Digital Issues of CT magazine
Complete access to every article on ChristianityToday.com
Unlimited access to 65+ years of CT's online archives
Member-only special issues
Subscribe
Culture Wars: The Prequel
Culture Wars: The Prequel