U.S. isn't just turning a blind eye to Saudi religious violations—it's part of it, says report
The death toll in Monday night's car bombing attacks in Saudi Arabia has risen to 34, but the U.S. Commission on International Religious Freedom said yesterday that the attacks "may be portents of things to come" unless the American and Saudi Arabian governments get serious about religious freedom in that country.
In issuing its fourth annual report yesterday, the USCIRF drew special attention to Saudi Arabia. It's the world's top violator of religious freedom, the panel said, but the State Department has refused to name it a "country of particular concern" as it did with China, Iran, Iraq, Myanmar, North Korea, and Sudan.
"Saudi Arabia is a uniquely repressive case where the government forcefully and almost completely limits the public practice or expression of religion to one interpretation: a narrow and puritanical version of Islam based on the Wahhabi doctrine," says the commission's report. "Consequently, those Saudis and foreign contract workers who do not adhere to the Saudi government's interpretation of Islam are subject to severe religious freedom violations." Followers of other religions—even of other forms of Islam—are detained, imprisoned, and tortured, the report says.
"These are not idiosyncratic American perceptions of religious freedom," said USCIRF vice-chair Michael Young. "We don't understand how one could not name Saudi Arabia as a CPC. Saudi Arabia has been explicitly left out of any [State Department] citations."
At yesterday's press conference, chairman Felice Gaer was forceful: "It's time to apply the same standards to Saudi Arabia that are applied elsewhere," she said.
And there's no time like the present, added Young, who is dean of the George Washington University Law School. "The stars are aligning to make the timing right on this," he said "As there has been more and more scrutiny on what has happened within the country, [the Saudi government itself] has begun to be more sensitive to the international expression of concern."
But not pressuring the Saudi government is just one of the ways the U.S. is being complicit in terror against the country's religious minorities, says the commission. There are reports that U.S. businesses are themselves engaging "in practices that constitute or facilitate discrimination or violations of religious freedom or other human rights."
Saudi Arabia received the brunt of the commission's criticisms yesterday, but the report details what the commission has tried to do about oppression in several other countries, with Afghanistan, Belarus, Russia, and Vietnam receiving special reports.
"The groundwork is being laid in Afghanistan for a government almost as repressive as the Taliban," commission member Leila Sadat said. But commissioners are having difficulty investigating claims of torture and mass deaths thanks to "a brick wall" from the U.S. government. "We don't even have a copy of the [proposed Afghan] constitution," Sadat complained.
The issue in these countries—including Iraq—isn't the separation of church and state, said Richard Land, a commissioner and Southern Baptist leader. "If a country wants to give preference, if the citizens of that country decide they want to give preference to a particular religion, they have the right to decide to do that," he said. "What they don't have the right to do is to say we will then punish you, discriminate against you, persecute you or kill you if you change from that religion or if you choose to be of another faith and want to express that faith."
Our earlier coverage of persecution in Saudi Arabia and what the U.S. should do about it includes:
Persecution updates
A Yemeni court was bombed today, leaving a judge and three others injured. It's the same court where Abed Abdul Razak Kamel was sentenced to death Saturday for killing three Southern Baptist missionaries in late December, but the harmed judge wasn't the one who passed sentence. Police have a suspect who has reportedly confessed, It's not certain that the courtroom attack is directly related to Kamel's sentencing.
"The Commission has grown increasingly concerned about abuses of religious freedom in India," says yesterday's report. Now it has one more reason to be concerned. A group of 10 to 15 youths attacked a Christian meeting in Dharwad, injuring at least two. As is common in an increasingly militant Hindu state, the Christians are being portrayed as the villains in the story.
More articles
Film:
Canadian religious belief:
Church arsenic poisoning case:
Church poisoning spurs question: Is no place safe? (

Portland Press Herald

)
Interfaith and ecumenical relations:
Church and state:
Politics and law:
Pressure groups mixed response to Short resignation | The resignation of Britain's International Development Secretary has elicited a mixed response from Christian pressure groups (

Ekklesia

, U.K.)


Sunday shopping has its pros, cons | Gov. Sinner signed blue laws into history 12 years ago (Associated Press)


Bishop plays waiting game | The rumor circulating in Washington is that Lloyd Ogilvie may step back into his job as Senate chaplain (Diane Bell,

The San Diego Union-Tribune

)


Senate to take up global AIDS bill | Focus on the Family calls for support of bill that passed House (Family News in Focus)
Missions and ministry:
Related Elsewhere:
Suggest links and stories by sending e-mail to weblog@christianitytoday.com
See our past Weblog updates:
May 13 | 12
May 9 | 8 | 7 | 6 | 5
May 2 | 1 | April 30 | 29 | 28
April 25 | 24 | 23 | 22 | 21
April 17 | 16 | 15 | 14
April 11 | 10 | 9 | 8 | 7
April 4 | 3 | 2 | 1 | March 31
and more, back to November 1999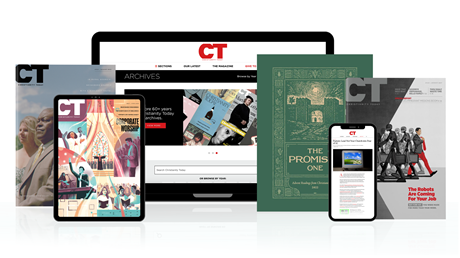 Subscribe to Christianity Today and get access to this article plus 65+ years of archives.
Home delivery of CT magazine
Complete access to articles on ChristianityToday.com
Over 120 years of magazine archives plus full access to all of CT's online archives
Subscribe Now
State Department Must Criticize Saudi Arabia's Religious Repression, Commission Says
State Department Must Criticize Saudi Arabia's ...