How do you teach youngsters about truth in a culture that says there is no truth? It's not easy—as I know from experience.
Over recent months, I've taught worldview to groups of bright young students. With each group, I had the same distressing experience. When I presented a classic example of a self-refuting moral proposition, they just didn't get it.
An example: The late Christopher Reeve, in his wheelchair with a breathing tube, was testifying before a Senate committee. Reeve dismissed moral objections to embryonic stem-cell research, claiming that the purpose of government is "to serve the greatest good for the greatest number."
I then asked the students, "What's wrong with this picture?" When I got no answers I dropped heavy hints. Only one student gave the correct answer: If what Reeve advocated actually were our governing philosophy, he would not have been there to testify. Who would spend millions to keep him alive when that money could help thousands?
I don't know whether the students lacked analytical skills or were just confused, but when I explained the inherent contradiction, the lights went on. When I discussed the concept of absolute truth, and the fact that it is knowable, there was an occasional nod of understanding, but it was clear I was breaking new ground. These students, mind you, were products of Christian homes and schools.
This lack of worldview awareness is appalling—but it's exactly what George Barna has found in his recent polls: Just 9 percent of evangelical students believe in anything called absolute truth. What does this say about the job our schools, our families, and our churches are doing?
Let's tackle the schools first. Many Christians—like Prison Fellowship president Mark Earley, who spent 13 years in public office—support the public school system. They believe Christian students ought to be part of it and provide a Christian influence. Mark has practiced what he preaches, sending his six children to public schools.
But for the first time in his life, Mark is having real doubts. The problem is that diversity training—in which students are told it's wrong to make truth claims of any kind—has been impressed in the minds of our children. This twisted interpretation of tolerance makes it an offense even to make truth claims—or judge the ideas and behaviors of others.
Parents, whether their children are in public or Christian schools, must carefully scrutinize the worldview being taught. If necessary, they should confront school officials.
Second, we must examine what our churches are teaching our kids about truth—assuming they're teaching anything. Youth leaders are good at activities like laser tag and Ultimate Frisbee. That's fine: Draw kids in. But they must couple this with a bracing dose of worldview instruction. In the Wilberforce Forum, we've been trying out some sample curriculums—and discovering young people hunger for it. We'd better ground our students in worldview thinking before they leave for college, where professors challenge everything they believe.
Even if our kids do get trained at church, the family must supplement it: around the breakfast table, reading devotionals that tackle worldview questions, and at other times critiquing films, analyzing the news, and unmasking unbiblical teachings in everything from popular music to television commercials.
Lay people can do this. A friend, Nancy Fitzgerald, has been teaching basic apologetics for teens in her home for years. Between 150 and 200 kids come for a lecture, then break into groups to discuss the material. They often continue the discussion later via e-mail. The results among the kids—an ability to boldly witness to the truth—have been spectacular.
Do you think I'm overstating the need for worldview training? Look around: It's impossible to disconnect kids from the culture. The idea that we can separate ourselves from our social surroundings, as Christians did a century ago, is foolish—unless we move to a desert island. We simply cannot escape the long, grubby arm of television, the internet, music, and magazines.
Our only hope is to teach discernment. It's no coincidence that of the five groups I've spoken to in the last year, the only student who had the right worldview answers was a senior at Virginia Tech who grew up in a family that is both godly and worldly-wise.
We've no time to lose. All the evidence shows that we're already losing our kids. With only 9 percent of born-again teens believing in absolute truth, can we rescue this generation? Can we afford not to try?
Related Elsewhere:
The Barna poll suggesting that 9 percent of evangelicals have a biblical worldview are available from this Barna update.
More information about the Barna poll is available from a Baptist Press article.
A Wall Street Journal article says Christian teens "hold mushy beliefs antithetical to the creed."
Recent Charles Colson columns for Christianity Today include:
Article continues below
The Moral Home Front | America's increasing decadence is giving aid and comfort to Muslim terrorists. (Sept. 23, 04)
Reclaiming Occupied Territory | The Great Commission and the cultural commission are not in competition. (July 21, 2004)
Societal Suicide | Legalizing gay marriage will lead to more family breakdown and crime. (May 24, 2004)
Evangelical Drift | Outsiders say we're the status quo. Our call is to prove them wrong. (March 29, 2004)
Confronting Moral Horror | It's a witness even the most jaded find impressive. (Feb. 04, 2004)
The Postmodern Crackup | From soccer moms to college campuses, signs of the end. (Dec. 09, 2003)
Sowing Confusion | One small ruling for Texas; one giant leap into a cultural abyss. (Oct. 03, 2003)
Being Here | Why we should sink our roots in the places we call home. (July, 28, 2003)
Beyond Condoms | To alleviate AIDS, we must sharpen our moral vision. (June 10, 2003)
Taming Beasts | Raising the moral status of dogs has created a breed of snarling, dangerous humans. (April 3, 2003)
Faith vs. Statistics | Beware of doing ethics by crunching numbers. (Jan. 28, 2003)
Just War in Iraq | Sometimes going to war is the charitable thing to do. (Dec. 10, 2002)
A Clan of One's Own | Hacking through the jungle of identity politics. (Oct. 9, 2002)
Undaunted | Bioethics challenges are huge. But so is God. (July 31, 2002)
The Wages of Secularism | New laws won't prevent another Enron. (June 4, 2002)
More Doctrine, Not Less | We need to proclaim truth to a truth-impaired generation. (April 15, 2001)
Post-Truth Society | The recent trend of lying is no accident. (March 4, 2002)
Drawing the Battle Lines | We need to be informed and discerning about the Islamic worldview. (Jan. 9, 2002)
Wake-up Call | If September 11 was a divine warning, it's God's people who are being warned. (Nov. 5, 2001)
The New Tyranny | Biotechnology threatens to turn humanity into raw material. (Oct. 5, 2001)
Merchants of Cool | We should be angry that the media hawks violence and that parents allow it. (June 6, 2001)
Slouching into Sloth | The XFL is but the latest sign of the coarsening of our culture. (Apr. 17, 2001)
Have something to add about this? See something we missed? Share your feedback here.
Charles Colson
Charles Colson was the founder of Prison Fellowship Ministries, an outreach to convicts, victims of crime, and justice officers. Colson, who converted to Christianity before he was indicted on Watergate-related charges, became one of evangelicalism's most influential voices. His books included Born Again and How Now Shall We Live? A Christianity Today columnist since 1985, Colson died in 2012.
Previous Charles Colson Columns:
Our digital archives are a work in progress. Let us know if corrections need to be made.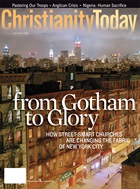 This article is from the December 2004 issue.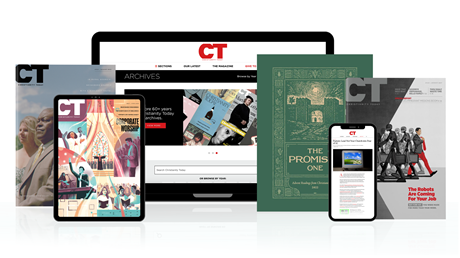 Annual & Monthly subscriptions available.
Print & Digital Issues of CT magazine
Complete access to every article on ChristianityToday.com
Unlimited access to 65+ years of CT's online archives
Member-only special issues
Subscribe
Worldview Boot Camp
Worldview Boot Camp