As Ted Olsen's recent CT weblog notes, some recent remarks by Democratic presidential candidate John Kerry on the abortion question have raised once again the question of whether a Christian politician may act on his professed faith-based principles to "legislate morality" for Americans who don't share these beliefs. (Interestingly, this question was earlier raised in modern American politics during the campaign of another Roman Catholic presidential hopeful—John Fitzgerald Kennedy.)
Reading Ted's piece put me in mind of a 2002 Christian History Corner by former Christian History managing editor (and current senior editor) Elesha Coffman. Cautioning us to think twice before assuming we know what "separation of church and state" meant to the founders, Elesha used a few choice excerpts from a Christian History article by American church historian Harry Stout to illustrate how different their world was from ours. Here is that newsletter:
Debates like those swirling around school vouchers and the Pledge of Allegiance inevitably spark arguments about the religion of America's chief architects. If we could just tease out what the framers of the Constitution believed and intended, the refrain goes, we could settle all of these nagging church-state questions. Several people think they've already found sufficient evidence to close the major cases.
Of the many problems with this line of thinking, perhaps the greatest is that we do not live in 1789. As the following excerpts from Yale historian Harry S. Stout's article in Christian History issue 50: Christianity and the American Revolution should show, even one of the most-studied stretches of this country's own past is a wildly foreign country.
[In 1775,] there are no presidents or vice-presidents, no Supreme Court justices or public defenders to call on. … In many colonies, including Massachusetts, there are not even elected governors or councilors—they have all been appointed by the British crown and are answerable to it.
Over the span of the colonial era, American ministers delivered approximately 8 million sermons, each lasting one to one-and-a-half hours. The average 70-year-old colonial churchgoer would have listened to some 7,000 sermons in his or her lifetime, totaling nearly 10,000 hours of concentrated listening. This is the number of classroom hours it would take to receive ten separate undergraduate degrees in a modern university, without ever repeating the same course!
Events were perceived not from the mundane, human vantage point but from God's. The vast majority of colonists were Reformed or Calvinist, to whom things were not as they might appear at ground level: all events, no matter how secular or seemingly random, were parts of a larger pattern of meaning, part of God's providential design. The outlines of this pattern were contained in Scripture and interpreted by discerning pastors.
[Today] taxation and representation are political and constitutional issues, having nothing to do with religion. But to eighteenth-century ears, attuned to lifetimes of preaching, the issues were inevitably religious as well.
When understood in its own times, the American Revolution was first and foremost a religious event.
Partisans and scholars disagree regarding the extent to which what was true for the "average" colonist was also true for such towering figures as George Washington, James Madison, and Thomas Jefferson. On some subjects—notably the infallibility of Scripture and the role and significance of divine providence—these leaders seem to have been significantly out of step with a large majority of their contemporaries.
Still, it is inconceivable that these men had more in common with anyone today than with nearly everyone in their own day. The clues to the founders' religious feelings, and thus to their probable opinions on current events, are embedded too deep in historical sediment to be easily accessed or applied.
Chris Armstrongis managing editor of Christian History & Biography, a Christianity Today sister publication. More Christian history, including a list of events that occurred this week in the church's past, is available at ChristianHistory.net. Subscriptions to the quarterly print magazine are also available.
Related Elsewhere:
Our Election 2004 Hot Topic page has more coverage of this year's elections.
Christian History Corner, a weekly column from the editors and writers of Christian History & Biography, appears every Friday on Christianity Today's website. Previous editions include:
Testify! | A glimpse inside the world of "holiness testimony," through the story of an ex-slave woman evangelist. (July 02, 2004)
To Spank or Not to Spank? | A 6th-century abbot and a group of 17th-century Calvinist "divines" weigh in on the issue (June 24, 2004)
Should We Fight for "Under God"? | The right approach to these two little words may not be obvious. (June 04, 2004)
I Was in Prison and You Abused Me | What would Jesus do at Abu Ghraib? (May 28, 2004)
Article continues below
Do Nigerian Miracle Ministries Discredit the Faith? | The spiritual dynamism of West African Christianity is now well known even in the West. Do credulity-stretching, highly publicized miracles discredit what God is doing in that region? (May 21, 2004)
Holy America, Phoebe! | It swept across church lines, transforming America's urban landscape with its rescue missions and storefront churches. Yet today, the "holiness movement" and its charismatic woman leader are all but forgotten. (May 14, 2004)
Mel Gibson's Next Act: "The Man of the Passion"? | Thousands want Mel to make his next movie about a famous medieval friar. (April 30, 2004)
Mel Gibson's Next Act: "The Man of the Passion"? | Thousands want Mel to make his next movie about a famous medieval friar. (April 30, 2004)
Let Us Not Set Asunder | The threat of gay marriage challenges Christians to defend older, better definitions of marriage. But what are those definitions, and how did they develop? (April 16, 2004)
Why does Easter's date wander? | And why the Eastern Orthodox Church is nearly two weeks behind schedule. (April 08, 2004)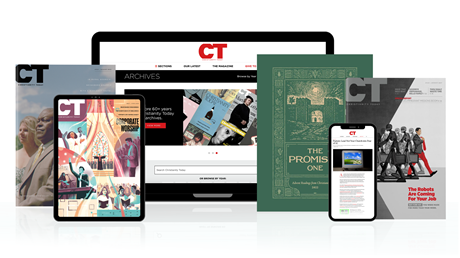 Annual & Monthly subscriptions available.
Print & Digital Issues of CT magazine
Complete access to every article on ChristianityToday.com
Unlimited access to 65+ years of CT's online archives
Member-only special issues
Subscribe
Hey, John Kerry, WWFFD?
Hey, John Kerry, WWFFD?