true
For millions of Americans, summer is synonymous with road trips. But if you're balking at rising gas prices, consider loading the family up and heading to your local movie theater to explore America on the big screen.
More than 10 years in the making, America's Heart and Soul criss-crosses the nation profiling everyday people doing what they do every day. People like Roudy Roudebush, the last cowboy in Telluride, Colorado—and the first of 24 vignettes that make up this film. Roudy fits the gruff cowboy stereotype to a tee, complete with bushy mustache and a horse he actually rides into his local saloon (to drink water; he's a recovering alcoholic). Admittedly, I could feel the cynicism building in my esophagus. "C'mon! A cowboy? Puh-leese." But when the camera captured Roudy riding along the ridge of his mountain ranch I was confronted with a scene so beautiful I couldn't help but give into the slightly sappy Americana. "These mountains are an inspiration to me on a daily basis. You feel deep roots when you live on the Continental Divide for 30 years. It's the backbone of America and maybe it makes me strong just looking at it." So much for the snark.
America's Heart and Soul reverberates with a keen sense of place. It's palpable in the Cajun drawl of Marc Savoy, who lives in Louisiana on land that's been in his family for over 250 years. His children are the seventh generation living on the property, and when Marc and his wife Ann sit in the front yard with friends and family and play their guitars and accordions, it's clear there's an ethos in such living that's hard to duplicate in suburban subdivisions.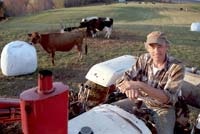 Over and over, director Louis Schwartzberg features people, more than 25 in all, doing something that's specific to the land they inhabit: a wine grower tends his fields of grapes, a bike messenger makes the streets of New York City his playground, a group of rock climbers anchor themselves in and dance on the side of a cliff. One of my favorite profiles is of George Woodard, a dairy farmer in Waterbury Center, Vermont with a singing voice like James Taylor who enjoys acting with a local theater group and making his own movies around his farm. Woodard spent some time in L.A. trying to make it as an actor but the single father eventually moved back to the family farm to raise his son. "One of the great things about having a small farm is you get to see your child grow up … I loved L.A. It was great. But this works on a small scale, and that seems to be enough, for me anyway."
And then there are people like Minnie Yancey for whom the hollers of Kentucky don't so much dictate how she lives her life as much as inform who she is at her core. "How do you know I'm a mountain person? Well cut me open right here and pull that back and look right in there. You won't see a heart. What you'll see is a mountain range, mist hanging in the hills. That's my heart."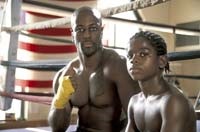 You understand exactly what she means when her words are accompanied by Schwartzberg's breathtaking cinematography. More than anything, it's the scenery that serves as the narrator for this documentary. With every frame it silently suggests the greatness and the beauty at our fingertips.
It's no coincidence that Disney chose the July 4th weekend to release America's Heart and Soul. The American flag is a frequently recurring sight and the movie exhales patriotism, but Schwartzberg is careful to point out that this movie isn't about capitalizing off the war on terrorism. "I did all the filming prior to 9/11. So I wasn't trying to capitalize on any kind of patriotic fervor that occurred right after that. If there's an American flag in a scene—whether it's on a barn or an inner-city ghetto—it's real, just part of the heart of America." (Read our full interview with Schwartzberg.)
What I don't care for is this movie's uneven pacing. The first half is quite cohesive in format and style, but the second half introduces new visual effects and at least one mini-profile that seem to throw off the movie's rhythm. America's Heart and Soul is also a bit long in my estimation. As interesting as many of those profiled are, I started to get restless after a little more than an hour. Shaving 20 minutes from the running time would have helped.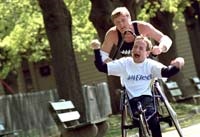 What I love about America's Heart and Soul is the way it presents people who are really living. Forget reality television. This is reality and it's all about people who don't need a head shot to validate their existence. In our media saturated society, it's easy to forget that a lot of people sing, not just the Britneys and Madonnas of the world. A lot of people play instruments. A lot of people dance. Inasmuch as popular culture narrows the world by presenting a limited number of corporately sponsored artists and personalities for mass consumption, this movie widens the world by reminding us that there's a whole lot of interesting people out there. God bless America, indeed.
Talk About It
Discussion starters
Director Louis Schwartzberg's parents survived Auschwitz, came to America and achieved the "American dream." Schwartzberg seems to have inherited a great respect for the opportunities America grants to its inhabitants. What do you think is the best aspect of living in the United States?


Minnie Yancey feels a deep connection to the mountains she lives in, saying that if she were cut open, you'd find a mountain range inside: "That's my heart." Is there a place or landscape you have a similar devotion to?


The people in the

America's Heart and Soul

all have a passion for something. For many it's the arts, for others it is physical achievement, for one woman it's flying her airplane. What are you passionate about? Does that passion come from God?


The Family Corner
For parents to consider
Some sexy salsa dancing is the only element of America's Heart and Soul that even remotely flirts with being PG-13-ish. This is a movie for the whole family.
What Other Critics Are Saying
compiled by Jeffrey Overstreet
from Film Forum, 07/08/04
If audiences want movie studios to produce great movies that the whole family can enjoy, they need to go out and buy tickets for those movies when they occur. This week is a perfect opportunity. While Spider-Man 2 and Fahrenheit 9/11 are making a lot of noise and raking in big box office receipts, an all-ages adventure is playing alongside them that is different than any big screen experience you've had before.
Imagine if an experienced cinematographer invited you to come and see his favorite footage from a career of capturing visions that inspire awe and national pride. The guy happens to be passionately patriotic. He also has a knack for discovering some of America's most interesting and inspiring people. His collection of footage is a treasure trove of exhilarating imagery and storytelling that challenges us to consider what makes us distinctive and what we can accomplish with our lives.
That pretty much sums up America's Heart and Soul, the new film from Louis Schwartzberg. He doesn't like to call it a "documentary," but considers it to be a big screen adventure movie that stars real people instead of Hollywood actors.
Unfortunately, the film is opening while the controversial, politically charged documentary Fahrenheit 9/11 is making headlines. Thus, some are arguing that this film is an answer to Michael Moore's troubling speculations and arguments. The truth is, America's Heart and Soul is not a political film. These interviews took place before September 11, 2001, and it took Schwartzberg a while to pull it together into a finished work. The film should inspire fans of John Kerry as much as it inspires supporters of George W. Bush or other American leaders. It'll inspire everyone but those who have given up on Disney studios completely.
Article continues below
The movie treats us to a whirlwind tour of the nation through Schwartzberg's romantic, colorful, gravity-defying cinematography. For just over 90 minutes, we're introduced to one amazing person after another, each one with a life story that will impress and intrigue you. You'll wish you could slow the movie down and dig deeper into each story, spending more time with each person.
My review is at Looking Closer, along with an interview with director Louis Schwartzberg, in which he shares his thoughts about the Michael Moore controversy and tells us one of the great stories that didn't quite make the final cut of the movie.
"What I love about America's Heart and Soul," writes Lisa Ann Cockrel (Christianity Today Movies), "is the way it presents people who are really living. Forget reality television. This is reality and it's all about people who don't need a head shot to validate their existence. Inasmuch as popular culture narrows the world by presenting a limited number of corporately sponsored artists and personalities for mass consumption, this movie widens the world by reminding us that there's a whole lot of interesting people out there. God bless America, indeed."
"There's virtually nothing in this uplifting film to warrant such terms as liberal or conservative, isolationist or interventionist, jingoistic or America-bashing," writes Steven D. Greydanus (Decent Films). "America's Heart and Soul is one of the least political documentary-type films … I've ever seen. The term 'patriotic' might apply, in the sense that the film celebrates American freedom and the unexpected myriad of ways Americans find to enjoy it—but not in any sense that need be felt to detract from other countries. The best adjective, though, would be simply human. [The movie] is a tribute to the endless diversity of ways in which human nature will engage in the pursuit of happiness, as long as there is life and the liberty to do so."
Gerri Pare (Catholic News Service) says it's "a valentine to liberty, family bonding, the work ethic and the immigrant experience. [The movie] comes across as a deeply personal and patriotic film about those who are fortunate enough to be living the American dream. Its cinematography is so impressive that this is one film best seen in a theater rather than down the line on video."
Article continues below
Chris Monroe (Christian Spotlight) says, "The pictures Schwartzberg has captured are amazing—both with scenery and with the naturalness breathed out by the people. All in all, it is visually and emotionally captivating. In the midst of swimming pools and backyard barbeques, make sure you make time for America's Heart and Soul."
"This is an exhilarating movie," writes Mike Smith (Hollywood Jesus). "It gives us new respect for the people that make this country great: everyday folks. This is a documentary about ordinary people doing extraordinary things. And if you're one of those people to whom life has become a drudgery of mandates and obligations, I think you will be encouraged by this movie."
Steve Lansingh (Film Forum) observes, "It captures several people who speak openly about God and his power. It's a side of Christianity we're not used to seeing in the media, as the headlines are often grabbed by angry spokespeople. Instead we see a [grape] grower who connects his life's passion to Jesus' first miracle of making wine. We see a gospel singer who speaks about the influence of the Spirit when singing on stage. We see a church that is committed to racial diversity, which reaches out to put homeless people in its pews. And even when God isn't talked about explicitly, the movie celebrates God's gifts—the landscape, the body, laughter, community, creativity. If the movie is relentlessly upbeat it is upbeat in all the right ways: not sugar-coating the surface of America but tapping into the rich veins of sweetness that God has given our lives."
Bob Smithouser (Plugged In) has an objection to the film that overrides the things that impressed him. "Except for its decision to showcase Cecil Williams' ultraliberal Glide Memorial United Methodist Church as the poster child for compassionate Christianity in America, this film has a lot of good things to say. Great people. Solid work ethic. Inspirational stories. But there's no getting past that one subtle, yet agonizingly disappointing inclusion. Inevitably, some hurting viewers will seek out Williams' misguided church or others like it for answers to life's most important questions. I can't recommend a documentary that could steer people in that direction, no matter how solid the rest of the movie may be."
But Steve Beard (Thunderstruck) raves, "With a touch of the Americana images that would make Norman Rockwell dance a jig, Heart and Soul is a pageantry of gutsy and creative men and women who make this country such a unique place."
Article continues below
Mainstream critics aren't sure what to make of such an unusual film. But I recommend you hurry out and support it while it's in theatres, so Disney gets the message that unique, interesting, hand-crafted movies for the family are important to us.
from Film Forum, 07/15/04
Reviewing the cinematic collage of American stories titled America's Heart and Soul, Gene Edward Veith (World) asks, "What is distinctly American that binds all of these differences into a union? We see America's heart, the warm-and-fuzzy emotionalism. But what is its soul, the essence of the American ideal? England has its eccentrics; Australians love freedom; Poles are religious; India is multi-cultural. What is the heart and soul of America, as such? This movie could use some conflict. It is all sweetness, light, and harmony, even though we know today that our country is bitterly divided."
Copyright © 2004 Christianity Today. Click for reprint information.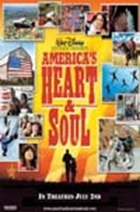 Browse All Movie Reviews By: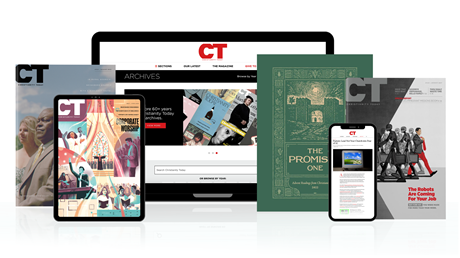 Subscribe to Christianity Today and get access to this article plus 65+ years of archives.
Home delivery of CT magazine
Complete access to articles on ChristianityToday.com
Over 120 years of magazine archives plus full access to all of CT's online archives
Subscribe Now
America's Heart and Soul
America's Heart and Soul