In The Good Life: Genuine Christianity for the Middle Class, David Matzko McCarthy applies to the middle class Jesus' command in Matthew 6: "Strive first for the kingdom of God and his righteousness, and all these things will be given to you as well." He advocates for a holistic asceticism that puts people, money, and possessions into proper relationship with Christ's command. McCarthy is assistant professor of theology at Mount St. Mary's College in Maryland. He is also the author of Sex and Love in the Home: A Theology of the Household.
Your daughter came home one day and asked, "Are we rich?" Are you?
I don't think of myself as rich. And this was the great quandary with my daughter. I don't think of myself as poor either, and so I didn't know what to answer. In a sense that's the plight of the middle class. The Scriptures talk about rich and poor often, particularly in the New Testament. But where do we fit?
I admitted to myself I do have the dream of being rich—not enough to actually go out and buy a lottery ticket—but it's just kind of there. In the book, I was really trying to think about our ambitions and how they should take shape or be transformed by the gospel.
We are rich, particularly by comparison to the rest of the world. It seems that we then have to identify with the rich young ruler of the gospels.
In thinking about rich and poor, I thought the burdens of the poor are imposed on them. And, in a sense, the rich young man imposed burdens on himself. He was his own worst enemy. He was unable to give up or let go. It was his own choice. That is partly what I was trying to think through: How do we middle class Americans, in our desire to have one lifestyle or another, impose burdens upon ourselves? And how can the gospel free us from those burdens?
You talk about a middle class asceticism. How is that a useful introduction to our relationships with people?
I think that we live in two kinds of relationships. Some are efficient and useful, but we also enter into relationships that are burdensome. Being a friend to another is sharing burdens, and sometimes those are the best kinds of relationships that we have. We reach depths of care and love and self-giving because of our burdens. Yet sometimes we think we shouldn't get attached to people who are a burden. Lots of life is inefficient, and people aren't always useful. But perhaps that's where we find the richness of God's love for the world.
I have this sense that when we treat each other fairly and give each other the things that we deserve, that we naturally cultivate a deep connection. If we take care of the small things—that is, if we stay around each other long enough and don't give up on each other—we will find deeper connections of love and caring about each other's good.
You talk about the Good Samaritan and what it means to be a neighbor. What do we need to learn about love as it relates to neighbors?
I know for myself it's easy to love my neighbor when it's a person who's got a flat tire on the side of the road. I can take a little time, help fix the tire, get back in my car, and never see the person again. It's my actual neighbors I have trouble with. I have to deal with them every day. But love requires steadfastness and fidelity.
At the same time, you note that it's our church, not our house, that we should see as our home.
Our first family is God's family. That should define how we are families. God's family comes before biological families or households. If you think about home, the place where you are most yourself, or the home where your primary relationships are, or home where you want to invite people in and have hospitality, all of that is the call of the church. In my life of not thinking about the church as a home, I have just thought about the church as what I personally needed out of it.
When you start thinking things through from the kingdom perspective, you can end up with some conclusions that are radically different from where you started.
I remember when we were buying our recent home. I wanted a yard, I wanted a driveway, and I wanted a great neighborhood where there were no troubles and I never had to deal with the neighbors if I didn't want to. Maybe I'd invite them over for a cookout or something.
But we didn't have the money to get that kind of house. So we got this house where we live next to a set of apartments that are pretty transient. We're not in the neighborhood we desired, but I found it interesting that we want large, glorious homes with nice yards that separate us from people. I think it should be the opposite in our churches.
You write about Dorothy Sayers' radical re-definition of work That's important for the middle class, who tend to be working stiffs who put a lot of hours in jobs that they may not like.
Sayers thought that our work should be a calling. She criticized the idea that you only can have a calling to church ministry. If the work is good, if it's building up creation, then it is good work. And we human beings, in the image of God, freely put our hand to creation the way that God did at the beginning. She thinks that's how we are God-like, when work serves the worker, you could say.
She talked about developing an idea of work and the economy as the cultivation of human life.
I realized how radical it was that she really thought that almost everything has to change. Her view of the little wheel that hamsters run on is that we have an economy that just goes nowhere. We have to consume more so that we can produce more. She was trying to think about work that brings goodness into our life and serves other people and serves the good of creation.
That's important when talking about middle class asceticism.
It's not a denial of the body as much as a transformation of the body. So denying ourselves, or limiting ourselves is a way to enjoy life more. I think that's the simple point. I teach college students, and it's easy to make analogies to things like drinking. If you drink in excess you have stopped enjoying the drink a long time ago. And I think that's the same thing with money and property and so on, that if we can do it in our limited sense with our eyes to God's kingdom then, in fact, we'll enjoy those things much more.
Related Elsewhere:
The Good Life: Genuine Christianity for the Middle Class is available from Christianbook.com and other book retailers.
More information is available from the publisher.
Dick Staub is president of the Center for Faith and Culture, which examines intersections between popular culture and religious belief. Complete transcripts and audio versions of Dick Staub Interviews can be found at dickstaub.com. Recent Dick Staub Interviews for Christianity Today include:
Driving to Paradise | David Brooks, author of On Paradise Drive, says Americans are on a spiritual search for paradise, and Christians need to supply the language for the search. (May 05, 2004)
Jerry Bridges Is Still Pursuing Holiness | After 25 years, The Pursuit of Holiness is a classic (April 27, 2004)
Craig Barnes Is Getting Restless | The author of Sacred Thirst says modern life is nomadic, and we are all searching for a home we can't find on earth. (April 13, 2004)
Coming Back to the Heart of Worship | We can't not worship, says Harold Best. But we can worship wrongly. (April 06, 2004)
William Dembski's Revolution | The author of Intelligent Design set out to answer the toughest questions about the movement he helped promote (Mar. 30, 2004)
Article continues below
Steve Wilkens Loves Bad Christians and Pagans | The author of Good Ideas from Questionable Christians and Outright Pagans believes Christians can learn a lot from skeptics and non-Christians. (March 23, 2004)
Transforming Culture into God's Image | Gregory Wolfe, author of Intruding Upon the Timeless, has opted out of the culture wars in order to build a Christian culture for others to imitate. (March 16, 2004)
Heidi Neumark is Transfiguring the Bronx | After spending 20 years as pastor of a church in the Bronx, Heidi Neumark realized that sometimes people just need some Breathing Space (March 09, 2004)
Serving God Without God | The author of Running on Empty discusses his life in ministry with and without a walk with God. (March 2, 2004)
China's Christian Syndrome | David Aikman, author of Jesus in Beijing, says in 20 years Christians could have a major impact on China, and that could change the world. (Feb. 18, 2004)
The Gospel According to Tupac Shakur | Why do kids relate so well to hip-hop artists Eminem or Tupac? And what can a preacher learn from these modern-day prophets? (Feb. 10, 2004)
Craig Detweiler Finds Faith in Film | The co-author of A Matrix of Meanings talks about spirituality on screen. (Feb. 03, 2004)
Walter Wangerin Finds God Everywhere | The author of The Book of God discusses his newest novel—an ancient story with modern relevance. (Jan. 27, 2004)
Lauren Winner's Faith Still a Bit Jewish | The author of Girl Meets God discusses the Jewish habits that inform her Christianity (Jan. 20, 2004)
Ravi Zacharias's Wonderful World | The author of Jesus Among Other Gods explores God's gift of awe. (Jan. 13, 2004)
The Dick Staub Interview
Dick Staub was host of a eponymous daily radio show on Seattle's KGNW and is the author of Too Christian, Too Pagan and The Culturally Savvy Christian. He currently runs The Kindlings, an effort to rekindle the creative, intellectual, and spiritual legacy of Christians in culture. His interviews appeared weekly on our site from 2002 to 2004.
Previous The Dick Staub Interview Columns: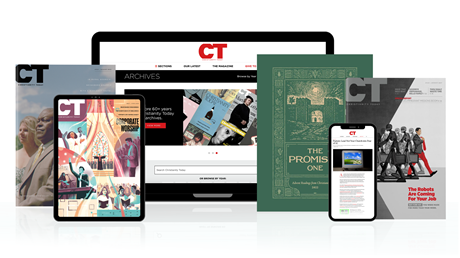 Annual & Monthly subscriptions available.
Print & Digital Issues of CT magazine
Complete access to every article on ChristianityToday.com
Unlimited access to 65+ years of CT's online archives
Member-only special issues
Subscribe
The Ascetic American Dream
The Ascetic American Dream