true
I have a confession to make, and this is no secret to those who know me: I'm in love with actor Colin Firth. And this has been known to cloud my judgment. Case in point: a girlfriend and I actually paid full price to go see the Amanda Bynes teen flick What a Girl Wants because Firth played the long lost dad. The movie was as lackluster as one might expect, but it did include a montage in which Firth played air guitar in leather pants, much to my delight. I'm hopeless, really.
So, as you can imagine, I was predisposed to like the sequel to Bridget Jones' Diary, in which Firth reprises his role as the dashing Mark Darcy. When last we left our heroes, Bridget—chubby and often awkward—and Mark—staid and graceful—had finally recognized that their opposites really did attract and were walking together blissfully through the snow-covered streets of London.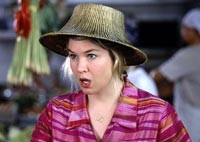 This new story picks up almost two months—or, as Bridget (Renée Zellweger) has calculated, 72 fantastic "shags"—later. The couple has settled into what appears to be a comfortable routine of romantic suppers, spending the night at her place, and then pining for each other through the day. At least Bridget pines. Mark is kind, but reserved (you might want to rent the first movie before seeing this one to remind yourself that the couple really does have chemistry), even when Bridget's penchant for absurdity manages to embarrass herself, and him, on multiple occasions—usually in front of large, important crowds.
Enter Rebecca, a young intern at Mark's office with legs "up to there" and a penchant for always doing and saying the right thing. Bridget's well-worn insecurities rear their ugly head, and the relationship goes into crisis mode. Add Hugh Grant reprising his role as Daniel Cleaver, the roguish and seductive cad who cheated on Bridget in the first installment, to the mix and before you know it, Bridget's in a Thai prison.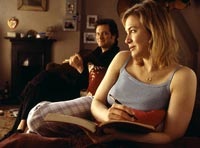 Huh?
Yeah, that part is a bit random.
I loved the original Bridget Jones' Diary, and that, coupled with my confessed affection for Firth, gave me high expectations for this sequel. But those expectations just weren't quite met. Frankly, I feel like a lot of the intangible "heart" of the first movie is replaced here with an ongoing conversation about sex. When Bridget reminisces about her night with Mark, she calls him up to compliment his derriere. When Bridget worries with her friends that Mark might be seeing Rebecca, they mention a specific sex act he might be performing with her that very minute. And when Daniel enters the scene, sexual banter rolls off his tongue like so much gravy.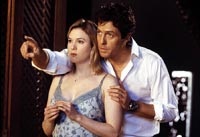 This isn't to suggest that the first movie was chaste. Far from it. These characters are obviously not operating in a context where sex is reserved for marriage. But the sex talk didn't seem so ubiquitous in the first movie. Or maybe my tolerance for it is just waning.
Having said that, it's interesting to note that the goal of the relationship is still quite traditional—marriage. Bridget fantasizes about being Mrs. Mark Darcy. And they want kids; both get excited when they think she might be pregnant.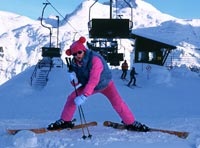 I also appreciated that The Edge of Reason deals with love in the context of the everyday. So often we lose sight of a couple just after the credit rolls, while they're still ecstatic just to be in the same room with one another. We rarely see movie couples deal with their dirty laundry—literally or figuratively. And while this is a light comedy, not a layered drama dealing with the nuance of love, and Bridget is still clearly besotted when this story picks up again, it's good to see two adults, each with their own full life, trying to figure how and if they can fit into the other person's life. As Bridget says, "You think you've found the right man and then there's so much wrong with him and then he finds there's so much wrong with you. And then it all just falls apart." And sometimes it just gets stronger.
Zellweger, who garnered an Oscar nomination for her first turn as Bridget, provides an equally endearing performance here despite questionable plot devices (again, the whole Thai prison thing). For all her flaws, Bridget never pities herself. Oh sure, she might go on a week-long ice cream bender with a couple guys named Ben and Jerry, but she always manages to pull herself together and plod on, man or no man, scale be darned.
As for Colin Firth, I felt like he was a bit more wooden in his portrayal of Mark Darcy than he really needed to be. Like Bridget, I would have liked to see a little more spontaneity in his affection, or at least some hints as to why he loves Bridget so much. Still, my fondness remains intact. Perhaps I'll spend tonight watching Firth's turn as the original Mr. Darcy in A&E's fantastic adaptation of Jane Austen's Pride and Prejudice. It's available on DVD and VHS and it's quite possibly the best five hour-long movie produced for television. It's certainly my favorite five-hour movie. And I'm not just saying that because Colin Firth is in it. Really, I'm not.
Talk About It
Discussion starters
What qualities do you think make Bridget so attractive to the people in her life?


Do you think opposites really attract? Why or why not?


Bridget always seems to be embarrassing herself. What's one of your most embarrassing moments?


The Family Corner
For parents to consider
Frequent and frank references to sex, along with drug use, make this R-rated movie inappropriate for children and most teenagers
What Other Critics Are Saying
compiled by Jeffrey Overstreet
from Film Forum, 11/18/04
A few years ago, Renée Zellweger won raves and an Oscar nomination for her performance as Bridget Jones, the not-so-skinny columnist who became the prize in a tug-of-war between an honorable man (Colin Firth) and a cad (Hugh Grant). In the sequel, Bridget Jones: The Edge of Reason, the two men tussle again as Bridget ponders the prospect of marriage.
But she's not so popular with critics this time around. Since Bridget won so many female fans the first time around, let's hear some of their opinions on the sequel.
Lisa Ann Cockrel (Christianity Today Movies) confesses her love for the original (and for actor Colin Firth), but says the sequel falls short of her expectations. "Frankly, I feel like a lot of the intangible 'heart' of the first movie is replaced here with an ongoing conversation about sex." But she's pleased by the unconventional coverage of couples dealing with "their dirty laundry. And while this is a light comedy … it's good to see two adults, each with their own full life, trying to figure how and if they can fit into the other person's life."
Annabelle Robertson (Crosswalk) compliments Sharon Maguire, who directed the first film. But she criticizes Maguire's successor. "BibanKidron's films, which include … Hookers, Hustlers, Pimps and Their Johns and To Wong Foo, Thanks for Everything! Julie Newmar … leave little doubt as to why this sequel dwells so much on Bridget's sex life. In fact, hardly a scene goes by without people in bed or a reference to casual sex. Whether you liked or disliked the last film, you'll like this one much less. A big disappointment."
Rhonda Handlon (Plugged In) says, "Bridget Jones has to be one of Hollywood's most lovable sinners. Women especially relate to her weight struggles, insecurities, clumsiness and undaunted search for love. Her story resonates with anyone who's ever wondered if love comes in size 14, or struggled with food or substance addictions. If Bridget Jones: The Edge of Reason hadn't spent so much time blasting audiences with boorish British banter and universal depictions of immorality, it could have led more of us to question what voices are speaking into the diaries of our own lives."
Article continues below
"I wish I could say something kind about [it]," says Susan Olasky (World), "but I can't. It's an incoherent mess. In the first [film], Bridget was endearing … clumsy but not pathetic, and unintentionally rude but not stupidly coarse. This sequel gives her more poundage and thrusts her into painfully embarrassing situations that make you want to turn your head rather than watch."
Misty Wagner (Christian Spotlight) writes, "I think that true fans of Bridget will not be disappointed." But she adds, "I personally loved this film and laughed out loud a lot."
At the same site, Lucy Pinnington says, "Bridget's idea of happiness is not one which most Christians will share. The movie dwells on the physical aspects of Bridget and Mark's relationship and sex is shown as the best thing about a relationship. The characters' foul mouths are another reason for Christians to shun their company. Bridget is so charming and sweet that you want her to be happy, and watching this film doesn't offer the certainty that she ever will be."
Speaking for the men in the audience, Cliff Vaughn (Ethics Daily) says this sequel "may not hold up as well as Diary, but as sequels go, it's not bad. The British humor is a bit 'randy,' as they say, but Jones' social snafus are priceless. A revelation near [the] film's end feels rather contrived and spoils some of the rhythm, but that's an exception to otherwise fair storytelling."
Mainstream critics are similarly disappointed with Bridget this time around.
from Film Forum, 11/24/04
Michael Elliott (Movie Parables) says, "All the elements from the original are there. The love triangle, the self-depreciating humor, the well-meaning but meddling friends, and, of course, the diary into which Bridget writes her always funny observations. Renee Zellweger … has already proved herself to be a perfect choice for the British heroine. This time around there's sure to be more complaints regarding the fact that she's been given such a weak script rather than the fact that she was given the script at all."
Copyright © 2004 Christianity Today. Click for reprint information.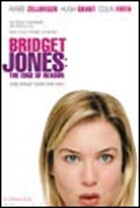 Browse All Movie Reviews By: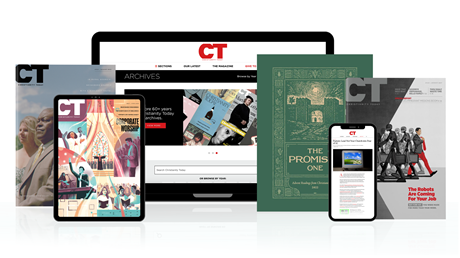 Annual & Monthly subscriptions available.
Print & Digital Issues of CT magazine
Complete access to every article on ChristianityToday.com
Unlimited access to 65+ years of CT's online archives
Member-only special issues
Subscribe
Bridget Jones: The Edge of Reason
Bridget Jones: The Edge of Reason