Five churches were bombed in Iraq before dawn on Saturday. No one was injured in the attacks, which occurred between 4 and 6 a.m. at churches in four Baghdad neighborhoods.
Three churches were attacked with homemade bombs thrown from a car. The other two bombs were planted inside churches. The attacks occurred at the beginning of the Muslim holy month of Ramadan. The same day, leaflets were scattered around Baghdad saying insurgents would attack hard and often throughout the month.
"We didn't expect that in Ramadan innocent people and places of worship would be attacked," said Majed Ismaeel, a 43-year-old furniture maker, as he surveyed the damage at the Saint Tuma Church. "The one who committed this is neither a Muslim nor a Christian, he is not human. We ask the government to fight them and destroy them."
Saint Joseph was the first church hit. Then "flames engulfed the Roman Catholic St. George's church in the central Baghdad district of Karrada, leaving its wood-built sanctuary charred," reports Agence France-Presse.
''It is a criminal act to make Iraq unstable and to create religious difficulties,'' the Rev. Zaya Yousef of St. George's Church said of the latest attacks. ''But this will not happen because we all live together like brothers in this country through sadness and happiness.''
The Association of Muslim Scholars, a Sunni clerical group, condemned the attacks.
Iraq's Christians have been fleeing the country, particularly following church attacks in August that left 11 dead. Saturday's attacks "will no doubt push people to emigrate," Father Raphael Qutaimi, acting bishop of the Syrian Catholic Church, said. "But this country has been ours for thousands of years. Our ancestors shed blood defending it. We mustn't leave it.''
"Pascale Isho Warda, a Christian who is the interim government's minister for displacement and migration, estimated as many as 15,000 out of Iraq's nearly 1 million Christians have left the country since August," reports the Associated Press. Other reports estimate there are between 650,000 and 800,000 Christians in Iraq.
Many Christians stayed away from Mass yesterday, afraid that the attacks would continue. "I am sad in my heart because tomorrow I will not be attending Mass,'' said Widad, a Chaldean Christian. "They are denying us what is most important thing in our lives.''
"What can we do? They are shelling our church, they might break into our homes tomorrow and the next day force us to wear the veil," Widad said.
"The [Christian] community stood at 1.4 million people according to a 1987 census but has since shrivelled to 700,000 during a turbulent period of war and years of crippling sanctions," reports Agence France-Presse.
Still, many Christians refuse to leave. "It would be better to die in church than anywhere else," said Dana George.
About 100 parishioners met at St. Joseph's Catholic church for Sunday services. The church was nearly completely destroyed by the explosion. Members gathered for an all-day clean-up effort after the attack, and were able to meet on Sunday. "We carry on as we did before. Its just symbolic, to say that whatever they do to us, or to others, we carry on believing in God and praying," said St. Joseph's priest, Father Vincent.
At a Greek Catholic church yesterday, Nabil and Fayza Jamil brought their baby forward for baptism. Nabil, the church's caretaker, lives with his family at the church. They were there when it was attacked and their home suffered damage. "After the attack, Father Mansour had come to check the damage, and he told me that he would hold a service on Sunday like always. I insisted on baptizing my son," Jamil said.
According to the Rev. Ken Joseph Jr., director of AssyrianChristians.com and the Assyrian Christian Assistance Center in Baghdad, Assyrian Christians in the country have met with U.S. and U.N. representatives to work on providing help to the beleaguered community, including: "reconstruction of 292 destroyed Assyrian Christian Villages, resettlement of nearly 100,000 Assyrian Christians driven out of their land by Saddam Hussein, registration for voting purposes of the community, Regional Security system and a Regional Administrative Region under article 53 of the [Iraqi] Constitution."
"We request immediate action on this … before it is too late and the indigenous people of Iraq, the Assyrian Christians, are forced to leave," said Joseph.
More on the bombings:
Iraq insurgents hit churches, kill four U.S. troops | Explosions damaged churches in Baghdad on Saturday and the U.S. military reported the deaths of four more American troops in bomb attacks elsewhere in Iraq. (Reuters)
Car bombs kill 5 US troops, churches targeted in Iraq | Car bombs killed five U.S. troops in Iraq, the U.S. military said Saturday. Blasts also targeted five churches in the Iraqi capital. (Pakistan Times, Pakistan)
Iraqi churches bombed | Bombs hit five Christian churches in Baghdad and two US Army helicopters crashed, killing two American soldiers and wounding two others, as violence flared while Iraqi Muslims began their holy month of Ramadan. (South Australia Advertiser, Australia)
Iraqi Christians struggle to stay | Insurgents bombed five Baghdad churches Saturday. A growing number of Christians are leaving Iraq. (Christian Science Monitor)
Church bells ring in Baghdad after bombings | The strength and character of Iraqi Christians was evident Sunday when they answered the call of bells and prayed in churches that had been bombed just the day before. (Voice of America)
Bombers target Christian churches in Iraq | bombs explode at Christian churches in Baghdad early Saturday. Meanwhile, the Army is investigating a report that 19 reservists refused to go on a mission to deliver supplies, citing concerns about danger and their safety equipment. (npr)
Four U.S. soldiers killed in Iraq; Baghdad churches bombed | The U.S. military reported Saturday the deaths of four soldiers, and a series of coordinated early morning blasts damaged five Baghdad churches in the latest strikes against Iraq's small Christian community. (Knight Ridder Newspapers)
Baghdad blasts rock churches, hospital, hotel; US troops ring Fallujah | Bomb blasts rocked five churches in Baghdad and a medic died when a mortar round exploded at a hospital, as US and Iraqi troops ringed the rebel hub of Fallujah amid hopes for new peace talks. (AFP)
Blasts hit 5 churches in Baghdad | Chopper crashes claim two; U.S. jets strike Fallujah. (Associated Press)
Flock returns to bombed-out church | Hope was reborn from the ashes of a blackened Greek Catholic church where a family held a baptism yesterday afternoon, a day after five churches in the Iraqi capital were targeted in bomb attacks. (Agence France-Presse)
Holy month dawns as 5 churches in Iraq hit | Baghdad bombings: There were no casualties in the blasts, but it further alarms the nation's Christian minority (Associated Press)
Christians flee renewed attacks | Many Christians stayed away from Mass in Baghdad yesterday after homemade bombs caused extensive damage at five churches in the city. (Times, London)
Iraq church bombings leave empty pews | For the first time in their lives, Widad Mikho and her sister Neshwan will not attend Mass on Sunday, too frightened after a series of church bombings across Baghdad. (Associated Press)
Blasts strike five Baghdad churches | Bombs exploded near five churches across Baghdad on Saturday morning, October 16, followed by a mortar attack targeting a sixth church, causing damage but no casualties. (Islam Online)
Bombs ignite fear among Christians | Explosions that damaged five churches in Baghdad have prompted some Christians to wonder whether it's time to leave their ancient homeland. (The Age, Australia)
Churches hit in new wave of Iraq bombings | Five Baghdad churches were among the targets in the bombing campaign and there were a number of attacks at the town of Qaim, near the Syrian border. (Independent, UK)
Iraq's shrinking Christian minority struggles to survive | The coordinated attacks on five Baghdad churches Saturday sent tremors through Iraq's small Christian community, which finds itself being set adrift amid a tide of rising Islamic extremism. (Agence France-Presse)
Iraq blasts mar Muslim holy month | Militants have bombed five Christian churches in the Iraqi capital, Baghdad, where Muslims have been greeting the holy month of Ramadan begins. (BBC)
Related Elsewhere:
Suggest links and stories by sending e-mail to weblog@christianitytoday.com
Check out Books & Culture's weekly weblog, Content & Context.
See our past Weblog updates:
October 18a
October 15 | 13 | 12 | 11
October 8 | 7 | 6 | 5 | 4
October 1 | September 30 | 29 | 28 | 27
September 24 | 23 | 22 | 21 | 20
September 17 | 16 | 15 | 13
September 10 | 9 | 8 | 7
Weblog
Launched in 1999, Christianity Today's Weblog was not just one of the first religion-oriented weblogs, but one of the first published by a media organization. (Hence its rather bland title.) Mostly compiled by then-online editor Ted Olsen, Weblog rounded up religion news and opinion pieces from publications around the world. As Christianity Today's website grew, it launched other blogs. Olsen took on management responsibilities, and the Weblog feature as such was mothballed. But CT's efforts to round up important news and opinion from around the web continues, especially on our Gleanings feature.
Ted Olsen is Christianity Today's executive editor. He wrote the magazine's Weblog—a collection of news and opinion articles from mainstream news sources around the world—from 1999 to 2006. In 2004, the magazine launched Weblog in Print, which looks for unexpected connections and trends in articles appearing in the mainstream press. The column was later renamed "Tidings" and ran until 2007.
Previous Weblog Columns: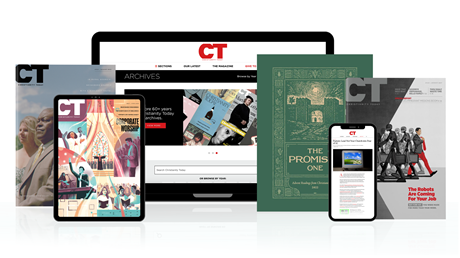 Subscribe to Christianity Today and get access to this article plus 65+ years of archives.
Home delivery of CT magazine
Complete access to articles on ChristianityToday.com
Over 120 years of magazine archives plus full access to all of CT's online archives
Subscribe Now
Five Baghdad Churches Bombed
Five Baghdad Churches Bombed