Christianity Today's coverage of this year's election includes profiles of John Kerry and George W. Bush. For the rest of this week, we will highlight other campaigns and issues to be decided this election season.
Texas Republican Tom DeLay, the House majority leader renowned as "The Hammer" of the Christian Right in Congress, is facing both trial and tribulation as the November election draws nigh. DeLay is known for his fierce partisanship, outspoken conservatism, and effective fundraising. He is one of Israel's strongest defenders in the House and regularly receives a 100 percent voting score from the Christian Coalition.
In 20 years as a U.S. congressman, DeLay has consistently won with upwards of 60 percent of the vote. The 10-term incumbent represents Sugar Land in Houston's prosperous southwest and is often labeled the third-most-powerful man in Washington.
But ethical quandaries, including an inquiry by the House ethics committee and a criminal investigation of his Texas-based political action committee, are likely to shrink his typically wide margin of victory.
In July, the House Committee on Standards of Official Conduct announced it was reviewing accusations brought by Democratic Rep. Chris Bell of Houston that DeLay illegally solicited campaign donations in return for legislative action—a violation of House bribery laws.
The committee announced in late September that it remains deadlocked on whether to launch a formal investigation. Bell was defeated in the Texas Democratic primary after a remapping plan that DeLay championed redrew his district. Bell, who is finishing out his term, lodged the complaint after his primary loss. However, the House ethics committee said yesterday, September 30, that DeLay acted improperly when he solicited a "yes" vote from Rep. Nick Smith (R-Mich.) on a recent Medicare bill. DeLay said he would endorse the House candidacy of Smith's son in return for a favorable vote on the Medicare bill.
Bell alleges that DeLay sought and received contributions from Westar Energy executives in return for a chance to influence energy legislation. His three-count complaint also accuses DeLay's Texans for a Republican Majority Political Action Committee (TRMPAC) of laundering illegal corporate contributions in order to influence state-level Texas legislative races.
DeLay spokesman Jonathan Grella dismissed the allegations as election-year politics. "This is a campaign to demonize a very strong conservative leader who is successful and delivers" for his constituents. Also, a Texas grand jury recently indicted three DeLay aides for alleged trmpac violations of state laws banning corporate donations for individual candidates running for state office. "This isn't about Tom DeLay," Ronnie Earle, a Democrat and Travis County district attorney, told the Austin American-Statesman. "It's about corporate greed. They can always find another Tom DeLay."
The ethics cloud has helped to bolster DeLay's Democratic rival. "A lot of Republicans are telling me that while they're still voting for Bush, they say they cannot support DeLay anymore," challenger Richard Morrison said. An environmental trial lawyer, Morrison is heartened by a July Democratic Congressional Campaign Committee-sponsored poll putting him 10 points behind DeLay.
Related Elsewhere:
News elsewhere about DeLay's ethics probe includes:
Ethics panel rebukes DeLay | Majority leader offered favor to get peer's vote (Washington Post, Oct. 1, 2004)
Ethics committee criticizes DeLay, Miller for improper attempt to influence a Michigan member's vote | The House ethics committee said Thursday that Majority Leader Tom DeLay acted improperly when he tried to persuade a Michigan Republican to change his vote from "no" to "yes" on a bill to provide a Medicare prescription drug benefit. (Sept. 30, 2004)
Plead Ignorance | In the wake of the TRMPAC Indictments, the big players are scurrying for cover (Austin Chronicle, Oct. 1, 2004)
TRMPAC indictments come down, 'more work' remains | The indictments issued Sept. 21 by the Travis Co. grand jury under District Attorney Ronnie Earle, charging three Republican political consultants and eight corporations with various forms of illegal solicitation, transfer, and expenditure of corporate contributions during the 2002 state legislative campaign. (Austin Chronicle, Oct. 1, 2004)
Reactions to indictments toe party lines; DeLay supporters stoical | Is U.S. Rep. Tom DeLay in trouble following the indictments of three people by the Travis County Grand Jury last week over alleged violation of campaign finance laws in Texas? (Fort Bend Southwest Sun, TX, Sep. 28, 2004)
Democrat files suit alleging illegal use of corporate donations | An associate to U.S. House Majority Leader Tom DeLay who was indicted last week is accused of using illegal corporate campaign money to defeat a Democrat who lost the 2002 attorney general's race. (Knight Ridder Newspapers, Sep. 28, 2004)
Article continues below
Ethics committee backs DeLay in ethics case | House ethics committee leaders stood up for their Republican members Friday, insisting the lawmakers could act impartially in deciding whether Majority Leader Tom DeLay misused his office. (Associated Press, Sep. 24, 2004)
Tom DeLay's Congressional, majority leader, and campaign websites offer more information.
Other campaigns and election issues Christianity Today has covered this week include:
Senate's Top Democrat in the Cross Hairs | Conservative social issues may alienate voters from Tom Daschle's Washington record. (Sept. 30, 2004)
California's Prop. 71 Stem-Cell Scam | Supporters of cloning embryos for research have $11 million to convince state voters. (Sept. 29, 2004)
It's Not About Stem Cells | Why we must clarify the debate over harvesting embryos. (Sept. 29, 2004)
Wooing the Faithful | President Bush needs evangelicals more than ever, but it's unclear how badly they want him for another four years. (Sept. 28, 2004)
John Kerry's Open Mind | The candidate has roots in liberal Catholicism, establishment Protestantism, and secular idealism. (Sept. 27, 2004)
Not Far from the Brahmin Tree | Kerry's morals have been shaped by an old Protestant establishment. (Sept. 27, 2004)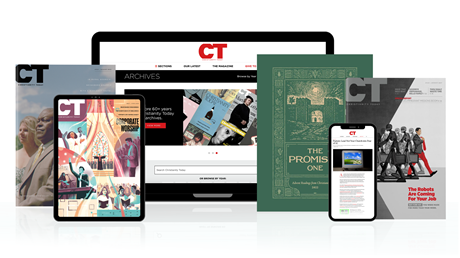 Annual & Monthly subscriptions available.
Print & Digital Issues of CT magazine
Complete access to every article on ChristianityToday.com
Unlimited access to 65+ years of CT's online archives
Member-only special issues
Subscribe
Ethics Cloud Hangs Over DeLay Campaign
Ethics Cloud Hangs Over DeLay Campaign