true
This is the last of a four-part series on some of the best foreign-language films—at least according to two of our critics, foreign-film buffs Agnieszka Tennant and Stefan Ulstein. This installment examines the best films from the rest of the world. Part 1 looked at the best European films, part 2 examined the best Asian film, and part 3 the best films from the Middle East.
Having given Europe, Asia and the Middle East our best shot, we now present the Best of the Rest. It is an eclectic mix, but we hope readers will find a few titles that will not only entertain, but spark great discussions.
Our list below draws heavily from Brazil because of its many fine films—and because it is a robust nation with a distinctive, unique culture. Argentina and Mexico, also represented below, are populous countries with distinct histories and identities. India, with one sixth of the world's population, makes more movies per year than any other nation—but most never make it to North America. Still, we included one Indian film below. Sub-Saharan Africa also produces some interesting films, but again, few are distributed here.
And so, we now offer you our Best of the Rest.
(Mexico, 2000)
Directed by Alejandro Gonzalez Inarritu
Alejandro Gonzalez Inarritu's directorial debut isn't easy on the eyes or ears, but—eventually—it's good for the heart. Its characters go through hell, one so repellent that, in the end, it leaves them drawn toward the good things that can only come from God: truth and affection.
Often compared to Pulp Fiction, the movie tells stories of three people whose lives are changed by a car wreck. The first story is about Octavio, who has a crush on his brother's abused wife and will do anything in order to get enough money to be able to rescue her. The second story is about a middle-aged man who left his family to have an affair with a model. In the last story, a man who lives with a pack of dogs arrives at a decision through which he can defy the violence that has shaped him.
The director uses dogs to drive home his points, one of which is: Show me the way you treat your dog, and I'll show you the way you treat people. The sight of the blood-soaked dogs and the sound of their bodies slamming against one another in fights—surely metaphorical for what's going on in the lives of the humans—are sure to unnerve even the most mature viewer.
Content: Even though no animals were harmed in the making of the movie, the brutality of the dogfights may be too much to stomach for animal lovers. This is a movie for adults only.
(Brazil, 1979)
Directed by Carlos Diegues
In this semi-documentary, the members of a traveling carnival find that traditional Brasil (The Portuguese spelling) has become Brazil: sophisticated, glitzy and international. As the characters travel through the vastness of Brazil, they find that their offerings must compete with television, the great leveler. The title suggests that the real Brazil is fading away, to be replaced by something more generic and less authentic.
It's a theme that Canadians and Americans can understand. Each generation is more technologically sophisticated than its parents. The choices in consumer goods and lifestyles are greater, and we wonder what is being lost. Bye Bye Brazil echoes the magical realism of South American literature, a mix of European rationalism and indigenous mysticism. For those who want to understand this huge, sprawling neighbor to the south, this film is a great place to get a taste of the Brazilian soul.
Content: Rated R for language and nudity. Appropriate for adults only.
(Brazil, 1998)
Directed by Walter Salles
In a touching drama about two wanderers, Dora starts out as a cynical former teacher who makes money writing letters on behalf of the illiterate in Rio de Janeiro's train station. Regarding her clients as "trash," she never bothers to actually send their mail. Things begin to change after she meets a 9-year-old boy whose mother gets killed soon after hiring Dora to write a letter to the boy's father. Soon after selling the boy to a couple who kill children and sell their organs on the black market, she feels guilty and steals him back. Dora slowly awakens to a feeling that has so far been foreign to her: compassion. Part of the movie's success lies in Fernanda Montenegro's straightforward portrayal of Dora's emotional transformation, which never borders on sentimentality.
Understated humor makes the movie delightful, for example at a time when a Christian truck driver flees from Dora after he realizes that she wants to get to know him, but more in the biblical sense. Dora's spiritual 180 is complete in the middle of a religious pilgrimage. Then she becomes a different kind of a letter writer—one whose pen is guided by the opposite of her previous motivation, greed.
Content: It's rated R for language, but the way it evokes empathy and kindness from its heroine, and—likely—the viewers, makes it worth seeing with mature, discerning teenagers.
(Brazil, 2002)
Directed by Fernando Meirelles
City of God is one of these movies that hurt. But the pain of facing its cruel landscape is an appropriate price of introduction to children growing up in a Rio de Janeiro ghetto.
Casting young people from an actual housing development for the homeless, the film focuses on a promising teenager named Rocket who wants to be a photographer. The questions director Fernando Meirelles has us asking as a result are much like those an inner-city minister in Chicago or Los Angeles might ask: What are the chances that a child raised in public housing run by gangs will reject the life of crime and corruption? And, more broadly: To what degree does an environment rub off on a person? When does a victim become an offender? Finally: How much are the violent drug lords like us?
Content: This Brazilian GoodFellas is filled with disturbing violence—done to children and by children. While the brutality is authentic and not gratuitous, only mature audiences can withstand it.
(Mexico, 1992)
Directed by Alfonso Arau
"We Mexicans are emotional people," Alfonso Arau said at a Seattle Film Festival interview. "And we like it that way." Arau said that his film, based on the novel by his wife, Laura Esquivel, celebrates the emotional, spiritual, sensual side of Mexico. "Most of us are at least part Indian," he said, "But for too long we have denied it, wanting to be European."
Like Water for Chocolate is filmed in a mystical style that stands outside of time and the laws of physics. The title refers to the way Mexicans use boiling water, rather than milk, for hot chocolate. When a person is romantically infatuated, he is said to be in a state "like water for chocolate." In this film, Tita and Pedro are in love, but Tita's Mamá Elena wants Tita to remain single, stay at home and be her caregiver in old age. She forbids the marriage. The rest is up to love and food. Many a viewer has been driven to the nearest Mexican restaurant after seeing Like Water for Chocolate, a hugely entertaining and life-affirming film that helps us understand the blend of Catholic and indigenous beliefs and the mixture of Spanish and Indian cultures that make Mexico such a vibrant, fascinating country.
Content: Rated R for sexuality and brief nudity. Suitable for adults only.
(Peru/Colombia/USA, 2004)
Directed by Joshua Marston
Maria, a marginally employed Colombian woman who finds herself pregnant, is recruited by a smarmy drug dealer to serve as a "mule," smuggling drugs into the U.S. She naively agrees to swallow condom encased drugs, which may rupture and kill her if they are not retrieved soon enough.
She balks when she considers the damage to her and her baby, and the possibility of time in an American prison. The drug dealers remind her that they know where her family lives. Maria is aware that if she fails, or if even one capsule goes missing, her family will be murdered. In America she escapes from the dealers and finds solace in a Colombian-American community, but the dealers won't let her go.
This film, masterful in its story, characters and direction, serves as a cautionary tale to those who might regard "recreational" drug use as a victimless crime.
Content: Rated R for drug content and language. Suitable for older teenagers and adults.
(Argentina, 2000)
Directed by Fabian Bielinsky
If you enjoy David Mamet's cat-and-mouse scenarios in The Spanish Prisoner, House of Games, and Heist, you'll love this clever fast-paced Argentinian thriller in which few characters are who they initially seem to be. In a movie that reveals bluff within bluff, the biggest con is the one that's pulled on the viewer.
What's so great about a pair of swindlers who set out to sell a forged edition of rare stamps (the "nine queens") to a wealthy entrepreneur for $450,000? The way their conniving reveals the pitfalls of greed ruling a human heart? The way the movie reminds us how easily we are deceived? The way it shows how one deception leads to another? Yes, that too. The movie does all these things, but, honestly, it's the thrill of the ride—the surprises that we cannot help but relish—that makes it one of the most enjoyable foreign films out there.
Content: The film isn't rated, but contains offensive language and sexual references. Mature viewers only.
(Argentina, 1985)
Directed by Luis Puenzo
In the 1970s and 80s, the Argentine dictatorship abducted and/or murdered citizens who had any links, real or imagined, to the Marxist rebels who sought to overthrow them. Thousands of innocent people disappeared—including many children. Many of those children were adopted by the families of the murderers. In this excellent Oscar-winning drama, we see the plight of young adults who are faced with a horrible choice: whether to embrace their adoptive family—which may have been complicit in the disappearance and execution of their biological family.
The dictatorship's end came when, to buoy public opinion, they decided to invade the British-controlled Falkland Islands. They quickly discovered, as did Napoleon and Hitler, that the Royal Navy ought not to be underestimated. The war was over in 76 days. The Argentine people had had enough and began a long road toward the democracy they enjoy today.
Content: Suitable for older teenagers and adults.
(India, 1988)
Directed by Mira Nair
Bombay, the economic center of the world's largest democracy (1.2 billion people), is a city of dizzying contrasts, hosts the world's largest film industry in the world and office space is more expensive than anywhere on earth. Meanwhile, many of its 18 million people, including countless children, live on the streets.
In this film, we follow the fortunes of a young boy as he delivers chai (a form of tea) to shopkeepers and residents. Working for almost nothing, he is charged for breaking a bottle, pushing him to the brink of financial ruin. One of his neighbors is a beautiful Nepali girl who has been sold to a brothel. When he brings her chai, she is at first scornful. Eventually they become casual acquaintances in a sea of humanity.
The greeting "salaam" is a variation of "shalom," implying hope and goodwill, and director Nair finds those qualities in her actors—street kids themselves—who live on the brink of starvation and death.
Content: Suitable for thoughtful middle-schoolers and adults.
(Argentina, 2001)
Dir. Juan Jose Campanella
See if this sounds familiar: A middle-aged restaurateur is so tired at the end of the day that all he wants to do is veg out watching reruns of old Zorro movies on TV. His ex-wife is upset that he spends too little time with their teenage daughter. He finds it hard to visit his mother whose Alzheimer's scares him. His girlfriend … Let's just say that other pressures converge on him as well, and—you've guessed it—his classic midlife crisis culminates in a heart attack.
But this is not a classic movie about midlife crisis. Unlike American Beauty, The Son of the Bride is tender and fresh, and anything but ostentatious.
Health problems, of course, have a way of making us ask ourselves the questions we've been eluding by, say, watching old reruns on TV. When the protagonist of this bittersweet comedy does the hard work of asking the questions, he becomes more alive. As we all should after any crisis.
Content: Rated R for sexuality. Suitable for mature viewers only.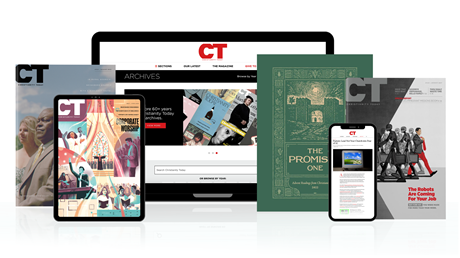 Subscribe to Christianity Today and get access to this article plus 65+ years of archives.
Home delivery of CT magazine
Complete access to articles on ChristianityToday.com
Over 120 years of magazine archives plus full access to all of CT's online archives
Subscribe Now
Top Ten Movies from the Rest of the World
Top Ten Movies from the Rest of the World