In recent decades, evangelicals and Catholics have come together to face seemingly intractable social problems. Then, in 1994, 20 evangelical and Catholic leaders from North America, including public intellectuals Charles Colson and Richard John Neuhaus, organized an informal discussion group, Evangelicals and Catholics Together (ECT). The group issued a joint declaration, "The Christian Mission in the Third Millennium," which discussed issues such as abortion that evangelicals and Catholics could jointly address.
ECT's endorsers also affirmed certain common tenets of the Christian faith, including (without defining it) justification by faith. Prominent evangelical theologians such as R. C. Sproul complained that Colson had been duped. The Southern Baptist Convention pressured another signatory, Richard Land, to erase his signature. He did.
Theologian J. I. Packer's participation in ECT was most perplexing to some critics. Although a handful of Reformed leaders accused him of high treason, Packer did not back down. He reiterated his belief that "good evangelical Protestants and good Roman Catholics" are Christians. And he argued that the world needs an alliance of devoted believers.
Wheaton College historian Mark Noll and writer Carolyn Nystrom share Packer's spirit of ecumenical charity. The headline-grabbing title of Is the Reformation Over? boldly implies an answer. But the book's subtitle, An Evangelical Assessment of Contemporary Roman Catholicism, suggests its true value. ECT's detractors get little space, but readers will learn much about modern efforts to improve evangelical-Catholic relations. However, they may benefit most from Noll and Nystrom's irenic (and reluctantly critical) exploration of what still divides us.
All About the Church
The authors believe the Second Vatican Council (1962-1965) was a key turning point. They identify four crucial developments. The council (1) referred to some non-Catholics as "brothers," (2) encouraged lay Catholic piety, (3) emphasized Christ's unique role as mediator, and (4) accepted limited blame for inciting the Reformation.
Noll and Nystrom also provide ample descriptions of official Protestant dealings with the Catholic church. Most notably, they detail "The Joint Declaration on the Doctrine of Justification," signed by the Lutheran World Federation and Catholic representatives in 1999. They say a key Reformation debate cooled with the declaration's hallmark line: "Our new life is solely due to the forgiving and renewing mercy that God imparts as a gift and we receive in faith and never can merit in any way." Critics, however, pointed out that the document papered over significant differences associated with justification, including purgatory, penance, and indulgences.
The justification dialogue also shows the limitation of Noll and Nystrom's main question. How do we know when the Reformation is over? On the one hand, the authors write, "If it is true, as once was repeated frequently by Protestants conscious of their anchorage in Martin Luther or John Calvin that … justification is the article on which the church stands or falls, then the Reformation is over."
But the Reformation also produced a severe disagreement over the nature of the church. Protestants cannot fathom why the Catholic Catechism approvingly quotes Joan of Arc saying, "About Jesus Christ and the church, I simply know they're just one thing, and we shouldn't complicate the matter." Noll and Nystrom say, "In sum, the central difference that continues to separate evangelicals and Catholics is not Scripture, justification by faith, the pope, Mary, the sacraments, or clerical celibacy—though the central difference is reflected in differences on these matters—but the nature of the church."
Indeed, the whole Reformation legacy hinges on the doctrine of the church. Protestants have seen schism as necessary to the church's purification. But Catholics, since Christ and the church are supposedly one, have viewed the Reformation as, in the words of Noll and Nystrom, an "attack on Christ himself."
The Age of Miracles
Is the Reformation Over? assumes that evangelical-Catholic rapprochement is good. So by the time Noll and Nystrom critique Catholic ecclesiology, Marian devotion, and toleration of nominal belief, their concerns are credible. At a time when Time magazine named two Catholics as among America's most influential evangelicals, we need to remember why unity remains elusive.
Evangelism is one perennial sticking point. Catholics have for years decried evangelical "sheep stealing" in Latin America. Evangelicals, in turn, say nominal and syncretistic Catholicism justifies their outreach. ECT stepped in and called for an end to proselytizing among "active adherents of another Christian community."
Noll and Nystrom examine official ecumenical dialogues on proselytism, especially between Catholics and Baptists. However, this academic analysis is inherently limited because many evangelicals care less about what the Catholic church teaches than about how Catholics act. Nominal, disaffected Catholics have been among evangelicalism's most fruitful mission fields. Going forward, evangelicals will watch closely to see if Pope Benedict XVI can encourage deeper discipleship and piety among Catholics.
As in international diplomacy, common enemies can make for potent allies in religion. Noll and Nystrom write, "Differences on basic Christian convictions between Catholics and evangelicals fade away as if to nothing when compared to secular affirmations about the nature of humanity and the world." No one illustrates their point better than Pope John Paul II, who died shortly after they finished the book. His advocacy for democracy, orthodox theology, and the "culture of life" won many evangelical admirers. His personal integrity built a new level of trust among evangelicals staunchly opposed to his office.
One wonders, though, how much the common opposition to secularism and theological liberalism can conceal. John Paul II also practiced intense Marian devotion. And it is tough to square Pope Benedict XVI's recent offer of indulgences with the statements on justification that Catholics agreed to with the Lutheran World Federation and in ECT.
The uproar a decade ago over ECT was significant, but not new. "We should confront each other not as representatives of the same faith, but as representatives of quite different faiths," Methodist minister C. Stanley Lowell wrote in CT in 1960. "Protestants should confront Roman Catholics in dialogue much as they would confront Jews."
That's why Noll and Nystrom argue that the visible theological and political cooperation of leading evangelicals and Catholics shows that times have changed. "The growing recognition of how deep and firm such common doctrinal affirmations are represents a great historical reversal," Noll and Nystrom write. They cite shared doctrines including the Trinity, original sin, and the Holy Spirit's power to transform. "Although agreement on foundational Christian teachings has always been present … only in recent decades have the depth and significance of these doctrinal affirmations been visible. This alteration of perspective should indicate to anyone of a historical cast of mind that we still live in the age of miracles."
So is the Reformation over? Eyeing the serious differences that remain, Noll and Nystrom are not prepared to go that far. But they do explain why the question is now on the table.
Collin Hansen is an associate editor of Christianity Today.
Related Elsewhere:
Is the Reformation Over? An Evangelical Assessment of Contemporary Roman Catholicism is available from Christianbook.com and other book retailers. 
Collin Hansen earlier wrote a review for Christian History & Biography.
Books & Culture magazine excerpted the book for the cover story for its July/August 2005 issue.
In Signs of the Reformation's Success?, Timothy George disgust how Pope John Paul II aided Catholic/evangelical dialogue. Other articles on evangelical/Catholic friendship following the death of Pope John Paul II explored more areas in which evangelicals and Catholics have come together.
Pope's Funeral Spotlights Kinship Between Catholics and Evangelicals | Once antagonistic communities are now on the same side of several cultural issues. (April 8, 2005)
Pope Gave Evangelicals the Moral Impetus We Didn't Have | Timothy George discusses how "the greatest pope since the Reformation" changed evangelicalism without us knowing. (April 06, 2005)
Pope 'Broadened the Way' for Evangelicals and Catholics | Theologian Tom Oden sees continued cooperation ahead. (April 05, 2005)
How the Pope Turned Me Into An Evangelical | A Christianity Today associate editor recalls growing up Catholic in John Paul II's Poland. (April 04, 2005)
Pope John Paul II and Evangelicals | Protestants admired his lifelong admonition to "Be not afraid! Open the doors to Christ!" An interview with George Weigel. (April 04, 2005)
He Was my Pope, Too | Now that John Paul II is gone, I am even more of an orphan than the Christians in the Roman church. (April 04, 2005)
Protestants Laud Pope for Ecumenical, Social Stands | He was 'unquestionably the most influential voice for morality and peace in the world during the last 100 years,' says Billy Graham. (April 04, 2005)
Have something to add about this? See something we missed? Share your feedback here.
Our digital archives are a work in progress. Let us know if corrections need to be made.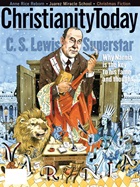 This article is from the December 2005 issue.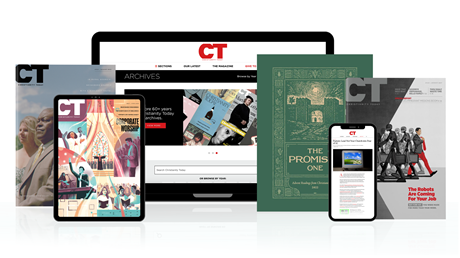 Subscribe to Christianity Today and get access to this article plus 65+ years of archives.
Home delivery of CT magazine
Complete access to articles on ChristianityToday.com
Over 120 years of magazine archives plus full access to all of CT's online archives
Subscribe Now
Sticking Points
Sticking Points