true
During the late 1920s and early 1930s, Aimee Semple McPherson was arguably America's best–known preacher. For seasons at a time, hardly a week went by when this glamorous, West Coast Pentecostal, often referred to simply as "Sister," did not make the front page of national papers.
McPherson preached an old–time gospel message, but two decidedly modern qualities riveted the jazz–age public, churched or not. The first was her use of media techniques. She was the first woman to own and operate a radio station in America, and her services took their cue from both the film industry and the Salvation Army, using every trick of music and pageantry to draw crowds and save souls.
The second quality was her Hollywood knack for scandal and rumor.
All of this makes McPherson a natural subject for a film treatment. Not surprisingly, her life has hit the screen before. The 1974 TV movie The Disappearance of Aimee was a Faye Dunaway/Bette Davis romp that never penetrated beyond her life's most sensational aspects. Auteur Richard Rossi's new direct–to–video film, Aimee Semple McPherson, goes much deeper.
Rossi, who wrote and directed the 2001 Motion Picture Council Best Documentary winner Saving Sister Aimee, uses McPherson's psyche as his palette. The movie opens with Aimee's notorious disappearance in 1926 during a swim off a California beach. It then traces her life from her teen years of doubt, conversion, and calling, to her eventual death under suspicious circumstances.
Throughout, Rossi probes the loneliness of this charismatic (in all senses) figure, etching her struggles with herself, her God, and those around her. In scenes so tightly shot as nearly to induce claustrophobia, Rossi depicts McPherson's relationships—and unfolds a tale of an emotional tug–of–war between spiritual and physical love.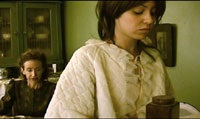 Rossi's Aimee is a driven woman, always working for her Lord. But though she feels Jesus is genuinely close to her, she cannot physically feel his arms around her. This, in Rossi's vision, leaves Aimee vulnerable and needy. After her 1926 beach disappearance, McPherson reappeared and claimed she had been kidnapped. But Rossi makes credible the public's suspicion that, lonely and between husbands, she concocted this story to cover for a tryst with Kenneth Ormiston, who had built and still operated her radio station at Angelus Temple.
This is not a documentary, but a novelization. But like most fictional treatments of historical figures, this one veers into psychohistory, which often also reflects the psyche of the writer/director.
Clearly, Rossi himself has been wrestling with Pentecostalism's emotional culture, the pressures of prominent Christian leadership, and the price of innovative Christian use of media. In 1992 he created a riveting film documenting faith healings and exorcisms. In the 1990s he wrote and performed Christian rock songs in secular nightclubs and released two albums. In 1998 he wrote, produced, and starred in a stage remake of the classic portrayal of Pentecostal charlatanry, Elmer Gantry.
The movie's sympathetic portrayal of a prominent minister caught up in the anguish of scandal may owe something to its director's own experience. In 1994, while Rossi was pastor of a 200–strong church in Pennsylvania, his wife identified him as the attacker who beat her nearly to death. Rossi claimed the assailant was a look–alike (and even was reported as speculating publicly that the assault might have had demonic origin), and his wife later recanted her story, saying the assailant had not been her husband. Nonetheless, Rossi was charged with attempted murder, but he was allowed to plead no contest to second–degree aggravated assault, and served 96 days in jail.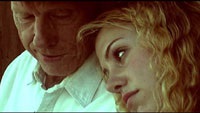 Because Rossi's film is historical fiction, it will be judged partly on historical accuracy. As for dramatic effectiveness, the story is coherent and artfully told. The characters are intriguing and believable. The film's emotional terrain—the web of relationships, personalities, conflicts, stresses—are mostly believable, though the dynamics between David Hutton (Aimee's third husband, played by Rossi) and Kiera Chaplin's Myrtle St. Pierre (an old flame of Hutton's who seduces him and blackmails Angelus Temple) are more clunk than spark.
Is Aimee's character portrayed believably by screen newcomer Mimi Michaels? A qualified yes, here. Though she handles the emotional range of the role admirably, Michaels looks too kittenish to be convincing as the mature Aimee, and her screechiness in the preaching scenes—partly the director's fault, no doubt—is a serious flaw. The sharp contrast between this histrionic, arm–waving stage persona and Michaels' confident but gentle "offstage Aimee" communicates a split personality. This may mislead us into seeing this remarkably gifted woman's whole ministry as a sublimation or overflowing of her personal struggles.
The film's budget was a paltry $50,000; the actors worked for free. Rance Howard (father of actor/director Ron Howard) shines in a nuanced performance as McPherson's father, James, and Teres Byrne's tight–lipped, hard–shelled Minnie Kennedy (Aimee's notoriously domineering mother) hovers like a wounded dragon over her famous child—showing flashes of vulnerability in her very fierceness.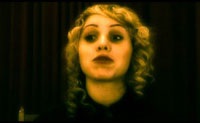 Unfortunately, Rossi's preoccupation with Pentecostal emotionalism skews this portrayal in uncomfortable ways. Crucially, his tightly focused vision (and, granted, his tiny budget) never allows us to see McPherson's Angelus Temple congregation. We get no sense of either the true power of her message or the winning warmth of a gospel pioneer who founded a Christian denomination now 4 million strong.
The pull of the sensational and dysfunctional aspects of McPherson's life has once again proven too strong. We still await the movie that shows the gospel wallop and warm touch of McPherson's ministry. This can be done even while reckoning honestly with the dangers of emotional dysfunction and moral failure arising from early Pentecostalism's fiery activism and its adulation of flawed, charismatic leaders.
For the insight Rossi's movie gives us into the latter, this is a movie worth seeing—especially for those wrestling with the power and the pain of this Christian tradition.
To order a DVD copy of the film, send a check for $29.95 payable to ETERNAL GRACE, 5030 Whitsett Avenue, Suite One, North Hollywood, CA 91607. Or you can pay by e–mail at PayPal.com, sending $29.95 to Richard_rossi@lycos.com. Be sure to include your name and shipping address.
Talk About It
Discussion starters
What did you think of Aimee's preaching style? Would it have appealed to you or not? Why or why not?
Based on this depiction, do you think Aimee was mentally stable? Why or why not?
Discuss the "scandalous" aspects of her life, especially as compared to other televangelist scandals of more recent years. How does such a scandal affect a preacher's testimony?
The Family Corner
For parents to consider
This is probably not a movie for children. The subject material is adult—lines between spirituality and sexuality. There are harrowing scenes of relational strain and dissolution between Aimee and her mother Minnie, Aimee and her second husband "Mac," and Aimee and her third husband David Hutton. There are scenes in a brothel. There is an implied suicide: In 1944, Aimee died of an overdose of sedatives.The overdose was pronounced accidental, complicated by kidney problems, though many suspected suicide. Rossi's vision favors this interpretation in his treatment.
Copyright © 2005 Christianity Today. Click for reprint information.
Browse All Movie Reviews By: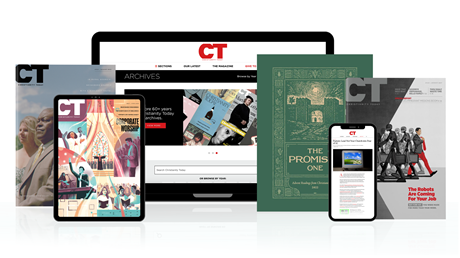 Subscribe to Christianity Today and get access to this article plus 65+ years of archives.
Home delivery of CT magazine
Complete access to articles on ChristianityToday.com
Over 120 years of magazine archives plus full access to all of CT's online archives
Subscribe Now
Aimee Semple McPherson
Aimee Semple McPherson