true
"In the Tower above the earth there is a view that reaches far/Where we cede the universe/I see the fire, I see the end/Seven miles above the earth, there is Emmanuel of Mothers/With His sword, with His robe, He comes dividing man from brothers."—from the Revelation themed "The Seer's Tower"
"Alternative" is an admittedly overbroad and overused term, but in reference to music that is truly different from the norm, the word is more than appropriate to describe the music of Sufjan Stevens. His latest, Illinois, comes as a welcome respite for music journalists during a summer drought of artistic stimulation. And considering that Stevens is relatively open about his Christian beliefs—2004's Seven Swans included clear-cut songs about Abraham and Christ's Transfiguration—it's rather impressive that he's now earning universal acclaim in mainstream publications such as Rolling Stone, Spin, and Entertainment Weekly.
Illinois follows 2003's Michigan as the second album in Stevens' impossibly ambitious "50 States" series—how about calling it "Soof-yan USA?" It's something of a sonic masterpiece and nearly impossible to describe. Try to imagine Paul Simon hooking up with the retro, trippy choral sound of The Polyphonic Spree to create an eclectic pseudo-musical along the lines of Brian Wilson's Smile, throwing in some arrangements reminiscent of minimalist 20th century composer Phillip Glass to boot. Stevens' own list of musical contributions is literally a paragraph of more than 20 stringed, wind, and percussion instruments—the album relies as heavily on banjos, woodwinds, and vibes as it does piano, guitars, and drums.
With 24 tracks totaling 74 minutes, many of them musical segues, the album's length is even reflected in some of the rambling track titles themselves (you'll see what I mean). Illinois is primarily comprised of quiet and reflective alt-folk. "Jacksonville" is an especially catchy slice of folk pop that resembles classic Paul Simon or Jackson Browne. But there are also plenty of surprises that await the listener. "Come On! Feel the Illinoise!" and "The Tallest Man, The Broadest Shoulders" both offer a staccato chorus and a caffeinated rhythm that seems both Latin and progressive, capturing the optimistic hustle and bustle of a state that thrives on agriculture and industry. And if you can imagine it, "Chicago" almost grooves like a beautifully orchestrated and acoustic version of U2's "New York."
Interesting that Stevens, a Michigan native currently living in Brooklyn, is only passively familiar with Illinois. He's still quite well versed in the locale, to the delight of state historians hoping that people will google the plentiful references to the Prairie State. There's even a tiny shout-out in track 17's too-long-to-print title (19 words!) for Bushnell, the small town best known for its annual Cornerstone Festival of Christian alternative music. But with repeated listens, it becomes apparent that an understanding of the Land of Lincoln isn't really essential or particularly revelatory. Stevens' songs aren't as much history lessons as they are his own ideas and stories painting metaphorically with the people and places of Illinois.
The same could also be said about the spiritual references on this album—more a songwriting device than an expression of faith. Thus, a somber folkie like "Casimir Pulaski Day" has more in common with Nicholas Sparks' A Walk to Remember and almost nothing to do with the Polish Revolutionary War hero for whom the state holiday is named. And the song openly deals with matters of faith by questioning God over a girlfriend's death by cancer, as well as references to Bible studies, prayer, and "the glory of the Lord." Yet in spite of all this, there are also some subtle lyrics that suggest sexual indiscretion in the youthful relationship.
Stevens similarly reminisces over a lost friend with the more obscurely titled, "The Predatory Wasp of the Palisades Is Out to Get Us!," which openly praises, "Lamb of God, we sound the horn/Hallelujah!/To us your ghost is born/Hallelu." Also confusing is "Concerning the UFO Sighting Near Highland, Illinois," which some will take at face value, while other more imaginative listeners uncover enough to interpret it as an unusual expression of the Word made flesh. "Decatur" seems to exist as a parade of endless rhymes with the central Illinois town, and some Christians might potentially interpret the line "Go Decatur! It's the great I Am" as sacrilegious.
However, there's something to be said for the reverent title of the brief instrumental interlude, "In the Temple as in the Hearts of Man for Whom He Saved the Earth." The folksy "John Wayne Gacy, Jr." does concern the infamous serial killer, and like the old Room Full of Walters song "Jeffrey Dahmer Went to Heaven," Stevens ultimately seems to remind us that we all fall short because of sin: "In my best behavior, I am really just like him/Look beneath the floorboards for the secrets I have hid." Excerpted above, "The Seer's Tower" offers a mournful and poetic expression of the Second Coming. And "The Man of Metropolis Steals Our Hearts" loosely uses Superman as a Christ figure while celebrating acts of love as a sign of true strength. (Illinois has the only "Metropolis" in America, and was declared hometown to the Man of Steel in 1972.)
Are casual references to Christianity enough to make a song spiritual in message? Conversely, are songs that don't use biblical language necessarily unchristian if an outspoken Christian wrote them? This is an album that will challenge your personal definition of music both alternative and Christian. Stevens has explored his faith more explicitly on other albums—here it's relatively diffused amid the storytelling and state references. Though Illinois is at times beyond comprehension both musically and lyrically, it nevertheless remains a creative joy.
Unless specified clearly, we are not implying whether this artist is or is not a Christian. The views expressed are simply the author's. For a more complete description of our Glimpses of God articles, click here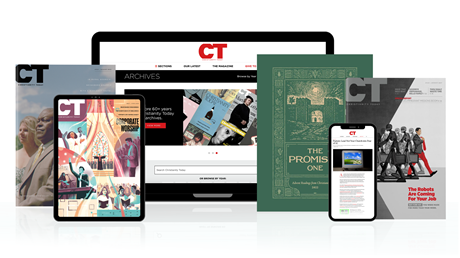 Subscribe to Christianity Today and get access to this article plus 65+ years of archives.
Home delivery of CT magazine
Complete access to articles on ChristianityToday.com
Over 120 years of magazine archives plus full access to all of CT's online archives
Subscribe Now
Illinois
Illinois