true
Note: This documentary aired on PBS on December 20, 2005. If you missed it, you can buy the DVD here.
According to a 2004 survey, the number of nuns in the United States has dropped by 50 percent from the 1960s. Consider that the average age of the nuns today is 70, and you know that religious orders are in demographic crisis.
That decline is at least part of the story in Sisters: Portrait of a Benedictine Community, a documentary premiering on PBS's Independent Lens tonight (check local listings). Director John Hanson ends his film about a slowly vanishing group of nuns in northern Minnesota with a series of contrasts—intercut scenes designed to heighten the tensions between the infirm and dying older nuns and the fewer, younger recruits who are remaking the religious house into something quite different.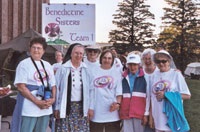 It is reminiscent in a way of the powerful closing sequence in The Godfather, Francis Ford Coppola's 1972 epic about an Italian-American mob family. Coppola sharpened the tension between the mafia's commitment to family and religion and its violent ways of doing business. Michael Corleone holds his infant nephew as the priest recites the ancient promise to renounce Satan and his ways, while his henchmen murder the heads of competing crime families.
No car bombs explode and no Tommy guns rat-a-tat in Sisters. And indeed, the documentary is no Godfather. But despite the missing mayhem, its climactic juxtaposition is similarly moving. Real-life footage of Sister Boniface's funeral and burial alternates with the vows of a midlife woman entering the convent.
The images of death weigh more heavily than the sight of a newly professed nun's beatific smile. Early in the film, one nun says, "Since I've entered, there's been 80 deaths and only 5 final professions." We are repeatedly shown the graveyard. And we visit the nursing facility where 25 "helpless" sisters are cared for and play a dumbed-down version of Bingo.
Some of the aging are vacantly sweet and some downright crotchety. One old nun angrily tells us how she hates aging: "It's not me!" And another who disapproves of the changes that are afoot says that when the younger women of 40 or 50 "are in charge, it's not going to be a real Benedictine house."
"If they aren't good religious, and they aren't happy," she spits sharply, "then Get out! We have to have these hardships."
As the documentary portrays the convent existing in tension between old and new, the old is obviously dying off, while the future of the new, emerging order is anything but clear. "We're in liminal times," one sister says. "There's a feeling of chaos."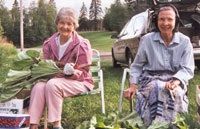 Praise the Mother of Us All
Throughout Sisters, director Hanson presents us with contrasts of the old and the new. We see ancient nuns, with faces as lined as a Shar-Pei's; we see younger fresh-faced novices. We see older nuns who joined their order at midlife—after raising families, owning cars, and holding down jobs. We see those who swear by the strictures of monastic discipline and those who have more recently entered monastic life in order to discover and nurture their own spirits.
Today, the path to community runs through the paths of individual choice. Younger candidates are selecting this convent after comparing it with others on the Internet. "We're on the Web," one older sister chirps cheerily to the camera, not quite sure of what that means.
One particularly striking image of the new way is a nun who used to be a nurse, who has turned to giving massage therapy. The sight of her kneading the bare flesh of a client seems at once eminently caring and strangely un-nunlike. She also nurtures wild plants (including dandelions) in order to practice herbal healing.
More striking to conventional religious ears is hearing nuns at the order's retreat house chant, "Give praise to the Father and Mother of us all." Those in charge back at the Priory may disapprove, a nun tells us, but, she says, she can't deal with a masculine God anymore and focuses only on God as Mother. "I think they're praying for me," she says of her superiors.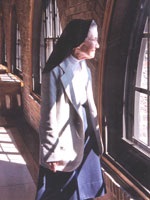 An Ordered Life
Of course, many aspects of monastic life go on undisturbed. Common life is still an ordered life. Bells are rung to signal the fixed times for community prayer. Meals are eaten together. The nuns are engaged in service, whether leading spiritual retreats for lay visitors, volunteering at a local hospice, serving food at the local Union Gospel Mission, or teaching in the nearby Benedictine College.
The 6th-century rule of St. Benedict is still followed, though not always in traditional ways. And there is a commitment to keeping the Benedictine values alive through the Benedictine institutions. But the nuns are certainly too optimistic about their hospitals and educational institutions remaining recognizably Benedictine, when they are no longer able to staff them. Where once teachers, nurses, and administrators were largely Benedictine sisters, it is now hard to have two or three sisters on the governing board of each institution. "How to get our values to the lay people who work in the institutions," is how one sister poses the problem. And those who have watched other religious colleges and hospitals drift from their original commitments will have no difficulty imagining the same will happen to these.
Hanson and friends do their best to convey a sense of courage (even faith) against the odds. This is perhaps best embodied in the scene where the sisters have an outing, an afternoon river cruise. They eat sack lunches, giggle, and blow bubbles. And they sing. They sing the 1947 hit song, "Side by Side."
"Oh we don't know what's coming tomorrow / Maybe it's trouble and sorrow / But we'll travel the road sharing our load / Side by side."
Sisters is a sadly touching portrait of women seeking God and their own spiritual growth through a life of mutual support and common prayer—and doing so in the knowledge that their way may be disappearing.
To learn more about the film or to buy the DVD, check out the official PBS website.
Talk About It
Discussion starters
Is your church or religious community changing with the times? Are you and your friends handling it better or worse than these nuns?


Do changes in society threaten your religious group's existence?


Have you seen religious hospitals or church colleges lose their way? How can such institutions hold onto their values in today's secular, competitive environment?


When might change be necessary in order to keep a religious group in existence?
The Family Corner
For parents to consider
There's no offensive content in this unrated documentary, but the subject matter might prove boring to children.
Copyright © 2005 Christianity Today. Click for reprint information.
Browse All Movie Reviews By: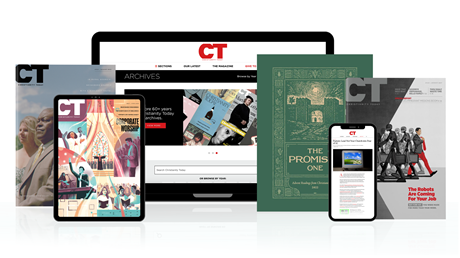 Subscribe to Christianity Today and get access to this article plus 65+ years of archives.
Home delivery of CT magazine
Complete access to articles on ChristianityToday.com
Over 120 years of magazine archives plus full access to all of CT's online archives
Subscribe Now
And Then There Were Nun
And Then There Were Nun