We recently published the summary of a study by Kurt Ver Beek, assistant professor of sociology and third-world development at Calvin College in Grand Rapids, Michigan, which questioned whether short-term missionaries and those served by such missionaries experienced long-term life changes from such missions. We have asked Ver Beek to discuss his work further with Robert Priest, associate professor of mission and intercultural studies at Trinity Evangelical Divinity School in Deerfield, Illinois. At the end of the discussion, Ver Beek and Priest will take readers' questions, which may be submitted via e-mail.
Day One | Day Two | Day Three | Day Four | Questions
From: Robert Priest
To: Kurt Ver Beek
Greetings from Lima, Peru. Last week, at the departure gate of O'Hare airport, my sons pointed out that a third of our waiting area was taken by two short-term mission teams, identifiable by their T-shirts, traveling to the Dominican Republic and to Venezuela. The summer short-term mission season is in full swing!
Just how big is short-term missions (STM)? As a grass-roots, decentralized movement, its scope is difficult to determine. And yet your own estimate of between 1 million and 4 million North American short-term missionaries every year may well be a conservative estimate. The sociologist Christian Smith, based on national random survey data, reports that 29 percent of all 13- to 17-year-olds in the U.S. have "gone on a religious missions team or religious service project," with 10 percent having gone on such trips three or more times. That is, his data indicates that far more than 2 million 13- to 17-year-olds go on such trips every year.
This is an enormous phenomenon, and yet it has largely escaped the attention of scholars. Most of the 50 "dissertations" which Abram Honig referred to in his Christianity Today article, were master's theses or D.Min. projects, with but a few Ph.D. dissertations. Senior scholars have not made this central to their own research. Probably no other dimension of American religious life is so extensive while being so little studied or understood by scholars.
As you yourself note, the amount of money funding STM is enormous, perhaps several billion dollars a year, in all likelihood now surpassing the amount given in support of long-term missionaries. Your research graphically raises questions of stewardship–showing that using short-term teams to rebuild houses in Honduras destroyed by a hurricane costs 10 times as much as having local Christian workers rebuild the house. How do we justify such use of resources? The biblical call to stewardship implies the need for careful assessment of the actual results of such expenditures. And it is, in part, through research that such assessment must take place. And so Kurt, I am thrilled to see your research, research of a high quality, on a timely topic, by a mature scholar.
One frequently articulated justification of STM is that short-term missionaries will subsequently spend a lifetime financially supporting such mission endeavors. Your own research tests this idea, and fails to find support for it. The original research reported by Roger Peterson on which this claim was based was flawed, comparing the giving of young adults before going on a mission trip with their giving five to ten years later. But the fact that 27-year-olds give twice as much to missions as 19-year-olds most likely reflects greater discretionary income. Since there was no control group, this data should not have been taken as evidence that short-term missions increases missions giving. In my own survey of 120 Trinity M.Div. students, 56 percent of whom had been on short-term mission trips outside the U.S., the amount of short-term experience was not positively correlated with giving to missions. This result was unexpected and unwanted: It suggested that for these M.Div. students, STM as currently practiced was as likely to lower financial giving as to raise it. Since your own research found similar results, we probably need to stop making the claim that STM in general leads to greater financial giving. Further research is needed to discover under what conditions STM might lead to stronger financial support for mission causes. Any thoughts on this?
All the best,
Robert
* * *
To: Robert Priest
From: Kurt Ver Beek
Greetings from a lakeshore in Michigan, where I am vacationing with my extended family.
I enjoyed your e-mail. It is astonishing that so little attention has been given to the huge growth in short-term missions. I've run across quite a few people already this summer who are going on trips. The son of a friend, together with ten other teens, raised $20,000 for their trip. They leave in a few weeks. When I asked him where he was going and with what group he'd be working, he wasn't sure. (This was after their orientation.) Another college student from Chicago is going to a Caribbean island next spring. Her only comment was, "Yeah, that will be some great tanning time." Both these young people are bright, thoughtful Christians, so I don't think their comments are atypical.
As you noted in your e-mail, one of the biggest justifications for sending all these people and spending all this money is that the participants will be changed forever—give more money, pray more for missions, etc. That is what several researchers including Peterson have found. But one of the problems with this research is that the findings have been based on self-reporting—people say they are giving more and praying more. In my study, I was surprised to find that giving among short-term participants went up very little despite the fact that over 60 percent said they were giving more. The only other study I could find that cross-checked reported giving with another source was a 1993 dissertation by Tommy Purvis (Partnership in cross-cultural mission: The impact of Kentucky Baptist short-term volunteer mission, Asbury Theological Seminary) which studied 38 churches in Kentucky that had formed sister relationships with churches in Kenya and Brazil. The project had a coordinator and a newsletter to update people on their efforts, and each year sent out dozens of short-termers. Purvis found that from 1980 until 1992, giving to missions went up almost 90 percent. However, when I adjusted those giving figures for inflation, giving by participants went up only 11 percent over 12 years—quite a modest increase given their level of effort and investment, especially since some of that increase was used to fund the short-term missions efforts.
My wife and I run a semester abroad program in Honduras, and our students regularly write evaluations saying that their lives have been changed and that they will now pray and give more for work in countries like Honduras. However, when we send e-mails to our alumni encouraging them to support efforts in Honduras that we think are doing good work, we have been surprised (and disappointed) by how few respond. Even STEM Int'l founder Roger Peterson, whom Abram Honig quotes in the article, recently told me that they do not see a relationship between the number of groups they send out and the giving to his organization. Peterson believes the groups must be giving directly to the organizations in the Third World.
So, how does all of this relate to your question about how short-term missions can better support long-term efforts? While I was surprised about the lack of impact of short-term missions, I don't think I should have been. I'm beginning to see that short-term missions is like the rest of life. We go to a conference or a summer camp and leave excited to pray every day, exercise four times a week, and reorganize our closets. But then we get home to find we are behind at work, the kids have soccer practice, and we have to pay off the credit card. Our new-found motivation tapers off. Participants in short-term missions have a similar experience. Immediately after returning from a trip, participants intend to make changes in their life, but usually fall back into old routines.
So, I am close to answering your question, but I have hit the space limit I was given and the sun and lake are calling. So for now let's just say that if short-term missions is like the rest of life, we have to figure out what transforms good intentions into real change in other areas of life. That should give us insight into how short-term missions can make a long-term impact. What do you think, Robert?
I hope you are enjoying Peru,
Kurt
Tomorrow: Too broad a brush?
Related Elsewhere:
See our earlier coverage of Ver Beek's work, "Study Questions Whether Short-Term Missions Make a Difference."
Ver Beek's study, along with a PowerPoint synopsis and bibliography, are available at his Calvin College site.
Ver Beek presented his paper at the 2005 missiology conference at Trinity Evangelical Divinity School in Deerfield, Illinois.
Earlier parts in this series include:
Who Gets 'Socially Rich' from Short-Term Missions? | How communities feel about themselves after receiving a group may be more important than the number of latrines dug or homes built. (July 8, 2005)
Mission Trips or Exotic Youth Outings? | Not everything in your church's missions budget may be about missions. (July 7, 2005)
Do Short-term Missions Change Anyone? | Or do one week's good intentions fall flat without a concerted effort to follow through? (July 6, 2005)
Are Short-Term Missions Good Stewardship? | More than 2 million teens go on such trips ever year, and giving may exceed that given to long-term missionaries. But is short-term ministry built to last? (July 5, 2005)
Study Questions Whether Short-Term Missions Make a Difference | Missionaries don't keep giving after they return; hosts prefer money to guests, Calvin sociologist finds. (June 20, 2005)
STEM Int'l has more information on short-term missions, including missions opportunities. The ministry will launch Mission Maker Magazine in late September.
Article continues below
Peterson's "Maximum Impact Short Term Missions," "Is Short-Term Mission Really Worth the Time and Money?" and "Can Short-Term Mission Really Create Long-Term Missionaries" can be purchased at the STEM International site.
Earlier Christianity Today coverage of short-term missions includes:
Agencies Announce Short-Term Missions Standards | Similar codes have been established in Great Britain and Canada. (Sep. 30, 2003)
McMissions | Short-termers have their place, but not at the expense of career missionaries. A Christianity Today editorial by Miriam Adeney (Nov. 11, 1996)
See also Marshall Allen's October 2001 article for FaithWorks magazine, "Mission tourism?"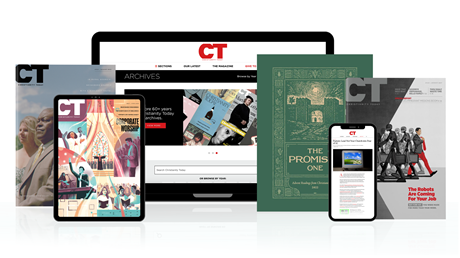 Annual & Monthly subscriptions available.
Print & Digital Issues of CT magazine
Complete access to every article on ChristianityToday.com
Unlimited access to 65+ years of CT's online archives
Member-only special issues
Subscribe
Are Short-Term Missions Good Stewardship?
Are Short-Term Missions Good Stewardship?