A new group that aims to bring U.S. Catholic, Orthodox and Protestant Christians together for the first time has been postponed because the effort has received little interest from black churches, leaders said.
The fledgling group, Christian Churches Together in the USA (CCT), has struggled to recruit historically black churches, who have been skeptical that their issues would be addressed in another ecumenical group.
At a meeting last week (June 1-3) in Los Altos, Calif., 67 leaders from some 31 church bodies decided to postpone a formal launch that was scheduled for September to allow more "productive and positive conversation" with churches that have not yet joined.
The delay—which officials insist can be overcome—highlights the difficulty of trying to overcome decades of mutual suspicion and political differences between U.S. churches that have kept them from speaking with a unified voice.
"Frankly, we felt this was so historic and promising that we want to be sure that we get it right," said the Rev. Wes Granberg-Michaelson, chair of the CCT steering committee, and general secretary of the Reformed Church in America.
The effort to build a broader "ecumenical table" was launched four years ago as a looseknit forum for U.S. churches to work together, including Catholics, evangelicals and Pentecostals who had been reluctant to join other ecumenical groups.
When it finally launches, CCT will be organized into five church "families"—Catholic, Orthodox, mainline Protestant, racial/ethnic and evangelical/Pentecostal churches—and will only take action when all five families agree by consensus.
The nation's largest Protestant body, the Southern Baptist Convention, has said it has no intention of ever joining CCT.
So far, no predominantly black churches have joined, although many have expressed interest. Currently, the only racial/ethnic groups to sign on as members are a Korean Presbyterian body and an evangelical Hispanic group.
"We really want to wait and all move forward together," said Bishop Christopher Epting, who oversees ecumenical talks for the Episcopal Church. "We don't want to do some sort of big public event when one or two of the families aren't at the table yet."
Bishop Thomas Hoyt, the Christian Methodist Episcopal bishop of Louisiana and Mississippi, said black churches wonder why a broader "table is needed" when most are already part of the National Council of Churches. What's more, he said they are not convinced a new body would address the social, economic and political issues important to them.
The bishops of Hoyt's church voted earlier this year not to join CCT, and he said he's not sure whether they are "totally committed to reconsidering."
"It was not so much a vote against (CCT), but against another meeting that does not speak to our priorities and spends too much money and time in addition to the work we already do," said Hoyt, who is also president of the more progressive National Council of Churches.
Roman Catholic Bishop Stephen Blaire of Stockton, Calif., said CCT would increase opportunities for black churches to engage with new partners. "It is very important that we have the full spectrum of representation," he said. "That is what the plan has been from the beginning."
Granberg-Michaelson said he wants to meet with black church leaders this fall to discuss their concerns. He said he has received positive responses from the National Baptist denominations, as well as the predominantly Pentecostal and black Church of God in Christ.
Bishop George McKinney of the Church of God in Christ and Bishop McKinley Young of the African Methodist Episcopal Church sit on the CCT steering committee. Both are prominent pastors in their predominantly black denominations.
"Churches that are new in the process are going to ask hard questions, and they should," Granberg-Michaelson said. "But what we've discovered is that there are very good answers to those hard questions."
Copyright © 2005 Religion News Service.
Related Elsewhere:
Earlier coverage of CCT includes:
Catholics Join NCC Alternative | Launch of broad church association around the corner (Jan. 21, 2005)
A Modest Step Toward Unity | Richard John Neuhaus on the Catholic bishops' decision to join Christian Churches Together. (Nov. 24, 2004)
Christians Form Broad Alliance | Christian Churches Together in the USA announces it will launch once 25 denominations join. (March 25, 2003)
The Not-So-New Ecumenism | A recent initiative is structured to exclude evangelicals in the mainline. (August 09, 2002)
'CCT's Proposed Theological Basis Is Solidly Orthodox' | The steering committee of Christian Churches Together in the U.S.A. responds to Christianity Today (August 09, 2002)
CCT's website offers the group's history, a founding statement, and press coverage.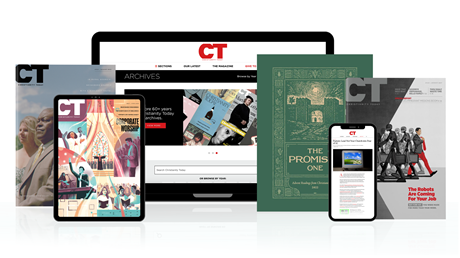 Annual & Monthly subscriptions available.
Print & Digital Issues of CT magazine
Complete access to every article on ChristianityToday.com
Unlimited access to 65+ years of CT's online archives
Member-only special issues
Subscribe
Black Church Indifference Postpones Launch of Christian Churches Together
Black Church Indifference Postpones Launch of ...