It will take $6.8 million, 20 languages, 1,424 churches, 81 denominations, 6,000 volunteer counselors, 93 acres, one armored car, 70,000 chairs, 43 preparation seminars, 30 paid staff, years of work, and one Billy Graham to pull off this weekend's New York City crusade. Oh yeah, and lots of prayer by 35,000 prayer warriors.
The New York Times elaborates the massive preparations it takes to pull off a BGEA crusade. "However lofty the three-day crusade's spiritual goals, the worldly preparations for a huge religious event can be mighty impressive, too."
The BGEA invited 12,000 churches to participate—every church within 50 miles of the city—and 1,400 agreed to. It will be the largest number of participating churches ever to host a crusade, and it will take that many to fill Flushing Meadows-Corona Park.
For Art Bailey, the crusade's director, it's been a tough job. "Mr. Bailey uses a stray tennis ball as a stress ball. To appease mental jitters, he turns to the soft-sided Bible on his desk in the rented Midtown office where he has been doing advance work; the Bible, held together by duct tape, is in the final stages of disintegration. It's been a long year," writes The New York Times.
But Bailey knows the importance of his work. He had left the church, but mid-career "Mr. Bailey hit rock bottom spiritually—'I didn't see myself amounting to anything'—before returning to the church. What had he lacked? 'Significance and security. There's a universal solution for that problem, and that's Christ.'"
A few years later, Bailey began directing Graham's crusades, and thousands more have experienced that same transformation.
More Articles
Billy Graham in NYC:
Billy Graham has long been a friend to Jewish community | No one knows how history will ultimately treat Billy Graham. But I am certain we will never see his like again. (A. James Rudin, Staten Island Advance, N.Y.)
Publishing crusades: Warner Faith, Putnam on Graham | Time Magazine's Nancy Gibbs and Michael Duffy have been signed by Warner Faith to write on the evangelical leader's relationships with eleven presidents. Also making it unusual: the reverend is cooperating (PW Daily)
Billy Graham and the city: A later look at his words | At first blush, it looked as if the Rev. Billy Graham and his crusade would have a tougher time than most as the preacher prepares for Friday's opening meeting (The New York Times)
Faith and 70,000 folding chairs | Art Bailey's mandate is to build an urban "Field of Dreams" for those of the Christian persuasion (The New York Times)
Followers will miss Graham's leadership | When the New York crusade is over, the voice of evangelical Christianity will grow quieter with the loss of its most recognizable figurehead during the past 50 years, say representatives of organizations central to Graham's roots (The Daily Herald, Chicago suburbs)
Americans familiar with, fond of Billy Graham | One in six have heard him in person (Gallup News Service)
Crusade will show a softer Graham | Evangelist, 86, says he's grown `more mellow and more forgiving' (The Charlotte Observer, N.C.)
The reverend and the newsman | Harry Smith meets Billy Graham. Again. (The Early Show, CBS)
'I hope they'll say that he was faithful' | The Rev. Billy Graham talks with NBC's Katie Couric about his final crusade in the U.S., his legacy and the difficulties of growing old (Today, NBC)
Billy Graham returns to sin city for swansong | Frail and ailing, fire and brimstone preacher goes back to New York, eschewing politics to unite his flock (The Guardian, London)
Billy Graham's son anticipates farewell | The younger Graham says he has not dwelled on the significance of the revival meeting, but says when his father's ministry ends it may be "the saddest day of my life" (Associated Press)
Church cool to Graham crusade | New York's massive Roman Catholic population will sit out this weekend's Billy Graham crusade in Queens because its parishes are too busy, spokesmen for the two closest dioceses say (The Washington Times)
Mounting a Billy Graham crusade takes prayers, mailings and many, many chairs | A Billy Graham sermon is a model of simplicity and directness. A Billy Graham crusade, is a decidedly more complex undertaking, requiring, oh, several million painstakingly assembled ingredients (The New York Times)
Billy Graham takes on a tough city | How does a sick, old evangelist from Charlotte win the soul of a city like New York? (The Charlotte Observer, N.C.)
Evangelicals, gays, but no Martians | What a remarkable thing it would be if there was conversation between the people attending the Graham crusade and the ones attending the gay pride parade (Alfred P. Doblin, The Herald News, N.J.)
In Portland: Evangelist Palau drew inspiration, help from Graham | Faith is about planting seeds and waiting patiently for them to sprout, especially for evangelists such as Billy Graham and Portland's own Luis Palau (The Oregonian)
Renowned evangelist to preach in Queens | Billy Graham's 3-day crusade may be last (Asbury Park Press, NJ)
Words of bravest for Reverend Billy | The Rev. Billy Graham kicks off his last U.S. crusade at Flushing Meadows-Corona Park tonight, and no one is more excited than Firefighter John Picarello (New York Daily News)
A transformed flock | Graham's influence on faithful will endure (Editorial, The Dallas Morning News)
Billy Graham holding last event in the U.S. | Though he says he awaits death with "great anticipation," the famed Rev. Billy Graham is still very much alive — alive enough to hold another one of his legendary "crusades" this weekend (Fox News)
Graham's message has touched many | Those who take a middle course, as Graham has sought to do, often take shots from all sides. But in a time of shrill and divisive religious rhetoric, Graham's simple message of faith in Jesus rings with a refreshing authenticity (James L. Evans, The Atlanta Journal-Constitution)
A last crusade in a career that reshaped American religion | "Finally, the Big One," blared a headline in 1957, when a dashing young evangelist named Billy Graham was poised to launch his first crusade in the largest and, by reputation, most wicked city in the nation. "Save New York!" (The Christian Science Monitor)
Missions & ministry:
Stephen Baldwin rolls into town for Livin' It Tour | Member of the acting clan to deliver motivational message to extreme-sports crowd (The Post-Standard, Syracuse, N.Y.)
Evangelicals building a base in Iraq | Newcomers raise worry among traditional church leaders (The Washington Post)
New group may spark Presbyterian split | New Wineskins Initiative proposed a radically reorganized, mission-minded denomination to halt decades of decline in the Presbyterian Church (U.S.A.) (Associated Press)
On a road trip for God | Couple heed a call, set out in RV to pray in every state capital (Chicago Tribune)
AIDS:
Yes, we have HIV too, say four clergymen | The Christian and Muslim clergy from various African countries cited fear of stigma and discrimination as the main obstacles to the fight against the Aids pandemic (The Nation, Nairobi, Kenya)
Aids is not a sinners' disease, say clerics | We did not sin to be infected with HIV, church leaders who have gone public on their health status said yesterday (The Nation, Nairobi, Kenya)
The godly duty on Aids | When infected religious leaders open up and announce their status, they contribute significantly to demystifying Aids and making it a subject of wide discussion (Editorial, The Nation, Nairobi, Kenya)
Confessions a milestone in anti-Aids war | The very fact that preachers stand up to own up to their congregations that they are HIV-positive is a powerful way of de-stigmatizing the pandemic and helping more people not just to go public, but first and foremost to avail for tests, which are important for establishing one's status (Dorothy Kweyu, The Nation, Nairobi, Kenya)
Church life:
Sunday, a day of rest | With Christians on the go, night before Sabbath becoming blessed time to worship (The Arizona Republic)
Event marks arrival of Shakers | Revival 200 years ago set religion in motion (Lexington Herald-Leader, Ky.)
Lahore's Christians on hunger strike over church repossession | Christians in Lahore had gone on a hunger strike in a bid to reposes the more than 100 years old St Andrews Church which has reportedly been given by the Pakistan Railways to build a school (ANI, India)
Church enlisted to fight against climate change | The Australian Conservation Foundation (ACF) has turned to the National Council of Churches in its campaign to halt climate change (Australian Broadcasting Corp.)
Anglicans may target firms seen as anti-Palestinian:
Anglicans may target firms seen as anti-Palestinian | A plan calls for churches to urge companies in their investment portfolios to end activities that support the Israeli occupation (Los Angeles Times)
Church may black firms over Israeli 'occupation' | The Anglican Church is expected to back a report urging it to disinvest in companies that "support the occupation" of Palestinian lands (The Telegraph, London)
Anglicans target Israel | The fact that two Churches in the United States, a country whose support Israel tends to take for granted, are at the forefront of the moves to disinvest is a salutary warning: moral force is just as important as acquiring the latest military gismos from Washington (Editorial, The Telegraph, London)
Also: Reawakening the teachings of contempt | The hostility toward Israel encouraged by liberal Protestants poses a much greater near-term threat to Jews than anything the evangelicals espouse (Robert Everett and Dexter Van Zile, The Jerusalem Post)
Episcopal church excluded for gay stance:
American churches shown door as gay row deepens | The Anglican Church moved closer to schism yesterday when members of its central administrative council formally asked the Churches of Canada and the US to go (The Times, London)
Anglicans won't censure wings of church | The Anglican Communion on Wednesday rejected an attempt by traditionalists to punish the U.S. and Canadian wings of the church for their stance on homosexuality, watering down a resolution that called for the North Americans to be suspended from all church bodies (Associated Press)
US Church excluded for gay stance | The American and Canadian Churches have been excluded from one of the Anglican Communion's top bodies after refusing to change their views on homosexuality (BBC)
Southern Baptists end Disney boycott:
Baptists abandon Disney boycott | The Southern Baptist Convention's 8-year initiative had little effect, analysts say (The Orlando Sentinel)
Southern Baptists end Disney boycott | Also Wednesday, SBC delegates passed a resolution that encourages parents to investigate their children's public schools to determine whether they are too accepting of homosexuality (Associated Press)
Baptists vote to end 8-year Disney boycott | A resolution approved by the 12,000 delegates from churches around the country said the boycott, in effect since 1997, had "communicated effectively our displeasure concerning products and policies that violate moral righteousness and traditional family values" (The Birmingham News, Ala.)
Religion & homosexuality:
'Healed' by God | Evangelical group sponsors conference on nature of gays (MSNBC)
Enough of these sickos! | Westboro Baptist Church is just an entirely sicko cult (Editorial, The Boston Herald)
Gays welcome outreach by churches | Cite Unitarians for efforts to end prejudice (The Boston Globe)
Spanish senators reject gay bill | Spain's Senate has rejected a bill on gay marriage but MPs are likely to make it law when it returns to the lower chamber of parliament next week (BBC)
PTA snubs former-gays group for workshop | The National PTA has angered a support group for former homosexuals by rejecting them as a workshop presenter at its annual meeting that convened yesterday, while allowing a homosexual advocacy group to participate (The Washington Times)
Jerusalem bans gay pride parade:
Jerusalem bans gay pride parade | City Hall says the march would offend many of the city's residents and set off unrest (Haaretz, Tel Aviv)
Jerusalem bans gay pride parade (BBC)
UK bank bans Christian group for anti-homosexual views:
Co-op bank bars Christian group | The Co-operative Bank has asked an evangelical Christian group to close its account because of its anti-homosexual views (BBC)
Co-op asks Christian Voice to quit (Press Association, U.K.)
Christians urged to boycott Co-op after bank row | The fundamentalist Christian organisation that led the campaign against the BBC's screening of Jerry Springer - The Opera has appealed to Christians to boycott the Co-operative Bank and Co-op stores after being asked to move its bank account elsewhere (The Times, London)
Sexuality:
The young & the sexless | A new generation of young men and women is embracing celibate life (Jeff Sharlet, Rolling Stone)
Groups laud Yahoo for closing chat rooms | Family advocacy groups lauded Yahoo Inc. on Thursday for closing its chat rooms to clean up areas that allegedly were used to prey on children (Associated Press)
Marriage & family:
For whom the wedding bells toll | Marriage is targeted for deconstruction (Suzanne Fields, The Washington Times)
We aren't living-in sin, say Delhi couples | Holy Matrimony certainly isn't on the cards for many young men and women in the capital. No matter how shocking the idea in the past, many now find cohabiting without marriage perfectly acceptable (Hindustan Times, India)
Catholicism:
Pope tours force birthplace sale | The owner of the house in Germany where Pope Benedict XVI was born wants to sell because she says she is tired of tourists gawping through the windows (BBC)
Pope defends speaking out on ethics issues | Pope Benedict XVI made an official visit to the Italian president on Friday, just two weeks after the Roman Catholic Church was accused by some of interfering in a national referendum on assisted fertility (Associated Press)
Pope urges Italy to defend marriage, right to life | In his first official foreign state visit, Pope Benedict told Italy on Friday the separation of Church and state was "legitimate," but urged lawmakers to defend traditional marriage and the right to life (Reuters)
Progress and struggle for Vietnam's Catholics | As restrictions are eased, membership grows (The Washington Post)
Catholic woman in secret ordination | A woman has been ordained as a priest in a secret ceremony in central Europe as an act of defiance against the Roman Catholic Church (BBC)
Religion in the News: 'Jesus is everywhere, even in the mall' | The Catholic Center in the Colorado Springs Citadel Mall started as an experiment in 2001 by a small group of Capuchin Franciscan friars. It has grown to a bustling ministry that attracts up to 50 people for afternoon Mass (Associated Press)
Shanghai bishop seeks to heal division | Shanghai Bishop Aloysius Jin Luxian's 27 years in prison and labor camps have done little to ease the bitterness of supporters of China's underground church (Associated Press)
Vatican: Ties with China not impossible | The Vatican's foreign minister said Wednesday that difficulties in establishing long-sought diplomatic ties with China are not "insurmountable" but must be handled carefully (Associated Press)
Cleric: E-mails back John Paul sainthood | Polish Monsignor Slawomir Oder said the Diocese of Rome has been overwhelmed by the "explosion" of correspondence it has received since the public was officially invited to write about the late pope's virtues last month (Associated Press)
Catholic Church growing in suburbs | The number of Roman Catholics in Northern Virginia's outer suburbs is growing so fast that the local bishop has created a new parish and two new missions to serve more than 2,500 worshipers in Loudoun, Prince William, Culpeper and Rappahannock counties (The Washington Post)
Plaintiffs pursuing archbishop deposition | William Levada, a Roman Catholic authority on clergy sex abuse, led the Archdiocese of Portland from 1986 to 1995 (The Oregonian)
Seton Hall allowed to ban gay group:
Court upholds Seton's right to spurn gay group | Catholic school can refuse to recognize campus organization (The Star-Ledger, Newark, N.J.)
Court backs college against gay student | A Seton Hall University student has lost a crucial battle in his effort to get formal recognition of a campus group for gay and lesbian students (NorthJersey.com)
Right to discriminate upheld | Seton Hall University's anti-bias policy specifically covers sexual orientation. And that set the stage for an unusual legal dispute over the university's right to assert its religious identity in denying recognition to a gay student group (Inside Higher Ed)
Education:
Bible offer angers parents | Lord Roberts pupils were given letters asking permission to distribute them (London Free Press, Ont.)
Baptists agree to hold schools accountable | SBC stops short of urging an exodus from institutions the group sees as morally offensive (Houston Chronicle)
Church & state:
Anglican joins religious row | Melbourne's leading Anglican yesterday added to pressure on the State Government over its religious vilification law, saying it could curtail free speech on important issues (The Age, Melbourne, Australia)
Devilish indeed? | NDP MP says water project against God (The Winnipeg Sun)
Judgment Day looms for US Supreme Court on Ten Commandments cases | The US political, religious and legal establishments are braced for two critical Supreme Court rulings on the Ten Commandments, weighing heavily on the separation of church and state (AFP)
Religion news in brief | Orthodoxy in Ukrainian public schools, church use for Md. graduation, Germans have 'somewhat distorted' view of new pope, and other stories (Associated Press)
Judge's statements spark controversy | The decision by local court officials to deny the use of the Quran for oaths has garnered national media attention and the scrutiny of a Washington-based Islamic civil rights group (News & Record, Greensboro, N.C.)
Religion & politics:
Possibility of theocracy in state is not far from becoming reality | Republican leaders in the Wisconsin Legislature, taking their cues from Wisconsin Right-to-Life and other powerful organizations on the far right, are leading the state toward a fundamentalist Christian theocracy and away from the state and federal constitutions (James Rowen, The Capital Times, Madison, Wi.)
Rick, Carole strike a pose | The way some people find religion, the up-till-now quite evangelical Gov. Rick Perry may have just found moderation (John Young, Waco Tribune-Herald, Tex.)
Religious Democrats aim to close the God gap | Christian Alliance for Progress founded to counter the power of the religious right (The Philadelphia Inquirer)
Leftward Christian soldiers | A new, well-organized religious group has emerged. And guess what: It actually supports Christian values (Rob Garver, The American Prospect)
You ain't seen nothing yet | Christian America's political arm is more complex and more dynamic than it first appears. And it will be hard to stop (The Economist)
'Religious left' launched in US | A group of progressive Christians in the US have launched a new political movement to counter what they describe as the power of the religious right (BBC)
Christian group makes debut | A new liberal Christian group announced its entry into the national political debate yesterday as a voice to "reclaim" Christianity, the latest in a line of Democrat-leaning organizations trying to fight the conservative political message of prominent evangelical leaders (The Washington Times)
Religious progressives speak out | With the stated goal of reclaiming the issue of faith from the Christian right, a new political organization for religious progressives launched Wednesday, joining a small number of liberal religious-oriented groups and think tanks that sprang up around the faith-infused 2004 election (Chicago Tribune)
Schiavo activist to seek Fla. Senate seat | Randall Terry, who founded the militant anti-abortion group Operation Rescue and helped lead the effort to reinsert Terri Schiavo's feeding tube, announced Wednesday he is running for the state Senate, setting the stage for a GOP primary in which Schiavo could be the central issue (Associated Press)
'Earthy evangelist' changes US climate | Europe's environmental activists are not renowned for their faith in the power of prayer. But in the run-up to the G8 summit they should put their hands together for the Rev Richard Cizik (The Telegraph, London)
Abortion:
Privacy rights key in abortion debate | UW prof testifies at Senate hearing (The Capital Times, Madison, Wi.)
Abortion, and how it cut crime | Decades of studies have indicated that a child born into an adverse family environment is far more likely than other children to become a criminal (Steven Levitt, The Times, London)
Earlier: A Death Penalty Before the Crime | If "unwanted" children are destined for crime, can we make them wanted? (Editorial, Christianity Today, Oct. 4, 1999)
Suit filed over Fla. abortion-notice law | A federal lawsuit filed Thursday argues that a new Florida law requiring physicians to notify parents when their minor daughters seek abortions could endanger the girls by delaying emergency treatment (Associated Press)
Senate panel girds for abortion fight | Amid the possibility of a Supreme Court vacancy, witnesses, including 'Roe,' are summoned (Los Angeles Times)
Life ethics:
Anti-abortion counselors to declare their position | Anti-abortion counseling services could be forced to declare they are pro-life in public advertising, in a bid to stop women being misled when seeking abortions (The Age, Melbourne, Australia)
Stem-cell sleight of hand | Mario Cuomo accuses President Bush of letting religion run his stem-cell policy, but Bush isn't the one ignoring actual science (Wesley J. Smith, The Weekly Standard)
Bill for morning-after-pill passed in N.Y. | State senators approved legislation that allows girls and women to more easily obtain a morning-after pill from pharmacists, midwives and nurses, despite opposition from lawmakers who likened the emergency contraception to abortion. (Associated Press)
Stem cell conference opens in California | Despite optimism and enthusiasm, stem cell researchers arriving here Thursday for a conference are rowing hard against strong currents of financial, political and technical turmoil (Associated Press)
Wis. assembly votes to ban cloning embryos | The Wisconsin Assembly approved one of the nation's toughest bans on human cloning Thursday despite concerns the bill would cripple embryonic stem cell research in the state where it was discovered (Associated Press)
Assembly OKs human-cloning ban | After a debate that pitted hope for cures to some of humanity's deadliest diseases against the specter of vats of proto-humans grown for spare parts, the Republican- controlled state Assembly voted Thursday to ban human cloning in Wisconsin (Wisconsin State Journal)
Christians appeal Graham Staines verdict:
Christian body to appeal against Graham Staines verdict | Rattled by the Orissa High Court's verdict commuting the death sentence of Dara Singh, awarded by the trial court in the Graham Staines murder case, a prominent Christian body - Global Council of Indian Christians - on Thursday said it would move the Supreme Court (PTI, India)
Missionaries being attacked: Catholic Union | The All India Catholic Union (AICU) today alleged that missionaries in many parts of the country were being targeted and attacked on the pretext of forced conversions. (DeepikaGlobal.com, India)
Crime:
Lawyer, roofer indicted on more charges in fraud scheme | Lynchburg area men are suspected of conspiring to cheat Christian investors out of about one (m) million dollars over a five-year period beginning in 1999 (Lynchburg News and Advance, Va.)
Woman gets 5 years for church embezzling | A woman who pleaded no contest to embezzling at least $700,000 from her Lutheran church, crippling a reconstruction effort and causing a retired pastor to lose his pension, was sentenced to 5 to 10 years in prison (Associated Press)
Utah polygamist group can't sell assets | Leaders of a polygamist Mormon splinter group were barred Wednesday from spending or selling any of the group's estimated millions of dollars in assets (Associated Press)
A tragic drama unfolds | Justice must play the starring role in saga of polygamist cult (Editorial, The Arizona Republic)
'Medicine man' arrested on peyote charges | A self-proclaimed medicine man was arrested Thursday on federal charges he lied about being an American Indian to consume and distribute peyote during religious ceremonies (Associated Press)
Romanian monk, nuns charged with murder for crucifixion:
Romania monk, 4 nuns charged with murder | A 23-year-old Orthodox nun — said to be possessed by devils because she shouted so much — was chained to a cross, gagged with a towel and left in a dank room at a convent for three days without food, where she died of suffocation and dehydration (Associated Press)
Romanian priest faces life in jail over nun death | The 23-year-old nun, Maricica Irina Cornici, died last week after spending three days tied to a cross without food or water in the cellar of a church in the northeastern town of Vaslui as the priest prayed to drive out the evil spirits (Reuters)
Mel Gibson stalker gets three years:
Drifter jailed for stalking Mel Gibson | An Idaho drifter convicted of stalking Mel Gibson was sentenced Wednesday to three years in state prison. (Associated Press)
Mel Gibson stalker gets three years prison | A homeless man, who believed he had been sent by God to pray with "The Passion of the Christ" director Mel Gibson, was sentenced to three years in prison on Wednesday for stalking (Reuters)
Nonprofit financial abuse:
Nonprofits' fix-us list | Group hopes to preempt Grassley on abuses (The Washington Post)
Charity panel urges oversight and accountability increase | Having been asked how to stem financial abuses at charities, a group of nonprofit organizations in a report presented on Wednesday to the Senate Finance Committee called for more money to strengthen government oversight, greater accountability from charities themselves and a number of specific legislative and regulatory changes (The New York Times)
Government steps up charity crackdown | IRS, Congress aim to curb abuse of popular but unregulated donor-advised funds (The Wall Street Journal)
Also: The problem with religious philanthropy | Three expert views (George Weigel, Yossi Prager, and Barbara J. Elliott, Philanthropy)
History:
Turin Shroud confirmed as a fake: French science magazine | "A mediaeval technique helped us to make a Shroud," Science et Vie (Science and Life) said in its July issue (AFP)
Bits and pieces of early Bible writings on display | Some question evangelical undertones (Lexington Herald-Leader, Ky.)
People:
Ronald Winans, of The Winans group, dies at 49 | Winans, who had suffered a heart attack in 1997, died at Harper Hospital of heart complications, his family said (Associated Press)
Stars help spread religious message | Tom Cruise isn't the only celeb spreading faith (El Paso Times, Tex.)
For whom the bells toll | Now that the Arab world and the Orthodox Church are against him, the Jewish state is suddenly Irineos's one hope of sanctuary (Haaretz, Tel Aviv)
Books:
Out of the ghetto | Christian publishers reach for a share of the secular market, mainstream publishers jostle for Christian market share—and readers win from the competition (World)
Clerical mysteries | The greatest mystery is why the genre's minister-detectives are so liberal (Lauren Winner, World)
Virtue and its opposite | Author Philip Caputo explores Africa, jihad, fanaticism, and faith (World)
More articles of interest:
Double cross? | Businesses solicit 'Christian only' (Stu Bykofsky, Philadelphia Daily News)
Survey: Most U.S. doctors believe in God | In the survey of 1,044 doctors nationwide, 76 percent said they believe in God, 59 percent said they believe in some sort of afterlife, and 55 percent said their religious beliefs influence how they practice medicine (Associated Press)
S.F. professor fears Hindu retaliation | Militants threaten rape over investigations of caste tension, she says (San Francisco Chronicle)
Religion, politics and rock | On the eve of his last concert, Larry Norman chats about life, music (Statesman Journal, Eugene, Ore.)
Unreal for 30 days | A "documentary" on Islam tells a preconceived story (Debbie Schlussel, The Wall Street Journal)
Related Elsewhere:
Suggest links and stories by sending e-mail to weblog@christianitytoday.com
See our past Weblog updates:
June 23 | 20
June 17 | 16 | 15 | 14
June 10 | 9 | 3 | 2 | May 31
May 27 | 26 | 24 | 23
Weblog
Launched in 1999, Christianity Today's Weblog was not just one of the first religion-oriented weblogs, but one of the first published by a media organization. (Hence its rather bland title.) Mostly compiled by then-online editor Ted Olsen, Weblog rounded up religion news and opinion pieces from publications around the world. As Christianity Today's website grew, it launched other blogs. Olsen took on management responsibilities, and the Weblog feature as such was mothballed. But CT's efforts to round up important news and opinion from around the web continues, especially on our Gleanings feature.
Ted Olsen is Christianity Today's executive editor. He wrote the magazine's Weblog—a collection of news and opinion articles from mainstream news sources around the world—from 1999 to 2006. In 2004, the magazine launched Weblog in Print, which looks for unexpected connections and trends in articles appearing in the mainstream press. The column was later renamed "Tidings" and ran until 2007.
Previous Weblog Columns: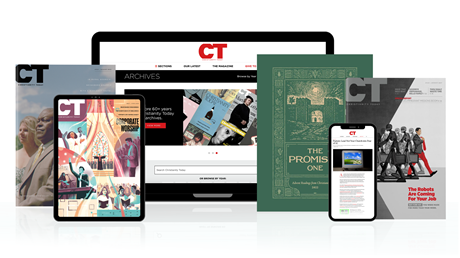 Subscribe to Christianity Today and get access to this article plus 65+ years of archives.
Home delivery of CT magazine
Complete access to articles on ChristianityToday.com
Over 120 years of magazine archives plus full access to all of CT's online archives
Subscribe Now
Doing the Numbers at Billy's Crusade
Doing the Numbers at Billy's Crusade