true
While religious, political, and cultural relations between the U.S. and the Islamic world are often tense, the universal language of music has a way of cutting through all that.
Friendship Fest 2005 proved as much.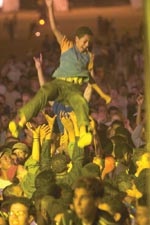 Held May 6-8 in Marrakech, in North African nation of Morocco, the lineup featured some of Christian music's biggest names—Jeremy Camp, Newsboys, Delirious, Phil Keaggy, Rock 'n' Roll Worship Circus, Out of Eden, and Joy Williams. Friendship Fest—which drew an impressive 85,000 attendees during its three-night stint—could've easily been mistaken for a typical Christian music festival, even though it was held in a predominantly Muslim country.
Festival organizers had said they wanted to "use the universal language of music to bridge cultures and make friends, to show that people of different cultures and faith traditions can be friends and live in harmony with one another."
The event's website described it as "a celebration of friendship in the midst of diversity in cultures and faith traditions." That diversity was reflected in the equal stage time given to the Christian acts and to Moroccan musicians.
Some opposition
A few Moroccan news outlets reported the event as "controversial," noting "fierce opposition from Islamists" and implying that the musicians were there to convert Muslims to Christianity.
American Harry Thomas, one of the festival planners, said some Moroccans initially showed resistance. "There was pressure being placed on the people of Marrakech saying, 'Maybe you shouldn't do this event. You shouldn't trust these Americans.'" But Thomas alleviated their concerns, assuring them that proselytizing wasn't on the agenda.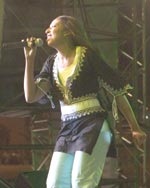 Out of Eden's Andrea Baca said, "It wasn't a trick to convert anybody to Christianity, but a chance to build relationships."
Keaggy agreed: "We didn't go to Morocco with the purpose of proselytizing," he said. "[Our intent] was to connect with our friends there. We all went there with a real sensitivity, knowing we're guests in this country. There were no incidents, no embarrassments, or unfriendliness from anyone. We weren't there to clobber people with a Bible."
But the musicians didn't exactly water things down on stage. Though they couldn't explicitly talk about Jesus, they weren't prohibited from singing about him. Newsboys and Delirious, known for their stadium-sized worship set lists, didn't change a thing from their normal shows.
"We did what we normally do," said Delirious frontman Martin Smith. "If the music is good, people will respond to it. In our set, people were jumping up and down, faces were beaming."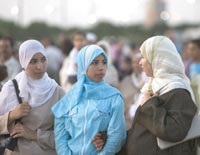 Williams noted that during the Newsboys' set, "thousands of Moroccan people were dancing and shouting and clapping. God was very present in that."
Baca said OOE's set was virtually identical to their typical U.S. show: "The only song that we changed was 'Soldiers.' We wanted to be sensitive to everything going on in Iraq and America, so we chose a hymn instead, 'Immortal, Invisible God Only Wise.'"
Planting seeds
Despite the ban on proselytism, the musicians had opportunities to plant seeds of faith by their actions.
"We're not allowed to evangelize," said Williams, "but we were allowed to make connections, make friends, and share Christ that way."
In their downtime, the three sisters in Out of Eden were invited to visit a local village, where a couple asked them into their home for tea.
"The coolest part was that they sang for us," Baca said. "We were tying to think of a way to connect with them, so we sang 'His Eye Is on the Sparrow' a cappella style. As we were singing, one of the women actually had a tear in her eye. I believe that she could feel the spirit of God coming from us."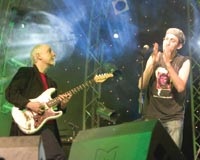 Keaggy said that inviting seven Moroccan musicians onstage with him and his band was the biggest testimony: "When they saw us connect with Moroccan musicians, that spoke volumes to them."
Even back at the hotel, Keaggy found some connections, jamming with a Moroccan band in the lobby.
"We're Bob Marley, Tower of Power, and Hendrix fans, while these are Elvis, James Brown, Frank Sinatra type people," he said. "We must have played for two hours together. We did a little medley of Beatles songs. It was just so cool. We didn't isolate ourselves. We were in the streets, in the clubs. Everywhere we experienced goodwill."
Knowing the culture
Prior to the event, all artists and their crews were instructed on how to act and what to expect.
"They did brief us to clue us in as to how to behave and show respect," said Keaggy. "The way you dress, your actions, your manners. When you shake hands, you use your right hand. Which hand to use when you accept change. Everyone had to keep those things in mind.
"I've never played in an Islamic country before," he added. "There's a call to prayer several times a day. You could hear it in the streets."
Some of the musicians had done their homework beforehand.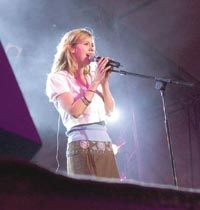 "I had several phone conversations with the promoter prior to going," said Williams. "I read up on the culture, the status of gender relations. I found out I'm not allowed to make eye contact with men. I read up on the language. Once we got over there, they noticed we had studied up on their culture, and they felt respected in that."
Morocco is one of the most progressive—and culturally "Western"—nations in the Muslim world. Of 18 Arab countries, it's the top-rated for democracy, according to The Economist. Morocco was also the first country to recognize the independent United States, with an unbroken Treaty of Friendship with the U.S. since 1786.
Still, some of the Christian musicians were concerned about security, and some even turned down invitations because of those concerns.
"I continually asked what the security would be like," said Thomas, one of the organizers. "The Moroccans graciously assured me that security would be fine. And it was more than fine. They had truckloads of military men, dogs sniffing for explosives. Not because they expected anything, but more as a courtesy for us. They were looking out for us."
Friendship Fest was supported by the Moroccan government, which helped offset the cost of the event. Other costs were covered by a combination of local government funds, corporate sponsorship, and private donations. All artists and producers donated their time and labor, and the event was presented free of charge to all attendees.
'We like Jesus'
Thomas, a music promoter and co-founder of Creation Festivals, Inc., says Friendship Fest wasn't his idea. It all began when Thomas and a group of others visited Morocco in 2004, and Abdelali Doumou, regional president for the Marrakech area, was moved by Thomas' commitment to God and religious freedom. Doumou subsequently invited Thomas back to stage a music event.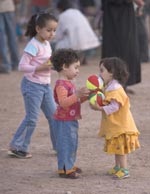 "I asked, 'Are you talking about a little concert?'" Thomas says. "And they said, 'No, a festival.' Then I said, 'But they all sing about Jesus.' And they replied, 'That's not a problem. We like Jesus.'"
And once the music started, the Moroccan crowds seemed to like the music too—whether or not they completely understood the message of the lyrics.
"We did songs like 'Majesty,' 'History Maker,' and 'My Glorious,'" says Delirious' Smith. "But it's not like they could understand them anyway."
"I'm sure they didn't understand what the words were," added Keaggy. "What they did pick up was that we were there to communicate music and art, that we went to share in that together."
Baca said that once Out of Eden began to play, "Moroccans love R&B and hip-hop music, and they were dancing with us, jumping up and down. It felt like we were at Creation Festival all of a sudden."
Copyright © 2005 Christianity Today. Click for reprint information.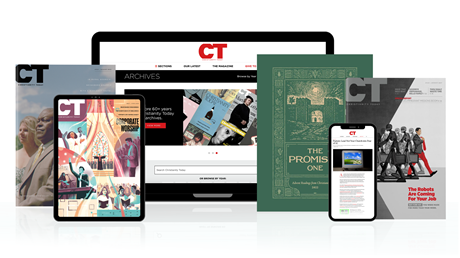 Annual & Monthly subscriptions available.
Print & Digital Issues of CT magazine
Complete access to every article on ChristianityToday.com
Unlimited access to 65+ years of CT's online archives
Member-only special issues
Subscribe
Jesus Music Goes to ... Morocco?
Jesus Music Goes to ... Morocco?