Last year, Sir John Marks Templeton, the legendary 92-year-old global investor, made one big decision. He gave away $550 million, becoming the third-largest financial donor of 2004 after Microsoft's Bill Gates and investor Warren Buffet's wife, Susan.
A naturalized British citizen (and knight by grant of Elizabeth II), Templeton gave the money to his foundation, unique in its sustained focus on science and religion. These new funds propelled the John Templeton Foundation into the top 100 American foundations, with assets approaching $1 billion.
Over the decades, Templeton witnessed other foundations stray from their original charter or exercise poor stewardship. He wanted to avoid their mistakes. So first, he put into place stringent controls over budgets and grants to ensure that long after he's gone his foundation stays true to his vision for promoting spirituality, values, and a closer relationship between science and religion. Second, he put his 65-year-old surgeon son, John "Jack" Templeton, at the helm of the foundation, based in Pennsylvania.
The foundation's signature grant is the annual Templeton Prize for Progress Toward Research or Discoveries about Spiritual Realities (until 2001 known as the Templeton Prize for Progress in Religion). This blockbuster gift of $1.5 million typically goes to a religious leader, scholar, or scientist. Mother Teresa, Billy Graham, and Chuck Colson were recipients, as was scientist-theologian John Polkinghorne in 2002.
The foundation also gives grants and awards of up to $40 million per year for conferences and science-religion research. Scholars, journalists, and major universities have received Templeton funds. In a typical year, it awards more than 100 grants. A longtime Presbyterian, Templeton has also generously supported the Presbyterian Church (USA).
Templeton's grants are not without controversy. His quest to bring science and religion closer together appears biased to some. "Mr. Templeton wants to bring scientists and religious people together in a hallelujah chorus of sorts," Paul Kurtz, a die-hard secularist and philosophy professor emeritus at the State University of New York at Buffalo, told The Chronicle of Philanthropy.
Joel Carpenter, former religion officer for the Pew Charitable Trusts and provost at Calvin College (a Templeton grant recipient), told CT, "Sir John's theology is very eclectic. He has pushed [grants] to be religiously and theologically inclusive. However, the people who are most vitally interested in the relation of science and religion are traditional orthodox Christians.
"No one in the evangelical world is doing faith and science in the same way Templeton is."
Bridging the Divide
The handover of the foundation from father to son also poses personal challenges. The elder Templeton is a universalist. He views God as a divine force of "pure unlimited love." His son Jack is a born-again evangelical and member of the conservative Presbyterian Church in America.
The Templetons have vastly different life experiences. Sir John is a deeply spiritual businessman. Jack is a high-achieving trauma surgeon committed to science and medicine.
But in managing their foundation, father and son have found new common ground. Earlier this year, Sir John, who lives in the Bahamas, popped off a pre-dawn fax to his son, barking orders like a Naval officer to the engine room of a ship:
"Find out everything about this scientist," it demanded.
"Make sure the scientist details his methodology for our grant," said another.
Jack says, "He jumps out of bed early every morning. I get two faxes a day. They are like orders from the admiral.
"It takes about 50 hours to answer every fax of Dad's."
He adds with relish, "I have quantified it through a study!"
The swashbuckling financier and his accomplished son, both sticklers for detail, have carried on in like fashion for most of their lives. They are close, admiring, yet surprisingly formal and distant in many ways.
In recent years, Sir John has annually given greater control to Jack over the day-to-day foundation operations. Five years ago, any grant of more than $50,000 required Sir John's approval. That threshold is now $2 million.
New Priorities
Templeton Foundation's approach to grant making mirrors the independent streak of its founder and the compassionate mission of the founder's son.
As a visionary investor and mutual-fund manager, Templeton has always stepped in where others feared to tread, gaining rich rewards for taking innovative risks. During the 1930s, when most Americans were afraid to invest, Templeton fearlessly blazed a trail. He thought the American aversion to overseas investing left the field wide open. Templeton has an enviable record of 14 percent annual return over 50 years. If you invested $100,000 in his flagship growth fund in 1954 and reinvested dividends, your wealth would have grown to $55 million by 1999. This summer, Smart Money magazine named Templeton to its list of the five "World's Greatest Investors."
Templeton earned his reputation as a savvy analyst who abandons stocks when prices are soaring and picks them up cheap when the market falls. In 1939, the clouds of war were gathering over Europe. Templeton bought $100 worth of every New York Stock Exchange listed stock that was trading at less than $1 per share. Some 34 of those publicly traded corporations were in bankruptcy. "Three years later, I had a profit on 100 out of the 104," Templeton recounts in one of his recent books.
Templeton's independence was cultivated in small-town Tennessee, where the values were modeled and self-sufficiency was hallowed. Those same sensibilities carried over into his parenting style. He gave his children room to develop with little intervention or instruction.
But what worked for Templeton's childhood was far less successful as he reared his own children. As a child, Jack felt adrift and ignored. As his father launched his mutual-fund business and worked 16-hour days, Jack did not react with bitterness, but longing. He admired his father from afar.
The Templeton home in Englewood, New Jersey, was a place where parenting was mostly tucking children into bed. A loving nanny picked up the slack. From the outside, all was well. Templeton's mutual-fund business was thriving. Their life was going according to plan until the end of 1950.
After that Christmas, Templeton gave himself and his wife, Judith, permission to play a little, and the couple flew off to Bermuda. Toward the end of their stay, they sped off on motorbikes for a tour. Turning a corner, Judith was struck hard by an object protruding from an oncoming truck. She was gravely injured and died within two hours. This fatal accident came just months after Jack's grandmother died. Jack was overcome with grief. "The two deaths … affected me more deeply than I let on to myself or to others," he said.
But he did begin spending more time with his father, who had set new priorities and started regularly taking time off to be with his children. He remarried in 1958.
In 1972, Sir John created the Templeton Prize, making Mother Teresa the first recipient. In 1987, he created the foundation and later a publishing arm to publish his books. By 1992, Templeton decided to cash out. He sold his mutual-fund business for $440 million to the Franklin Group and devoted himself to philanthropy.
Faith amid Tragedy
In the meantime, Jack was building his own reputation as a surgeon. At the time, Jack had no idea how his medical career would later influence his second career at the foundation.
Early on, tragedy visited Jack at the Naval Hospital in Portsmouth, Virginia. A young patient had a life-threatening tumor on his liver. With the child's father at sea, the mother was handling the gut-wrenching task of holding off death at her son's door. Jack felt overwhelmed, and yet he saw the boy's mother was handling the situation better than he was. "She had a certain peace," Jack recalled.
He prescribed aggressive chemotherapy. But almost immediately the boy suffered massive seizures. Jack was devastated. He didn't know what went wrong. Later while preparing to present the case to medical students, Jack recalculated the drug dosage and discovered that he had given a dose 10 times too great. The child took months to recover.
He knew he had to tell the parents. They were silent as he admitted the dosing error. "They thanked me for trying to save their son's life," he said. "They talked about their faith that their son was with Jesus." Jack never forgot their witness.
Some years later, two prominent evangelicals, Arthur DeMoss, the late insurance executive, and C. Everett Koop, the former surgeon general, mentored Jack. Koop believes that values must be taught and Jack soaked up the older doctor's teaching. DeMoss invited Jack to join a Bible study.
Koop asked Jack to become a medical ethicist at Children's Hospital in Philadelphia. Jack was haunted by the question, "Who shall survive?" He was deeply pained over a case at a nearby hospital. A child with Down syndrome was born unable to ingest food properly. The surgeon told the parents that their only option was to do nothing.
"The couple was young and inexperienced," Jack recalls. "They were taking what they felt was the doctor's wisdom. They put the boy in an incubator to die. The baby cried hour after hour and took 12 days to die." Templeton still burns with indignation, "It was based on bad science."
In DeMoss's Bible study, Jack came to realize that much of his professional life was about self-discovery through achievements. He put an ultimate question to himself: "Can I get the answer all put into a package?" But DeMoss turned Jack's attention to Revelation 3, which calls people to wake up and repent. Deeds could not merit God's favor. In that moment, Jack says he released control of his life to Christ. His wife did the same that night. The couple reordered their lives in sync with their new faith.
It's About Mission
In 1995, Jack Templeton retired from his surgical practice and accepted his father's invitation to become the chief executive of the foundation. Sir John's move puts an evangelical in command at one of the world's largest foundations. Perhaps it's another example of his innovative risk-taking.
Sir John is brilliantly insightful about human nature, but also skeptical. He worries that the Templeton Foundation will end up in the hands of unsympathetic progeny. "Father's hot-button issue is donor intent. Foundations are too often taken in a radical direction," Jack says.
The foundation's charter and bylaws spell out the future in detail. First, the officers of the foundation must read Sir John's books. "You must read his articles and books to know the mind of the donor," Jack says. Every five years, three independent analysts will conduct a review to see if the officers are making grants consistent with Templeton's intent. If they find that Jack is giving 9 percent of the grants to causes inconsistent with his father's intent, he has one year to bring the grants back into line. If not, Jack and his top two people will be fired.
Through shared purpose, father and son have achieved a new level of trust. The foundation's mission brought them closer together.
Former Pew officer Carpenter is confident about the foundation's future. "There are no others I know of so resolutely focused on the one strategic area of faith and science. Should Templeton stay engaged there for the long term, it could help build a depth and range of inquiry to benefit the orthodox Christian community immensely as it seeks a mature perspective on faith and science."
Tony Carnes is a senior writer for Christianity Today.
Related Elsewhere:
John Templeton died on July 8, 2008.
The John Templeton Foundation has more information about its grants, award winners, a bio of Sir John Templeton, and The Templeton Prize.
The Templeton Foundation Press has a catalogue of books on science and religion, including ones by Sir John Templeton and Jack Templeton.
CT articles on Templeton award winners include:
The Dick Staub Interview: John Polkinghorne | The 2002 Templeton Prize winner sees the Bible as "the laboratory notebook" of the Holy Spirit. (Nov. 4, 2002)
Bottom-Up Apologist | "John Polkinghorne—particle physicist, Gifford lecturer, Templeton Prize–winner, and parish priest" (May 24, 2002)
Examining Peacocke's Plumage | The winner of the 2001 Templeton Prize for Progress in Religion rejects everything resembling Christian orthodoxy, but that doesn't stop him from co-opting the language. (March 12, 2001)
Article continues below
Physicist Wins Templeton Prize for Progress in Religion | Freeman Dyson, "midwife of Quantum Electrodynamics," futurist, and popularizer of science, honored for work on responsible science. (March 20, 2000)
Physicist Wins Religion Award | A physicist-theologian who has studied the religious implications of the Big Bang theory has been awarded the 1999 Templeton Prize for Progress in Religion, the world's richest annual prize. (April 26, 1999)
Bright Wins Religion Award | Campus Crusade for Christ International founder and president Bill Bright is the 1996 winner of the Templeton Prize for Progress in Religion, the world's largest annual award, valued at $1,070,000. Investor John Templeton, 83, awards the prize "to a living person who has shown extraordinary originality in advancing humankind's understanding of God and/or spirituality." (1996)
For more coverage of science and religion, see Books & Culture's The Science Pages and Christianity Today's Science archive.
Have something to add about this? See something we missed? Share your feedback here.
Our digital archives are a work in progress. Let us know if corrections need to be made.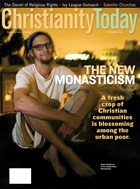 This article is from the September 2005 issue.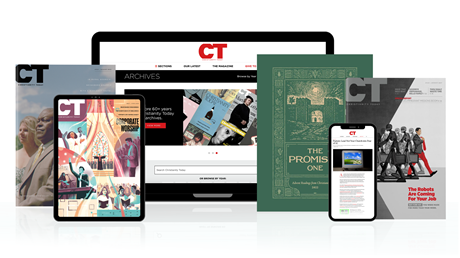 Annual & Monthly subscriptions available.
Print & Digital Issues of CT magazine
Complete access to every article on ChristianityToday.com
Unlimited access to 65+ years of CT's online archives
Member-only special issues
Subscribe
The $1 Billion Handoff
The $1 Billion Handoff