A woodcut in the 17th-century Anabaptist Martyrs Mirror shows Dirk Willems, an early Dutch Mennonite, saving the life of a "thief-catcher" who has fallen through the ice on a lake. The "thief-catcher" had been pursuing Willems at a burgomaster's behest, to bring him to trial and execution for his Anabaptist beliefs. After his act of mercy, Willems was nonetheless recaptured (over the protests, the Mirror notes, of his rescued pursuer) and burned at the stake.
This story is intimately familiar to most Amish, Mennonites, and Brethren (the Amish still give the Martyrs Mirror as a wedding present). It celebrates their sense that to be a true disciple of Jesus Christ, one must serve others as he did and taught. This sense of compassionate human responsibility has borne fruit in a long history of Anabaptist mutual aid and service ministries.
Fire-forged bonds

During the intense persecutions of the 16th and early 17th centuries, adherents drew together for protection and sustenance in close-knit communities. But after the persecutions ended, the tendency to act in concert persisted. In Europe, especially Russia, where Catherine the Great permitted Mennonites great freedom to develop their own way of life, Anabaptist agricultural communities operated as cooperatives, with equal distribution of arable land and commonly held animal herds. They also grew used to sharing the workload—an ethos demonstrated most visibly today in the traditional Amish barn raising. Such cooperative efforts have allowed the Mennonites and related groups to achieve what one writer has called "reasonable prosperity for the group rather than for only a few within the group."
In America, early Mennonites continued the practice of providing for persecuted brethren in Europe and helped Mennonites who were driven from their homes in Europe relocate to America. A few communities in North America, past and present, have practiced community of goods, such as the Ephrata Community in colonial Pennsylvania, the Hutterites of the Midwestern U. S. and Canada, and the Hutterian Brethren (Bruderhof) of the Eastern U. S. and Europe, but most groups have stopped short of total community ownership of resources.
One expression of mutual aid among Anabaptists has been in the unlikely area of insurance. As early as the 17th century, Mennonites provided one another with insurance protection. In 1663, Mennonites in West Prussia organized a fire insurance company, and similar efforts to insure against losses have characterized American Anabaptists as well. True to the Anabaptist view that the community is responsible for meeting the needs of its members, many of the early fire insurance programs did not involve the payment of premiums in anticipation of loss, but rather in the levying of payments on the whole community, based on ability to pay, to meet the needs of those who had suffered losses.
Anabaptists were slow to adopt life insurance and retirement annuities, assuming that other members of the religious community would care for those who became dependent. However, today Anabaptists have developed their own insurance programs, such as the Church of the Brethren Benefit Trust and Mennonite Mutual Aid (MMA). MMA, which also serves the Brethren in Christ and the Church of the Brethren, sells products that are common among insurance companies today—life insurance and retirement annuities. While to the casual observer, MMA appears to be like any wholly secular insurance company, it remains true to its Anabaptist roots, providing "Sharing Fund grants"—matching grants to churches to help members with such things as exceptional medical expenses and the costs of adopting children—and maintaining a scholarship fund. Some conservative Mennonite groups, most Amish, and the German Baptist Brethren are still opposed to life insurance and retirement accounts.
A widening embrace

Their strong adherence to the principle of separation of church and state has led Mennonites and groups in the German Baptist Brethren tradition to provide services to members for which others look to government agencies, such as aid to widows and orphans and support for the elderly. Mennonites and Brethren have also maintained hospitals and homes for the aged that serve not only members, but the general public as well.
On the American landscape, not all Anabaptist service has remained inward-turned, however. As an expression of biblical neighbor-love and as a pragmatic solution to the need for ways for their pacifist members to provide alternative wartime service, Anabaptist groups began in the 20th century to develop a network of aid organizations that provide services, especially in times of emergency.
Just days after Hurricane Charley struck Florida on August 13, 2004, the Mennonite Disaster Service (MDS) began to set up a staging area in Arcadia, Florida to which volunteers could come to provide recovery services to the victims of the storm. Unlike many groups that provide immediate aid and then leave, the MDS and its Church of the Brethren counterpart, Emergency Response/Service Ministries, provide long-term service, including repair of buildings and emergency child care. Although a small segment of the less conservative Amish community operates its own disaster relief service, Christian Aid Ministries, most Amish groups participate in MDS programs. It is not unusual to see a van load of Amish carpenters working alongside a group of highly acculturated urban Mennonites on a home repair project.
Committee of compassion

In 1920, Mennonites banded together to relieve their brethren in the Ukraine who faced starvation in the wake of World War I and the subsequent Russian Civil War. Out of these efforts emerged the Mennonite Central Committee (MCC), an umbrella organization for domestic and international relief and development programs, sponsored by Mennonite churches in North America and the Brethren in Christ. The 1921 death of popular Goshen College student Clayton Kratz while serving as a relief worker in Russia cemented MCC in the Mennonite imagination while MCC's skillful lobbying of the Soviet government resulted in permission to legally function in the Soviet Union. By 1924, MCC had distributed over a million dollars in aid, including tractors and horses, to help rebuilt rural Mennonite communities. In the process, MCC saved the lives of an estimated 9,000 Russian Mennonites.
Under the direction of Orie Miller, MCC executive secretary (1935-1958), MCC increasingly focused its ministry to aid non-Mennonites. As Miller insisted, MCC policy should be non-partisan and should be extended without preference as to race and nationality but with special attention to relief needs among women and children suffering the hardships of war.
Among Miller's successors, the focus of MCC's ministry is the promotion of peace and justice. Since it does not engage in church planting (which it believes to be the responsibility of mission boards), it has been accused by conservative Mennonites of providing service and material aid at the expense of preaching the gospel. MCC emphasizes that all of its workers must be Christians, although not necessarily Mennonite, and if they are not involved in preaching or teaching on the mission field, they must model the Christian lifestyle through their actions in accord with the message of Matthew 25:35-36. In 2003-2004 MCC supported 1,400 workers in 55 countries with 69 million dollars in funds and materials.
One of MCC's most popular programs, which receives support from the general public as well as non-Anabaptist churches, is a network of 180 "Ten Thousand Villages" stores throughout North America. These stores sell handcrafted items made by Third World artisans at prices that provide sustainable incomes for people who would otherwise be unemployed or underemployed.
Opportunities for all

Anabaptist volunteer service programs began during World War II, when Mennonites and Brethren in Virginia and Indiana faced hostility for refusing to support defense programs they deemed militaristic. Today Brethren Volunteer Service, Mennonite Mission Network, and the more conservative Eastern Mennonite Mission and Rosedale Mennonite Missions provide service opportunities in North America and abroad lasting from a few weeks to several years. In 2004 the largest of these, the Mission Network, supported approximately 170 workers in over 55 countries, in ministries ranging from victim-offender reconciliation in California to reforestation in Mongolia.
Anabaptist denominations have also created several private organizations that provide services consistent with the Anabaptist vision. These organizations receive considerable financial support from Anabaptists and provide opportunities for participants in church-sponsored volunteer service programs.
Among the most prominent of these is Heifer International (formerly Heifer Project), founded by Church of the Brethren member and Indiana farmer Dan West. West sought to end hunger permanently by providing rural families with livestock and training. In 1944, the first 17 heifers were shipped from York, Pennsylvania to Puerto Rico. Since 1944, Heifer International has provided sources of food and agricultural training (not just temporary relief) to the poor in over 110 countries.
The best explanation for the flourishing of Anabaptist service ministries may be these words of historian Harold S. Bender: "The Anabaptist vision was not a detailed blueprint for the reconstruction of human society, but the Brethren did believe that Jesus intended that the kingdom of God should be set up in the midst of the earth, here and now, and this they proposed to do forthwith. … We shall practice what He taught, believing that where He walked we can by His grace follow in His steps."
Gari-Anne Patzwaldand William Kostlevy served as volunteers through the Mennonite Board of Missions, 1981-1983. Patzwald is the author of Waiting for Elijah: A History of the Megiddo Mission. More Christian history, including a list of events that occurred this week in the church's past, is available at ChristianHistory.net. Subscriptions to the quarterly print magazine are also available.
Related Elsewhere:
The Trailblazer | The first evangelical missionary to India set out to prove that the gospel does not destroy culture but transforms it from within. (Sept. 16, 2005)
Reformation Reoriented | Mark Noll and Carolyn Nystrom evaluate the Catholic/evangelical detente in Is the Reformation Over? (Sept. 2, 2005)
Ministries of Mercy: Mother Teresa | She stirred a generation by touching the untouchables. (Aug. 26, 2005)
Changed Lives: Luther | The daily gift of new life. (Aug. 19, 2005)
Liberating Faith | When Korea threw off Japanese rule in 1945, it was as much a victory for the church as for the nation. (Aug. 12, 2005)
Where Wesley's Followers Went Awry | Three new books by scholars of American Methodism explain why Methodists flourished in the 19th century and faltered in the 20th. (Aug. 05, 2005)
The Man Who Wouldn't Give Up | No matter how great the obstacles, William Carey expected great things and attempted great things. (July 29, 2005)
5 Christian History Books for the Beach | Christian History & Biography staff suggest books for your summer reading list. (July 15, 2005)
When Theology Comes Alive | Living theology: that's what the 17th-century Pietists wanted to see. And so they invented church history. (July 08, 2005)
The Man Behind the Missions | A. T. Pierson who? Dana Robert's biography sheds light on a forgotten ancestor of the modern evangelical missionary movement. (June 10, 2005)
The Secrets of Spurgeon's Preaching | Why would thousands come to hear him speak? (June 03, 2005)
Preaching Augustine | The Christian Classics Ethereal Library came to my rescue in a homiletical emergency. (May 27, 2005)
Victorian Skeptics on the Road to Damascus | Former atheist Antony Flew's admission of the existence of God shocked believers and skeptics alike, but such a turnaround is far from unique. In the 19th century, many leading intellectuals who had once lost their faith ended up reconverting. (May 20, 2005)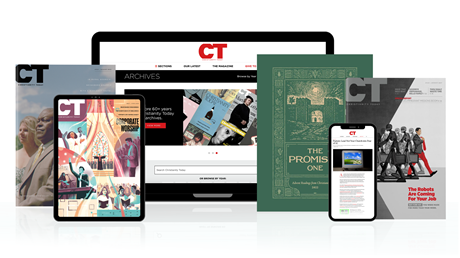 Annual & Monthly subscriptions available.
Print & Digital Issues of CT magazine
Complete access to every article on ChristianityToday.com
Unlimited access to 65+ years of CT's online archives
Member-only special issues
Subscribe
From Mutual Aid to Global Action
From Mutual Aid to Global Action