Today's Top Five
1. The Gospel of Judas beyond the ecstatic headlines
There are signs of a backlash against the initial suggestions that the Gospel of Judas could shake the foundations of Christianity. After an initial wave of poor reporting and misrepresentation, articles now are in corrective mode, noting that this newly released manuscript is far too young, unreliable, and anachronistic to tell us anything about Jesus or Judas, and it seems to offer little new information even about second- and third-century Gnosticism. There seems to be growing doubt that this is even the Gospel of Judas discussed by Irenaeus.
Some of the best and worst analysis pieces are appearing in familiar media outlets, but those truly interested in the scholarly discussions will want to head elsewhere. The usual Biblioblogs are full of interesting comments (though most are surprised that this is making so many headlines). Mark Goodacre is busy as always, but Stephen C. Carlson's Hypotyposeis, which has posted on the Gospel of Judas for more than a year, is Weblog's blog of choice for this topic. Carlson has a great post, for example, on The Gospel of Judas vs. The Da Vinci Code. Ben Witherington has been very busy, too (1 | 2 | 3 | 4) but one wishes that he'd provide outside links once in a while. If you really want to read what Bible scholars from Bart Ehrman to Darrell Bock are saying to each other, go beyond the blogs and check out the e-mail lists. Weblog's favorite is XTalk: Historical Jesus and Christian Origins (494 members), but Ancient Near East (582 members) and textualcriticism (317) are worth checking out, too.
If you want to be really cool, though, tell your friends about a little-known document that's even more amazing than the Gospel of Judas. It's called the Epistle of Judas, and it makes some pretty wild claims. First, the document is reportedly older than almost any New Testament book, and it draws heavily upon non-canonical Jewish literature. It includes some odd stories like the archangel Michael fighting with the Devil over a corpse, and quite a bit of discussion about sexual indulgence. Unlike most New Testament books, the Epistle of Judas appears to be written in Judea itself. The book makes the dramatic claim that its author, Judas, was the brother of the apostle James (the first leader of the church). Judas apparently makes a subtle claim that he's Jesus' brother, too.
This Epistle of Judas includes some advice that may be applicable for those frustrated with all the hype over the much-later Gospel of Judas. "Have mercy on those who doubt," Judas wrote. "Save others by snatching them out of the fire; to others show mercy with fear, hating even the garment stained by the flesh." *
2. North Central University replaces student newspaper editors
North Central University, an Assemblies of God school, has demoted the editor-in-chief and news editor of the campus newspaper, The Northern Light. Gordon Anderson, president of the university, told Inside Higher Ed that school officials and donors were upset over the paper's coverage of a pending visit to the school by the Soulforce Equality Ride, a gay advocacy group, and with an opinion piece criticizing the Assemblies of God doctrine of speaking in tongues as initial physical evidence of baptism in the Holy Spirit. Anderson said that the fact that the editor and news editor are married provides little assurance of editorial oversight of news pieces. In an interview with the Minneapolis Star-Tribune, the editors called the move "censorship" and said they had earlier decided to stop production of the paper as a protest against what they call orders "to only publish things that cast North Central in a positive light." The articles are available online, as are blogs from the removed editor and various supporters. The school's website says the paper exists in part "to give students a forum in which to discuss current events … The opinion section is a venue where students should be free to express their opinions on matters that concern them. This includes columns or commentaries that advocate change in university policy or practice."
3. Presbyterian Church (U.S.A.) cutting budget by another 13 percent
The PCUSA went through significant layoffs and reductions in 2002 and 2003. Now it's going to have to cut even more, reports The Courier-Journal. From the article, it certainly sounds like the area that will see the bulk of the denomination's $14.8 million cuts over the next two years will be missions. The paper reports:
In the past, the headquarters, which has about 600 employees, was a hub for the denomination's programs, financed by member churches -- things such as mission trips and social-outreach efforts.
But increasingly, individual congregations are using the money they raise to conduct their own trips and programs, said John Detterick, executive director of the General Assembly Council, which oversees most denomination departments.
"There will always be a key place for national missions, but I think we're at a transition, from a time when huge amounts of money were sent for other people to do God's work, to a time when more of it is going to be determined locally and regionally," he said. …
The council's governing body adopted a plan earlier this year to base budget decisions on four sets of objectives: evangelism and witness; justice and compassion; spirituality and discipleship; and leadership and vocation …
Unlike in the past, when the denomination was needed to coordinate things like mission trips, even a small church today can use the Internet to contact a church or missionary on another continent and send their members on a short-term trip to help out, taking advantage of relatively cheap travel costs.
But what the paper doesn't ask is whether such a changed emphasis in missions will mean that even less money gets sent to the denomination. If the denomination says that missions is top priority, and that missions should be funded and directed by the local congregation rather than the national headquarters, why send money to the national headquarters? To support pro-abortion rallies?
4. Church and state in Jamaica
Jamaica's new prime minister, Portia Simpson-Miller, has been making some very interesting comments since taking office March 30. At an April 2 church service, she told congregants, "If I am appointed by the Almighty to be prime minister then all of you Christians must give support to the appointment of the Lord. If it is not done, the whip will not be drawn against me, because I am going to be carrying out His will."
Also controversial is her plan to combat corruption by requiring each state governing board to include at least one pastor. "I think it was designed to curry the favour of the Christian community rather than a practical proposal for effective government," Opposition Leader Bruce Golding told The Jamaica Observer.
5. What's next for American Idol's Mandisa? Controversy.
The Tennessean and other media outlets are speculating that Mandisa Hundley was booted off of American Idol because she likes Beth Moore, and Beth Moore likes the ex-gay group Exodus International. AOL's TMZ.com reports, "Sources connected with 'Idol' tell TMZ the buzz behind the scenes last night was Mandisa getting the boot had nothing to do with her performance—it was all about her openly anti-gay affiliations." The Tennessean also reports that her desire to do both gospel music and mainstream R&B "could hurt Hundley with Christian music industry executives."
Quote of the day:
"On Easter Sunday, we're asking our members not to come so that the whole 10,000 seats can be reserved for visitors, guests and friends—people who are looking for a place to go on Easter, who might be fearful of coming here because they would think that our members would crowd it out. … We're just emptying the place out, so that everyone who is looking for a place to go will have a place to come."
—James Meeks, pastor of Chicago's Salem Baptist Church, quoted in the Chicago Sun-Times.
Note:
* The Greek word Ioudas can be translated as Judas or as Jude, with the former usually used for the betrayer and the latter often used for other biblical characters. The Epistle of Judas, not ascribed to Judas Iscariot but to "Judas, a servant of Jesus Christ and brother of James," is the penultimate book of the New Testament.
More articles
Gospel of Judas | Holy Week | Spirituality | Science | Evolution | Education | Higher education | Church life | Catholicism | Pope Benedict XVI | Episcopal Church | Sexual ethics | American Idol's Mandisa | Media, art, and entertainment | Ten Commandments | First Amendment | Godless oath in UK | Jamaica's new Prime Minister | Abdul Rahman and Afghanistan | Anti-missionary threats | Other religions | War and terrorism | Abortion | Kenya's First Lady vs. "lying politicians" in pulpits | Politics | Immigration | Church buildings | Second chance for New Orleans church | Tennessee storms | Sabbath business | Money & business | Diet | Books | Jim Wallis Down Under | Crime | Abuse | Other stories of interest
Gospel of Judas (editorials):
Gospel of Judas (opinion):
Jesus laughed | In the Gospel of Judas, the renegade is redeemed (Adam Gopnik, The New Yorker)


Judas as mystical good guy | As for me—an ordinary, churchgoing Episcopalian with an admittedly obsessive interest in early Christian history—reading the Gospel of Judas makes me thankful that today we do not practice Gnosticism, an exclusive sacred tradition that privileged the soul over the body and derided, rather than honored, this world (Lauren F. Winner, The Dallas Morning News)


The Gospel of Judas et al.---Part one | My greater concern is not so much with this document but with the revisionist history being touted by Elaine Pagels, Karen King, Bart Ehrman, Marvin Meyer and others, on the basis of such Gnostic documents, wanting to suggest that somehow, someway these documents reflect Christianity at its very point of origin—the first century A.D. (Ben Witherington)


The Gospel of Judas—Part two | It is not at all clear that this Coptic Judas document is the same document referred to by Irenaeus (Ben Witherington)


Gospel of Judas (media criticism):
Christian values reach beyond the faithful | The vast majority of Britons think that Christian values are good for the country even if they do not personally believe in God, according to research (The Telegraph, London)


Monks and their monasteries go into retreat as recruits dwindle | A growing number of Roman Catholic monasteries are being sold as their ageing communities are hit by death and plunging vocations (The Telegraph, London)


Healing rooms: an embrace of prayer | They are part of a nondenominational Christian faith-healing ministry, the International Association of Healing Rooms, which was started in Spokane 6 ½ years ago by an evangelical Christian from California named Cal Pierce (The Seattle Times)


God of all things | Despite a fractious history, science and theology now have a closer alignment: some highly respected physicists and cosmologists, such as Australia's Paul Davies, have proposed in recent years that the universe is rigorously lawful, to the degree that it seems purpose-built to produce life (The Age, Melbourne, Australia)


Religion, science find common ground | Promona College professor fuses disciplines with course offering (San Bernardino Sun, Ca.)


Science and religion, still worlds apart | Should believers be encouraged when a miracle is corroborated by science, or disappointed that it might have been the outcome of natural forces? (The New York Times)


Fairfield teacher claims bias against her religious beliefs | Fifth-grade teacher says principal was openly hostile to her Roman Catholic religion and called her a "Jesus freak" and "neurotic Christian" in front of other people (Connecticut Post)


Georgia Bible classes making some teachers uneasy | "Teachers are going to feel themselves pressured to teach Bible almost like Sunday school and that's where the tightrope walking is going to come into it," says Tim Callahan, spokesman for the 65,000-member Professional Association of Georgia Educators (Associated Press)


Vicars won't say prayer for Queen | Anglican clergy have quietly dropped the centuries-old practice of saying prayers for the monarch, supreme governor of the church, at their main Sunday services (The Times, London)


Faith matters | Peter J. Boyer writes discusses the Gene Robinson controversy and the changing face of religion in America (The New Yorker Online)


The egg roll (again!) becomes a stage for controversy | Some 200 gay families are planning to attend the White House Easter Egg Roll. But some religious conservatives say the families are "crashing" the public event (The New York Times)


Adoption law is up for interpretation | Gay couples' rights vary from county to county (Concord Monitor, N.H.)


Mandisa's undecided between Christian and R&B | But after her run on 'Idol,' Antioch singer waits to see where the Lord leads her (The Tennessean, Nashville)


Mandisa and homosexuality: 'I … absolutely hate nobody' | There has been quite a brouhaha about whether a gay voting backlash cost Mandisa Hundley her spot on American Idol (The Tennessean, Nashville)


Mandisa says she's not a gay 'advocate' | Is ousted "American Idol" contestant Mandisa anti-gay? The 29-year-old soul singer and outspoken Christian, who was voted off the hit Fox show Wednesday, says she would not perform at an event held in support of the gay community (Associated Press)


Media, art, and entertainment:
Paths of the faithful: religious specials | Cate Doty reviews The Gospel of Judas, The Ten Commandments, and God or the Girl (The New York Times)


Star Jones thanks God in Franklin | Star Jones Reynolds, co-host of TV's "The View" and author of "Shine," speaks at First Baptist Church of Lincoln Gardens (Home News Tribune, N.J.)


Lifting the shroud off images of Jesus through the ages | The face of Jesus has remained remarkably unchanged for centuries (The Baltimore Sun)


God taken out of the witness box | A God-free oath for witnesses in court has been drawn up by a magistrate in Hull (The Times, London)


JP calls for new courtroom oath | A magistrate has called for the "archaic" courtroom oath to be replaced with a non-religious version (BBC)


The troubled odyssey of Abdul Rahman | The case of Afghan Christian convert Abdul Rahman captured the world's attention for two weeks. Now his German asylum file and statements by his brother paint a picture of a seriously troubled man (Der Spiegel, Germany)


German officials 'say Abdul Rahman unstable' | Abdul Rahman, the Afghan whose prosecution for converting to Christianity led to worldwide controversy, was judged to be mentally unstable by German officials who interviewed him six years ago, a German news magazine reported Saturday (Expatica, Netherlands)


In Turkey, a deep suspicion of missionaries | Priest's killing shows complex ties of Islam to nationalism in officially secular state (The Washington Post)


On conversion, Rajnath takes on missionaries | BJP president Rajnath Singh dared Christian missionaries to "try converting any Hindu" and vowed to turn tables on them today (Express India)


Religious melting pot | Plano has its own Thanks-Giving shopping center (Zulfi Ahmed, The Dallas Morning News)


The Bonhoeffer debate | Area churchgoers differ on whether their religion allows killing to save lives (The Kansas City Star)


Iraq and the legacy of Abraham | The imaginative breakthrough represented in the story of Abraham offers a first measure of the meaning of human existence. If his descendants were more fully in touch with that meaning, Iraq would be a different place today, and the religions would not be on the cusp of war (James Carroll, The Boston Globe)


'Shock and awe' isn't what God had in mind | Let us be awed by love, not violence (Bob Lively, Austin American-Statesman, Tex.)


Kenya's First Lady vs. "lying politicians" in pulpits:
First Lady warns churches against 'lying politicians' | First Lady Lucy Kibaki has accused evangelical churches of allowing politicians to use their pulpits "to peddle senseless lies" (The East African Standard, Kenya)


First Lady urges church to expose leaders who tell lies | First Lady Lucy Kibaki yesterday challenged religious leaders to expose politicians who tell lies (The Nation, Kenya)


Christian Coalition shrinks as debt grows | The once-mighty group is more than $2 million in debt, beset by creditors' lawsuits and struggling to hold on to some of its state chapters (The Washington Post)


A conservative crosses the border | Immigration compromise backed as a humanitarian act (The Washington Post)


Catholic leaders urge rallies, prayer on immigration | As lawmakers reach a stalemate in legislation that could legalize millions of immigrants, Catholics in Missouri and other states are planning to pray and rally Sunday for immigration reform (Associated Press)


Church's tear-down mentality | For a church so steeped in tradition and so identified with its near-downtown North End neighborhood, the Holy Trinity Greek Orthodox Church has a depressing lack of appreciation for local history (Editorial, The Toledo Blade, Oh.)


Roundtable: Should churches have greater rights than other developments? | Homeowners are beginning to organize against religious institutions moving into their neighborhood (The Tennessean, Nashville)


Catholic Church will not return land, bishop says | The Catholic Church will not return any land as recommended by the Ndung'u Land report (The East African Standard, Kenya)


Second chance for New Orleans church:
St. Augustine renewed | Mass marks pact between parishioners and archdiocese (The Times-Picayune, New Orleans)


Sunday: Parish gets chance to prove itself a blessing | St. Augustine, archdiocese agree on steps needed for reopening (The Times-Picayune, New Orleans)


Historic New Orleans church gets reprieve | The church was full for the first service, but unless the support continues, the reprieve for the church will not last (Associated Press)


Storm bridges distance between congregations | All-black Baker's Chapel members find sanctuary with Presbyterians (Tennessean, Nashville)


Worshippers gather after deadly storms | Dozens of churches mourned the 12 people killed when the powerful storm rolled over Tennessee (Associated Press)


Wal-Mart resists pressure in 'Brokeback' DVD sales | Wal-Mart Stores began selling "Brokeback Mountain" on DVD despite objections from the conservative American Family Association (The New York Times)


Newspapers off Church ban list | Newspapers have been taken off the banned investments list by the Church of England for the first time in 50 years. Church Commissioners have agreed that the newspaper industry is no longer as morally abhorrent to Christian investors as it once was (The Business, U.K.)


Diet:
Dieters filling up on God | Faith-based weight-loss programs turn to divine intervention (The Dallas Morning News)


Believers diet for soul and waistline | They say nothing is impossible for God, and Alissa Weigel got a sense of that when her husband, Andrew, got off the living room couch and tossed out his beloved bacon (Rich Barlow, The Boston Globe)


Christian takes on the Right | Religious faith will be the most influential force in Australian politics in the next decade, American Christian activist Jim Wallis says (The Australian)


Losing their religion | Jim Wallis is on a mission to seize the true values and morality of his religion from the rightwingers who have hijacked it. He has already made a difference (The Age, Melbourne, Australia)


Christian warns of religious right's rise | Australia must beware the rise of the "religious right" in politics, American Christian activist Jim Wallis has told a Melbourne audience (The Age, Melbourne, Australia)


Priest in shock after abduction | An elderly priest who was assaulted and abducted from the presbytery of his church in Victoria's north was recovering from the shock of his ordeal. (The Daily Telegraph, NSW, Australia)


East Orange church backs accused pastor | Allegations of theft will not be pursued, his lawyer says (The Star-Ledger, Newark, N.Y.)


The kingdom of Christ | A bold new take on the historical Jesus raises questions about a centuries-long quest (Jay Tolson, U.S. News & World Report)


Evangelicals, Muslims at similar approval level | Fifty-seven percent of Americans viewed evangelicals favorably, while 55% viewed Muslim-Americans favorably. Jews got a 77% favorable rating, Catholics 73%. Atheists got 35%, according to the report (The Tennessean, Nashville)


Man kills wife, son and then himself | Eun Suk Cho, a prominent U.S.-educated theologian, said that the two incidents occurring within a week of each other is a warning for Korean American churches to concentrate less on growing membership and "more on reaching out to those who are hurting" (Los Angeles Times)


Related Elsewhere:
Suggest links and stories by sending e-mail to weblog@christianitytoday.com
See our past Weblog updates:
April 7
March 31 | 30 | 28
March 24 | 24 | 23 | 21
March 17 | 16 | 15
March 10b | 10a | 8
March 3 | 2 | 1
February 24 | 23 | 22 | 21
Weblog
Launched in 1999, Christianity Today's Weblog was not just one of the first religion-oriented weblogs, but one of the first published by a media organization. (Hence its rather bland title.) Mostly compiled by then-online editor Ted Olsen, Weblog rounded up religion news and opinion pieces from publications around the world. As Christianity Today's website grew, it launched other blogs. Olsen took on management responsibilities, and the Weblog feature as such was mothballed. But CT's efforts to round up important news and opinion from around the web continues, especially on our Gleanings feature.
Ted Olsen is Christianity Today's executive editor. He wrote the magazine's Weblog—a collection of news and opinion articles from mainstream news sources around the world—from 1999 to 2006. In 2004, the magazine launched Weblog in Print, which looks for unexpected connections and trends in articles appearing in the mainstream press. The column was later renamed "Tidings" and ran until 2007.
Previous Weblog Columns: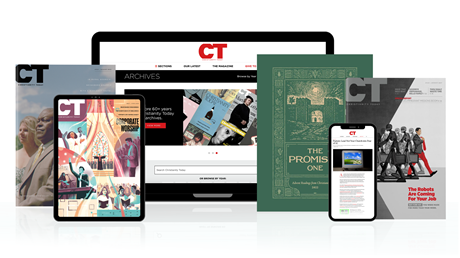 Annual & Monthly subscriptions available.
Print & Digital Issues of CT magazine
Complete access to every article on ChristianityToday.com
Unlimited access to 65+ years of CT's online archives
Member-only special issues
Subscribe
Kisses for Judas
Kisses for Judas