Today's Top Five
1. Sun Myung Moon behind most U.S. sushi
The Chicago Tribune has a long, in-depth exposé of Unification Church head Sun Myung Moon's connection to and control of the American sushi industry. Moon and his church "created an enterprise that reaped millions of dollars by dominating one of America's trendiest indulgences: sushi," the Tribune reports. "Adhering to a plan Moon spelled out more than three decades ago in a series of sermons, members of his movement managed to integrate virtually every facet of the highly competitive seafood industry. The Moon followers' seafood operation is driven by a commercial powerhouse, known as True World Group. It builds fleets of boats, runs dozens of distribution centers and, each day, supplies most of the nation's estimated 9,000 sushi restaurants." Even Christian restaurateurs who don't want to support Moon—who calls himself "humanity's Savior, Messiah, Returning Lord, and True Parent"—say they have to use his company if they want to serve sushi.
2. Gay student now out
Back when University of the Cumberlands was Cumberland College, the Southern Baptist school's code of conduct forbade "lewd and indecent conduct." The school now has a policy that "any student who engages in or promotes sexual behavior not consistent with Christian principles (including sex outside marriage and homosexuality) may be suspended or asked to withdraw." Sophomore Jason Johnson's MySpace blog is very gay, so he was disciplined by the school. Now Kentucky papers are wondering if the school's decision puts its plans for an accredited pharmacy school—funded in part with $11 million in state dollars—in jeopardy. There's a bit of discussion at GetReligion.
3. Poll: College students are religious, moral
Seven in 10 college students surveyed say religion is somewhat or very important in their lives, with 1 out of four 4 saying they are more spiritual now than when they started college. Most college students say they're concerned about the moral direction of the country.
4. 9/11 cross will stay
The New York Times today reported on plans by the Port Authority of New York and New Jersey to move the iconic steel beams known as the 9/11 cross from the World Trade Center to a closed hangar at Kennedy International Airport. The New York Daily News says the plan is already dead, and the cross will remain on display at "a nearby accessible public location."
5. EU officials: Don't say "Islamic terrorism"
A new document from European Union leaders wants governments to abandon the term "Islamic terrorists" and instead use the term "terrorists who abusively invoke Islam." The new EU lexicon may also tell governments to avoid the terms Islamist, fundamentalist, and jihad. "The basic idea behind it is to avoid the use of improper words that would cause frustration among Muslims and increase the risk of radicalization," an unnamed official told The Telegraph.
Quote of the day:
"Although their signs and speeches were mostly in Spanish, crowds were non-violent and most took care not to antagonize law-abiding Americans by waving Mexican flags in their faces."
—Family Research Council president Tony Perkins, on Monday's immigration rally in D.C.
More articles
Unification Church | Spirituality | Prayer study | Jesus | Gospel of Judas | Books | Education | Education (U.K.) | Youth | Gay student ousted | Religious and moral students | Christianity and Islam | War and terrorism | Israel and Palestine | Religious liberty | Church and state | Politics | Immigration | Jim Wallis Down Under | People | Entertainment and media | Money and business | Embryonic stem cells | Abortion | Crime | Catholicism | Wheat-free Communion | Other stories of interest
Sushi and Rev. Moon | How Americans' growing appetite for sushi is helping to support his controversial church (Chicago Tribune)

Church has made inroads | Two decades after serving time in federal prison, Rev. Sun Myung Moon had so effectively worked his way back into the political establishment that some congressmen attended his "coronation" on Capitol Hill (Chicago Tribune)

Reinventing 'religion' in America | Today, faith is less threatened by the overriding secular forces in the world than by religion. Religion is increasingly becoming the product of its own undoing (Scott M. Korb and Leon A. Morris, The Baltimore Sun)

Wrath of God? No, Governor, it's weather | The governor toured the tornado-crippled communities of West Tennessee last week and clearly was shaken by what he saw. "The wrath of God is the only way I can describe it," Gov. Phil Bredesen told reporters (David Waters, The Commercial Appeal, Memphis)

Faith-based medicine | Responsible religious leaders will breathe a sigh of relief at the news that so-called intercessory prayer is medically ineffective (Raymond J. Lawrence, The New York Times)

Does praying accomplish anything? | The importance of "thy will be done" (Martin E. Marty, Chicago Tribune)

Resurrecting faith | Not all Christians believe in the resurrection of Jesus (The Australian)

The appeal of Jesus himself does not wane | There has been no boundary line where interpretations of Jesus have been attempted. Nor any limit on the public's fascination with him, either. (Reginald Stackhouse, The Globe and Mail, Toronto)

Message of love | As Jews prepare to observe Passover and Christians Easter, a new translation of an ancient text counters an anti-Semitic stereotype (Editorial, Houston Chronicle)

Judas, reconsidered | Gnostic texts will not help to explain why Jews did not accept Christianity (Lawrence H. Schiffman, The Jewish Week, New York)

Judas, new and improved | Education is always a wonderful thing, but I worry that National Geographic's venerable reputation will lend a little too much credence to the ancient text now revealed (Reg Henry, Pittsburgh Post-Gazette)

The new profits of Christianity | It is Easter Week. He has risen again. To the top of the bestseller lists, that is (Alex Beam, The Boston Globe)

In God we trust | Forget sex, drugs and rock'n'roll—there are signs of a religious revival among the young (Radar, Australia)

Proposed mountain camp stays alive | A religious scouting organization's bid to build a Twin Peaks boys' camp stayed alive Tuesday after the San Bernardino County Board of Supervisors voted 4-1 in favor of moving forward on the project (San Bernardino Sun)

Also: Group to downsize camp plan | The proposed site is on 50 acres of forest land adjacent to a mountain community (The Press-Enterprise, Riverside, Ca.)

Baptist university expels student after outing:
Religions on road to great divide | Moderation urged for Christians, Muslims (The Dallas Morning News)

Teacher denies fiery words were extremist | A prominent Muslim high school teacher condemned Christians and Jews as "enemies" in fiery religious speeches uncovered on the internet but yesterday denied he preached extreme Islamic views (The Australian)

Also: School head defends hardline Islamic teacher | The principal of an Islamic high school in Perth has described as a "peaceful man" one of his teachers who labelled Christians and Jews as the enemy (The Australian)

Jerusalem's holy places: The heart of holy war | A God-given muddle that God alone may be able to sort out (The Economist)

The latest Zionist conspiracy | Hamas explains why American Christians support Israel (Mark D. Tooley, The Weekly Standard)

Leap of faith | Why would an Iraqi Shia convert to Christianity? (Joseph Braude, The New Republic)

Church program won't care for woman who once was a man | A church's refusal to care for a woman who was once a man highlights a national battle over faith-based social programs (Minneapolis Star-Tribune)

Church that feeds homeless forced out | Christ's Body Ministries can no longer serve food on Denver street (KMGH, Denver)

Pocola school official sues district over prayer at meetings | A longtime Pocola school official is suing the school district in an attempt to stop a Christian-based opening prayer held at mandatory school staff meetings (Associated Press)

Jim Wallis, progressive evangelical, for president | I suspect that Jim -- and, in Australia, significant moral leaders such as Tim Costello -- are simply, and correctly, not willing to make the unprincipled compromises that modern party machines demand of their automaton candidates. (Andrew West, The Sydney Morning Herald)

Left and right on wrong track in moral arguments | Jim Wallis at Sydney University (The Sydney Morning Herald)

IR laws will produce working poor: US preacher | Jim Wallis, one of the United States' leading evangelical preachers, says Australia's new IR laws will produce a new class of working poor in this country (The World Today, Australian Broadcasting Corp.)

Caught between heaven and earth | "God or the Girl," A&E's new reality series, follows the spiritual struggles of four would-be priests (Religion News Service)

I guard the secrets of the Da Vinci temple | The Master of the Temple, caught up in Da Vinci Code mania, says Dan Brown's blockbuster gives churches a chance to put their case (The Times, London)

Dali painting of Jesus on the cross dismissed as 'clever trick' by experts | In a BBC documentary to be broadcast on Friday, Ian Gibson, one of Dali's leading biographers, and William Crozier, a Scottish artist who once campaigned against Dr Tom Honeyman's purchase of the painting for Glasgow, suggest that Dali only painted it to give himself a false appearance of committed Catholicism (The Herald, Glasgow)

MTV series mocking Vatican runs into trouble | A cartoon television series lampooning the Catholic Church is planned for German MTV in May. The Catholic Church in Germany has protested, saying it will try to persuade MTV not to air the show (Deutsche Welle, Germany)

State agency taps Latham as chaplain | Stressed-out workers of the Indiana Family and Social Services Administration now have a chaplain to turn to—the Rev. Michael Latham of Fort Wayne (The News-Sentinel, Ft. Wayne, Ind.)

Directory hook is Christian | Guides geared to businesses and customers who share the faith gain in popularity (The Denver Post)

Give fairness a sporting chance | Should sports club be boycotted over gay issues? (Tom Ferrick Jr., The Philadelphia Inquirer)

Stem cell institute awards 1st grants | Roughly $12.1million from private sources will jump-start research as the organization's ability to issue bonds is determined in court (Los Angeles Times)

Calif. stem cell agency issues grants | The California stem cell agency — armed with money borrowed from wealthy philanthropists — handed out its first research grants Monday, 17 months after voters approved borrowing $3 billion to fund the controversial science (Associated Press)

Maloney may lose ACLU in fight on abortion | After an outcry from free speech advocates, the American Civil Liberties Union is reconsidering its endorsement of proposed legislation calling for federal regulation of advertising by anti-abortion counseling centers (The New York Sun)

RU-486 ruled out in 1 of 2 recent deaths | Health officials said Monday they have ruled out the abortion pill RU-486 in one of two recent deaths of women who had taken the drug. The second remains under investigation (Associated Press)

Abortion pill cleared for import and use | The Therapeutic Goods Administration has approved an application from a Cairns doctor, Caroline de Costa, to import and prescribe the abortion pill RU486 (The Australian)

An Ohio community hopes for closure in nun's brutal slaying | It has been 26 years since Margaret Ann Pahl was found dead. As a priest's murder trial is to begin, rumors of a coverup continue to swirl (Associated Press)

Man charged with child abuse claims Bible permits spanking | He struck his 12-year-old daughter with belts because she lied, because her homework was incomplete and because "it is stated in the Bible that it is OK to spank your children," the father told police (TCPalm.com)

Ill. seeks to commit sex offender | A Catholic priest who was scheduled for parole Tuesday after serving two years in prison for molesting boys will instead be sent to a state treatment center for sexually violent criminals, where he could be committed indefinitely. (Associated Press)

Reilly role in abuse crisis is debated | He takes partial credit for Law's departure (The Boston Globe)

Joliet Mass honors accused clergymen | That Rev. Salvatore Formusa is accused of abusing a child while working in the Roman Catholic Diocese of Joliet does not change the fact that he has devoted 71 years to the church (Chicago Tribune)

A First Communion dream in doubt | As Victoria Coyne, 7, prepares for her first Holy Communion, there has been a major snag: As a child suffering from both celiac disease and diabetes, she can neither eat the wheat wafer that represents the body of Christ nor drink the wine that signifies his blood (The Boston Globe)

Dracut parents: Girl's health takes priority over church tenets | If 7-year-old Victoria Coyne of Dracut could say one thing to church officials, it would be this: "I should be able to have another kind of host because their kind gets me sick. It's not fair that I can't have it. I want to make my First Communion, and Jesus wouldn't want me to get sick" (The Lowell Sun, Mass.)

Church's stand on Communion leaves one question: What would Jesus do? | Instead of reaching out to communicants at a time when the church can hardly stand to lose them, it instead gives families like the Coynes yet one more reason to abandon the Catholic Church. Make no mistake, though: The church abandoned them first (Editorial, The Lowell Sun, Mass.)

Related Elsewhere:
Suggest links and stories by sending e-mail to weblog@christianitytoday.com
See our past Weblog updates:
April 11 | 7
March 31 | 30 | 28
March 24 | 24 | 23 | 21
March 17 | 16 | 15
March 10b | 10a | 8
March 3 | 2 | 1
February 24 | 23 | 22 | 21
Weblog
Launched in 1999, Christianity Today's Weblog was not just one of the first religion-oriented weblogs, but one of the first published by a media organization. (Hence its rather bland title.) Mostly compiled by then-online editor Ted Olsen, Weblog rounded up religion news and opinion pieces from publications around the world. As Christianity Today's website grew, it launched other blogs. Olsen took on management responsibilities, and the Weblog feature as such was mothballed. But CT's efforts to round up important news and opinion from around the web continues, especially on our Gleanings feature.
Ted Olsen is Christianity Today's executive editor. He wrote the magazine's Weblog—a collection of news and opinion articles from mainstream news sources around the world—from 1999 to 2006. In 2004, the magazine launched Weblog in Print, which looks for unexpected connections and trends in articles appearing in the mainstream press. The column was later renamed "Tidings" and ran until 2007.
Previous Weblog Columns: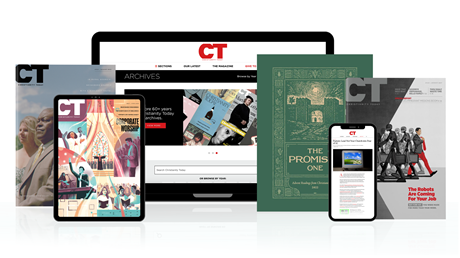 Annual & Monthly subscriptions available.
Print & Digital Issues of CT magazine
Complete access to every article on ChristianityToday.com
Unlimited access to 65+ years of CT's online archives
Member-only special issues
Subscribe
Eat Sushi, Support the Moonies
Eat Sushi, Support the Moonies