The days after Holy Week are always a bit overwhelming here at Weblog headquarters. Newspapers and magazines around the country run religion stories whether they're newsworthy or not, and our usual search terms get jillions of extraneous results. Still, there have been some truly interesting developments over the last few days, and we've combed through the world's publications to bring you …
Today's Top Five
1. Two dead, 40 wounded, 100+ detained after three days of Egypt rioting
An Egyptian man, whom the government says suffers from "psychological disturbances," attacked three Coptic Christian churches in Alexandria, Egypt, on Friday. (In Egypt, it wasn't Good Friday, because the Copts and other Orthodox Christians celebrate Holy Week a week later than Western churches do.) One man was killed in the attacks, and local Muslims reportedly didn't like what they heard chanted during the Saturday funeral march. As they say, rioting broke out. The Associated Press reported:
Police fought back against Coptic Christians, who were encircled by a security cordon around the Saints Church in downtown Alexandria after hurling stones and bottles from inside the police line. Fellow demonstrators tossed Molotov cocktails from the balconies of nearby buildings.
Police could be seen repeatedly beating a boy of about 12, who was among the crowd of Coptic young people who fled into the church, slamming the doors behind them, or dashed down narrow streets surrounding the church. Most of the protesters were between the ages of 12 and 25.
Later, a huge mob of what appeared to be Muslim protesters charged the police cordon from the other side.
Mustafa Mohammed Mustafa, a Muslim Brotherhood parliamentarian, said a 24-year-old Muslim died early Sunday of wounds from a beating by Christians during rioting Saturday.
"Violence subsided Monday but sectarian feelings remained high," the news service reported. Bishop Bemwah Ghali told the AP, "There was a sort of a truce, but this is not the end of the crisis. We really need a radical solution that can quell this anger." As CT has regularly reported in the past, it's hard to be a Copt in Egypt.
2. Bob Reccord resigns from North American Mission Board
Bob Reccord, president of the Southern Baptist Convention's domestic missions agency, quit yesterday, two and a half weeks after board trustees announced he would be under "Executive Level controls" in the job he has held since the North American Mission Board was created in 1997. A February article in The Christian Index, the newspaper of the Georgia Baptist Convention, had accused Reccord of mismanaging finances and other faults. A board investigation cleared Reccord of unethical behavior, but the events "created an environment which makes it difficult to lead the organization and to stay on mission," Reccord said.  The Atlanta Journal-Constitution is the only mainstream news source to carry the news, but you'd think that the departure of the head of a $124-million missions agency—especially one that has been so prominent in the Katrina relief efforts—would be bigger news. Religion writers must be taking some time off after the busy Holy Week / Passover rush. Baptist Press and Associated Baptist Press have their articles up. CT will be posting its own news report soon.
3. Judas backlash
The biggest Holy Week backlash against the Gospel of Judas came not from pulpits, but from several of the same mainstream media outlets that had pumped the manuscript earlier in the week. Both The New York Times and the Los Angeles Times question National Geographic's dealings with Swiss art dealer Frieda Nussberger Tchacos, who received a suspended sentence in 2001 for possession of looted antiquities and reported antiquities trafficking. "In the past, she was at the center of the looting in Italy," Italian state prosecutor Paolo Ferri complained to the Los Angeles Times. Archaeological Institute of America president Jane Waldbaum told The New York Times that the Gospel of Judas is itself "a looted object." That's the big reason that Yale University turned Tchacos down when she tried to sell them the article. A Los Angeles Timeseditorial slams Tchacos as a modern Judas: "Thirty pieces of silver then, or $1.5 million now: It's still about money." The paper also savages National Geographic for being more concerned with "commercial zing than scholarly thoughtfulness. … [T]he society's willingness to cut deals over a find whose legality is unclear, without being forthright about its role, its associates or the money involved, adds a legitimate sheen to the shady world of illegal antiquities dealing and helps sustain that unsavory market."
4. What's an evangelical?
The New York Times's Michael Luo turned in an Easter story familiar to evangelicals (and, by now, to readers of The New York Times, which has been doing variations on the theme for a few years): Evangelicals are not monolithic. "It seems that now, at a time of heightened power, old fissures are widening, and new theological and political splits are developing," writes Luo. John Green largely gets to frame the debate, distinguishing between "traditionalist, centrist, and modernist" evangelicals. For a 1,100-word story, it's not bad, but it could have used some notion of what traditionally has unified evangelicals, both in the 18th-century sense and in the post-war, Graham-era sense.
5. Christian Legal Society loses college funding case
UC Hastings College of the Law doesn't have to fund or recognize a chapter of the Christian Legal Society because the group's ban on non-Christian and homosexual members is a matter of conduct, not speech or religious belief, U.S. District Judge Jeffrey White ruled yesterday. The school's anti-discrimination policy "affects what [the society] must do if it wants to become a registered student organization—not engage in discrimination—not what [the society] may or may not say regarding its beliefs," he wrote. There's no response yet from CLS or from the Alliance Defense Fund, which publicized the case earlier. The decision doesn't seem to yet be online, but Weblog is eager to read it: Is White suggesting that the Constitution only protects religious assent to dogma, not actions that derive from belief?
Quote of the day:
"Moses stood there on top of a cliff, and as long as he held up his arms, the children of Israel won. Well, after a while he got tired, so there were two men that came and held up Moses' arms so they could win the battle. That's my job—to hold up the arms of the man of God, like Billy Graham or Rick Warren, in the media."
—Christian publicist Larry Ross, in a profile in this week's New York Times Magazine. Ross reluctantly admitted that he has also represented Benny Hinn, though he tried to keep "his distance for Billy Graham's sake."
More articles
Egypt riots | Religious liberty | Islam | Depicting Muhammad | Opus Dei paper runs Muhammad-in-hell cartoon | Time's cover package on Opus Dei | Opus Dei | Da Vinci Code | Rowan Williams Easter/Judas/Da Vinci Code sermon | Gospel of Judas | Historical Jesus | The meaning of Easter | Easter in America | Easter stunts | War on Easter? | Easter on the Gulf Coast | Easter in India | Easter in Iraq | Easter in the Middle East | More on the Holy Land | Reenacting Holy Week | Passover | Pope's Easter messages | Pope Benedict, one year in | Catholicism | 1980 nun murder trial in Toledo | Nun killed in Buffalo | Abuse | Crime and violence | War and terrorism | Genocides past and present | Life ethics | Philippine president commutes all death sentences | Abortion | Ky. prof leads destruction of pro-life display | Higher education | University of the Cumberlands gay student issue | Guilty plea in Trinity racist letters case | Education | Evolution | Science | Bible | History | Books | Entertainment | Art and drama | Music | Film | A&E's God or the Girl | Women | Church life | Church buildings | Church closings | Spirituality | Anti-"fundamentalism" | Spiritual travel | Immigration | Netherlands & Iran | Politics | Taxes | Church and state | Signs and symbols | Baptism | Marriage | Sexual ethics | Demonstrations | William Sloane Coffin | Jerry Falwell | Missions & ministry | Money & business | People | Religion polls | Other stories of interest
New security policy: All religious gatherings need govt permission now | Cell to be set up at the home department (Daily Times, Pakistan)


Advani for legislation to prohibit forcible conversions | Senior BJP leader L K Advani today said there has been a spurt in systematic religious conversions in the past few years and national and state level legislations should be introduced to prohibit conversions through inducement or coercion (PTI, India)


Islam:
Depicting Muhammad:
Opus Dei paper runs Muhammad-in-hell cartoon:
Opus Dei paper prints prophet in hell cartoon | A cartoon depicting Muhammed in hell has been published by an Italian magazine close to Opus Dei, bringing angry criticism from Muslim groups and disapproval from the Vatican (The Guardian, London)


Update: Italian editor apologizes to Muslims | The editor of an Italian monthly has apologized "as a Christian" for any offense to Muslims over a humorous caption for a drawing showing the Prophet Muhammad in hell, Italian news reports said Sunday (Associated Press)


Time's cover package on Opus Dei:
Opus Dei:
Opus Dei: Fact and fiction | Find out about the secretive catholic group featured in 'The Da Vinci Code' (Good Morning America, ABC)


Opus Dei asks for 'Da Vinci' disclaimer | The conservative religious group Opus Dei has asked for a disclaimer on the upcoming film based on the best-selling novel "The Da Vinci Code" (Associated Press)


Also: Opus Dei asks "Da Vinci" film makers for respect | Catholic group Opus Dei has told Sony Pictures that putting a disclaimer on the upcoming movie "The Da Vinci Code" stressing it is a work of fiction would be a welcome show of respect toward the Church (Reuters)


Da Vinci Code:
Many Canadians believe Da Vinci theory | Poll: 17% of Canadians, 13% of Americans accept premise that Jesus married and had a family (CanWest News Service)


Rowan Williams Easter/Judas/Da Vinci Code sermon:
Gospel of Judas(news):
Gospel of Judas (editorials):
Judas' deal, 2,000 years later | Thirty pieces of silver then, or $1.5 million now: It's still about money (Editorial, Los Angeles Times)


The missing | It is the Gospel of Judas's lack of a resurrection story that ultimately betrays it as non-canonical, as undeserving of inclusion in the New Testament (Editorial, The Philippine Inquirer)


Judas in context | Gospel sheds light on history, but not Christ (Editorial, The Dallas Morning News)


Gospel of Judas (opinion):
Historical Jesus:
Is Jesus risen? Literal view gains ground | In recent years, there has been a rise in the popularity and stature of books that embrace the traditional view of Easter, experts say (The Washington Post)


Defending the faith | Millions of Christians read the Easter story through the lens of faith. But a growing number of people are reading it like an Oliver Stone script as Easter conspiracy stories gain traction in popular culture. (The Atlanta Journal-Constitution)


The meaning of Easter:
Easter in America:
Also: Santa Cruz police investigate graffiti sprayed on church | Parishioners of the Santa Cruz Missionary Baptist Church got an unpleasant surprise on Easter morning: Someone had spray-painted upside-down crucifixes and other graffiti on the outside of the church (San Jose Mercury News, Ca.)


Shunning the bunny in New York | The Christian Cultural Center in New York is stressing that Easter is not just about chocolate bunnies and Easter egg hunts. As Fred Mogul of member station WNYC reports, the center wants its congregation to celebrate Christ's resurrection (Weekend Edition Saturday, NPR)


Worshipping, cowboy style | Soggy weather doesn't dampen Easter morning church service at the Auburn Wild West Stampede (The Sacramento Bee, Ca.)


Easter stunts:
Crucify me? Sorry, I've changed my mind | Faced with a cross, a set of 4in nails and a man with a hammer, and surrounded by bleeding self-flagellants, Dominik Diamond's plans to be crucified during one of Easter's most brutal religious ceremonies literally ended in tears yesterday (The Telegraph, London)


A crucifixion too far as TV stunt backfires | Dominik Diamond, a Scottish television and radio presenter, yesterday broke down in tears and refused to be nailed to a wooden cross as part of a re- enactment of the Passion of Christ in the Philippines (The Scotsman)


'God made me cancel my own crucifixion' | Dominik Diamond broke down and wept after watching nine Filipinos take their turn to be whipped and nailed on crosses and realising that his turn was next (The Times, London)


Church blasts Robbie 'crucifixtion' | Church leaders have attacked pop star Robbie Williams for his controversial "crucifixion" stunt, which was shown on TV on Easter Sunday (Virgin, U.K.)


War on Easter?
Christian holidays mix history, culture | Holidays, and the historical links with our nation and culture, are merely the highest-profile targets of an ongoing campaign by secularists (Shannon L. Goessling, The Atlanta Journal-Constitution)


Amen to this: Easter not basket case | Easter Sunday is doing just fine, thank you (Jennifer Harper, The Washington Times)


Easter on the Gulf Coast:
One church's Easter gift to another | Ashburn worshipers send pews to hurricane-struck Miss.  congregation (The Washington Post)


Finding new meaning in Holy Week | After Katrina, Gulf Coast ministers working with extra burden (The Washington Post)


A little faith can go far in New Orleans | Holy Week on the Gulf Coast (The Washington Times)


An Easter sermon on recovering from Katrina | The Mississippi coastal town of Bay St. Louis has been undergoing a renewal since Hurricane Katrina flooded the town last fall. With the faithful celebrating Passover and Easter this week, Madeleine Brand speaks to the Rev. Sebastian Myladiyil of St. Rose de Lima Parish about how his sermon this Sunday will address the town's physical and spiritual reconstruction (Day to Day, NPR)


Easter in India:
Easter in Iraq:
Where attending church at Easter is itself a test of faith | To reach her church to celebrate Good Friday today, Sameera Girgis will be smuggled on to a bus at a secret location, walk through a chicane of razor wire, and submit to a body search by gunmen guarding the Evangelical Protestant Church in central Baghdad. Security teams will check even her Bible to ensure that there is no bomb inside (The Times, London)


U.S. troops attend Easter services in Iraq | In Iraq, U.S. troops held sunrise services to mark Easter Sunday. It was a week for all religions -- Jewish soldiers marked Passover, and the Muslim soldiers celebrated the Prophet Mohammed. But the majority of U.S. troops are Christian, and many came out to pray today at bases across Iraq (All Things Considered, NPR)


Iraq's Christians mark Good Friday | Members of Iraq's Christian minority visited churches in Baghdad and across the country to mark Good Friday. Under Saddam Hussein, Christians enjoyed a degree of protection. Now many are fleeing Iraq because of the continuing violence (All Things Considered, NPR)


Iraqis find respite in faith, priest says | Attendance is booming at the Rev. Andrew White's church as more Iraqi Christians seek solace in religion to cope with a life of car bombings, kidnappings and deprivation (Associated Press)


Faith makes for safety in Baghdad, the most dangerous parish in the world | Since last Easter all of my lay leaders have been killed, a suicide bomber turned up in church, people have been killed at our church entrance, we have endured car bombs and been attacked and our church has been surrounded by concrete barricades (Andrew White, The Times, London)


Easter in the Middle East:
More on the Holy Land:
2 Muslim families work together to keep open site where Jesus was crucified, buried | Rivalries over the Church of the Holy Sepulcher have sparked brawls, riots and even a 19th-century war. Nothing is too small to fight about, not even a key (Knight Ridder)


Reenacting Holy Week:
Pilgrims retrace Jesus' route in Jerusalem | Thousands of Christian pilgrims filled the narrow streets of Jerusalem's Old City on Good Friday, retracing the route that Jesus followed on the way to his crucifixion (Associated Press)


Devotees nailed to cross in Philippines | At least 11 Filipino devotees were nailed to the cross during Good Friday reenactments of Christ's final hours (Associated Press)


Day that Jesus came to the Arndale Centre | Never before has the music of so many blasphemers, adulterers, Judases, sodomites, narcissists, drunkards, pill poppers, and ne'er-do-wells been compiled to celebrate the passing and second coming of Jesus. (Simon Hattenstone, The Guardian)


Passover:
Pope's Easter messages:
Benedict urges peace in his first Easter address | Alluding to the Iran nuclear issue, the pope calls for 'serious and honest' talks. Memories of John Paul lend Holy Week rites extra gravity (Los Angeles Times)


Pope's Easter message calls for diplomacy | In his first Easter message as pontiff, Pope Benedict XVI on Sunday urged nations to use diplomacy to defuse nuclear crises — a clear reference to worries over Iran — and prayed that Palestinians would one day have their own state alongside Israel (Associated Press)


Pope leads candelit Easter vigil mass | Pope Benedict XVI ushered in Easter services late Saturday with a dramatic, candlelit vigil in St. Peter's Basilica, saying Christ's resurrection was "the most crucial leap" in the history of mankind (Associated Press)


Pope calls for nuclear diplomacy | Pope Benedict, in his first Easter message, called on Sunday for an "honorable solution" to the nuclear standoff with Iran, a truly independent Palestinian state, and global cooperation to combat terrorism (Reuters)


Pope Benedict, one year in:
Catholicism:
This Catholic church is born again | Evangelical approach helps attendance soar (Chicago Tribune)


China official says no timetable on Vatican ties | China has no timetable for re-establishing ties with the Vatican, a religious official was quoted as saying, throwing into doubt earlier reports that the two sides could have diplomatic relations by the 2008 Olympics (Reuters)


Catholic confessions | Five years ago this month, I became a Catholic (Gregory Rodriguez, Los Angeles Times)


1980 nun murder trial in Toledo:
Nun killed in Buffalo:
Missing nun dead; man charged | Parolee lived in her shelter; police say suspect attacked sister during a burglary (The Buffalo News, N.Y.)


Abuse:
Crime and violence:
'I still forgive him' | Paralyzed at 3 by a stray gunshot, Hub girl faces the man who fired it (The Boston Globe)


Also: A child's message of grace amazes her city | ''I know he didn't mean to do it,'' Kai Leigh Harriott, 5, said of the man whose stray gunshot left her paralyzed (The Boston Globe)


Police warns churches | The police have warned leaders of born-again Christians not to use violence against other Pentecostal denominations (New Vision, Uganda)


War and terrorism:
Genocides past and present:
Mayor jailed over Rwanda genocide | A Rwandan ex-mayor has been sentenced to 15 years in prison for aiding and abetting killing in the 1994 genocide (BBC)


Rwanda survivors say Hollywood has got it wrong | Details matter, they say (Reuters)


'I've seen too much blood in my life' | Scores of her relatives were slain in Rwanda. Now, she pleads for the thousands dying in Sudan (The Boston Globe)


Life ethics:
Philippine president commutes all death sentences:
Philippines commutes 1,200 death sentences | Gloria Macapagal Arroyo said the death sentence would be commuted to life in prison for everyone on death row. Her justice minister said the government would commute all future death sentences as well (Associated Press)


Arroyo commutes death sentences | Philippine President Gloria Arroyo's decision to commute the death sentence for more than 1,000 convicts has been condemned by victim support groups (BBC)


Manila's Arroyo commutes all death sentences | Philippine President Gloria Macapagal Arroyo commuted all death sentences to life imprisonment in an Easter gesture slammed by critics on Sunday as an abuse of power (Reuters)


Abortion:
'Roe v. Wade': The divided states of America | How states would be likely to respond if Roe were reversed (USA Today)


Ripples from law banning abortion spread through South Dakota | Many people in South Dakota are uneasy in their spot at the leading edge of the country's clash over abortion (The New York Times)


Ky. prof leads destruction of pro-life display:
Free speech on campus | Northern Kentucky University professor Sally Jacobsen made a big mistake when she invited her students to help her tear down an anti-abortion display on campus (Editorial, The Kentucky Post)


Right to Life group to press charges against protestors | Students plan vigil to protect display (The Northerner, NKU student newspaper)


Higher education:
There's another side of the issue at Belmont to be considered | The issue is much more than the TBC being opposed to non-Baptist trustees at Belmont University. The real issue is: Has Belmont violated an agreement that was signed in good faith in 1951? (Lonnie Wilkey, The Tennessean, Nashville)


A war over words | Christian activists have a new battle: the war on Christian students. But this war is being waged in courtrooms instead of on right-wing radio, and what's really being defended is the right to free speech (Editorial, Los Angeles Times)


University of the Cumberlands gay student issue:
Guilty plea in Trinity racist letters case:
Woman pleads guilty in racist letters case | Alicia Hardin, 20, also was ordered Thursday to perform 200 hours of community service, pay $2,000 restitution and cease all contact with Trinity International University, a small Christian school in suburban Chicago (Chicago Tribune)


Hate- crime case in court | Fine, probation: Trinity co-ed sent threatening letters (The News Sun, Waukegan, Ill.)


Ex-student at Trinity convicted for threats | In plea deal, woman gets probation (Chicago Tribune)


Education(U.S.):
Milwaukee expands school voucher program | Democratic Gov. Jim Doyle signed a measure last month to increase the number of participants in the Milwaukee program from the current 15,000 students to as many as 22,500 next school year (Associated Press)


Who's in control? | Christian student group senses bias as district reviews facility-use policy (Ft. Worth Star-Telegram, Tex.)


Also: Bible study group sues to be treated like other clubs | Lawyers representing a faith-based student organization, which sued the Plano school district in March alleging religious discrimination, plan to ask for a temporary restraining order today in a U.S. district court (Ft. Worth Star-Telegram, Tex.)


Pocola school sued over prayers | The federal program coordinator of the Pocola School District has filed a lawsuit in U.S. District Court in Muskogee charging school officials with promoting religion for "prayer sessions" during biannual employee meetings (Times Record, Ft. Smith, Ark.)


Poetic justice: Nev. teen can recite mild curses in verses | Federal judge rejects school's objection to 'damn' and 'hell' in W.H. Auden's 'The More Loving One,' says ninth-grader may use poem in state contest (Associated Press)


Playing politics with the Bible: Coming to a school near you? | Public schools need to teach about the Bible, but not a prescribed, narrow interpretation (Charles C. Haynes, First Amendment Center)


Education (non-U.S.):
Evolution:
Science:
Media reports on scientists' faith were full of distortions | As it turns out, a clear majority of scientists surveyed were either atheist or agnostic (John Bice, Lansing State Journal, Mi.)


Science does not challenge my faith - it strengthens it | Atheists accuse the church of lack of reason. It is time that they examined the poor logic of their own arguments (Richard Harries, The Observer, London)


Bible:
History:
The president who died for us | How Americans interpreted Abraham Lincoln's Good Friday murder (Richard Wightman Fox, The New York Times)


It's gospel: Religion has always divided America | But Founding Fathers had a nonsectarian God in mind, authors argue (The Dallas Morning News)


Books:
Gwinnett parent wants Harry Potter off shelves | Move over Lord Voldemort. Harry Potter has a new foe. A Gwinnett County parent wants the popular series removed from all school libraries in the state's largest school district (The Atlanta Journal-Constitution)


St. Martin's inks Winkler book | Hoping to cash in on the current domestic tragedy of the moment making headlines—that of Mary Winkler, the southern preacher's wife who, for still-inexplicable reasons, killed her husband and then fled the scene with their kids—St. Martin's Press has signed a book on the seemingly demure, down-home housewife (Publishers Weekly)


Entertainment:
Bible Game plays for youngsters | Serious religion students need not apply, as the title caters mainly to younger gamers through 20 minigames that present a humorous introduction to main figures and events from the Old Testament (The Washington Times)


Art and drama:
The play's the thing at Pittsburgh church targeting new crowd | Drama relates Bible stories in a gritty urban setting; even pastors have tattoos (The Wall Street Journal)


Searching for truth amid the suffering | At what point does bearing witness become exploitation? (Mark Feeney, The Boston Globe)


Music:
For God and country | With two songs about faith up for awards next month, it appears that country, once the high temple of blue-collar good times, bad love and bar fights, has migrated to the altar (The New York Times)


Episcopal churches turn to U2 to pack pews | Ushers handed out earplugs and fluorescent glow sticks for the "U2 Eucharist," a communion service punctuated by the Irish rock band's music (Associated Press)


Simple gifts: The power of classic hymns | Bill Henderson, author of  Simple Gifts: Great Hymns: One Man's Search for Grace talks about his love of classic hymns and their spiritual significance (All Things Considered, NPR)


Film:
A&E's God or the Girl:
Women:
Pilgrims trace women's role in early church | Inscriptions and images found on tombstones, frescoes and mosaics throughout the Mediterranean show that women held respected roles in the early Christian church that were identical to those held by men. They were apostles, priests, deacons and bishops (Weekend Edition Sunday, NPR)


Equal in the eyes of God? | Christian tradition holds that there were three women at the foot of Jesus' cross. But why have they, and millions of Christian women, been silenced? (Michèle Roberts, The Guardian, London)


Church life:
Carter, Baptist groups issue new covenant | Former President Jimmy Carter, the nation's most famous ex-Southern Baptist, has forged a "Baptist Covenant" with Baptist groups that do not embrace Southern Baptists' conservative tilt (Religion News Service)


Baptists to help churches rebuild | Three of the nation's largest black Baptist denominations announced plans Monday to help ruined churches and their church members find redevelopment money and rebuilding expertise for churches, nursing homes or other church projects across the storm-ravaged Gulf Coast (The Times-Picayune, New Orleans)


Church buildings:
Veneta congregation sues Pentecostal Church of God to reclaim church | Likening the situation to the dispute over who owns Catholic property within the bankrupt Archdiocese of Portland, a Pentecostal congregation in Veneta has returned to court seeking to reclaim its former church building and land (The Register-Guard, Eugene, Ore.)


McLean church rebutting allegation | Zoning violated, neighbors assert (The Washington Post)


A lady beloved by many | L.A.'s Cathedral of Our Lady of the Angels is a huge sacred space, but, says an admirer, 'As big as it is, it gets smaller when you know it' (Los Angeles Times)


Church closings:
Spirituality:
Anti-"fundamentalism":
Fight the good Easter fight | The defenders of the secular state, believers and non-believers, can only hope to disarm fundamentalism by finding a language that allows for doubt without compromising its own familiar principles - its faith in a rationally ordered society, a respect for science, for evidence-based knowledge, for non-religious education, and tolerance of religion supported by laws protecting individual rights. (Editorial, The Guardian, London)


Resurgent religion has done away with the country vicar | The establishment of the Church of England took God out of religion, but there are risks in a more vigorous approach to faith (Giles Fraser, The Guardian, London)


The Christian paradox | How can a faithful nation get Jesus so wrong? What it means to be Christian in America today (Bill McKibben, The Age, Melbourne, Australia)


Spiritual travel:
Bearing the cross together as the waters part | Blistered feet and pub lunches help to unite Christians on the Northern Cross pilgrimage (The Times, London)


More agencies are serving the flock: religious travelers | With faith-based trips gaining new attention, participants are finding varied activities and upscale lodging (Los Angeles Times)


£144m vision for Christian theme park on course | Andrea  Webster says she is close to securing a site for the attraction but there is a long way to go in the fundraising. She is currently in negotiations with a landowner in Yorkshire for a site covering 200 acres (Yorkshire Post, U.K.)


Immigration:
Call for Spanish at the pulpit | With pews at three dozen Catholic churches overflowing with thousands of Hispanic immigrants attending services in Spanish, local church leaders are taking major steps to recruit and train badly needed Spanish-speaking priests (Puget Sound Business Journal, Wa.)


Catholics full of show on illegal immigration | The Catholic Church's support of illegal aliens is simply another ploy to build up underpopulated congregations with Hispanic, largely Catholic, immigrants. Well, that's the way the cynical part of me sees it. The less cynical part of me sees it as another misguided attempt at charity by the church in its ongoing efforts to catch up with the modern world (Mary Grabar, The Atlanta Journal-Constitution)


Netherlands & Iran:
Dutch suspend deportations of Iranian gays, Christians | Immigration and Integration Minister Rita Verdonk has bowed to pressure from parliament and agreed not to deport Iranian gay people and Christian converts for the time being (Expatica, Netherlands)


Iranian gays and Christians can stay - for the time being | The Netherlands will not send any homosexual or Christian asylum seekers back to Iran, for the time being at least. Earlier this year, Immigration Minister Rita Verdonk announced that these people would not be at risk if deported to their home country (Radio Netherlands)


Politics:
Taxes:
Jesus and the tax man | Christ had a lot to say about taxation - but what he meant depends on who you ask (The Salt Lake Tribune)


TBN says its tax refund will go to charity | More than half the money that Trinity Broadcasting Network will get back because of a ruling that parts of its Hendersonville campus are not subject to taxes will go to local charities, a company official said today (The Tennessean, Nashville)


Heaven: The good ol' USA without the taxes | I'm certain the rich people on Earth have it in their minds that their way of life will continue in heaven (Art Buchwald, The Washington Post)


Church and state:
Detroit is sued over grants | A resident and an atheist group oppose funds given to 2 churches for Super Bowl fix-up (The Detroit News)


Also: Suit: Detroit grants to churches illegal | New Jersey-based atheists group and a city resident are suing this city and its Downtown Development Authority, saying that $690,000 in grants to churches for cleanup work before the Super Bowl violated the First Amendment (Asbury Park Press, N.J.)


Campaigning from the pulpit: Why not? | It is the regulation of the churches' expression, and not their expression itself, that should raise constitutional red flags (Richard W. Garnett, USA Today)


A small victory for freedom of religion | Last Thursday, a three-judge panel of the Saskatchewan Court of Appeal unanimously overturned one of this country's most notorious judgments against freedom of religion and freedom of speech: 2002's Owens v. Saskatchewan (Lorne Gunter, National Post, Canada)


Signs and symbols:
Gov signs bill on religious symbols | State Sen. Ira Silverstein (D-Chicago) proposed the legislation after a Chicago condo association removed a Jewish symbol from a resident's door post (Chicago Sun-Times)


New law protects religious displays by condo owners | As Jewish households throughout the state prepared for Passover on Wednesday, Gov. Rod Blagojevich signed a bill into law guaranteeing condominium residents the right to hang a mezuza or other religious object at their doorways (Chicago Tribune)


Governor signs bill to show Commandments | Fletcher says he'll consider other displays (Lexington Herald-Leader, Ky.)


Baptism:
Marriage:
Marriage debate gets boost | Both sides lean on a few big contributors early in campaigns. A marriage alliance gets $35,000 from Focus on the Family. Tim Gill's $55,000 aids a partnership plan (The Denver Post)


Traditional marriage group seeks a few liberal allies | The Alliance for Marriage (AFM) is assembling broad left-right coalitions, including many black and Hispanic pastors, in several key states to convince senators to support a constitutional amendment against homosexual "marriage," which is set for a June vote in the Senate (The Washington Times)


Study: Conversion rate less than 20% for non-Jewish spouses | Fewer than one-fifth of gentiles who marry Jews convert, according to a new study by the American Jewish Committee (The Jerusalem Post)


Sexual ethics:
Demonstrations:
William Sloane Coffin:
Rev. William Sloane Coffin dies at 81; fought for civil rights and against a war | The Rev. William Sloane Coffin Jr. sought to inspire and encourage an idealistic and rebellious generation of college students in the 1960's from his position as chaplain of Yale University (The New York Times)


Jerry Falwell:
Supreme Court won't hear Falwell's appeal | Evangelist Jerry Falwell on Monday lost a Supreme Court appeal of a case that sought to shut down a Web site with a similar name but opposite views on gays (Associated Press)


Falwell on presidential contenders | Now "friends" with McCain, wouldn't support Giuliani, and thinks a pro-choice Democratic can't win evangelicals (Late Edition, CNN, at end of transcript)


Falwell says he won't back Giuliani (Associated Press)


Missions & ministry:
Money & business:
Christianity, the brand | How Larry Ross took "a bungee jump for God" and helped turn religious public relations into big business (The New York Times)


People:
God, the Bushes, and Billy Graham | The 41st president of the United States pays homage to the world's most influential Protestant evangelist. Graham's largely unifying legacy is worth considering at a time when faith seems ever more divisive (Jon Meacham, Newsweek)


Serbian Orthodox Church head hospitalized | Patriarch Pavle, The 91-year-old leader of more than 7 million Orthodox Serbs was taken to a top military hospital in Belgrade "because of the general condition of his health, related to his age," the church said in a statement (Associated Press)


Towey resigns as White House faith-based initiative head | New post as president of St. Vincent College in Pennsylvania unrelated to other staff changes, officials say (The New York Times)


Religion polls:
For almost all Americans, there is God | A new CBS News poll shows that almost all Americans believe in God or some higher power and more than half pray often and consider religion an important component of their daily lives (CBS News)


In God's presence | Poll find religious belief - if not observance - remains strong among Canadians (The Ottawa Citizen)


Mixing politics, religion bad idea in Canada, poll suggests | Canadians are becoming increasingly uneasy about mixing religion and politics and they'd be more likely to vote for a party lead by an atheist or a Muslim than an evangelical Christian, suggests a new poll (CanWest News Service)


Canadians believe in God, not church | Almost half of Canadians believe they have been in the presence of God and one in three say they have had a religious or mystical experience, reveals a new poll (CanWest News Service)


Other stories of interest:
Related Elsewhere:
Suggest links and stories by sending e-mail to weblog@christianitytoday.com
See our past Weblog updates:
April 12 | 11 | 7
March 31 | 30 | 28
March 24 | 24 | 23 | 21
March 17 | 16 | 15
March 10b | 10a | 8
March 3 | 2 | 1
February 24 | 23 | 22 | 21
Weblog
Launched in 1999, Christianity Today's Weblog was not just one of the first religion-oriented weblogs, but one of the first published by a media organization. (Hence its rather bland title.) Mostly compiled by then-online editor Ted Olsen, Weblog rounded up religion news and opinion pieces from publications around the world. As Christianity Today's website grew, it launched other blogs. Olsen took on management responsibilities, and the Weblog feature as such was mothballed. But CT's efforts to round up important news and opinion from around the web continues, especially on our Gleanings feature.
Ted Olsen is Christianity Today's executive editor. He wrote the magazine's Weblog—a collection of news and opinion articles from mainstream news sources around the world—from 1999 to 2006. In 2004, the magazine launched Weblog in Print, which looks for unexpected connections and trends in articles appearing in the mainstream press. The column was later renamed "Tidings" and ran until 2007.
Previous Weblog Columns: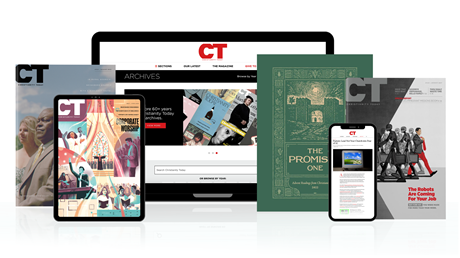 Subscribe to Christianity Today and get access to this article plus 65+ years of archives.
Home delivery of CT magazine
Complete access to articles on ChristianityToday.com
Over 120 years of magazine archives plus full access to all of CT's online archives
Subscribe Now
Christians and Muslims Riot in Egypt
Christians and Muslims Riot in Egypt