Commentary? Top five? Quote of the day? Yeah, that'd be nice, wouldn't it? We'll get right on that—after we read these four hundred thousand stories.
Gospel of Judas | Da Vinci Code | Da Vinci debunking | Dan Brown | Catholicism | St. Peter's 500th anniversary | Benedict XVI's first year | Vatican-China ties | Catholic/Anglican mass controversy in Ireland | Boston archdiocese $46M in the red | L.A. Archdiocese | Abuse | Crime | Theft | Chicago church musician murdered | N.Y. nun murdered | Toledo trial for priest accused of killing nun | Maine church arsenic murder | More murders | Church life | Denominational life | Baptist missions head quits | Church building fights | Church life (non-U.S.) | Pentecostalism at 100 | Eastern Easter | Anglican Communion | Missions & ministry | Double parking at D.C. churches | D.C. church opposes gay bar | Church & state | State churches | Ten Commandments | Churches in politics | Immigration | Catholics & immigration | Immigration issues outside U.S. | Abortion | S.D. abortion ban | Judge blocks law to report sex under 16 | Stem cells | More life ethics | Politics | Towey to leave Office of Faith-Based and Community Initiatives | Politics in Canada | Environment | North Korea | Darfur | War & terrorism | Bin Laden | Egypt bombings | Copts protest persecution | Persecution | Religious freedom | Indonesia | Philippines | Solomon Islands | Jamaica | Kenya in mourning, prayer | Education | Georgia plans for Bible classes | Student Bible studies | Free speech sought on homosexuality | S.C. won't hear kindergarten Jesus poster case | Sex ed. in Mass | Higher education | Christian groups on campus defunded | Ky. okays funds to college that expelled gay student | Equality Ride | Baylor students banned from Playboy | Sexual ethics | Religion & homosexuality | Religion & homosexuality (non-U.S.) | Same-sex marriage | AIDS | Vatican to study condoms and AIDS | Music | Books | History | People | Science & health | Spirituality | Television | Media and entertainment | Sports | Money & business | More articles of interest
Gnostics find affirmation in Gospel of Judas | The document portrays the disciple as a faithful servant of Jesus, not a villain -- a firm belief of the small Christian branch. But it doesn't shake up mainstream doctrine (Los Angeles Times)


What's the real Judas Gospel? | Local scholars weigh in on questions raised from controversial manuscript (The Kansas City Star)


Expert damns Church response to Judas gospel | Rodolphe Kasser, who translated the 1,700-year-old Gospel of Judas, says the Church's rejection of the manuscript smacks of "intellectual laziness" (Swissinfo)


A bad novel is the least of our concerns | Rowan Williams could have used his sermon to talk about the growing gap between rich and poor, the appalling treatment of the elderly, the ethical problems surrounding both unborn babies and the concept of euthanasia, genocide in the Sudan or the persecution of Christians in Muslim countries. He could have tackled the lack of interest in the Church, the dearth of churchgoers and the rise in the cult of celebrity (Alice Thompson, The Telegraph, London)


A code of one's own | Perhaps the popularity of the conspiracy theory is based in the quest is to solve one's own problems, to decipher not the Da Vinci code, but the in-law code, the job code, or the teenager code -- to find a new answer to the question: What's next? (Editorial, The Boston Globe)


Dan Brown speaks | Best-selling Rye Beach author enthralls Music Hall audience (Portsmouth Herald, N.H.)


Also: Author talks courts, 'Da Vinci Code,' and movie in home state (The Boston Globe)


Does the Pope wear Prada? | Pope Benedict XVI is appealing to a new group of admirers: marketers seeking not blessings but pontifical product placements (The Wall Street Journal)


St. Peter's 500th anniversary:
At 500th anniversary, St. Peter's battles graffiti, chewing gum | St. Peter's Basilica has the modern age to thank for the chewing gum stuck to its floors and the graffiti marring its walls (The Boston Globe)


St. Peter's Basilica: 500th anniversary | The Vatican is marking the 500th anniversary of St. Peter's Basilica with an exhibit featuring Michelangelo's model of the church dome and an ancient inscription reading "Peter is here" — a reference to the tomb of the apostle Peter on which the basilica is believed built (Associated Press)


A pontiff's first year | Benedict has foiled the expectations of liberals and conservatives alike (U.S. News & World Report)


Pope's 1st year lacks an ideological edge | Centrist approach concerns conservatives (The Washington Post)


The pope's first year: How he simplified his role | While Benedict XVI has drawn the line on doctrine, he has streamlined his job to create a gentler, humbler papacy (Time)


Quotes on Benedict XVI's first year | Observers respond (Associated Press)


Benedict XVI marks first year of papacy | Pope Benedict XVI marked his first year as pontiff Wednesday by asking for prayers to carry on as God's "gentle and firm" pastor — an appeal underscoring his efforts to unify the faithful while keeping to core church teaching. (Associated Press)


On anniversary, Pope wants to be mild yet firm | "I ask all of you to continue to support me, praying to God that he lets me be a mild and firm shepherd of his Church," he said at his weekly general audience (Reuters)


China, Vatican edge toward accord | Church's willingness to break ties to Taiwan may be key to establishing normal relations (The Washington Post)


Church and (Communist) state | Pope Benedict XVI reaches out to Beijing (John L. Allen Jr., The Wall Street Journal)


Catholic/Anglican mass controversy in Ireland:
Birth of the new reformation? | The Catholic Primate of All Ireland, Archbishop Sean Brady, has ordered an inquiry into how a Church of Ireland clergyman was allowed to say Mass in an Augustine church. The CoI Primate, Archbishop Robin Eames says he shares his concern. But with Catholics and Anglicans in England regularly attending each others' services, is it part of a growing movement? (The Belfast Telegraph)


Primates concerned by Mass controversy | Churches to hold inquiries (The Belfast Telegraph)


Religious reconciliation - Mass must not lead to division | As history shows, few issues have greater potential to cause division and strife among the people of the world than the vexed question of religion. (Editorial, The Belfast Telegraph)


Row over C of I man's presence at 1916 mass | Churches in pledge to launch inquiry (The Belfast Telegraph)


Priests defy bishops to back Fr Iggy's ecumenical mass | An overwhelming three quarters of the country's Catholic priests back their Augustinian colleague who said mass with a Church of Ireland minister last week (Sunday Independent, Ireland)


Boston archdiocese $46M in the red:
Details on 11 priests missing in '04 report | Mahony's disclosure on sex abuse claims left out information on clerics who stayed in ministry (Los Angeles Times)


Report: Cardinal let 7 priests keep jobs | A 2004 report by Roman Catholic Cardinal Roger Mahony failed to disclose that he let seven priests continue in ministry for as long as 13 years after they had been accused of inappropriate behavior with children, a newspaper reported Thursday (Associated Press)


Not the cardinal's rules | The L.A. archdiocese has no choice but to accept that personnel and counseling files of clergy members must be made available to a grand jury investigating the possible commission of crimes. Church authorities should go further, however, and also make such records available in civil lawsuits (Editorial, Los Angeles Times)


Cardinals and the law | Cardinal Roger Mahony of Los Angeles has run out of excuses for blocking the prosecution of rogue priests accused in the church's pedophilia scandal (Editorial, The New York Times)


Televangelist testifies in Setser fraud trial | Hinn says he returned profits after learning of Ponzi scam (The Dallas Morning News)


Churchmen accused of fraud | Ex-parishioner sues over lost investment (Concord Monitor, N.H.)


Ex-youth minister gets 5 years in child-porn case | Jeff Devore was formerly an assistant minister at Brea Congregational Church (Los Angeles Times)


Godfrey church worker is charged | Bookkeeper was charged with felony theft after steeling more than $32,000 from North Side Assembly of God Church (St. Louis Post-Dispatch)


Pastor accused of taking dead son's money | A pastor whose soldier son died in Iraq was charged with spending $250,000 in insurance money meant for the soldier's young daughter (Associated Press)


Chicago church musician murdered:
Bond denied in slaying of church musician | As a judge denied bail Sunday for a man accused of fatally shooting a church musician earlier this month, prosecutors laid out key details of what led to Terrell Bosley's death but one: Why? (Chicago Tribune)


Relatives: Church suspect has alibi | The man charged with fatally shooting an 18-year-old church musician could not have committed the crime because he was with family and friends grieving the recent death of his cousin, the man's relatives said Sunday (Chicago Sun-Times)


Toledo trial for priest accused of killing nun:
Coroner: Priest's letter opener fits wound | Investigators attempted to link bloodstains on an altar cloth and stab wounds on a nun's body to a letter opener found in the apartment of a priest charged with killing her (Associated Press)


Detective says nun's killer had known her | Whoever strangled and stabbed a Roman Catholic nun a day before Easter in 1980 had to know her, according to a police detective who oversaw the murder investigation 26 years ago (Associated Press)


Jurors go to chapel in priest's murder trial | The cleric is accused of killing a nun in 1980. The visit to the sacristy crime scene and opening arguments are part of the day's proceedings (Los Angeles Times)


5 prospective jurors dismissed in Father Robinson case | Opening statements in the trial are tentatively scheduled to begin tomorrow (The Toledo Blade)


Religious beliefs a factor in jury selection | Three of those were excused because of their strong feelings for or against the Roman Catholic Church and Catholic clergy (The Toledo Blade, Oh.)


Breakaway church has Mass for accused priest, slain nun | Members of a fledgling Catholic church not affiliated with the Toledo diocese offered prayers yesterday for the Rev. Gerald Robinson and Sister Margaret Ann Pahl (The Toledo Blade, Oh.)


First witness testifies in priest's trial | A mannequin with gray hair and a blue nun's outfit like the one Sister Margaret Ann Pahl wore the day she was slain was stretched out on the floor of the courtroom this morning in the murder trial of the Rev. Gerald Robinson (The Toledo Blade, Oh.)


Jury sees murder scene | Opening statements given in priest's trial (The Toledo Blade, Oh.)


Mexican priest confesses to killing lover | A Mexican priest has confessed to strangling his pregnant lover after Easter Mass and cutting her body into pieces, a state attorney general said Wednesday (Associated Press)


In-law charged in killing of deacon outside church | An in-law of a deacon killed on Easter Sunday was charged with the murder Tuesday, mystifying church members who prayed with the teenager weekly for the past seven years (The Orlando Sentinel)


Unemployed man arrested for priest's murder | A 21-year-old unemployed man, who was regularly assisting a Christian priest at Neyveli in Cuddalore district, has been arrested in connection with the priest's murder, police said here today. (PTI, India)


South Carolina bishop to lead AME bishops group | The Right Rev. Preston Warren Williams II will take over in June as president of the denomination's global Council of Bishops (Associated Press)


'Major step' as churches agree to sign pact | After 273 years of bitter schism, the Church of Scotland and the United Free Church are to sign a covenant establishing the first formal relations between the two bodies (The Scotsman)


Baptist missions chief quits after inquiry | The head of a Southern Baptist Convention missions board has resigned in the wake of an internal investigation into financial dealings that cleared him of wrongdoing but criticized his management style (Associated Press)


Baptist official accused of mismanagement quits | Missions chief resigns after mixed reports on spending (The Tennessean, Nashville)


Canada's Serbian bishop bans worship in the Falls | What began as an administrative dispute between Canada's Serbian Orthodox bishop and a parish in Niagara Falls has spiralled into a $17-million lawsuit and a ban on worship on the eve of Orthodox Easter (The Hamilton Spectator, Ont.)


Scrambling for positions in the Church condemned by Rev Ahwireng | The chairman of the Akuapem Presbytery of the Presbyterian Church of Ghana, Rev. Charles Ahwireng, has said scrambling for positions and litigation in some churches were indications of the church gradually losing its prophetic voice and moral authority (Accra Daily Mail, Ghana)


Police warn Pentecostal churches | Police have warned pentecostal churches in Bwaise over accusations of using demons to antagonise worshipers (The Monitor, Uganda)


The Pentecostal promise | A hundred years ago, a black evangelist in Los Angeles taught his congregants how to speak in tongues — and created America's distinct form of everyday supernaturalism (The New York Times Magazine)


Pentecostals praise God in many tongues | Believers worldwide gather in L.A. -- singing, dancing and shouting -- to mark the 100th anniversary of the Azusa Street Revival (Los Angeles Times)


100 years of freedom in the Spirit | Pentecostals celebrate world's fastest-growing religion (Lakeland Ledger, Fla.)


Anglicans furious at former archbishop | More than 100 leading Australian Anglicans have accused the previous Archbishop of Canterbury of disloyalty, as divisions over homosexuality in the worldwide Anglican church deepen (The Age, Melbourne, Australia)


Also: Lord Carey hits back at critics' open letter | Lord Carey, the former Archbishop of Canterbury, has accused critics within the Anglican church of un-Christian behaviour and called on them to repent of their attacks on him following the circulation of an open letter claiming he has been undermining his successor, Dr Rowan Williams (The Guardian, London)


The logic of all purity movements is to exclude | Anglicans should listen to the Holy Spirit, and not to the schismatic fundamentalists (Andrew Linzey, The Times, London)


Double parking at D.C. churches:
Mayor says parking is his to decide | D.C. Mayor Anthony A. Williams yesterday said it is his executive right and an acceptable policy decision to arbitrarily enforce laws against double parking in some areas of the city (The Washington Times)


Mayor postpones church parking crackdown | Mayor Anthony A. Williams has backed off a planned crackdown on double-parking around city churches, instead imposing a moratorium on enforcement until a task force recommends ways to end squabbles between churches and their neighbors (The Washington Post)


Churches win reprieve on parking | D.C. officials said yesterday that they will delay the enforcement of double-parking laws near churches on Sundays until at least late August (The Washington Times)


Peaceful solutions to the parking wars | Solutions are not easy, but ticketing is not the only way to address the issue (Terry Lynch, The Washington Post)


In Shaw, pews vs. bar stools | It was like a scene out of "The People's Court" -- on one side the mostly white supporters of a gay-friendly bar, on the other the parishioners of a black church in Washington's historic Shaw neighborhood (The Washington Post)


As neighborhoods change, so must politicians' views | You can debate morality until the end days, but in politics, numbers talk (Marc Fisher, The Washington Post)


Commandments display upheld | Mercer exhibit mirrors two high court rejected (The Courier-Journal, Louisville, Ky.)


Judge says Ten Commandments can stay | A Ten Commandments monument that has stood on the Toledo courthouse lawn for almost 50 years does not promote religion and can remain in place, a federal judge ruled (Associated Press)


Ohio churches' political activities challenged | Clergy members are pressing the IRS to investigate whether partisan support violated tax-exempt status (The Washington Post)


Wrapping God in Stars and Stripes | It's hard not to walk into a church sanctuary these days and find an American flag standing up in one corner (Kevin Eigelbach, The Kentucky Post)


Howard Dean | "The religious community has to decide whether they want to be tax exempt or involved in politics" (The Christian Science Monitor)


Protestants join immigration debate | Pastors are speaking about immigration issues in their churches. Believers are joining public protests and contacting legislators. And leaders are calling on non-Latino Protestants to bolster their position (Pasadena Star-News, Ca.)


10,000 resume the battle cry | S.F. archbishop denounces enforcement-heavy House bill (San Francisco Chronicle)


Immigration issues outside U.S.:
Family resists deportation order in Toronto church | A Toronto family is living in a church, trusting the consecrated building will provide sanctuary in their last-ditch bid to stay in Canada (CTV, Canada)


Migrants occupy Belgian churches | Asylum seekers across Belgium have occupied 11 churches and a mosque in protest at government plans to reform asylum procedures (BBC)


Appeals court weighs abortion law question | Abortion-rights advocates argued before an appeals court Thursday that a South Dakota law requiring abortion doctors to warn patients about the procedure forces physicians to give inaccurate information and infringes on their free-speech rights (Associated Press)


Calling for a boycott is one thing; getting results is another | It's hard to quantify how many would-be visitors change plans to express solidarity or even know about an action (Los Angeles Times)


Appeals court weighs abortion law question | Abortion-rights advocates argued before an appeals court Thursday that a South Dakota law requiring abortion doctors to warn patients about the procedure forces physicians to give inaccurate information and infringes on their free-speech rights (Associated Press)


Women cite experience to support abortion ban | Women who have had abortions but are now fighting to outlaw the practice say their numbers are growing and so will their influence, especially after many of them stepped forward to support South Dakota's new abortion ban law (The Washington Times)


Abortion or adoption? S.D. is battleground | State's abortion figures are infinitesimal (Al Neuharth, USA Today)


Judge blocks law to report sex under 16:
Judge rules for Kan. abortion rights group | In a victory for an abortion rights group, a federal judge ruled Tuesday that abortion clinic doctors and other professionals are not required under Kansas law to report underage sex between consenting youths (Associated Press)


Judge blocks law to report sex under 16 | Kansas law does not require health care workers to report to the authorities sexual activity by people under 16, a federal judge ruled (The New York Times)


Kiss-and-tell no more | A federal judge in Kansas has dealt another blow to the crusade by the state's attorney general, Phill Kline, to restrict abortions under the phony banner of combating child abuse (Editorial, The New York Times)


Legal nod for RU486 | The first two Australian doctors to seek approval to prescribe the controversial abortion drug RU486 have received legal clearance to pursue their applications (The Australian)


End-of-life lawmaking | The Legislature should approve a measure that would allow family members to act as surrogate decision makers for incapacitated patients (Editorial, The New York Times)


Christian Coalition should be forthcoming | The Christian Coalition of Alabama has a new target in its sights - trial lawyers (Nick Foster, The Birmingham News, Ala.)


Maybe CCA really is nonpartisan | Behind the attack on trial lawyers (Harvey H. Jackson, The Anniston Star, Ala.)


The Bible bench | The message from fundamentalists to state jurists is clear: Judge conservatively, lest ye not be a judge (Margaret Ebrahim, Mother Jones)


Towey to leave Office of Faith-Based and Community Initiatives:
Faith-initiative chief to leave post in June | Jim Towey, who headed the Office of Faith-Based and Community Initiatives in the White House for more than fours years, will leave his post June 2, but he said the compassionate-conservative agenda put in place by President Bush is strong in the heartland and will live on after his departure (The Washington Times)


Head of White House 'faith-based' effort resigns | Despite his departure, President Bush will continue to steer federal dollars for social services to religious organizations, Towey says (The Chronicle of Philanthropy)


Bush's faith-based initiative director to head university | Jim Towey, the former Florida child welfare chief who became director of President Bush's faith-based initiative program, will become president of a university (The Miami Herald)


Bush aide to head St. Vincent College | H. James Towey leaving Cabinet-level post for Latrobe (Pittsburgh Post-Gazette)


Religion trumps politics in Caledonia | In "a show of good faith," this morning native protesters allowed worshippers at the Caledonia Baptist Church to bypass the barricades and attend Sunday services (The Ottawa Citizen)


Religious right defend Tory child-care plan | Layton says few families will see bonus (Canadian Press)


'Green' movement born again? | While there's no official barometer of just how cozy environmentalists and religious groups have become, the broad relationship is developing in often novel ways as both sides realize they share certain goals (San Diego Union-Tribune)


Pious "vandals" get stick over Cyprus tree felling | The Cypriot tradition of cutting down trees at Easter to make bonfires for effigies of Judas Iscariot is being attacked by the island's Green party, who say it damages the environment (Reuters)


For Christians, Earth Day holds a new significance | Growing number of environmentally conscious religious people will celebrate; some will focus on Katrina's effects (Contra Costa Times, Ca.)


Running out of the darkness | With the aid of American Christians, North Koreans are risking their lives to reach freedom. The inside tale of one escape (Time)


White House puts face on North Korean human rights | Urged on by evangelical supporters from his home town and other activists elsewhere, Bush has taken a personal interest in human rights in North Korea and decided to make an example of Kim Chun Hee's asylum case (The Washington Post)


S. Korea Catholic delegation visits communist North | A group of South Korean Roman Catholics left for North Korea on Wednesday, a Church official said, the first such official delegation to visit a country Washington has criticized for suppressing religion (Reuters)


Bin Laden call for Darfur jihad clouds UN mission | For now, there may be more symbol than substance in Osama bin Laden's call for jihad in Darfur, but that could change if U.N. peacekeepers go to Sudan's troubled western region, al Qaeda experts said on Monday (Reuters)


Darfur crisis is 'as bad as ever' | The humanitarian situation in Sudan's Darfur region is as bad now as when the conflict came to the world's attention in 2004, the top UN aid official says (BBC)


In US, a push for action on Darfur | Postcard drive, rallies aim to get Bush to do more (The Boston Globe)


Prophet cartoon offenders must be killed -bin Laden | "Heretics and atheists, who denigrate religion and transgress against God and His Prophet, will not stop their enmity toward Islam except by being killed," he said (Reuters)


Bin Laden says U.S. waging war on Islam | Osama bin Laden issued new threats in an audiotape broadcast on Arab television Sunday and accused the United States and Europe of supporting a "Zionist" war on Islam by cutting off funds to the Hamas-led Palestinian government. He also urged followers to go to Sudan, his former base, to fight a proposed U.N. peacekeeping force. (Associated Press)


Egypt says it arrests group planning bombings | The Egyptian government said on Wednesday it had arrested a group of 22 militant Islamists planning bomb attacks on tourist targets, a gas pipeline near Cairo and Muslim and Christian religious leaders (Reuters)


Egypt sectarian clash blamed on poor state services | Recent clashes between Coptic Christians and Muslims in Alexandria were due to a sectarian divide in Egypt that is widening because the state does little to promote a sense of nationhood, Copts and analysts said on Thursday (Reuters)


Coming together | What lessons can we draw from the controversy over the Alexandrian sectarian crisis? (Gamal Nkrumah, Al-Ahram, Egypt)


Domestic threats to peace | Sectarian clashes in Alexandria sound an alarm it is perilous to ignore (Ibrahim Nafie, Al-Ahram, Egypt)


Open sores | Much of the Coptic Christian community is seething with rage and frustration (Editorial, Al-Ahram, Egypt)


Egypt's Copts speak up | This morning, in front of the United Nations, demonstrators will gather in support of the Coptic Christians of Egypt, and the action is coming none too soon, if you ask me (Youssef Ibrahim, The New York Sun)


Mob forces church to shut down in Bogor | Police were at the scene during the incident, but did not stop the angry mob (The Jakarta Post, Indonesia)


Eritrea targeting 'permitted' churches | The numbers of Christians being imprisoned in Eritrea because of their faith is increasing as the government cracks down harder on churches, human rights groups have said (BBC)


Envoy blames church for Papua unrest | Indonesia's recalled ambassador, Hamzah Thayeb, has accused Australia's Uniting Church of fomenting unrest in Papua (The Sydney Morning Herald)


Indonesia accuses Uniting Church of supporting Papuan refugees | The Uniting Church in Australia has today rejected the claims (The World Today, Australian Broadcasting Corp.)


Bishop slammed for apology | A cabinet official yesterday criticized Bishop Antonio Tobias for regretting in behalf of the Catholic Church having joined the Edsa 2 movement in 2001 that ousted President Joseph Estrada from power, saying it was a political statement not worthy of a religious leader (Manila Standard, Philippines)


Apologize, please | In future, may we suggest that his excellency, the good Bishop Antonio Tobias, consult the members of his Church before offering an apology in their name (Jojo Robles, Manila Standard, Philippines)


Churches condemn Solomons unrest | Church leaders across the Solomon Islands have condemned the violence that has shaken the religiously devout country, calling on locals to refrain from further rioting and looting.(AAP, Australia)


Faithful given message of peace | Archbishop Adrian Smith says the firestorm of racial hatred that consumed Chinatown and sent hundreds of Chinese fleeing the Solomons could have been far worse (The Age, Melbourne, Australia)


Religion new Jamaican tourism lure | But it's not Rastafarianism, the homegrown messianic sect that sprang up in the 1970s from the Ethiopian Orthodox Church. Instead, the Jamaican Tourism Board is trying to interest evangelical and charismatic Christian groups to visit the island (The Washington Times)


A thrust towards theocracy? | The Jamaican Prime Minister ought to be careful, in celebrating her spiritual rebirth, not to create grist for her own demise. This caveat does not seek to diminish the role religion could play as a cohesive force, in helping to achieve social advancement (Christopher Burns, Trinidad and Tobago Express)


Religious debate heats up | Don't judge me, says Prime Minister; Mayor warns against mixing God with politics (The Jamaica Observer)


We need action, not prayers alone, say religious leaders | Kenya needs action not only prayers, religious leaders said yesterday - even as they led services nationwide in response to the President's plea for a day of unity through reflection and prayer (The Nation, Kenya)


Time to repent after prayers, Kibaki is told | Mwingi North MP Kalonzo Musyoka yesterday urged President Kibaki to live up to what he termed the spirit of true repentance after Friday's national prayers (The Nation, Kenya)


Prayers alone won't help | We need to address the real cause of the upheavals instead of taking refuge in sanctimony (Editorial, The Nation, Kenya)


What the state did not pray for | After Friday's prayers, the Opposition has been getting worked up and excited about the Government repenting and making atonement for all sorts of sins. You might think the Kibaki administration was all sin and little more (Kwamchetsi Makokha, The Nation, Kenya)


Axing of faith schools rejected | Teachers have rejected calls to end state funding for faith schools (BBC)


'Creationist' school is praised | A college that is sponsored by a fundamentalist Christian foundation has been rated as an outstanding school by Ofsted - for the third time in a row (BBC)


Georgia plans for Bible classes:
See you in Bible class | Georgia plans to teach the Good Book in schools (Newsweek)


Georgia okays Bible classes, commandments | Georgia became what is believed to be the first state to offer government-sanctioned elective classes on the Bible, with Gov. Sonny Perdue signing a bill into law Thursday (Associated Press)


Student Bible study group wins ruling | A federal judge has ruled in favor of a Plano middle school Bible study group that accused the Plano school district of religious discrimination in a suit filed last month (Ft. Worth Star-Telegram, Tex.)


Bible study groups win battle for rights | Trustee vote changes policy, should end clash with law firm (The Dallas Morning News)


Free speech sought on homosexuality:
S.C. won't hear kindergarten Jesus poster case:
Justices decline church-state case involving a kindergarten poster of Jesus | The case now goes back to a district court for further examination of whether a school's decision not to display a student's artwork amounted to discrimination (The New York Times)


Court won't hear fight over Jesus poster | The Supreme Court refused Monday to get involved in a fight over a Jesus poster that a New York kindergarten student submitted for a class assignment on ways to save the environment (Associated Press)


Parents rip school over gay storybook | Lesson reignites clash in Lexington (The Boston Globe)


State widens teaching of abstinence | Romney gives faith group sex ed grant (The Boston Globe)


Mass. Gov. Romney expands sex-abstinence programs | Massachusetts Gov. Mitt Romney unveiled an expansion of teenage sexual-abstinence programs in the heavily Democratic state on Thursday, polishing his conservative credentials ahead of a possible White House run (Reuters)


Campus renamed for Dutch theologian Abraham Kuyper | Grand Rapids has another college sporting a theologian' name (The Grand Rapids Press¸ Mi.)


Public schools have ally in church group | Public education has been under assault for some time from segments of the Christian community (James Evans, The Atlanta Journal-Constitution)


Vandals strike college again | For the second time in a month, racial and ethnic slurs were scrawled across street signs on the Geneva College campus (Beaver County Times, Pa.)


Dissent vs. vandalism | Northern Kentucky University has suspended a tenured literature professor, immediately removing her from teaching four courses, because of her role in the destruction of an anti-abortion display on campus (Inside Higher Ed)


Preachers who harass gays protested | UNR student equates message of hate with that espoused by some rap music artists (Las Vegas Sun)


Christian groups on campus defunded:
A win for anti-bias policies | Federal judge says public university doesn't have to recognize student groups that discriminate (Inside Higher Ed)


University of Wisconsin-Madison cuts funds for Catholic group | Other off-campus groups also face loss of rent, utility money (The Capital Times, Madison, Wi.)


Student-fee funding for Catholic group stirs controversy | Chancellor says the practice violates First Amendment (Associated Press)


Ky. okays funds to college that expelled gay student:
Gays, allies must not be silent | Find your outrage, turn it into action (Christina Gilgor, Lexington Herald-Leader, Ky.)


Baylor students banned from Playboy:
Baylor bars students from posing for Playboy | Baylor Vice President for Student Life Samuel W. Oliver sent an e-mail to women students this week warning that any who "associate" with Playboy would be subject to the university's disciplinary processes (Reuters)


Playboy back at Baylor | Possible sanctions for students could range from a warning to expulsion (Waco Tribune-Herald, Tex.)


Church ponders sexuality | Methodist council to rule on inclusion of gays, lesbians (The Kansas City Star)


Gay ministers come out, risk defrocking | Seventy-five LGBT United Methodist ministers from across the United States have signed a letter to their church leaders wading into the denomination's contentious debate about sexual orientation (Planet Out)


A church asunder | For Episcopalians, faith in the power of compromise was almost doctrinal—until a diocese elected a gay bishop (Peter J. Boyer, The New Yorker)


Gay Methodist ministers plead for acceptance | Dozens of gay and lesbian Methodist ministers have anonymously signed a letter acknowledging their sexuality and calling for further inclusion in the church (Associated Press)


A boy, his 2 mothers and some unlikely support | At the two Catholic high schools Jesse Powers-Patey has attended, his adopted parents have not been treated like "gravely immoral" people, as the church's official position would suggest (The New York Times)


Fla. school official sorry for gay remark | Palm Beach County's school board chairman has apologized for referring to gays and lesbians as a "protected species" (Associated Press)


Religion & homosexuality (non-U.S.):
Bishop's remarks inflame more than gays | Top politicians and Norway's arguably most famous actress continued to lash out at Oslo Bishop Ole Christian Kvarme, after he inflamed gays by suggesting they could change their sexual orientation by consulting a psychiatrist (Aftenposten, Oslo, Norway)


US church leader edges away from gay bishops confrontation | The leader of the US Episcopal church, which is in danger of being expelled from the worldwide Anglican communion for its election of an openly homosexual bishop, has warned parishioners of the diocese of California that they would widen the confrontation it they chose another gay bishop (The Guardian, London)


PCEA re-elects leader with a reform agenda | The Rev Dr David Githii was yesterday re-elected to head the four million-member Presbyterian Church of East Africa, and called on Christians to battle homosexuality (Daily Nation, Kenya)


LDS Church backs marriage amendment | Religious leaders sign the petition that would guard 'traditional' unions (The Salt Lake Tribune)


A religious push against gay unions | Religious leaders hope to revive the groundswell of opposition to same-sex marriage that helped bring many conservative voters to the polls in 2004 (The New York Times)


The looming battle on marriage | A proposed amendment brings to a head for South Carolina the whole simmering debate over what has been popularly termed "gay marriage." (The State, Columbia, S.C.)


Senate to review 'marriage' wording | A Virginia Senate committee said yesterday that it will review the explanation of a homosexual "marriage" amendment set to appear on the November ballot after opponents argued it includes persuasive language (The Washington Times)


AIDS:
Don't portray sex as bad, pastor tips | Advocates of abstinence as a module in the fight against HIV/AIDS have been urged not to portray sex as a bad act (East African Business Week, via AllAfrica.com)


Bearing witness to AIDS | On a continent that considers the disease a curse, HIV-positive clerics in Africa are speaking out and breaking stereotypes (Los Angeles Times)


Vatican to study condoms and AIDS:
On religion and science | Condoms as a 'lesser evil' (Gerald D. Coleman, San Francisco Chronicle)


Christ for the Nations: The Dylan connection | Christ for the Nations Institute is first and foremost a Bible school, but music is a big deal there, too (The Dallas Morning News)


'There's no place I'd rather be' | How does MercyMe avoid temptation on the road? And who are the three people Bart Millard wants to meet in life? (Beliefnet)


Mercy Me doesn't leave room to 'Breathe' | The stadium rock-effect, with its heavy guitars, loud sound and more aggressive tone, draws attention away from the vocals, and there's no real intimacy at all (Associated Press)


MercyMe rocking harder while keeping the faith | On "Coming Up to Breathe," the band rocks harder than ever before, but not enough to alienate the fans who made it a core act on Christian adult contemporary radio (Reuters)


Moved by the spirit | Tucked away in Oak Cliff, Christ for the Nations Institute extends its Pentecostal reach worldwide (The Dallas Morning News)


The world's spiritual awakening, from gods to God | Karen Armstrong examines humanity's spiritual evolution from nature worship to an inward-looking, compassionate approach to life. William Grimes reviews The Great Transformation (The New York Times)


Doomsday machine | How moral and political panics in the 1970's pushed the country rightward. Jacob Heilbrunn reviews Decade of Nightmares, by Philip Jenkins (The New York Times)


The day the social gospel died | William Sloane Coffin Jr. was its most articulate spokesman (Marvin Olasky, World)


Misplaced sympathies | Darwin isn't the enemy. Conservatives do no service to their cause by treating him as one (Kevin Shapiro, The Wall Street Journal)


Harnessing power of prayer | A growing faith-healing movement seeks to comfort, not convert, the sick (The Washington Post)


Evolution's case evolves | You can see evolution's work in the fins of the ancient Tiktaalik or the stress hormones of the venerable lamprey fish. You can also look in the mirror. (Ann Gibbons, Los Angeles Times)


Seattle's Discovery Institute scrambling to rebound after intelligent-design ruling | Even some critics of evolution have taken the ruling as a sign that the fight to bring intelligent design into public schools may be over (The Seattle Times)


MTV 'Popetown' ad draws complaint | A German conservative leader said Tuesday he has filed a complaint with prosecutors accusing music channel MTV of disparaging Christianity in an ad for its Vatican parody cartoon "Popetown," which depicts the pope as a pogo-stick riding brat (Associated Press)


God or the Girl? | The Catholic Church does reality TV (Louis Wittig, The Weekly Standard)


Entertainment groups target TV indecency | A coalition of entertainment groups will launch a $300 million educational campaign next month to urge parents to control what their children watch on television, the groups said Monday (Associated Press)


The issue of religion and TV | In an a la carte world, niche channels would be the most vulnerable, begging the question: Would religion channels die? (Houston Chronicle)


Steaua boss asks God for help against Middlesbrough | Steaua Bucharest's owner paid a two-day visit to monasteries in Greece's Athos Mountains to pray for victory against the team (Reuters)


The Redds share passions for faith and basketball | After signing a six-year, $91 million contract to stay in Milwaukee, Michael Redd fulfilled a childhood promise by helping to purchase a church for his father, the Rev. James W. Redd (The New York Times)


James has his followers | The fine line between religion and sports has not only be crossed, but obliterated, when it comes to LeBron James (Mike Wise, The Washington Post)


A strange arena for religious expression | Arena football's "faith night" trivializes religion and goes far beyond the cutesy (or sometimes dire) billboards and bumper stickers as sound-byte spirituality (David Prather, The Huntsville Times, Ala.)


Religious jerseys fit poorly in pro games | We have suspected it all along, and now it has been confirmed: The Birmingham Steeldogs are God's Team (Rob Daniels, News-Record, Greensboro, N.C.)


Related Elsewhere:
Suggest links and stories by sending e-mail to weblog@christianitytoday.com
See our past Weblog updates:
April 19 | 12 | 11 | 7
March 31 | 30 | 28
March 24 | 24 | 23 | 21
March 17 | 16 | 15
March 10b | 10a | 8
March 3 | 2 | 1
February 24 | 23 | 22 | 21
Weblog
Launched in 1999, Christianity Today's Weblog was not just one of the first religion-oriented weblogs, but one of the first published by a media organization. (Hence its rather bland title.) Mostly compiled by then-online editor Ted Olsen, Weblog rounded up religion news and opinion pieces from publications around the world. As Christianity Today's website grew, it launched other blogs. Olsen took on management responsibilities, and the Weblog feature as such was mothballed. But CT's efforts to round up important news and opinion from around the web continues, especially on our Gleanings feature.
Ted Olsen is Christianity Today's executive editor. He wrote the magazine's Weblog—a collection of news and opinion articles from mainstream news sources around the world—from 1999 to 2006. In 2004, the magazine launched Weblog in Print, which looks for unexpected connections and trends in articles appearing in the mainstream press. The column was later renamed "Tidings" and ran until 2007.
Previous Weblog Columns: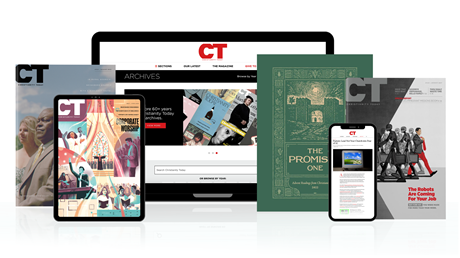 Annual & Monthly subscriptions available.
Print & Digital Issues of CT magazine
Complete access to every article on ChristianityToday.com
Unlimited access to 65+ years of CT's online archives
Member-only special issues
Subscribe
Take the Weblog Challenge
Take the Weblog Challenge