LET US KNOW, let us press on
to know the Lord; his appearing is as sure as the dawn.
Hosea 6:3 (NRSV)
I OWE the Lord a morning song
of gratitude and praise,
for the kind mercy he has shown
in lengthening out my days.
He kept me safe another night;
I see another day.
Now may his Spirit, as the light,
direct me in his way.
Amos Herr, "I owe the Lord a morning song"
LORD GOD, almighty and everlasting Father, you have brought us in safety to this new day. Preserve us with your mighty power that we may not fall into sin, nor be overcome by adversity, and in all we do, direct us to the fulfilling of your purpose through Jesus Christ our Lord. Amen.
Book of Common Prayer
NOW ANOTHER day is breaking;
sleep was sweet, and so is waking.
Dear Lord, I promised you last night
never again to sulk or fight.
Such vows are easier to keep
when a child is sound asleep.
Today, O Lord, for your dear sake,
I'll try to keep them when awake.
Ogden Nash, excerpted by David Yount in Breaking Through God's Silence
I OWE my Lord a morning song,
for Jesus rose at dawn;
he made death die and would not lie,
that others might live on.
John L. Bell, "I owe my Lord a morning song"
LORD, thank you for this beautiful day!
Please help me to see the beauty
in every day, and help others to see the beauty
in your wonders.
Guide me through perils
toward your brilliant light.
Amen.
Kate E. Ritger, Prayer in All Things
AWAKE IN THE MORNING, and the first thing you do, thank God for it, even if you don't feel particularly happy about the day which is to come. … Come to God again with two convictions. The one is that you are God's own, and the other is that this day is also God's own; it is absolutely new, absolutely fresh. … This day is blessed by God, it is God's own, and now let us go into it. You walk in this day as God's own messenger; whomever you meet, you meet in God's own way.
Anthony Bloom, Beginning to Pray
O, OUR DEAR GOD,
we have just gotten up from our bed,
and we ask you kindly:
Let us be reverent before you—
reverent and obedient—
and let us love one another.
Jan Karafiát, Broucci
WHO CAN TELL what a day may bring forth? Cause me, therefore, gracious God, to live every day as if it were to be my last, for I know not but that it may be such. Cause me to live now as I shall wish I had done when I come to die.
Thomas à Kempis, The Imitation of Christ
Related Elsewhere:
Books of Common Prayer from around the world are available online from the Anglican Resource Collection.
Article continues below
May websites offer morning prayer liturgies online. One of the better sites is missionstclare.com.
Hosea 6:3 is available at Biblegateway.com.
Prayer in All Things, Beginning to Pray, and The Imitation of Christ are available from Christianbook.com and other book retailers.
Earlier articles on fixed-hour prayer include:
Learning the Ancient Rhythms of Prayer | Tired of living on ad hoc conversations with God, evangelicals and charismatics are rediscovering the daily office. (Dec. 29, 2000)
The Rise and Fall of the Daily Office | Structured daily prayers can be traced back to the times of David and Daniel. (Dec. 29, 2000)
A Vespers Office | Worship to be observed between 5 and 8 p.m. From Phyllis Tickle's The Divine Hours. (Dec. 29, 2000)
Past Reflections columns include:
Hope (Jan. 16, 2006)
Christmas (Dec. 19, 2005)
Poetry (Dec. 12, 2005)
Grace that Surprises (Oct. 3, 2005)
Friendship (August 31, 2005)
Wisdom That Sticks (August 8, 2005)
His Body, His Blood (June 08, 2005)
On Baptism (April 25, 2005)
Discovering God (April 07, 2005)
Welcoming the Stranger (Feb. 22, 2005)
The Church and Mission (Feb. 02, 2005)
The Church (Jan. 11, 2005)
Word Made Flesh (Dec. 20, 2004)
The Way of Salvation (Nov. 08, 2004)
Sin and Evil (Oct. 18, 2004)
Teaching and Learning (Sept. 15, 2004)
Wisdom for the Road (Aug. 02, 2004)
Discipleship (July 13, 2004
Conversion (June 09, 2004)
The Outpoured Spirit (May 03, 2004)
He Is Risen (April 08, 2004)
Jesus' Cross (March 15, 2004)
Lenten Inventory (Feb. 25, 2004)
Following the Star (Dec. 23, 2003)
Advent (Dec. 10, 2003)
Wisdom for Ministry (Nov. 10, 2003)
Discerning God's Will (Oct. 6, 2003)
Work and Vocation (Sept. 17, 2003)
Bumper Sticker Theology (July 30, 2003)
Songs from the Soul (July 8, 2003)
Have something to add about this? See something we missed? Share your feedback here.
Our digital archives are a work in progress. Let us know if corrections need to be made.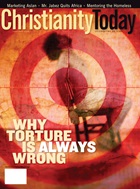 This article is from the February 2006 issue.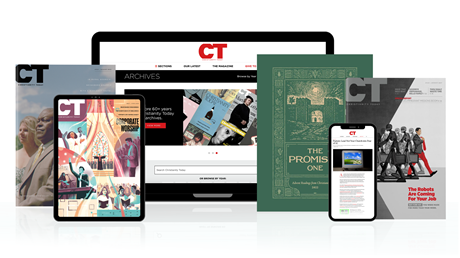 Annual & Monthly subscriptions available.
Print & Digital Issues of CT magazine
Complete access to every article on ChristianityToday.com
Unlimited access to 65+ years of CT's online archives
Member-only special issues
Subscribe
Morning Prayers
Morning Prayers