Evangelical scholar looks at old war sermons
Charles Marsh, professor of religion at the University of Virginia and author of The Beloved Community: How Faith Shapes Social Justice, from the Civil Rights Movement to Today and God's Long Summer, has an op-ed in today's New York Times, in which he says American evangelicals "have amassed greater political power than at any time in our history. But at what cost to our witness and the integrity of our message?"
To illustrate how evangelicals sold out to the man, he "reread the war sermons delivered by influential evangelical ministers during the lead up to the Iraq war."
"As if working from a slate of evangelical talking points," evangelicals—he names Franklin Graham, Marvin Olasky, Charles Stanley, Tim LaHaye, and Jerry Falwell—claimed "the American invasion of Iraq would create exciting new prospects for proselytizing Muslims. … The single common theme among the war sermons appeared to be this: Our president is a real brother in Christ, and because he has discerned that God's will is for our nation to be at war against Iraq, we shall gloriously comply."
This view, Marsh says, is in marked contrast to the perspective of John Stott. The theologian and minister did not speak for or against the war, but told Marsh recently, "Privately, in the days preceding the invasion, I had hoped that no action would be taken without United Nations authorization. I believed then and now that the American and British governments erred in proceeding without United Nations approval."
Marsh longs for the evangelical unity of the 1974 Lausanne Covenant, mostly written by Stott.
"The signatories affirmed the global character of the church of Jesus Christ and the belief that 'the church is the community of God's people rather than an institution, and must not be identified with any particular culture, social or political system, or human ideology.'" Marsh wrote. Now, he says, we American evangelicals "have increasingly isolated ourselves from the shared faith of the global church, and there is no denying that our Faustian bargain for access and power has undermined the credibility of our moral and evangelistic witness in the world."
"No denying" may be a bit strong—one imagines that those named by Marsh would deny his statement. But is Lausanne's unity and message really the best touchstone here? After all, the Lausanne Covenant was a statement about general principles. It had nothing specific to say about American involvement in Vietnam (the war had ended just one year earlier) or about the U.S. president breaking trust with the American people in the Watergate scandal.
It's also worth noting that several prominent evangelical leaders from the global church (including Peru's Samuel Escobar and Argentina's René Padilla) criticized the Lausanne Covenant for not saying enough about Christian social responsibility and the need for the church to preach liberation from political captivity. They sounded an awful lot like Marsh, in fact.
And is Stott the best evangelical to promote in contrast to "liberation (of Iraq) theologians" like Falwell and LaHaye? After all, silence in the face of what one perceives as injustice is hardly laudable. John Stott's fellow evangelical Anglican theologian/pastor Tom Wright, by contrast, spoke directly against the war in very strong terms.
Marsh is unlikely to change many minds with this piece. As he himself notes, "The Hebrew prophets might call us to repentance, but repentance is a tough demand for a people utterly convinced of their righteousness."
So are we left with a stalemate? Not necessarily. The pro-war evangelicals have a very hard task ahead of them, because their arguments for the war haven't held up. Those who argued that war was justified because it would lead to greater religious freedom in the country now need to answer whether the war was unjustified because it has brought less religious freedom to the country.
Others are in a greater bind. One Christian leader told Christianity Today in September 2002 that two requirements must be met to justify an attack on Iraq: irrefutable evidence connecting Hussein to the attacks of September 11 and proof that Iraq's weapons of mass destruction are being prepared for imminent use.
"If you fulfill these, an attack is justified," this leader told Christianity Today. "The president has an obligation to communicate why he is asking our nation to sacrifice, as well as why he is willing to sacrifice combatants and innocents on the other side."
That person was Robert McGinnis, vice president of policy for Family Research Council, one of the most conservative religious groups in Washington. Other evangelical leaders also told us that proving connections with the 9/11 attacks was imperative to attacking Iraq. Many others in Christianity Today's survey of evangelical opinion before the war had much stricter standards.
"If all we do is blast out a regime and conditions of long-term civil war are all that's left, then the operation can hardly be justified," said the Center for Public Justice's Jim Skillen—whom no one would confuse with Jim Wallis. "Are the countries around Iraq prepared to work with us to make sure a better regime gets in, and not a worse one? Does the U.S. have the support of allies to do that while rebuilding Afghanistan? There has to be an agreement and not a presumption that the U.N. will pick up the work."
If he merely reads the paper he's writing for, it's little wonder that Marsh might think he's a lone evangelical voice speaking against the war. But he's far from it, and evangelical opposition to the war has been there from the earliest days of the debate.
The hidden story, though, is that John Stott really does represent the majority in this story. He's an evangelical who had his reservations about going to war with Iraq with so few allies, remained silent, and is speaking up now that the war isn't going well. A March 2003 survey from the Pew Forum on Religion and Public Life asked those who attend church at least once per month whether their clergy had talked about the war. Only one in five said that their clergy had taken a position—7 percent in favor of the war, 14 percent against.
Weblog is sympathetic to Marsh's assertion that evangelicals' "Faustian bargain for access and power has undermined the credibility of our moral and evangelistic witness in the world." But cherry picking quotes from pro-war evangelical leaders to prove that point at the cost of being factually inaccurate about actual evangelical beliefs about the war only further undermines evangelical credibility and witness.
More articles
War and terrorism:
Patriarch of Antioch accuses the USA of destroying interreligious peace in Iraq | The military intervention of the USA and their allies in the life of Iraq has destroyed the interreligious peace throughout the region, Patriarch Ignatios of Antioch and All the East believes (Interfax, Russia)


Praying for our colleague facing death in Iraq | I don't know Jill Carroll. In fact, I'd never seen her byline or read anything she'd written before last weekend. But she is my sister, my colleague, a fellow idealist who believes that what she writes might have the power to make the world a better place (Cathleen Falsani, Chicago Sun-Times)


Violence at Ethiopian Christian festival:
Ethiopian police fire on demonstrators | A witness said the demonstrators were denouncing the head of the Ethiopian Orthodox Church for being aligned with the ruling party (Associated Press)


Ethiopia festival turns violent | At least one person has been killed and 22 wounded after violence broke out at an Ethiopian Christian festival (BBC)


Assisted suicide:
Suicide and states' rights | Americans from different regions often have different values and approaches to problems. A state's voters should be making the difficult decisions about the medical care in their state -- not an unelected federal official, such as a U.S. attorney general (Editorial, The Providence Journal, R.I.)


Bad law, good ruling | Let Oregonians decide assisted suicide's morality (E. J. Dionne Jr., The Washington Post)


Abortion and Supreme Court:
Roe v. Wade forever | Legalized abortion's 33rd anniversary (Ronald Bailey, Reason)


Hypocritic oath | Scalia on abortion vs. Scalia on assisted suicide (William Saletan, Slate)


One-sided silence | However clever, Alito's ambiguity on abortion harms the nation (Joel Belz, World)


Politics:
Church and state:
U.S. seeks dismissal of bias suit | Air Force doesn't have policy on evangelism, motion says (Associated Press)


Texas convention wins tax-exempt status challenge | Reversing an earlier decision, officials in Tarrant County, Texas, Dec. 21 said that the Southern Baptists of Texas Convention's office and property in Grapevine, Texas, would enjoy tax exempt status (Baptist Press)


Evolution:
Class over: Anti-evolution forces lose another round | Labeling a course 'philosophy' to sneak intelligent design into the curriculum doesn't relieve school district from presenting material objectively — using the best scholarship and assigning readings representing a range of views (Charles C. Haynes, First Amendment Center)


Catholics and evolution: Interview with Cardinal Christoph Schönborn | Are Christian values compatible with Darwinism? A Catholic leader sets out his views on evolution and intelligent design (Beliefnet)


Textbook case | The ID debate follows the model of past scientific revolutions (Gene Edward Veith, World)


Entertainment:
PC president bans The Vagina Monologues on campus | The Rev. Brian J. Shanley, Providence College's new president, calls the popular play "morally objectionable" and says there are better ways to work toward preventing violence against women (The Providence Journal, R.I.)


Call for Da Vinci 'adult rating' | The organisation says children should be protected from what it calls "insidious" lies about Catholicism (BBC)


A prickly TV topic: a priest's life | The idea that priests, like all men, are not perfect might seem like a tame one. But NBC's effort to translate the premise into a TV series has brought protests that the show is anti-Christian. An interview with Jack Kenny, the creator and executive producer of The Book of Daniel (Fresh Air, NPR)


End of the Spear:
Church life:
Church quits denomination over gay marriages | Members of Pilgrim United Church of Christ voted by the slimmest of margins last night to leave the denomination, becoming the 66th to withdraw from the UCC since it approved a nonbinding resolution last summer endorsing same-sex marriage (The Toledo Blade, Oh.)


Texas Baptists disaffiliate church:
Local church ousted for alleged violation | The Southern Baptists of Texas Convention's executive board has voted to disaffiliate a Baytown church for violating a constitutional provision concerning congregations that affirm, approve or endorse homosexual behavior (The Baytown Sun, Tex.)


Church removed from convention over gay ministry (Associated Press)


SBTC removes church over homosexuality controversy | The Southern Baptists of Texas Convention's executive board has acted unanimously to disaffiliate a church for violating the convention's constitutional provision concerning churches that "affirm, approve, or endorse homosexual behavior" (Baptist Press)


Catholicism:
No reputation remake planned for Judas: Vatican | Despite reports to the contrary, the Roman Catholic Church is not planning to rehabilitate Judas Iscariot, the biblical figure who betrayed Jesus and gave his name to generations of traitors, a Vatican official has said (Reuters)


Catholics ignoring Vatican edicts, survey shows | Nearly 90% of Italians call themselves Catholics, but more than two-thirds favour legal recognition for unmarried couples, according to a study that sociologists say is evidence that Italians tailor their religion to their lifestyles (Associated Press)


Silence that speaks volumes | Pope Benedict XVI is said to believe that Islam is incapable of reform (The Washington Times)


D.C. diocese will open 1st new school since '51 | It's part of an effort to serve low-income families and an influx of immigrants in the metropolitan area (The Washington Times)


Crime:
Sex and marriage:
Business:
The futility of boycotts | Planning to boycott Microsoft? Get in line (Geov Parrish, Seattle Weekly)


Broadcasters hope java and Jesus make a heavenly brew | It's an espresso stand and a Christian radio station! (Beth Bragg, Anchorage Daily News)


Israel and Jews:
Evangelical leader has no more ties to park plans | Jay Sekulow , an evangelical leader who is chief counsel of the American Center for Law and Justice, is no longer involved in an Israeli proposal to create a Christian tourism center in Galilee, an ACLJ spokesman said (The Virginian-Pilot)


Supersede me | Evangelicals rethink how to convert Jews (Mark Oppenheimer, Slate)


Books:
The passion of C.S. Lewis | Alison Lurie on Narnia and its historians (The New York Review of Books)


Not everyone is a believer in faith-based diets | Medical experts warn of false diet prophets (World News Tonight, ABC News)


Ready for his close-up? | Professor's book, mostly but not entirely flattering, looks at T.D. Jakes' rise to fame (The Dallas Morning News)


Other stories of interest:
Genocide in slow motion | Nicholas D. Kristof on Darfur (The New York Review of Books)


Italian court told to prove Jesus existed | Lawyers for a small-town parish priest have been ordered to appear in court next week after the Roman Catholic cleric was accused of unlawfully asserting what many people take for granted: that Jesus Christ existed (Associated Press)


Related Elsewhere:
Suggest links and stories by sending e-mail to weblog@christianitytoday.com
See our past Weblog updates:
January 19 | 18 | 17
January 13b | 13a | 10
January 6 | 5 | 4
December 28 | 21 | 16 | 14 | 12
December 9 | 7 | 6
December 2b | 2a | November 30
November 23 | 22 | 21
Weblog
Launched in 1999, Christianity Today's Weblog was not just one of the first religion-oriented weblogs, but one of the first published by a media organization. (Hence its rather bland title.) Mostly compiled by then-online editor Ted Olsen, Weblog rounded up religion news and opinion pieces from publications around the world. As Christianity Today's website grew, it launched other blogs. Olsen took on management responsibilities, and the Weblog feature as such was mothballed. But CT's efforts to round up important news and opinion from around the web continues, especially on our Gleanings feature.
Ted Olsen is Christianity Today's executive editor. He wrote the magazine's Weblog—a collection of news and opinion articles from mainstream news sources around the world—from 1999 to 2006. In 2004, the magazine launched Weblog in Print, which looks for unexpected connections and trends in articles appearing in the mainstream press. The column was later renamed "Tidings" and ran until 2007.
Previous Weblog Columns: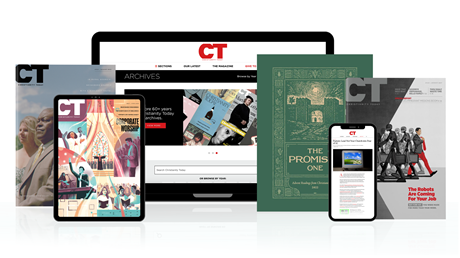 Annual & Monthly subscriptions available.
Print & Digital Issues of CT magazine
Complete access to every article on ChristianityToday.com
Unlimited access to 65+ years of CT's online archives
Member-only special issues
Subscribe
Charles Marsh on Evangelicals' 'Mistaken Loyalty'
Charles Marsh on Evangelicals' 'Mistaken Loyalty'