On September 8, 1947, C. S. Lewis's stature as an apologist was established when he appeared on the cover of Time magazine. The accompanying article declared him to be "one of the most influential spokesmen for Christianity in the English-speaking world." The intervening years have only added to the belief that Lewis was the greatest apologist of the 20th century, and millions of lives have been changed by reading his Mere Christianity.
In 1797, 150 years before Lewis appeared on the cover of Time, the English anti-slavery reformer William Wilberforce published the Mere Christianity of his time: A Practical View of Christianity. As with Lewis' book, A Practical View eventually sold millions of copies. Like Lewis, Wilberforce had a gift for setting forth what biographer John Pollock calls "the intellectual heart of Christianity."
Wilberforce asked unbelievers "one plain question" that was hard to dismiss. It led many readers to reconsider their preconceptions about Christianity.
If Christianity be not in [your] estimation true, yet is there not at least a presumption in its favour sufficient to entitle it to a serious examination; from its having been embraced, (and that not blindly and implicitly, but upon full inquiry and deep consideration,) by Bacon and Milton, and Locke and Newton, and much the greater part of those, who, by the reach of their understandings, or the extent of their knowledge, and by the freedom of their minds, and their daring to combat existing prejudices, have called forth the respect and admiration of mankind?
Such questions had a profound effect on the Scottish philosopher Thomas Chalmers. "About the year 1811," he wrote, "I had Wilberforce's View put into my hands, and, as I got on in reading it, I felt myself on the eve of a great revolution in all my opinions about Christianity." Many years later, Chalmers expressed his profound indebtedness to Wilberforce: "May that book which spoke so powerfully to myself, and has spoken powerfully to thousands, represent you to future generations, and be the instrument of converting many who are yet unborn."
Chalmers' words proved prescient. In 1798, A Practical View made its way to a young curate just assuming his ministerial duties on the Isle of Wight: Legh Richmond. After reading it, he "sought mercy at the cross of the Saviour."
Richmond later wrote The Dairyman's Daughter, one of the highest-selling works of the 19th century. It told the story of Elizabeth Wallbridge, a young woman of deep faith who faced the prospect of death with great fortitude. By 1849, over 4 million copies, in 19 languages, had been sold. One copy had a profound effect on the young Queen Victoria, who made a pilgrimage to Elizabeth Wallbridge's grave.
A tract for his friends
The genesis of A Practical View is compelling. In 1789, when the French Revolution began, Wilberforce wished to write a small "tract" that would set out the first principles of his faith. Busy as he was as a member of Parliament, he felt he would have little time to come alongside his friends in the House of Commons, as he longed to, to explain how Christianity had worked what he called "the great change" in his life. This tract would do collectively what he could not hope to do with each of his friends one by one: explain why he had embraced Christianity.
Wilberforce, like C. S. Lewis, took some of his cues from another writer who lived in revolutionary times: the Puritan Richard Baxter, who was the first to write about "mere Christianity." Wilberforce repeatedly cited Baxter. He classed Baxter "among the brightest ornaments of the church of England," and considered his works "a treasury of Christian wisdom."
Slowly, arduously, Wilberforce snatched whatever time he could during parliamentary recesses to work on his book. At times he despaired of ever finishing it. But his effort was amply rewarded. When A Practical View was published in early April 1797, it took London by storm. Everyone, it seemed, wanted to read what was then unheard of: a work of apologetics by a politician.
Eminently rational in the truth-claims it advanced, A Practical View was anything but dry and dull. Like Lewis, Wilberforce had an ability to cogently engage the arguments advanced by those opposed to Christianity. He was then able, as was Lewis, to deftly and decisively turn the tables. Yet he did so with an ever-present charity.
In five days, A Practical View's initial print run of 500 copies was gone. It went through five editions in six months; and was eventually translated into several languages. It exercised a profound influence over the late 18th and early 19th centuries. Historian Sir Leslie Stephen, father of the novelist Virginia Woolf, called A Practical View the manifesto of the evangelical movement.
In later years, Wilberforce could recall no more touching instance of the book's reception than what it meant to Edmund Burke when he received a copy shortly before his death. Burke, one of the greatest political theorists in history, spent much of the two last days of his life having A Practical View read to him. Near the end, he summoned his physician Dr. Laurence, and said: "Tell Wilberforce that I have derived much comfort from it, and that if I live I will thank him for having sent such a book into the world."
Related Elsewhere:
A Practical View of Christianity is available from Amazon.com and other book retailers.
More Christian history, including a list of events that occurred this week in the church's past, is available at ChristianHistory.net. Subscriptions to the quarterly print magazine Christian History & Biography are also available.
Previous Christian History Corners include:
Erasmus's Revolutionary 'Study Bible' | The spiritual father of so many English Reformers died at the hands of the church he refused to leave. (Jan. 13, 2006)
Campus Ministry Cambridge Style | The roots of InterVarsity and other evangelical college clubs (Jan. 6, 2006)
Dorothy Sayers: "The Dogma Is the Drama" | An interview with Barbara Reynolds. (Dec. 16, 2005)
Sharing Stories from the Heart | The lessons of history are fair game for use today. (Dec. 9, 2005)
Eat, Drink, and Relax | Think the Pilgrims would frown on today's football-tossing, turkey-gobbling Thanksgiving festivities? Maybe not. (Nov. 18, 2005)
Is It Wrong-Headed to Translate the Gospel for Culture? | Christian History Corner takes on the Christ and culture debate. (Oct. 28, 2005)
Old Words, Vibrant Faith | Christian pop/rock band Jars of Clay explains why the church needs more Redemption Songs. (Oct. 21, 2005)
J.S. Bach: For the Glory of God | Such humility is exceedingly rare among those who have gained worldwide fame (Oct. 14, 2005)
Bringing Peace to Paradise | The wave of the future needs the wisdom of the past (Oct. 7, 2005)
Emergents, Meet Saints! | The wave of the future needs the wisdom of the past (Sept. 30, 2005)
From Mutual Aid to Global Action | How the Anabaptist emphasis on practical acts of love led a tightly knit enclave to reach out to the world. (Sept. 23, 2005)
The Trailblazer | The first evangelical missionary to India set out to prove that the gospel does not destroy culture but transforms it from within. (Sept. 16, 2005)
Reformation Reoriented | Mark Noll and Carolyn Nystrom evaluate the Catholic/evangelical detente in Is the Reformation Over? (Sept. 2, 2005)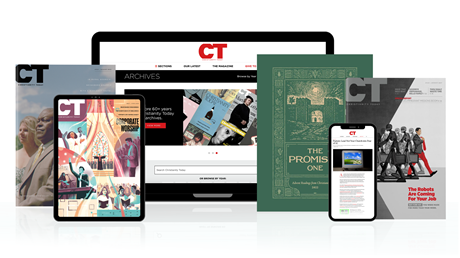 Annual & Monthly subscriptions available.
Print & Digital Issues of CT magazine
Complete access to every article on ChristianityToday.com
Unlimited access to 65+ years of CT's online archives
Member-only special issues
Subscribe
A Politician Explains the Faith
A Politician Explains the Faith