1. Coaches can "take a knee" during student-led, student-initiated prayer, federal judge rules
East Brunswick High School football coach Marcus Borden quit, then rescinded his resignation and sued instead, after the school district issued a rule that "representatives of the school district cannot participate in student-initiated prayer." Yesterday, U.S. District Judge Dennis Cavanaugh supported each of Borden's arguments: that the rule was too vague, too broad, and violated constitutional protections of free speech, free association, and privacy. The school says it won't appeal the ruling. The Home News Tribune rightly notes that the case has "national implications." Weblog has searched in vain for the actual decision, but the newspaper summary suggests that the broad principle is that a coach's joining in student-led, student-initiated prayer is a constitutionally protected sign of respect, not a constitutionally banned sign of endorsement.
2. Jury finds Baptist Foundation of Arizona leaders guilty of fraud, but not theft
Christianity Today has been following the Baptist Foundation of Arizona case ever since the Phoenix New Times raised questions in 1998. The story is coming to a close, but the book isn't shut yet. That's because only part of the book was thrown at former foundation president William Crotts and former legal counsel Thomas Grabinski yesterday. The two men, explains The Arizona Republic, "were accused of shifting bad assets to 'off the books' companies out of sight of the auditors to hide the foundation's considerable losses, while publishing favorable financial statements to keep the investors' money pouring in."
When it was over, more than 11,000 investors were out $570 million. Monday, a jury convicted the two men of three counts of defrauding investors and one count of knowingly operating an illegal operation. That's enough for a maximum penalty of 86 years in prison—but the jury acquitted them of 23 counts of theft. "They got caught up in something they couldn't get out of," one juror told the Republic. Explained another: "We didn't feel it was intentional."
3. What's next for Ralph Reed?
Interesting analysis on why Ralph Reed lost from Time, the magazine that put him on its cover in 1995 as "The Right Hand of God":
Reed used to blame liberals and secularized politicians for treating religious conservatives as uneducated, gullible and easy to lead. He proved that religious voters were a potent force that shouldn't be ignored or condescended to. "People of faith," he once wrote, had become the new "Amos and Andy," and he was determined to push to the center of American politics their "cluster of pro-family issues" so they could attract "a majority of voters." But Reed forgot his own lessons. In the face of incredibly damning evidence, he insisted that he hadn't done anything wrong and that he didn't know he was consorting with a friend nicknamed Casino Jack or taking money from gambling interests. He thought he could convince his base that they shouldn't believe their eyes and ears, that they should trust him instead. In the end, not enough did.
But few are eager to write Reed's political obituary, or anything that suggests that his defeat means anything. Columnists like Cynthia Tucker and Marianne Means are still screaming about "theocracy" and suggesting that Reed really won—his "extremist" views live on in the White House. Whatever. The New York Times echoes Time's analysis that Reed makes a better behind-the-scenes schemer than an actual candidate. "We forget that there is nobody who is able to craft a message for religious conservatives better than Ralph Reed, and the ability to craft a message does not depend on Ralph Reed and how high his bona fides are," Deal Hudson tells the paper. Deal Hudson? What a fascinating person to quote on this story.
4. Who needs Ralph Reed anyway?
Forget Georgia. The Reed story wasn't about Reed anyway—it was about the Abramoff stink. The New Yorker makes a good case that the real place to measure the influence of the Religious Right is Ohio. Want to read Christianity Today's take on Ohio's gubernatorial race? Subscribe now and read all about it in our upcoming November issue.
5. "The Irish equivalent to the Dead Sea scrolls"
A bulldozer in Ireland uncovered a psalter that may be as much as 1,200 years old. National Museum of Ireland director Dr. Pat Wallace said it was "remarkably well preserved." One psalm was immediately legible to scholars, but apparently not to reporters—some say it was Psalm 89, others say Psalm 83. "Nobody has found anything like this for centuries—we are going to find it very hard to find people who know about it. … In my wildest hopes, I could only have dreamed of a discovery as fragile and rare as this. It testifies to the incredible richness of the early Christian civilization of this island and to the greatness of ancient Ireland." I should probably refrain from putting a shameless plug for my book, Christianity and the Celts, somewhere in here.
Quote of the day:
"That may make people feel good for a few hours but (a) it's unlikely to have any impact; and (b) a quick fix will not deliver a sustainable peace in the Middle East."
—A spokesman for Tony Blair, asked to comment about requests by the Archbishop of Canterbury and other religious leaders that he call for a ceasefire in the fighting between Hezbollah and Israel.
More articles
Politics | Ralph Reed | Church & state | Stem-cell research | Life ethics | Abortion | Sexuality | Same-sex marriage | Soulforce protests against Focus on the Family | Homosexuality | Arkansas Episcopal bishop allows same-sex blessings | Israel-Lebanon conflict | Religious response | Iraq | War & terrorism | International affairs | Sports & entertainment | Television | Books | Church life | Evangelism | Catholicism | Religious freedom | Environment | Missions & ministry | Other religions | Sex abuse | Education | Money & business | Crime | Marriage & family | People | History | More articles of interest
Attorneys' fees in church cases to be tested | A bill to prevent the award of attorneys' fees in establishment-of-religion cases brought in federal courts faces its first key test today in Congress (The New York Sun)


San Diego cross becomes legal test case | the case of the Mount Soledad cross could help determine under what circumstances religious symbols are permissible in public places (Associated Press)


Pharmacy board may be rethinking rule change | The state Board of Pharmacy has delayed adopting controversial new rules that would make Washington one of only a handful of states to clearly permit pharmacists to refuse to fill prescriptions for personally held moral reasons (The Seattle Times)


Science versus ethics | Leaving aside the political ramifications of this debate, what are the implications of the dichotomy the president has drawn "between science and ethics" Do scientists carry on their work in one realm, while ethicists do theirs in another? (James Carroll, The Boston Globe)


Gays engaged in a battle for hearts, minds | After a string of setbacks on same-sex marriage, activists are trying to get the public to see that their family matters are much like anyone else's (Los Angeles Times)


Soulforce protests against Focus on the Family:
Bully pulpit | On Saturday, July 22, at 8:30 p.m., Broadway star Billy Porter will protest in song outside Focus on the Family as Soulforce completes its 1,000-watt March, Vigil, and Concert, confronting the antigay bigotry of James Dobson. As Porter prepares for the demonstration, he looks back at how Christianity affected his younger self (The Advocate, gay magazine)


Soulforce march for gays stays calm at Focus | Tents sheltering leaders of Soulforce and Focus on the Family sat just 100 yards apart Saturday night, but they may as well have been on different ends of Colorado Springs (The Gazette, Colorado Springs)


Gay-rights group wants apology from Blackwell | The gay-rights group Equality Ohio called on Republican gubernatorial candidate J. Kenneth Blackwell yesterday to apologize for and retract his statement that homosexuality is a "transgression against God's law" that can be cured (The Columbus Dispatch, Oh.)


Dog's tale is used to get people talking | Norman is a puppy like any other, except he was born mooing instead of barking. Or so goes the plot of a quirky new gay-rights campaign (Los Angeles Times)


Activists put the squeeze on firms | Groups on the left and right pressure companies over social issues, especially gay rights (The Denver Post)


Arkansas Episcopal bishop allows same-sex blessings:
Bishop clears way for gay-couple blessings | The Episcopal bishop of Arkansas has given the green light to congregations that want to explore offering blessing ceremonies for gay couples and has notified clergymen in the diocese that some congregations are ready to do that. (Arkansas Democrat Gazette)


Episcopal bishop in Ark. okays gay blessings | "It is my belief that seeking ways of recognizing and blessing faithful, monogamous same-sex relationships falls within the parameters of providing pastoral concern and care for our gay and lesbian members," wrote the Right Rev. Larry Maze, bishop of the 14,000-member Episcopal Diocese of Arkansas (Associated Press)


Also: A church divided | The battle over ordaining gays and blessing same-sex unions threatens the entire Anglican communion's unity (Michael McAteer, The Toronto Star)


Iraq:
In Iraq, U.S. has new approach to mosque raids | In Ramadi, Iraqi police enter the sites to look for insurgents. They enable Americans to search such holy places without angering Muslims (Los Angeles Times)


An open letter to evangelicals | Why aren't evangelicals irate over the creation of a regime in Iraq that has a constitution legitimating a Shiite theocracy? (Tony Campolo, Huffington Post)


Tsunami-hit Indonesia limps back to normal | Indonesian Christians in tsunami-hit areas prayed in church on Sunday as life slowly limped back to normal six days after the disaster that killed nearly 700 people (Reuters)


More Catholics on N. Ireland police force | More than 20 percent of Northern Ireland's police officers are Roman Catholics, the civilian Policing Board for the British territory said Monday, confirming a rapid increase and an important milestone in wider peacemaking efforts (Associated Press)


Kibaki invites church criticism | President Kibaki yesterday told the Church that it had the right to put his administration under scrutiny on service delivery and the use of national resources (The Nation, Kenya)


Reality TV gets religion | New cable shows, like TLC's popular Shalom in the Home and another debuting tonight, depict religion as an everyday backdrop in everyday lives (St. Petersburg Times, Fla.)


'P.O.V.' on PBS: How missionaries spread the word, and U.S. capitalism | A new P.O.V. documentary bears dual nature of missionaries who bring God and export capitalism (The New York Times)


The Tailenders | A look at the impact of the Global Recording Network, a Christian missionary organization reaching the world's most remote communities and cultures with audio recordings of Bible stories (POV, PBS)


Could new cable regulations hurt Christian broadcasts? You bet | federal regulation could silence Christian ministries (Jerry Falwell, The Free Lance-Star, Fredericksburg, Va.)


Catholic publishers ban 'fallen angel' | One of the world's largest Roman Catholic publishing houses is refusing to sell any Charlotte Church products after she linked the German-born Pope Benedict XVI to the Nazis (The Telegraph, London)


Secretive Opus Dei honours banker who was cut up with a chainsaw | Opus Dei, the conservative Catholic organisation, has paid a rare and fulsome tribute to Gianmario Roveraro, an Italian banker who was found murdered last week, chopped into pieces beneath a motorway bridge (The Times, London)


Christian shepherd shines his light in Islamic pasture | Henri Tessier is a quiet man, a serious man, a man who exudes a certain air of disappointment at the end of a long career as the archbishop of Algeria where he has been witness to what he says is the slow "death of a church." (The New York Times)


Bolivian Church 'must change now' | Bolivian President Evo Morales has called for change within the country's Catholic Church, accusing it of acting as in the "times of the Inquisition" (BBC)


Madhya Pradesh Assembly passes Freedom of Religion Act | Law "prevents religious conversion by force or allurement." (PTI, India)


Roads group slaps down bishop who called gas guzzler cars sinful | An executive from one of the country's leading motoring groups yesterday told religious leaders to "stick to what they know best", after a senior bishop suggested that driving a fuel-hungry car was a "symptom of sin" (The Guardian, London)


It's a sin to fly, says church | The Bishop of London has declared it sinful for people to contribute to climate change by flying on holiday, driving a "gas-guzzling" car or failing to use energy-saving measures in the home (The Times, London)


Baptists warn environmental politics could divide evangelicals | Critics say resolution sounds suspiciously similar to Bush policies (Associated Press)


Complaints prompt change in Mormon exhibit | The text accompanying portraits of Smith and Young offended at least two Washington-area Mormons who got a sneak preview of the display. The text reportedly said Smith was "lynched" and Young was a "tyrant" (Associated Press)


Paganism gaining popularity in prison | Asatru, a pagan religion that some experts say can be interpreted as encouraging violence, is gaining popularity among prison inmates. One of whom is scheduled to be executed this week for killing a fellow prisoner at the foot of an altar (Associated Press)


Plans for Muslim centers stir concerns from neighbors | The old Franciscan High School is in the midst of a conversion, both physical and spiritual (The New York Times)


New sex allegations against Blanco monastery | Christ of the Hills has been the focus of numerous sexual assault claims (Austin American-Statesman, Tex.)


Blanco monks face sex assault charges (San Antonio Express-News, Tex.)


Sex sting nets Elizabethtown prof, department head | The chairman of Elizabethtown College's Religious Studies Department was arrested Thursday after allegedly arranging a sexual encounter with a 12-year-old girl (Lancaster New Era, Pa.)


Also: Religion prof arrested on sex charges (Associated Press)


Paedophile was set free to rape young children in their homes | Police and church decisions come under scrutiny as leaked documents reveal how a minister was left to prey on boys for years despite warnings (The Observer, London)


Retired bishop expresses regret to victims abused by clergy | A retired Catholic bishop yesterday criticized


the church's handling of sex abuse scandals, saying the church has acted more like a "corporate entity" than it should (The Star-Ledger, Newark, N.J.)


N.Y. Franciscan priest charged with abuse of 2 boys in Bay State | A Franciscan priest with ties to Boston and Buzzards Bay was accused yesterday of raping two teenage boys from a Troy, N.Y., parish while on trips to Boston over a 12-year period (The Boston Globe)


Ex-teacher found guilty | Bird faces up to 30 years in prison for having sex with a former student (Pensacola News Journal, Fla.)


Yes, she's guilty, but Janelle Bird deserves a break, too | This trial showed a young woman from a sheltered life making a big mistake with a boy who was younger, yet perhaps more sophisticated than she (Mark O'Brien, Pensacola News Journal, Fla.)


Feeling strains, Baptist colleges cut church ties | The issues vary from state to state, but many include battles over money and control of boards of trustees (The New York Times)


Black clergy pass the mantle of social consciousness | In a new program sponsored by USC, preachers explore their churches' role in a post-civil-rights- movement world (Los Angeles Times)


In praise of voluntary assemblies | Force-fed religion is surely more likely to leave teenagers resentful than guide their path to enlightenment. And yet the law insists schools provide daily worship for all - except for pupils whose parents withdraw them (Editorial, The Guardian, London)


For God's sake, can't my children be taught their own religion? | Modern education is supposed to concentrate on teaching children to argue, to discern, to investigate. Religious studies should be a great forum for all that, but it doesn't happen. What happens is uncritical force-feeding of the rituals, sacred symbols, icons, and texts of Islam, Sikhism and Hinduism, with the heavy message that they should all be respected unquestioningly (Jill Parkin, Daily Mail, U.K.)


The territory of belief: Believe it or not | How can secularist intellectuals — particularly if they are Jewish — analyze predominantly Christian America? Very well, thank you (Alan Wolfe, The Chronicle of Higher Education, sub. req'd.)


How I went to church and became a drug mule | Sandra Chetty says she was persuaded to carry cocaine into Johannesburg by members of a Yeoville church that offered her help when she was at her most desperate (The Star, South Africa)


Till hardships do all of us part | Apparently the 20-year mark is the Heartbreak Hill of marriage (E.J. Graff, The Boston Globe)


A heavy, symbolic load | No married couple is meant to live under a microscope (Eileen McNamara, The Boston Globe)


Can't get enough baby talk | From presidents to celebrities, toddlers prove adorable and useful (Meghan Daum, Los Angeles Times)


The kingdom of heaven: yours for £25 | Morris Cerullo goes to London (The Telegraph, London)


Tug-of-war over priest's body is finally resolved | The body of an eccentric English cleric who spent four decades working to improve the lot of India's lower castes has finally been laid to rest after being exhumed and re-buried three times in a bizarre tug-of-war (The Telegraph, London)


Council lifts ban on controversial US evangelist | Hackney council have rescinded a ban placed on American evangelist and former gangster Nicky Cruz, after he apologised for comments he had made about homosexuality (Ekklesia, U.K.)


1,500-year-old Byzantine port discovered | Archaeologists call it the "Port of Theodosius," after the emperor of Rome and Byzantium who died in A.D. 395. They expect to gain insights into ancient commercial life in the city, once called Constantinople, that was the capital of the eastern Roman, Byzantine and Ottoman empires (Associated Press)


Ireland worker finds ancient psalms in bog | The approximately 20-page book has been dated to the years 800-1000. Trinity College manuscripts expert Bernard Meehan said it was the first discovery of an Irish early medieval document in two centuries (Associated Press)


He who cast the first stone probably didn't | Research shows that while people think of their own actions as the consequences of what came before, they think of other people's actions as the causes of what came later (Daniel Gilbert, The New York Times)


How different are Christian and Islamic fundamentalists? | Both believe in following a text literally and both are capable of violence (Joshua Holland, Alternet)


City may regulate memorials | Officials see a danger in sites dedicated to homicide victims (The Boston Globe)


Related Elsewhere:
Suggest links and stories by sending e-mail to weblog@christianitytoday.com
See our past Weblog updates:
July 21 | 19
July 14 | 13 | 12b | 12a | 10
July 7 | 6 | 5 | 3
June 29b | 29a | 28
June 23 | 22 | 21
June 16 | 15 | 14 | 13b | 13
June 9 | 8 | 7 | 6
Weblog
Launched in 1999, Christianity Today's Weblog was not just one of the first religion-oriented weblogs, but one of the first published by a media organization. (Hence its rather bland title.) Mostly compiled by then-online editor Ted Olsen, Weblog rounded up religion news and opinion pieces from publications around the world. As Christianity Today's website grew, it launched other blogs. Olsen took on management responsibilities, and the Weblog feature as such was mothballed. But CT's efforts to round up important news and opinion from around the web continues, especially on our Gleanings feature.
Ted Olsen is Christianity Today's executive editor. He wrote the magazine's Weblog—a collection of news and opinion articles from mainstream news sources around the world—from 1999 to 2006. In 2004, the magazine launched Weblog in Print, which looks for unexpected connections and trends in articles appearing in the mainstream press. The column was later renamed "Tidings" and ran until 2007.
Previous Weblog Columns: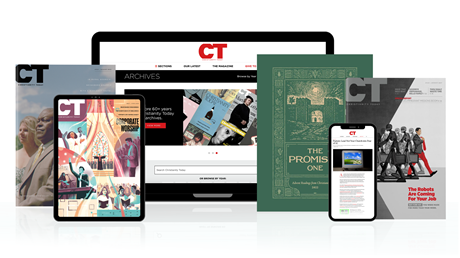 Subscribe to Christianity Today and get access to this article plus 65+ years of archives.
Home delivery of CT magazine
Complete access to articles on ChristianityToday.com
Over 120 years of magazine archives plus full access to all of CT's online archives
Subscribe Now
U.S. Court Says Coach Can Pray With PlayersPlus: Baptist Foundation of Arizona leaders convicted (a bit), 1000-year-old Psalter found in an Irish bog, Ralph Reed's future, and other stories from online sources around the world.
U.S. Court Says Coach Can Pray With PlayersPlus: ...