The atmosphere is strained at the Episcopal Church's 75th General Convention, which began its first legislative day on Tuesday and continues through next Wednesday in Columbus, Ohio.
Sharp debates over homosexual ordination and marriage threatened to split the denomination three years after the openly gay Gene Robinson became bishop of New Hampshire. Episcopalians are part of the 77 million Anglican Communion. In 2004, top Anglican leaders issued the Windsor Report, calling for American Episcopalians to repent. In 1998, global Anglicans voted that homosexual behavior was contrary to Scripture.
For a few years now the Episcopal Church's bishops have stressed that only General Convention has the authority to commit the national church to action or inaction in response to the Windsor Report. Both Presiding Bishop Frank Griswold and the Very Rev. George Werner, president of the House of Deputies, said they wanted General Convention to resolve all Windsor-related questions before Sunday, when the House of Bishops chooses the church's next presiding bishop.
With only two legislative days left, nearly all Windsor-related resolutions are still in the care of a committee.
Convention's deputies and visitors—including the Archbishop of York, Jonathan Sentamu—discussed the resolutions for two and a half hours on Wednesday night. Sentamu asked the committee to consider whether the proposed responses to Windsor "lead us in the way of the crucified Christ."
"If they don't, you've got to strengthen them," Sentamu told the committee calmly.
The open hearing also heard frequent references to a 4,400-word paper by Bishop N.T. Wright, which was distributed by the American Anglican Council on Wednesday.
Gay activist Colin Coward of Changing Attitude in Salisbury, England, dismissed Wright's paper, saying, "Tom Wright has gay priests in his diocese, and he has done nothing to stop them."
Pierre Whalon, Bishop in Charge of the Convocation of American Churches in Europe, emphasized the ecumenical implications of Episcopalians' response to Windsor, even while he downplayed the importance of Wright's critique.
"The Episcopal Church is a global church. It's the only global church in the Anglican Communion," Whalon said. "Our decisions can't be America First."
Nevertheless he said, "It's not the Bishop of Durham, it's the Archbishop of Canterbury that we need to convince" that the Episcopal Church's response to Windsor is satisfactory.
At this year's open hearing, there were fewer stories of personal experience and more explicit demands that the Episcopal Church change its course on gay liberation.
Denis Brunelle, a priest from the Diocese of Long Island, took umbrage at conservatives' suggestion that the Episcopal Church needs to repent of anything.
"I have had that word thrown at me throughout my life," he said. Brunelle said he finally repented of denying the truth about his identity.
Reconciliation impossible?
In one moment of poignant scheduling, the leading spokesman of conservatives, Bishop Robert Duncan of Pittsburgh, was followed immediately by Bishop Gene Robinson, who is so often the center of the church's debates since General Convention in 2003.
Duncan said it is impossible to reconcile the two competing theologies within the Episcopal Church, and he urged the committee not to attempt it. "We've reached a moment where it is very difficult indeed. I think we've reached an impossible moment."
Robinson said the debate centers on one question: Does the Episcopal Church recognize the light of Christ and the mark of the Creator in the lives of gay and lesbian people?
"Our homosexual agenda is Jesus Christ," Robinson said. "Through my relationship with him, I have come to realize that I am not an abomination but am loved beyond my wildest imagination."
Integrity, which describes itself as "a witness of God's inclusive love to the Episcopal Church and the lesbian, gay, bisexual and transgender community," will hold its traditional General Convention Eucharist on Friday night. Bishop Robinson, who was still awaiting his approval by General Convention when Integrity last gathered for this Eucharist in 2003, will preach.
Sometime between now and Sunday morning, General Convention will begin plenary debates on how it will respond to the Windsor Report. Conservatives worry aloud, frequently, about another serving of "Anglican fudge" (meaning a feigned restraint that masks a continuing radicalism). Progressives worry aloud, frequently, about compromising the decisive actions of General Convention 2003.
By Sunday afternoon, God willing, the Episcopal Church will have made some clear statements about its response to the Windsor Report, and it will welcome a newly elected presiding bishop into the House of Deputies for concurrence in the House of Bishops' decision.
Then, for both sides, the focus shifts to still another major meeting: The once-per-decade Lambeth Conference of 2008 for all Anglican bishops and top leaders. Say what you will about contemporary Anglicanism, but it's never lacking for pathos.
Related Elsewhere:
Weblog is linking to ongoing mainstream coverage of the convention.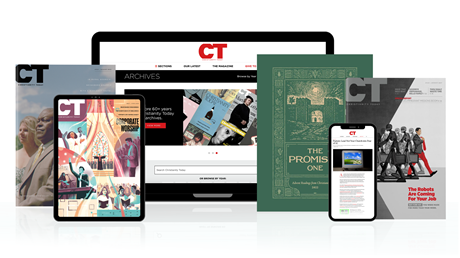 Subscribe to Christianity Today and get access to this article plus 65+ years of archives.
Home delivery of CT magazine
Complete access to articles on ChristianityToday.com
Over 120 years of magazine archives plus full access to all of CT's online archives
Subscribe Now
Gays in the Church Debated
Gays in the Church Debated