true
Author Alice Hoffman has said this about her popular pre-teen novel, Aquamarine: "If I'm asked if Aquamarine is only for children, I would have to say no. This is a book I wrote … to remind myself that no matter how difficult it is to say goodbye, it is still possible for the power of friendship to triumph and for love to be the final victory."
True to her vision, the movie adaptation of Aquamarine is a sweet and relatable story about friendship, sacrifice and love. And while it's definitely made for girls between 10 and 14 (complete with cartoon bubbles, fast-forward filming, and a Radio Disney soundtrack), its message and charm won't be lost on many viewers. Neither will its humor—there are many authentically laugh-out-loud scenes. Older teens may say they'd rather be caught dead than seen at this film, but most will walk away pleased and with much to relate to (even if they won't admit it).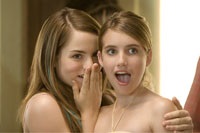 Best friends Hailey (Joanna `JoJo' Levesque) and Claire (Emma Roberts) share a secret
The movie begins with soon-to-be 8th graders Hailey (Joanna Levesque) and Claire (Emma Roberts) trying to make the very most of their summer—and their last few weeks together. In just days, Hailey is moving to Australia. Crushed that they will soon be separated, the best friends spend almost every waking hour together—either ogling the hunky high school lifeguard Raymond (Jake McDorman) or dreading the big move that'll leave them both alone. They wish for a way to stay together.
Their prayers seem answered when a hurricane washes ashore Aquamarine (Sara Paxton), a mermaid who needs their help. Arranged to marry a merman she doesn't love, Aquamarine has struck a deal with her father: If she can prove—in three days—that the fabled notion of love does exist, he will let her out of the betrothal. When she sets her eyes on Raymond, Hailey and Claire strike a deal of their own: If they get Raymond to pledge his love to Aquamarine in three days, Aquamarine will make their biggest wish come true—Hailey won't move.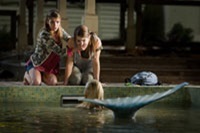 The film's greatest treasure is the sweet and real relationship between Claire and Hailey. It's so easy to believe these two girls have a supportive, fun and comfortable friendship that started long before the opening credits. But the main reason this relationship feels authentic is that each of them is a very real and relatable pre-teen character. They are normal, un-Hollywood girls with fears, dreams, insecurities, emotional scars, and lots of laughter. They are extremely relatable. Everyone has felt like these girls—a bundle of mixed emotions from excitement and joy in life itself to insecurity and fear about the future. And everyone has wanted a best friend like they have. Everyone has also wanted a friend like Aquamarine—not with a tail fin, but one who is confident, self-assured, challenging and affirming. Together, the three of them learn and grow. Claire discovers that life is not something to fear, but to be friends with. Hailey learns to put aside her anger and selfishness to see a bigger world. And Aquamarine finds that love does exist.
What is unexpected and refreshing about Aquamarine is that it doesn't follow typical teen movie conventions in its search for love. Just when you think the movie is about to preach the flawed gospel of instant and magical Hollywood love (the kind that occurs in just three days and is pledged with a kiss under fireworks), the film ends with a strong statement about undying friendship, sacrifice, and the beauty of unanswered prayers. Instead of praising romantic love as the end-all-be-all, the movie lifts up the unconditional love shared between families and friends. In fact, the love that defines Aquamarine is straight out of 1 Corinthians 13: It cares more for others than self, loves at all times, puts up with anything, isn't always "me first," and never dies.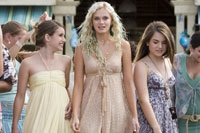 The movie isn't flawless. It loses steam for a while around the three-quarters mark. There's a spiritual problem with Hailey jokingly praying to the "gods of love" and the "gods of hurricanes"—and an implication these prayers may actually bring help. There are some typical pre-teen movie goofy performances as well. While Levesque, Roberts and Paxton carry the movie with endearing and only rarely uneven moments, the acting of snooty villain Cecilia (Arielle Kebbel) and her whole clan of cronies is way too over-the-top and clichéd. In addition, by portraying the popular girls as beautiful, stick-thin, and too revealing—even if poking fun at them—the movie may unintentionally reinforce the cultural claim that this is what makes one have worth.
At the same time, the movie scores a major victory in reaching its audience with the all-too-important message that they are fine just the way they are. Besides showcasing two wonderfully normal girls who don't focus on outside changes to grow as people, the movie ends with a wonderful sequence in which Aquamarine gives her new friends very special starfish earrings. Not only are these fetching accessories very complementary to any outfit, they are also very complimentary to the wearer. Hailey's talking earrings whisper to her, "Hailey is beautiful inside and out." Claire's rave as well: "Claire glows from the inside. She is so courageous."
This self-esteem boost is what every pre-teen needs. And the message that loving yourself and those around you is more important than romance—even with hunky Raymond—is indeed the film's final victory.
Talk About It
Discussion starters
Hailey and Claire are consumed by boys and reading up on how to find love. What do you think they'd say at the end of the movie about what really matters?


Who are you most like: Hailey, Claire or Aquamarine? Why? What lessons do they learn that you most need to learn?


Why would it benefit you to have starfish earrings like Claire and Hailey have? Why do we need reminders that we are wonderful inside and out? Who in your life is kind of like those complimenting earrings? What does God think of you? (Read Eph. 2:10, Gal. 3:26, Eph. 4:2)


Hailey is determined to not move to Australia for most of the movie. What changes her mind about the move, her mom and her mom's new job? What does Hailey's final decision say about how she feels about her mom? What do you think she'd say to her mom when she returns home from the final scene of the movie?


Aquamarine finds such simple joy in small things like having legs and eating cotton candy. What small joys do you find in your daily life? How can you better enjoy the simple blessings around you?
The Family Corner
For parents to consider
The film's language is pretty clean except for one instance of name for a very mean girl. As far as the film's sensuality, there are only two sweet and public kisses shown. But the real problem is that Aquamarine, as any film mermaid, arrives topless with only her very long hair to cover her front. Nothing is actually shown, but some scenes of her uncovered body can feel very intimate and risqué. There are also some barely-there bikinis worn by teen characters in beach scenes.
Copyright © 2006 Christianity Today. Click for reprint information.
What Other Critics Are Saying
compiled by Jeffrey Overstreet
from Film Forum, 03/09/06
"Sweet." That's the word that Christian film critics are using for the new romantic comedy Aquamarine. But some of them also observe that this sentimental movie about teens who discover a mermaid hits a few sour notes as well.
Article continues below
Lisa Rice (Crosswalk) says it's a "sweet movie for tweens" that "skillfully addresses the pain of separation, the hurt of divorce, the extreme emotions of a first crush, the sting of jealousy, and the joy of healthy friendships." She hopes that it will "show Hollywood decision-makers that cute, pre-teen movies without the lewd sex, violence, nudity, or language can actually draw the big crowds and hold their attention."
David DiCerto (Catholic News Service) says it's a "sweet modern-day fable about friendship told with a delightful mix of fantasy, comedy and romance … Apart from some skimpy bikinis and rude language … the film is commendably wholesome fun."
Adam R. Holz (Plugged In) calls it "a sentimental story about three girls' growing friendship. But their boy-crazy ways and rapt attention to CosmoGIRL!'s shallow advice model a conflicting brand of superficiality." He's also bothered by the fact that the mermaid's shapely form is "technically covered, but just barely. For a film aimed at such a young audience, Aquamarine had me wondering why its creators couldn't have given its 17-year-old star a bit more clothing."
While most reviews are guardedly positive, the mermaid has not heard many mainstream critics singing its praises.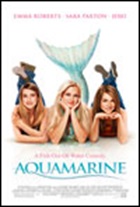 Browse All Movie Reviews By: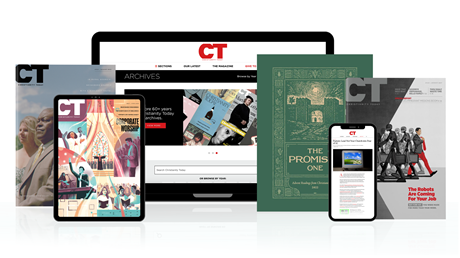 Subscribe to Christianity Today and get access to this article plus 65+ years of archives.
Home delivery of CT magazine
Complete access to articles on ChristianityToday.com
Over 120 years of magazine archives plus full access to all of CT's online archives
Subscribe Now
Aquamarine
Aquamarine