true
Have you seen the trailers? Just watching that little penguin dance his heart out makes a person feel good. Combined with a cinematic beauty reminiscent of March of the Penguins and a roster of genuinely funny, vividly drawn characters, Happy Feet will be a winter season smash. It's flawed—there's a clutter of themes and subplots that suggests the screenplay was written by committee, and a layer of smirking sexual innuendo that cheapens the film—but it's fun.
Mumble is a baby penguin who doesn't fit in. Instead of stumping along in the stately, ungainly way of Emperor Penguins, he taps, he skips, he cuts rug. When it comes time for the little ones to find their heart song—"the voice you hear inside, who you truly are"—it turns out that our hero can't sing to save his life. His song is in his feet. And in a world where you are what you warble—"Without our heart song, we can't be truly penguin"—this kid's an outcast.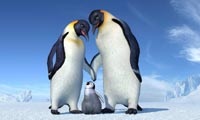 One day when he's off by himself working out dance moves, Mumble has a run-in with some tough-talking flyer-boys. The leader of this particular pack is also an outsider—he's got a yellow band on his leg, and a paranoid story to go with it. He claims to have been abducted by aliens. When our penguin protagonist finds other traces of human presence in the Antarctic ice, he begins to wonder whether there might be other forces shaping his tribe's destiny besides the mystical "'Guin" invoked by the elders—specifically, whether these mythical "aliens" might know what's really happening to the fish, whose scarcity is endangering life on the ice cap. Eventually the plucky little individualist heads out on the obligatory hero's journey to get to the bottom of things and save the day, and while he starts with his own little fellowship of the Arctic circle, this feisty fine-feathered Frodo (voiced by Elijah Wood) eventually goes it alone.
The theme of do-your-own-thing nonconformity is an odd fit in a setting where survival depends on group co-operation. The tough old birds who lead the flock know the only way to survive the long bitter winter blizzards is to huddle together, taking self-sacrificial turns on the wind-whipped outer ring before moving to the center of the great mass of birds: "Do you not understand that we can only survive here when we're in harmony?"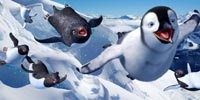 What a shame to see so powerful an image of co-operation and interdependence turned into the hackneyed Hollywood formula where age, tradition and community can only exist as coercive forces of repression to be rebelled against. How doubly disappointing that the Scot-inflected elders (Presbyterian penguins?) phrase their maxims in Christian language about sin, backsliding and repentance. Of course, the filmmakers want to have their fish-cakes and eat them too: after two hours of conformity to the American cult of individualism, the credits roll to an eco-friendly anthem about "one world, united." So are we in this thing on our own? Or would it be kinda smart to work together on this one?
Which is not to disparage the film's environmental concerns: when we finally encounter human beings and their detritus, this mixed-up, happy little cartoon finds moments of unexpected cinematic power. Images of industrial wreckage and factory ships evoke similar sequences in that other astonishing bird doc, Winged Migration, and human characters are rendered with a haunting visual poetry—viewed through this bird's eye, we are numb, preoccupied creatures in the grip of a terrible indifference. The tale's happy resolution can't quite wipe away that remarkable, lingering vision of our alienated humanity.
As fun as it is, Happy Feet tries to be too many things to too many audience members. As well as the heroic outsider story that turns into your standard-issue quest caper, there's a love story (which predominates the first two-thirds of the film before being dropped), a father-son alienation subplot, a whole multi-cultural chaos that's fun but maybe a bit contrived, and way too many pop culture references. Some are weirdly irrelevant to the story in a way that suggests they're "we can't cut that!" fossils from early screenplay drafts which they definitely could have cut: there's cleverness, but what possible significance, to Mumble's parents being named Memphis—yeah, Elvis, we get it—and Norma Jean?
At the top of the film we get the first of eight million snippets from pop songs ranging from apt to inept. "Golden Slumbers" opens the film, and another Beatles cover ends it: a reflective "Once there was a way to get back home" cleverly introduces us to the annual march to the penguin breeding grounds before giving way to an annoying "Moulin Rouge" collage (because Nicole Kidman voices Mumbles' mom?) of crass contemporary pop.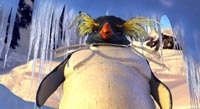 Most problematic is the wink-wink-nudge-nudge sexual subtext that's hardly "sub" at all, and seriously inappropriate for the young elementary age kids who'll be the core audience (or many of their older sibs). Am I the only parent squirming as the five-year-olds around me cuddle their stuffed penguins and listen to the lyric "You don't have to be beautiful to turn me on, I just need your body, baby, from dusk till dawn"?Or—unbelievably, incomprehensibly—Salt 'n' Pepa's oh-so-inappropriate "Let's talk about sex, baby …"
That kind of gross misjudgment does (mostly) pass once the courting sequence is done and we get down to the serious business of hatching eggs and raising hatchlings. The more serious stretches of the film contain some arctic landscapes that are stunning in their CGI big-screen clarity, and the fun stuff is a marvelous celebration of pure motion: solo dance sequences featuring motion-capture work with tap-master Savion Glover, huge production-number dances with a penguin cast of thousands, underwater frolics that evoke the exhilaration of flight, truly frightening attacks by seals (who'd have thought a seal could be truly frightening?) and killer whales, and an extended rush of a downhill snow-slide that will thrill the snow-boarders in the crowd.
The film tries to do way too much: it's a mess. But, crude misjudgments aside, it's a tremendously entertaining mess. During the final credits (which may be the longest ever screened, featuring over one thousand names) there's an extended sequence of tap dancing penguins, each with their own personal style. I could have watched those little guys for another hour—each dancing in their own spotlight, but all dancing to the same tune.
Talk About It
Discussion starters
When Noah asked Memphis whether anything unusual had happened before Mumble's egg was hatched, he didn't tell the whole truth. How does this affect him as the story unfolds? Talk about some times when you're tempted to not tell the truth. Is it ever OK to not be truthful? When
Have you ever had a hard time fitting in? Mumble found joy in his dancing, and eventually found some friends who accepted him for who he was. What are some good ways to handle that kind of situation
Mumble headed out on his quest because he was angry about the factory ships that took the fish the penguins needed. Where else in this movie do you see humans showing little care for animals or nature? Do humans take enough care of God's creation? What might it take to change that attitude?
The Family Corner
For parents to consider
Happy Feet is rated PG for some mild peril and rude humor. Two action sequences—one in which a frighteningly-rendered seal chases a young penguin through the water, another in which two killer whales attack a group of penguins—may be too intense for small or sensitive children. There is a lot of sexual innuendo which will go past young viewers, but which is in very questionable taste for viewers old enough to pick up on lyrics such as "You don't have to be beautiful to turn me on, I just need your body, baby," or a character who implies "the F word" then adds "I shall retire to my couch of perpetual indulgence. Okay ladies, who's first?"
Copyright © 2006 Christianity Today. Click for reprint information.
What Other Critics Are Saying
compiled by Jeffrey Overstreet
from Film Forum, 10/30/06
Animated? Check. Cute talking animals? Check. Singing and dancing? Check. Wisecracking characters voiced by celebrities? Check. Clearly, Happy Feet has what it takes to be a box office smash.
But is it any good? Yes, according to most Christian film critics.
Some religious media personalities are convinced that Christians don't want to bother with a story that suggests human recklessness might have a negative effect on nature. One such personality warns us that the movie has "very strong environmentalist content," "New Age pagan sentiments," and "political propaganda."
But most Christian film reviewers are happy to recommend it to families.
David DiCerto (Catholic News Service) says it's "entertaining, if at times surprisingly dark … . Visually, Happy Feet ranks among the best of the recent crowd of computer-animated movies, with a realism … that is truly amazing." He agrees that the story explores "too many weighty themes."
Marcus Yoars (Plugged In) says that the penguins' wintry wonderland is "both bone-chilling and beautiful. It also boogies down a path that kids' movies have just about worn down into a rut: Be true to yourself. Gratifyingly, although that theme has been hijacked in recent years by (anti)social agendas, the film doesn't appear to boast any banner other than, 'Friendship and love can overcome any difference.'"
Christa Banister (Crosswalk) praises the "stunning visuals and songs straight from the pop culture vault. … It's these theatrical elements, not to mention a witty screenplay and some of the best animation I've seen in a while, that ultimately make the film enjoyable for kids and adults alike."
Mainstream critics are noticing that director George Miller, who brought us The Road Warrior as well as Babe and Babe: Pig in the City, has once again given us surprisingly ambitious entertainment.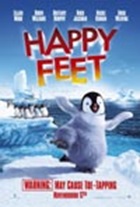 Browse All Movie Reviews By: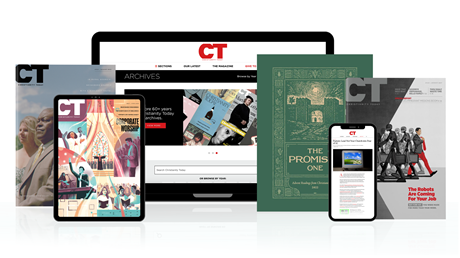 Subscribe to Christianity Today and get access to this article plus 65+ years of archives.
Home delivery of CT magazine
Complete access to articles on ChristianityToday.com
Over 120 years of magazine archives plus full access to all of CT's online archives
Subscribe Now
Happy Feet
Happy Feet