Randy Alcorn, founder and director of Eternal Perspective Ministries, sat down with CT senior associate editor Stan Guthrie to discuss the release of Heaven Study Guide, 50 Days of Heaven, and Heaven for Kids, all based on his popular 2004 book, Heaven (available from Tyndale). Next year, Multnomah/RandomHouse will publish Alcorn's latest thriller, Deception, which continues a series that began with Deadline (1994) and Dominion (1996).
Are Christians more focused on heaven now than they used to be?
There was a time when there were almost no books on heaven. Now a number of pastors have said they're preaching a sermon series based on the book. The book has sold close to 300,000 copies, which just breaks the rules. It's too big, in a hardback, with too much theology and Bible.
But in a sort of counter-trend, emergent church leaders such as Brian McLaren, especially in his new book, The Secret Message of Jesus (W Publishing, 2006), say that Jesus was focused on building the kingdom of God here and now, and that focusing on heaven or hell when you die is a distraction.
It's true that some people get caught up in things that make them unconcerned about life in this world. And Jesus is concerned about the poor: "The kingdom of God is among you." But he also makes clear that the kingdom of God is coming. So if people are only focused on the coming kingdom of God, then they're wrong. And if people say, "The kingdom of God is not about what is coming, it's about what we do here and now," they're also wrong. There's that already-but-not-yet emphasis in theology. We reign with Christ now, but we will reign with Christ forever in heaven or the new earth. So which is it? It's both.
God has called us to be stewards, and we should not wait until the new earth to start to be stewards of this planet. Look at William Wilberforce. A deep belief about a world to come, about an eternity, about standing before God and eternal rewards and all of that, motivated him to do the right thing with abolition here and now. I'm very involved in the abortion issue. But I'm energized toward that through my view of the eternal state. As Scripture says, "We are looking forward to a new heaven and a new earth in which righteousness dwells."
If you don't focus on eternity and what awaits us, then you live life more expediently, with less imagination, with less sense of endurance that this is going to last. You've got to meditate on the eternal. We're just so wrapped up in money and sex, because those are the idols of our culture. We live here in the dot. It begins, it ends, it's brief. But from that dot extends a line that goes out for eternity. We believers are going to still be around 5 million years from now. What will we have done with our lives that will matter for eternity?
How does fiction fit in with your mostly nonfiction writing ministry?
The analogy I always use is the Trojan horse. People are interested in it, but they don't know what's inside. In the same way, people who are guarded toward something in its nonfiction form will open the gates of their minds, let down the barriers. Fiction has a subversive effect. There's bad subversive, but there's good subversive. As a Christian, even without deliberately trying to do it, you have a worldview. And then, of course, as a writer you can interject principles with the hope of influencing not only the Christian but also the non-Christian reader.
For example, in Deception the main character is an agnostic homicide detective who is bitter toward even the idea of God, because he lost his son at an early age, and then his wife died of cancer. He sees horrible murders all the time, so the problem of suffering and evil keeps him from any belief in God. He's the viewpoint character. You're seeing everything through his eyes.
I remember thinking about life as a nonbeliever. I'm hoping Christian readers will see the unbeliever's worldview and struggles, and that unbelievers will resonate with his questions but relate to him because he's a very upbeat character. The big challenge for me in writing in the first person is whether somebody wants to hang around with this character for 400 pages.
Related Elsewhere:
Heaven and its related titles are available from ChristianBook.com and other book retailers.
Christian Book Summaries has an entry on Alcorn's Heaven.
Alcorn's Eternal Perspective Ministries has more on his books.
For a different perspective on heaven, see N.T. Wright's sermon, "The Road to New Creation."
Have something to add about this? See something we missed? Share your feedback here.
Our digital archives are a work in progress. Let us know if corrections need to be made.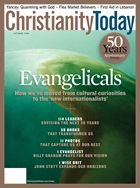 This article is from the October 2006 issue.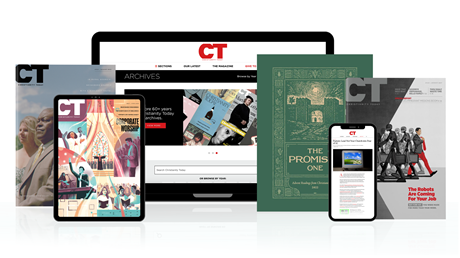 Annual & Monthly subscriptions available.
Print & Digital Issues of CT magazine
Complete access to every article on ChristianityToday.com
Unlimited access to 65+ years of CT's online archives
Member-only special issues
Subscribe
From Eternity to Here
From Eternity to Here