Today's Top Five
1. Will K.A. Paul face more scrutiny after moment in spotlight? Or will his platform grow?
You won't find much about K.A. Paul on the Christianity Today site. Every reference to the Indian preacher is from a Weblog, mostly from outlets raising questions about his ministry. (One exception: The New Republic was mildly positive, apparently because he talks about poverty more than he does about abortion.) We didn't report on his expulsion from the Evangelical Council for Financial Accountability over oversight and financial transparency concerns. We didn't report on the International Mission Board of the Southern Baptist Convention taking the unprecedented step of issuing a vote of no confidence in his ministry, or of the Assemblies of God leadership similarly criticizing his work. We haven't followed up on reports that his orphanage ministry spends more on jet fuel for Paul's plane than on actual orphans, nor that he has taken credit for other people's work. We have no plans to report his recent claims that the Republican Party is delaying the Second Coming of Christ and that the Iraq war is "genocide." Quite honestly, we haven't covered him because there are many self-promotional ministers out there with grossly exaggerated claims, outrageous statements, and problematic finances. Paul has had more success in getting himself into The New Yorker and other publications, but getting such clips seems to be his ministry's real focus. So why give him more attention?
Well, he's certainly getting attention this week. Amid the Mark Foley scandal, Paul scored a meeting with House Speaker Dennis Hastert at the speaker's home. What's more, Paul claims that Hastert promised him he'd resign. He told Mother Jones, "God convinced him through me in prayer." Paul claims Hastert said, "God gave me this position that I don't deserve. For the good of the people, I will do it." The Mother Jones story is full of other … eccentricities. (Example: Paul says he knew Abu Musab al-Zarqawi "when he was nobody.")
Hastert's office told the Chicago Sun-Times that the meeting was a mistake, that Hastert thought the hastily scheduled meeting was with a constituent of his district, and that the Speaker will not resign.
The thing is, this meeting is the buzz of Washington right now and raises his profile. It might raise Paul's reputation as a publicity hound, the "craziest preacher ever," and a "nut job," but that hasn't stopped the press corps from quoting every crazy thing Pat Robertson says. Is Paul going to be the new media darling for reporters looking for a juicy religious quote? Don't bet on it: His political views are probably too unpredictable for "fill-in-the-blank" reporting.
2. The New York Times: "American religious organizations benefit from an increasingly accommodating government"
Much of The New York Times series can be summarized (no surprise) at the end of its final article:
[T]ax and regulatory exemptions that have become available to religious organizations in America … benefit religion in ways that some critics say go beyond the limits of the Constitution.
Until several years ago, "it was inconceivable for most to think that religion might well be aggressively expanding its power in a way that is harmful to the public good," said Marci A. Hamilton, a law professor. … But now, Professor Hamilton said, the power of religious entities "is at its apex."
Defenders of these exemptions deny that they raise any questions of excessive power or constitutional violations.
That or is important. It's not just about the limits of the Constitution. It's about people worrying about religious influence (or, if you will, power).
3. The Boston Globe looks at religious involvement in foreign aid
While The New York Times is getting attention for its look at religious tax and regulatory exemptions within the U.S., The Boston Globe has more quietly been examining how international Christian groups get funding from the U.S. government's foreign aid budget. "Many of these groups do excellent work, and the government has been relying on them for decades, especially during emergencies," the Globe says in a roundup editorial. "But all have an overriding purpose—to convert people to Christianity—and the government needs to distribute the money with a skeptical eye … [T]he U.S. government should not subsidize their work unless it comes without religious content." The Globe is going a bit further than the usual (and important) keep-the-money-separate argument. The paper instead argues that the only religious groups that should get funding are secular ones.
4. The Denver Post: Watch out for Dennis Leonard
At least we at Christianity Today had heard of K.A. Paul. Who is Dennis Leonard? Apparently, he's a hugely popular prosperity gospel preacher in Colorado. His Heritage Christian Center "is a Pentecostal congregation with weekend attendance of about 7,000 - roughly 40 percent black, 40 percent white and 20 percent Latino and other races," church officials told The Denver Post. The paper examines Leonard, his theology, and his money in a special report that's worth reading, even if you've never heard of him. (What's up with this week and special reports on religion?)
5. Did the Amish forgive too quickly?
While several newspapers are doing in-depth special reports on religion, the religion story getting the widest attention this week is still the Amish. But this week, it's less about the school shooting per se and more about the Amish reaction to it. Op-ed writers and columnists around the country are astounded at speed and extent to which the Amish community—including some immediate family members of the victims—forgave shooter Charles Roberts. It was "religion in its best light," said Bruce Kluger of USA Today. "I don't know about you, but that kind of faith is beyond comprehension," Rod Dreher wrote in a widely reprinted Dallas Morning News column. "I'm the kind of guy who will curse under my breath at the jerk who cuts me off in traffic on the way home from church. And look at those humble farmers, putting Christians like me to shame." (Former "Professional Catholic" Dreher, by the way, "came out" as a communicant of the Orthodox Church today, though The Washington Post mentioned as much a few months ago and he earlier said he was "considering Orthodoxy.")
Other op-ed writers are wondering about the lessons to be drawn. "Hatred is not always wrong, and forgiveness is not always deserved," Jeff Jacoby wrote in The Boston Globe. "I admire the Amish villagers' resolve to live up to their Christian ideals even amid heartbreak, but how many of us would really want to live in a society in which no one gets angry when children are slaughtered? In which even the most horrific acts of cruelty were always and instantly forgiven? There is a time to love and a time to hate, Ecclesiastes teaches. If anything deserves to be hated, surely it is the pitiless murder of innocents."
Quote of the day
"National Christian leaders received hugs and smiles in person and then were dismissed behind their backs and described as 'ridiculous,' 'out of control,' and just plain 'goofy.'"
—David Kuo, former deputy director of the White House Office of Faith-Based and Community Initiatives and author of the forthcoming book Tempting Faith: An Inside Story of Political Seduction. According to early reports, Kuo's book alleges that the faith-based initiatives office was "used almost exclusively to win political points with both evangelical Christians and traditionally Democratic minorities."
More articles
New York Times series on religious organizations | Boston Globe series on faith-based organizations abroad | Denver Post on Dennis Leonard | Amish school shooting | Amish and forgiveness | Philippine killings | Indonesia | War and violence | Australia stabbing over conversion | Crime (non-U.S.) | Crime (U.S.) | Abuse | Foley scandal | K.A. Paul and Denny Hastert | Sexual ethics | Ex-gay ministries | Family | Politics | Mitt Romney | Environment | Abortion | Church and state (U.S.) | Requiring immunizations | Church and state (non-U.S.) | Education | Evolution | Higher education | Church buildings | Church life | Catholicism | Pope and Islam | Europe's culture clash | China | People | Billy Graham's grandson holds crusade | Other Grahams | Media | New York Hell House | Music | Film | Youth | Missions and ministry | Money, business, and giving | Israel | History | Atheism | Other stories of interest
New York Times series on religious organizations:
Boston Globe series on faith-based organizations abroad:
Denver Post on Dennis Leonard:
Sold on the spirit | Bishop Dennis Leonard has build a booming church by bringing hope to a needy world. But his ministry has its critics, calling him ruthless, controlling and unaccountable (The Denver Post)


The gospel of prosperity | Bishop Dennis Leonard has created a multimillion-dollar enterprise fed by devoted followers, some with little to spare (The Denver Post)


Bank on God: storing up riches on earth | Do Leonard's prosperity gospel claims bear fruit? (The Denver Post)


Undeserved forgiveness | Hatred is not always wrong, and forgiveness is not always deserved. I admire the Amish villagers' resolve to live up to their Christian ideals even amid heartbreak, but how many of us would really want to live in a society in which no one gets angry when children are slaughtered? (Jeff Jacoby, The Boston Globe)


most demanding virtue (Clarence Page, Chicago Tribune)


Forgiveness and repentance | For our culture, Christian and otherwise, to consistently hold up as praiseworthy the notion that those who have had terrible crimes committed against them, crimes that end or should end a relationship, that they must extend unilateral forgiveness and wipe the moral slate clean — or at least that to do so is inherently virtuous — well, that should naturally and rightly offend the person wronged (Betsy Hart, Scripps Howard News Service)


Everyday forgiveness | Living without electricity, automobiles and televisions is a small price, perhaps, for the peace that no individualistic and schismatic American denomination can truly promise its members - the peace that the world cannot give (Elizabeth Eisenstadt-Evans, The Philadelphia Inquirer)


The amazing virtue of forgiveness | Two news stories offer contrasting, yet similarly illuminating, lessons in the value of that A glimpse of grace | The swift blur of tragedy that struck the Amish community last week should provide a moment of clarity for the rest of us. For a change, what we saw was religion in its best light (Bruce Kluger, USA Today)


Amish set an enviable example of forgiveness | They did exactly what Christians know Jesus would have done, exactly what we are quick to say we can't do. They forgave. Not just with words, but with deeds (Merlene Davis, Lexington Herald-Leader, Ky.)


Two killed in Indonesia over Christians' execution | Two Muslim men were killed by a crowd angered by last month's execution of three Christian militants in Indonesia's Central Sulawesi province, police said on Monday (Reuters)


Police make arrests over Poso deaths | Two Muslim men were allegedly slain by a crowd angered by last month's execution of three Christian militants in Central Sulawesi province, police said Monday, while a small explosion shook Poso on Sunday (The Jakarta Post, Indonesia)


Australia stabbing over conversion:
Muslim religion blamed for fatal stabbing | Police are investigating suggestions the violence erupted after the 17-year-old girl told her father she wanted to opt out of the Islamic faith and convert to Christianity (The Courier-Mail, Qld., Australia)


Islamic leader condemns conversion death | A Muslim leader has condemned the death of a woman in a Gold Coast family's domestic dispute, believed to have been sparked by a daughter's wish to convert from Islam to Christianity (AAP, Australia)


School death link | Friends of the Muslim mother stabbed to death in her Southport unit say she fought to enrol her daughter in a prestigious Christian school which her father blamed for 'brainwashing' her into converting from the family's devout faith (The Bulletin, Australia)


Youth gets 18 years for killing priest | A Turkish court sentenced a teenager to 18 years and 10 months in prison for shooting to death an Italian Roman Catholic priest as he knelt in prayer inside his church, his lawyer said (Associated Press)


Plane hijacking probe said to take years | A prosecutor investigating the hijacking of a Turkish airliner to Italy said Tuesday that it will take about two years to complete the inquiry and start the trial of the suspected hijacker (Associated Press)


Church split on amnesty | The Catholic Church is divided on whether to have those who plundered public resources prosecuted (The East African Standard, Kenya)


Evangelicals blame Foley, not Republican Party | Evangelical Christians interviewed in Virginia insisted the Mark Foley episode would have little impact on their intentions to vote (The New York Times)


Conservatives fear Foley scandal will cost votes | Some conservatives said they expected the Congressional page scandal to prove costly for Republicans in November (The New York Times)


Page scandal exposes GOP's gay identity crisis | "Has the social agenda of the GOP been stalled by homosexual members or staffers?" Tony Perkins of the Family Research Council wrote in an e-mail message to the organization's activists this week. In an interview, Perkins says that while he has not drawn any conclusions, "these are questions that need to be resolved." (USA Today)


Earlier: I hate being gay | This Washington State teen faces a daily battle between the sexual attraction he feels for other men and his religious convictions that tell him being gay is against God's word (Kyle Rice, The Advocate, gay newspaper)


Exclusive: Book says Bush just using Christians | Tempting Faith author David Kuo worked for Bush from 2001 to 2003 (MSNBC, video)


Poll: trust in the administration is dropping | 66% of white born-again or evangelical Christians felt that President Bush was truthful and honest with regard to the Iraq war. (Time)


Black churches always at center of politics | When a group of Columbus ministers complained to the Internal Revenue Service that two central Ohio evangelical megachurches were engaged in unlawful political activity, the pastors of those churches countered with a simple question: What's the difference between what we're doing and what black churches across America have done for decades? (The Columbus Dispatch, Oh.)


Not so godless after all | Professors may be more skeptical of God and religion than Americans on average, but academic views and practices on religion are diverse, believers outnumber atheists and agnostics, and plenty of professors can be found regularly attending religious services (Inside Higher Ed)


Also: A majority of believers | While less religious than most Americans, professors are more religious than might be commonly assumed, according to a new survey. Only 10 percent of professors surveyed said they did not believe in God (The Chronicle of Higher Education, sub. req'd.)


Working paper: How Religious Are America's College and University Professors? (Neil Gross and Solon Simmons)


Billy Graham's grandson holds crusade:
Managing by the (Good) Book | Bosses at public, private firms mix business with their faith; it can discomfit some workers (The Wall Street Journal)


Debt, a 3-way loser | For the past several weeks, I've been spending my Wednesday evenings taking a class at my church called "Financial Freedom." Among other things, the class aims to teach how debt can put you in bondage (Michelle Singletary, The Washington Post)


Call centres are blamed for a rise in loose living among India's affluent new elite | Why does it take so long to get through to an Indian call centre? Because everyone is too busy chatting up their colleagues—and more—if the Catholic Church is to be believed. (The Telegraph, London)


Related Elsewhere:
Suggest links and stories by sending e-mail to weblog@christianitytoday.com
See our past Weblog updates:
October 6 | 5 | 4
September 21 | 15b | 15a | 14
September 6 | 1 | August 29
August 25 | 24 | 23
August 15 | 11 | 10
August 4 | 1
July 28 | 27 | 26
July 21 | 19
Weblog
Launched in 1999, Christianity Today's Weblog was not just one of the first religion-oriented weblogs, but one of the first published by a media organization. (Hence its rather bland title.) Mostly compiled by then-online editor Ted Olsen, Weblog rounded up religion news and opinion pieces from publications around the world. As Christianity Today's website grew, it launched other blogs. Olsen took on management responsibilities, and the Weblog feature as such was mothballed. But CT's efforts to round up important news and opinion from around the web continues, especially on our Gleanings feature.
Ted Olsen is Christianity Today's executive editor. He wrote the magazine's Weblog—a collection of news and opinion articles from mainstream news sources around the world—from 1999 to 2006. In 2004, the magazine launched Weblog in Print, which looks for unexpected connections and trends in articles appearing in the mainstream press. The column was later renamed "Tidings" and ran until 2007.
Previous Weblog Columns: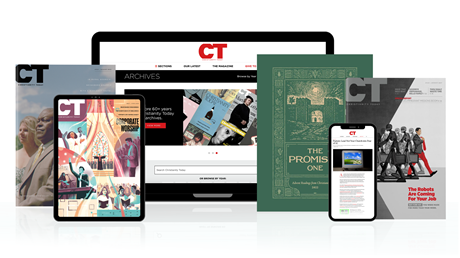 Annual & Monthly subscriptions available.
Print & Digital Issues of CT magazine
Complete access to every article on ChristianityToday.com
Unlimited access to 65+ years of CT's online archives
Member-only special issues
Subscribe
K.A. Paul Gets Attention After Hastert Meeting
K.A. Paul Gets Attention After Hastert Meeting