The U.S. Supreme Court ruled Monday, June 25, that taxpayers affiliated with an atheist group do not have standing to challenge the White House initiative channeling federal funds to religious groups providing social services.
Overturning a federal appeals court decision, the justices gave the White House a 5-4 victory in a closely watched ruling regarding its Office of Faith-based and Community Initiatives.
"It has long been established … that the payment of taxes is generally not enough to establish standing to challenge an action taken by the federal government," Justice Samuel Alito wrote for the majority, joined by Chief Justice John Roberts and Justice Anthony Kennedy.
"If every federal taxpayer could sue to challenge any government expenditure, the federal courts would cease to function as courts of law and would be cast in the role of general complaint bureaus," Alito wrote.
The case, Hein v. Freedom from Religion Foundation, focused on the use of taxpayer money to fund faith-based offices and related conferences across the executive branch.
Foundation members said the policy violated the First Amendment's prohibition on "establishment" of religion, but the White House office argued the case was "intrusive" on the executive branch. In a statement, President Bush said the decision "is a win for the thousands of community and faith-based nonprofits all across the country that have partnered with government at all levels to serve their neighbors.
"Most importantly," Bush said, "it is a win for the many whose lives have been lifted by the caring touch and compassionate hearts of these organizations." The justices were asked to determine if taxpayers—in this case, the Wisconsin-based foundation—had standing to sue. The court did not address the merits of the suit in general.
The foundation argued that a 1968 case, Flast v. Cohen, applied to their complaint. In that case, the high court ruled that taxpayers could sue when Congress provided financial aid to public and private schools, including parochial schools.
But Alito wrote that Flast did not apply, in part because it dealt with a "specific congressional appropriation" rather than an executive branch action. He noted that Flast is not overruled by the new decision.
Justice Antonin Scalia, in a concurring opinion, said Flast should have been overruled because it has confused lower courts.
"We had an opportunity today to erase this blot on our jurisprudence, but instead have simply smudged it," wrote Scalia, in an opinion joined by Justice Clarence Thomas.
Justice David Souter, in a dissenting opinion joined by Justices John Paul Stevens, Ruth Bader Ginsburg, and Stephen Breyer, said he could not see the logic in the majority opinion's distinction between government branches.
"When executive agencies spend identifiable sums of tax money for religious purposes, no less than when Congress authorizes the same thing, taxpayers suffer injury," Souter wrote.
Jay Hein, the director of the White House office at the center of the suit, welcomed the ruling and said he hopes it will influence other court cases—some of which have been held up pending its outcome.
"We can respect establishment clause provisions in how we work with these organizations, secular and faith-based, but the poor deserve us to work with as many good partners as we can," he said.
Annie Laurie Gaylor, co-president of the Freedom From Religion Foundation, said the case has "tied our hands," blocking pursuit of certain kinds of cases.
"It certainly symbolically invites the executive branch to violate the separation of church and state," she said. "It's not buttressing the separation of church and state by any respect; I consider it to be thumbing its nose at it."
Still, she said, the case will not prevent certain kinds of church-state cases from continuing, such as her group's challenge to the Department of Veterans Affairs' chaplaincy program, which it has appealed to the 7th Circuit Court of Appeals, the same court whose ruling was reversed Monday.
Related Elsewhere:
A summary of the case and the opinions of Supreme Court Justices Alito, Kennedy, Scalia, and Souter for Hein v. Freedom From Religion Foundation are available from the Supreme Court.
Related news coverage includes:
Court Bars Suits Against Faith-Based Initiatives | The Supreme Court today handed President Bush's faith-based initiatives program a victory, ruling that federal taxpayers cannot challenge the constitutionality of the White House's efforts to help religious groups obtain government funding for their social programs (The Washington Post).
Court: taxpayers can't sue on faith-based plan | A closely divided Supreme Court ruled on Monday that taxpayers cannot challenge President George W. Bush's use of government funds to finance social programs operated by religious groups (Reuters).
Court bars suit against faith-based plan | The Bush administration's faith-based initiatives got a boost Monday from the Supreme Court: a ruling that ordinary taxpayers cannot sue to stop conferences that help religious charities apply for federal grants. (Associated Press)
Article continues below
Three Bad Rulings | The Supreme Court hit the trifecta yesterday: Three cases involving the First Amendment. Three dismaying decisions by Chief Justice John Roberts's new conservative majority.
The Supreme Court decided other cases of importance to religious organizations this week (the next-to-last decision day of this term), including the 'Bong Hits 4 Jesus' case.
Christianity Today's previous coverage of politics and law is available on our site.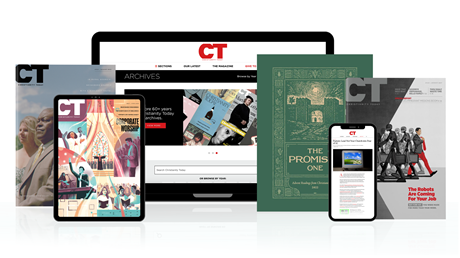 Subscribe to Christianity Today and get access to this article plus 65+ years of archives.
Home delivery of CT magazine
Complete access to articles on ChristianityToday.com
Over 120 years of magazine archives plus full access to all of CT's online archives
Subscribe Now
Supreme Court Turns Down Challenge to Faith-Based Office
Supreme Court Turns Down Challenge to Faith-Based Office