true
It's almost subconscious, the way Joanne Cash can't talk about something without talking about her big brother, the late great Johnny Cash. Whether it's sibling pride or something else, the youngest of seven Cashes has been singing for as long as she can remember. But like her enormously popular brother, her song began to fade as demons plagued her life—fears spurred by the death of her brother Jack, a failed marriage, and bouts with drugs and alcohol. Now married to a preacher, drug-free, and more in love with Jesus than ever, Cash released her first nationally distributed album, Gospel (ACME/Infinity), a collection of songs dear to her heart that also features her brother. In this conversation, Joanne reminisces about her life with the Man in Black, relates her conversion experience, and has a word or two for those who think she's just taking advantage of her brother's fame.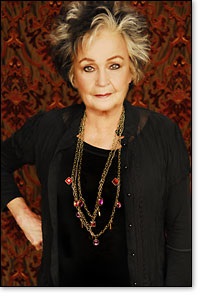 You have such a legendary last name. It must have opened a lot of doors for you over the years.
Joanne Cash Well, it has. Singing has been part of our family's life ever since I was a little girl in the cotton fields in Arkansas. Johnny sang a lot about the cotton fields in Arkansas. Our mother was a very strong Christian—she was the first to tell me about Jesus, that he's the Son of God. We had two options on Sunday: You can go to church, or you can go.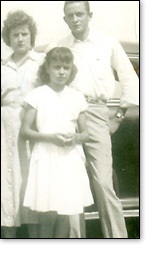 But singing has been part of our lives as long as I remember. It's been such an inspiration to me. I told someone in another interview, "Singing is not what I do; it's what I am." I'm a Christian and I love the Lord with all my heart.
What was life like growing up?
Cash If you saw the movie Walk the Line on Johnny's life, the portrayal of our house was so accurate. It was a very poor existence. Our daddy was from the old school where he literally had to dig life out of the dirt. It was very hard work.
Starting at the beginning from the cotton fields where we all sang, I remember I was six years old when my brother Jack died. He and Johnny were at the school to earn some extra money. Johnny went on fishing that day, but Jack was sawing some fence posts with one of those round electric saws, and it jerked him into the saw. It was a horrible accident. He went to be with the Lord. I never get over the death of a loved one; with God's grace, you just get past it and get on with your life.
What effect did it have on the rest of your life?
Cash That's when some of my fears started. We have funeral homes today, but back then, they brought the bodies back to the home for viewing. So our brother Jack is laying in a casket in our living room, and I was terrified. As a six-year-old child, I didn't understand it. So I went and hid under my bed with my sister Reba. And fear started in my life—that Jesus didn't love me because he took my brother. That was a child's thinking.
But down through the years, I remember at nine years old I went down the aisle and shook hands with the preacher because I wanted to be in heaven to see Jack. The preacher patted me on my head and said, "You're saved." But I was convinced I wasn't, so I thought that was another rejection from God.
Then what happened?
Cash Through my teenage years, I still fought that fear. I got into drugs and alcohol. I went into a bad marriage that didn't last—the only thing good that came out of that marriage were three beautiful children. By this time, when I was a young adult, Johnny had become what the world calls a superstar. But my desire for music and singing was deep within my heart. When Johnny became a superstar, it just intensified my desire to sing.
I remember Johnny calling me before that and saying, "Just listen to me: I'm sending a moving van and I'm bringing you home." At that time, he was messed up too, and I didn't understand how he could help me. But God had a plan for me, so I drove with my three children from Houston to Tennessee in 1969. I came home to my mother's house. She took me in her arms and she said, "She's come home to Jesus, not only to my family, but to Jesus."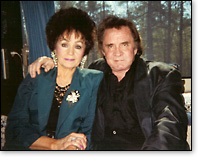 I began working for Johnny in the House of Cash—his office complex and recording studio. So I began working for him as a receptionist, greeting people that came in. I met a young woman there who was a preacher's wife, and she'd invite me to church over and over, despite me always rejecting her.
So how did your conversion or rededication come about?
Cash Johnny had rented an airplane for us to fly down to south Arkansas for a Cash family reunion. And on the way back—October 17, 1970—we ran into one of those late-October hailstorms. We didn't expect we would make it. So I cried out to God in the midst of that hailstorm and I said, "If you'll show me how to find you, I'll give you all the days of the rest of my life." In a few minutes, we came out of that hailstorm, and I knew somebody had heard me pray.
When the plane landed, I knew that God had heard my cry. The pilot walked around the plane, shook his head, and walked away. The plane looked like it was beaten with a hammer through that hailstorm. And we knew without a doubt that God had saved our lives that day, because he had plans for all of us.
So that was your turning point.
Cash I went to church the next day, which was a Sunday, and I said, "I've come here today to find Jesus, 'cause I had promised him that I would." And I had one of those glorious transformation experiences. I felt the Holy Spirit come over my body and deliver me—I was totally set free of drugs and alcohol. That was October 18, 1970, and I've been free ever since.
Johnny was at the apex of his popularity by the time you had your conversion experience. You never criticized him for the kind of lifestyle he led?
Cash He got into drugs because the human body can't take the fast-pace schedule they had him on. He first did those drugs innocently, not knowing what he was taking and what a terrible road they would put him on. It was by the grace of God that Johnny survived all those many times he took so many drugs. But when you're an artist—what the world calls a superstar—your body can't take that. He did lead a rough life, and one that he later regretted.
He came back to the Lord in 1972. Johnny had his ups and downs, but he loved Jesus with all of his heart. And many times, when [my husband] Harry and I would go to his house, he always wanted to talk about the Lord. He would say, "Harry, what's the Word today?" And we'd talk about Scripture.
Johnny always wanted to be a gospel singer. But at the time, Sun Records said that wouldn't sell. Later on in his career, Johnny recorded several gospel albums. He recorded with me many times and I'd sing with him at his concerts. He was a wonderful human being, a wonderful brother, and a wonderful husband to June.
How close were you and Johnny?
Cash Johnny was very close to me. He would call me at all times of the day and night. He said to me so many times, "Baby, just keep on singing. Go for it. Sing as long as you can. Sing for the Lord." Someone asked me one day what Johnny would think of me doing promotions for my new CD, and he said exactly what he's always said: "Go for it, sing as long as you can."
You never felt compelled to record popular music like he did, did you?
Cash No. I made a promise to God in 1970. I said, "If you would save me, if I can find you and the reality of who you are, then I'll always sing for you." And I kept that promise. I always sing and record gospel. It's my ministry. My husband and I pastor a church in Nashville, Nashville Cowboy Church, which is a very dynamic, nondenominational congregation. But my personal ministry is my music. I just happen to have a very famous brother that sings with me, and I think that's a real plus.
Are you afraid somebody might say, "Oh, she's just riding on the popularity of her brother"?
Cash You have to understand, when people say that, they don't know this is not something I've jumped into since Johnny's passing. It's not a new thing for me. As a matter of fact, a lot of the songs I picked for this project are songs from my past CDs. Music was something that he loved doing and it's something that I love doing. I have an answer with people that think I'm jumping on his bandwagon: This is my life. If people have a problem with that, it's between them and God. I am a Cash, and I'll always be a Cash.
Read our review of Joanne Cash's new album Gospel by clicking here. Visit Christianbook.com to listen and buy.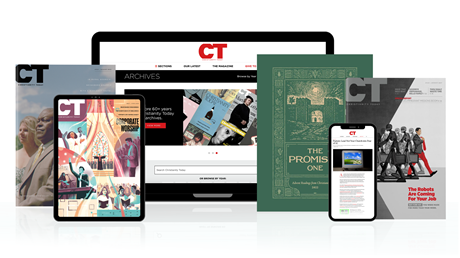 Subscribe to Christianity Today and get access to this article plus 65+ years of archives.
Home delivery of CT magazine
Complete access to articles on ChristianityToday.com
Over 120 years of magazine archives plus full access to all of CT's online archives
Subscribe Now
Not Cash-ing In
Not Cash-ing In